2021 - A Year of Adventure Books
Amazing stories of adventure by and about women!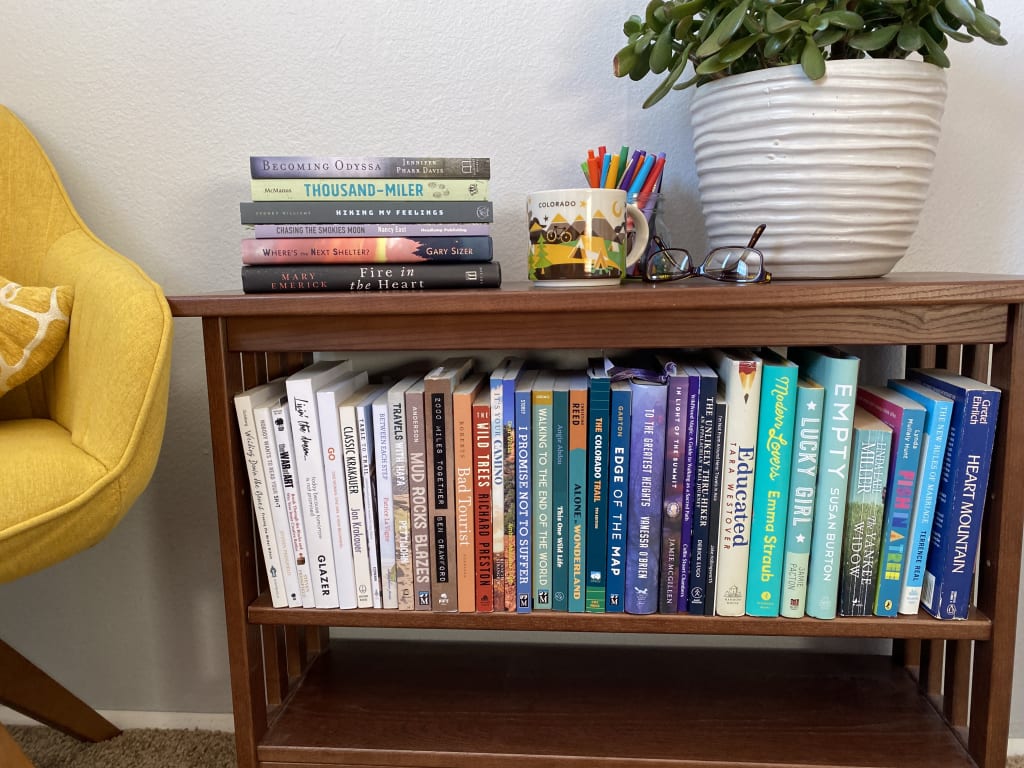 All of the books I read in 2021 on the shelf -- TBR on the top
I've been a voracious reader since childhood, but haven't really tracked my reading as an adult. I started using Goodreads when I published my first book in January last year, and thought it would be fun to participate in the annual reading challenge. So I set a goal to read 50 books in 2021. I'm fairly certain I didn't quite reach that goal, but it's hard to say for sure, as my tracking left a lot to be desired.
As an author, and reader, who focuses their work in the outdoor adventure realm-- I have some recommendations to share!
Top 5 Outdoor Adventure stories by and about women (in no particular order. REALLY, don't make me choose!):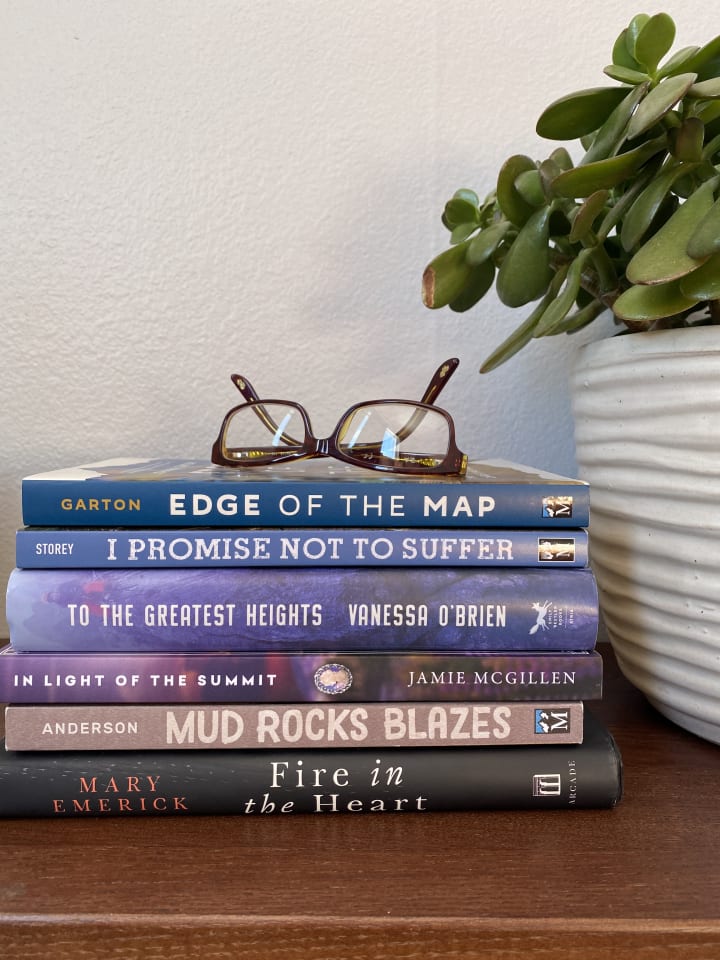 1. To The Greatest Heights by Vanessa O'Brien
Vanessa shares her journey from savvy professional in the finance world to record holder for the women's fastest completion of the seven summits.
2. Mud, Rock, & Blazes by Heather "Anish" Anderson
Heather brings readers along on her attempt for the Self-Supported Fastest Known Time Record on the Appalachian Trail in 2015, after her FKT success on the PCT left her wondering if she was truly the athlete people thought she was.
3. I Promise Not to Suffer by Gail Storey
Gail tags along on her husband's dream of thru-hiking the Pacific Crest Trail, finding that she has her own reasons for the hike after all.
4. Edge of the Map by Johanna Garton
Johanna tells the story of the disappearance of alpinist, Christine Boskoff. She weaves a story of Christine's life and mountaineering career with the search for her body in the Himalayas.
5. In Light of the Summit by Jamie McGillen
In this romantic historical fiction (part of the Rainier series) Jamie paints a beautiful picture of a woman's relationship with the mountain that inspired her to go against social expectations and find her strength.
------------------------------------------
And an honorable mention -- not because it's not as good as the others, but because I haven't finished reading it yet:
6.* Fire in the Heart by Mary Emerick
Mary tells of her 20 year career as a wildland firefighter-- her relationships with fellow firefighters, herself, her body, and the land.
For these and more adventure stories by and about women, check out my BOOKSHOP!
***
From the many bookshelves in my possession, I was able to gather 30 completed books and 3 that I am actively reading-- and will make it onto the 2022 list.
I know I left a few behind on the Colorado Trail, and perhaps I read one or two in a digital format? And does audio count? It's not really my thing, but I listened to one book on my way to Arkansas in November. So I feel confident in saying I finished 40 books this year.
My reading list has been largely shaped by my writing. I read several books ABOUT writing-- but more specifically, many many many books in the genre I write-- outdoor adventure.
Between reading about writing and reading about hiking, I snuck in a few other random choice pieces from the little free libraries of Englewood, CO.
I've got a stack nearly as tall of holdovers from last year that I just haven't gotten to yet. But I think I'll shoot for 50 again in 2022-- and hopefully do a better job of tracking.
Always accepting recommendations for outdoor adventure stories, and down for book swaps with other authors!
To order a copy of my outdoor adventure memoir, Alone in Wonderland -- click here!
To be friends of follow me on Goodreads -- click here!
Please consider leaving A TIP to support the creation of more outdoor adventure stories!
About the Creator
Author of the award-winning debut memoir, Alone in Wonderland. Christine writes about outdoor adventure, familial relationships, friendship, grief and trauma. She's passionate about hiking, backpacking, rock climbing, & storytelling.
Reader insights
Be the first to share your insights about this piece.
Add your insights