10 Reasons Why You Should Switch to Only Using Organic Tampons
There's a lot of buzz about organic tampons. Are they good for you? Is the price not worth it? What about the downfalls of a normal tampon? These are 10 reasons why you need to make the switch and never go back.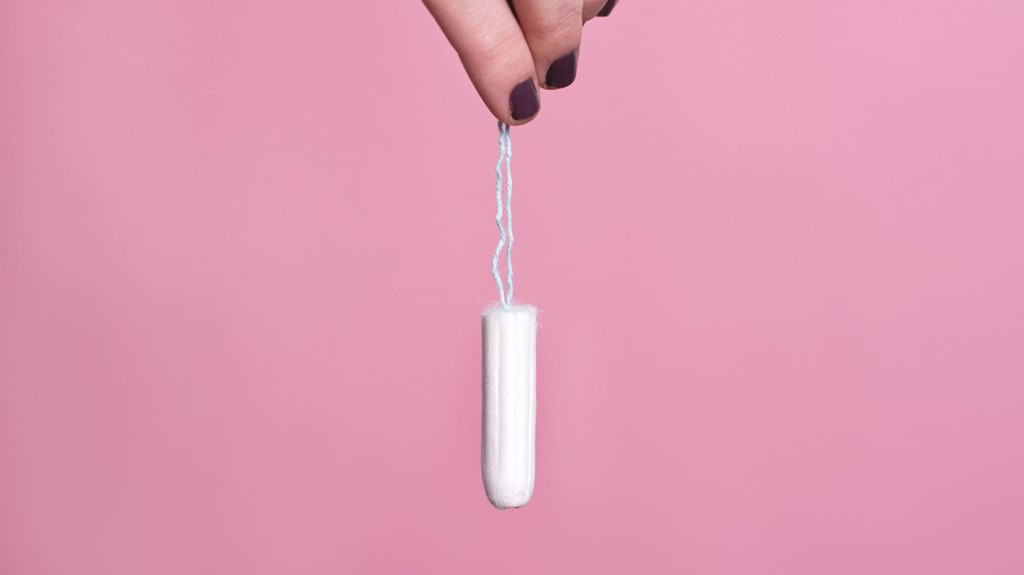 Many women are so used to the normal tampons on the shelves of CVS that they don't think twice about the ingredients that create them. You put a tampon in your body for hours on end, snug between some of the body's most vulnerable tissue. If you think about it, do you really know what you're trusting your vagina's health with? Many people have made the switch to cloth pads, but if you're a tampon kind of person, those won't do you any good.
Organic tampons, however, will. As a switch that is important to your health and the empowerment of women everywhere, organic tampons are the choice you want to make; we'll give you 10 reasons why.
Living an entirely "organic" life is nearly impossible. Going organic can entail a lot, and may seem overwhelming. But living a healthy lifestyle is not. Making the switch to organic tampons is often a choice that many forget to make when changing their lifestyle as a whole.
We know that making this lifestyle wide transition is tough, but switching to organic tampons is easy! And with a brand like L., their organic tampons are made of organic cotton and a BFA-Free plastic applicator, with no rayon chlorine bleaching or synthetic pesticides added. Plus, they are both breathable and hypoallergenic.
Regular tampons have been found to have traces of harmful toxic residues.
Yup, that's right. One of the most important reasons to switch to using only organic tampons is that regular tampons have may have nasty chemicals on them.
In a study done by 60 Millions de Consummators, residues like dioxins, insecticides, and glysophate were found in regular tampons. These toxic findings can cause cancer, immune system damage, or reproductive problems. Our intimate parts deserve products that are not exposed to harmful chemicals.
You can get them using a monthly subscription package.
L. tampons also have a monthly subscription package for easy purchasing and a consistent stock of organic tampons. Depending on your necessity for a large amount or small amount of tampons per month, you can alter your subscription package.
Though purchasing this through their subscription service is a bit more expensive than physically going to the store on your own, compared to competitors, L.'s box is reasonable. It's definitely something we can guarantee you'll need every month!
Besides being chlorine free and chemical free, L. tampons' subscription box offers some freebies for their customers. Depending on your choice of three products, you can choose from a 10 pack of organic cotton regular or super tampons, a 14-pack of chlorine free, ultra-thin, cotton regular or super pads, or a 20 pack of chlorine free, ultra-thin cotton liners.
Inside, you will get a free feminist quote postcard, a description for every pad or tampon in your order, and a donation made to a girl in need. On the back of your cards, you'll start getting different period facts. And the best freebie of all is the shipping.
The appearance and application is all the same.
Changing something in your routine, no matter how small, is often something people do not want to do. This is especially true if the product is "new." However, making to switch to organic does not have to mean your whole process changes.
The appearance, feel, and application of an organic tampon is all the same. Especially for L.'s organic tampons, they still incorporate plastic applicators, so they will have a familiar sight so those nervous about transitioning.
They're not overpriced like many "organic" items on the market.
We have to put down the rumor of all things organic being overpriced. When it comes to organic tampons, the companies that have put their time, energy, money, and dedication into creating a healthier choice for women do not want to overprice their products.
Though some options might cause a little over the drug store brand options, organic tampons are created to improve your menstrual health, not strain your wallets. You're paying for the quality ingredients and hard work put into the company, not the label of "organic."
L.'s organic tampons will donate to women in developing countries with each purchase. As one of the most incredible reasons to make the switch, this company is dedicated to improving women and transforming disappointment into empowerment.
With your purchase, you will also help support girls in other countries to live comfortably with their menstrual period. Think of the possibilities that L. has for those suffering all over the world. They are currently partnered with over 2,800 female entrepreneurs, donating 50 million health products in 2017 alone. For every tampon you purchase, one will be donated to a female entrepreneur in a country in need.
They're just as strong as your typical tampon.
So now that we know that organic tampons feel and look the same to what we're used to, but do they perform as well?
Organic tampons are created just the same as your typical tampon is. They are durable and strong, but they still require a frequent change on heavy days, like any tampon. No tampon is completely leakproof, really. So be sure to switch them out during the beginning of your period to avoid a mess.
They lay out every ingredient used to make their tampons.
One of the best parts of switching to organic tampons is the fact that you will know exactly what you are putting in your body. With each application, you can be confident with your special time of the month with a healthier version of your typical tampon.
Certified vegan, hypoallergenic, and cruelty-free, L. tampons are confident in every ingredient used to make their tampons. Plus, their BPA-free plastic applicator is free of fragrances or chlorine.
And best of all, they don't just sell organic tampons. You can also purchase organic pads or condoms.
As a company that sells organic tampons, their mission is much larger than providing a healthy alternative to chemically tainted tampons. L.'s tampons are created to empower women and diminish shame for their bodies.
They want to ditch the taboos tied to a woman's health and natural processes. Use their platform to decrease insecurities with your period— their purpose is not only to provide organic choices for women, but to provide for those in need all around the world. Your body is not meant to be shamed, but rather empowered and embraced. Find a brand that will do this for you.