Wrestling, Trophies and Survival
Giving Everyone a Trophy does not Serve Children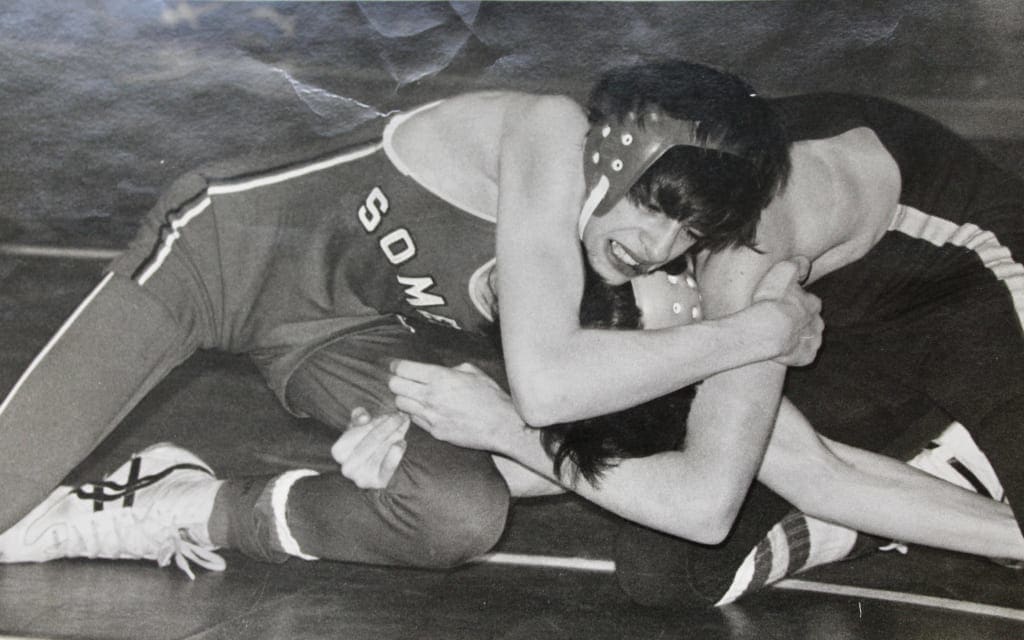 Consolation Round of Somers Tournament
It's come to my attention that with children today, everyone gets a trophy. From my travels, it seems most kids have more trophies than I have socks. I wonder who exactly this serves.
My life without trophies goes back to when my brother's little league team won two straight championship trophies. Thus I decided that I needed one of those.
Playing then in pre-little league, my team finished first place but no trophy was awarded. This was tough to swallow.
I looked ahead anyway. The championship Braves of my brother's roster had moved on, but many of the same last names remained. In other words, we had a good chance for our own hardware.
The little brothers played well but we needed help elsewhere to catch the frontrunners. It never came to that. We lost to the perennial last place finishers - the Mets.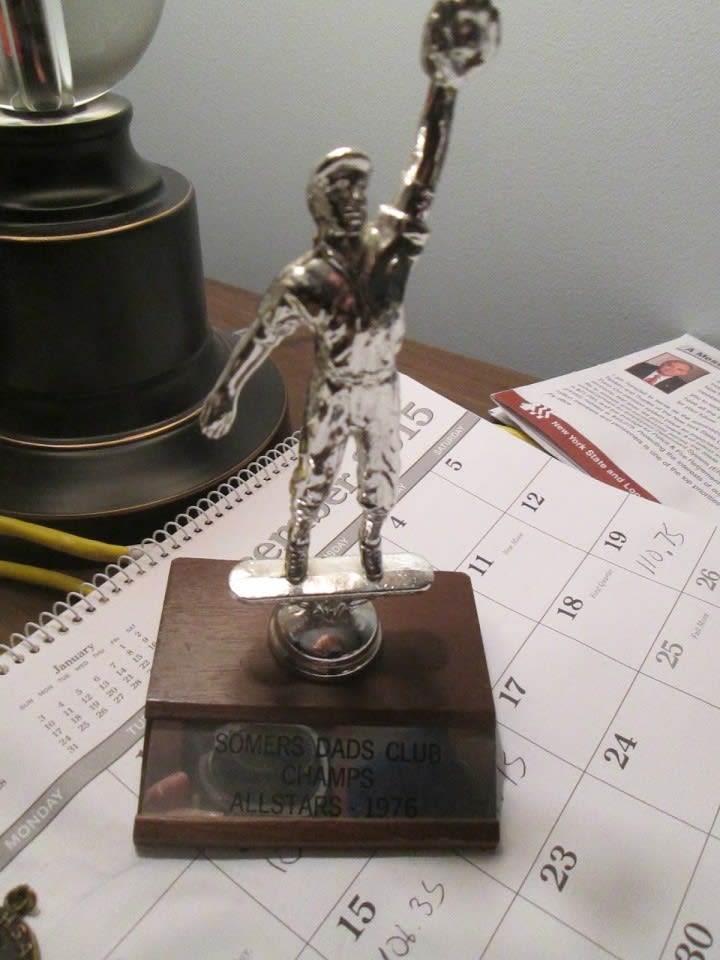 We left the field in shock, but with wisdom going beyond what subsists today, I took pride. I was a solid contributor to a good team that came up short. Sounds like life and the Mets got something for themselves too.
More importantly, had they padded my feelings with trophies, I might not have persisted through high school wrestling. On paper, I didn't accomplish much, but it's what I took from the journey that mattered.
Much of my competition had started wrestling in 3rdgrade. So my goal was simply to gain the respect of teammates, coaches and opponents.
By 10th grade, I was on track. I was 0-9 on varsity but 4-0 on JV. I entered my junior with optimism. That was until I heard that a freshman with lineage would be challenging me at 98 pounds.
A summer of chatter had me rattled, but I didn't lose to him. I lost to another freshman who came without the billing.
From there, the weekly defeats were, in a word, emasculating. My skills regressed back to zero and had little reason to continue. This especially in consideration of the gut wrenching two and a half hour practices.
Completely lost, I concentrated on beating my two nemesis's and hit bottom in losing a 12-1 JV decision to another freshman. I got on the bus, threw a coat over my head and cried. No trophy was awaiting my return either.
I finally managed to get out of my own mind - and duh - started to use the moves that had given me success as a sophomore. I regained my form, and by February, I began to click.
A little help, the prodigy moving down to 91, I beat my other nightmare and got to wrestle in the Somers tournament. I won my first varsity match, and lost an exciting 10-9 decision in the consolation round.
Missing out on another trophy, I rode the momentum nonetheless. Wrestling became like writing poetry and my small roster of moves now had a rhythm to them.
In the semi-finals of the Divisionals, I easily took the opening round, and I had my opponent facing up with visions of the finals in my sights.
Unfortunately, I executed a move that I had never tried before and ended up on my back. No way out, I still lament what it would have like to have lined up in the finals.
But I did win the consolation round, and a trip go to the Sectionals. I also received a 3rd place medal, but its dull glare was not nearly as important as the perch I gained.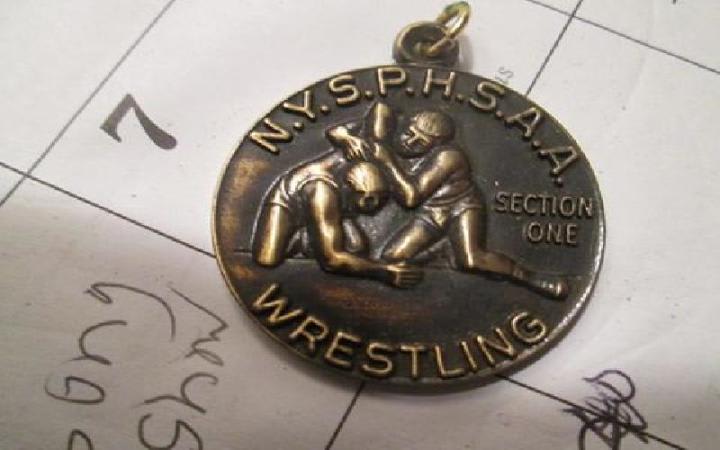 All the best wrestlers in the county relaxing on the mats before the festivities, the satisfaction of sticking it out, and being among this elite congregation, was indescribable.
The fact that I bought the first seed didn't deter either and when I trailed only 4-2 after the first period, the sky seemed the limit. As fate would have it, the second period had me seeing the ceiling, and to this day, I still don't know how I ended up on my back.
No trophy forthcoming my coach gave me a measured compliment that was in keeping with the times and my efforts. "You're coming along just like your brother," he said in describing another Monetti who didn't star but endured.
So I looked ahead to my senior year with optimism and luck intervened on my behalf Both sophomores missed much of the season, and I had the 105 weight class all to myself. Unfortunately, my 7-7 regular season record didn't quite live up, and the goal of gaining the respect was not contained within.
Symbolism went long way however, and that came with another loss to our archrivals in Westlake. Their 105 pounder would take third in the sectionals that year so not much was expected of me.
Even so, I fought him down to the wire and lost in the last seconds 15-12. Not surrendering six points for a pin, I like to think my small part helped in a victory that took the league championship.
The ultimate recognition came as a result of another loss the next afternoon. Facing another All-County wrestler in White Plains, I took a 4-2 lead into the second but was pinned soon after.
In this, our coach realized the rollercoaster he subjected us to by scheduling an afternoon match the night after wrestling Westlake. Mumbling to his assistant, he sited me as an example. "How could we have expected Monetti to give another six minutes on Saturday like he gave the night before."
A mumble I was meant to hear - mission accomplished, I achieved what I set out to do.
Now averting an adolescent catastrophe was important, but the journey had far more important implications. About 10 years later, I came up against a significant struggle that had more at stake than just failing at a high school sport. One which, I didn't necessarily have to live through.
Still, I will not hinge survival on overcoming as wrestler. Instead, the experience provided a definitive example of what can happen if you don't give in and keep showing up.
A comfort that was never far from my thoughts. So the next time you want to shower everyone with a trophy, it may not be the sectionals that your kids doesn't reach.
Please Like My Page on Facebook
Author can be reached at [email protected]