Women's Wrestling Championship Belts:
Adrenaline Unleashed Women's Title Chmapion belt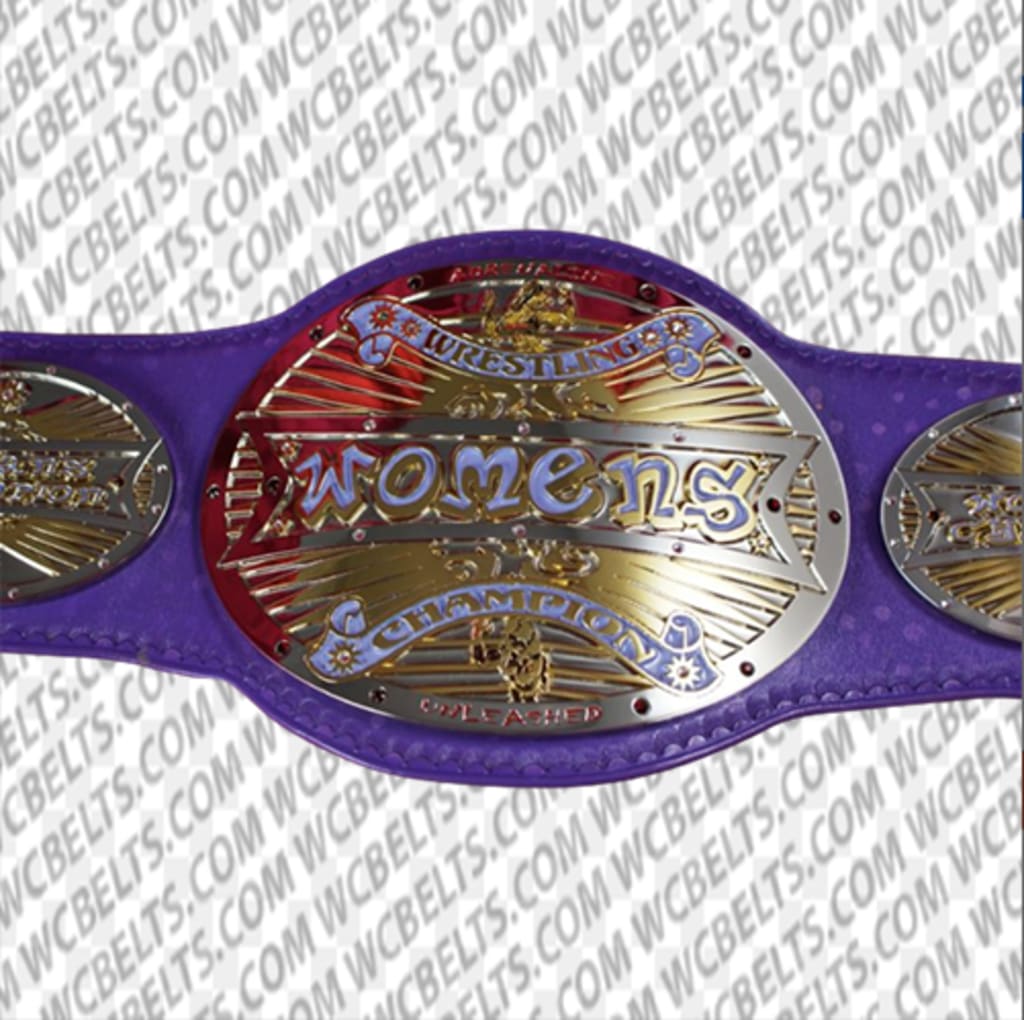 Introduction:
Step into the world of women's wrestling, where power, resilience, and dedication collide. Wrestling has come a long way, with women standing shoulder to shoulder with their male counterparts. A women's wrestling championship belt represents the pinnacle of women's professional wrestling; it tells the tale of hard work, determination, and pure talent.
For die-hard fans, owning a replica championship belt is a must-have collector's item. So, we present our exclusive and handpicked collection of women's wrestling championship belts, available on our eCommerce store. Below, we've detailed the history, design, and significance of our belts so that you can purchase a piece of wrestling history.
1. History of Women's Wrestling and Championship Belts:
Women's wrestling has come a long way, from its debut in the early 1900s to today's thriving, global stage. Women's wrestling became well-established in the 1950s, which saw the introduction of the first women's Wrestling championship belt by the National Wrestling Alliance (NWA).
Since then, multiple wrestling promotions have established several women's championship titles, with specially designed belts representing each organisation. Our eCommerce collection covers belts from different promotions and timelines, paying homage to the rich history of women's wrestling.
2. WWE Women's Championship Belts:
WWE is undoubtedly the most well-known wrestling promotion globally, showcasing the wrestling industry's top talents. Here are some of their prestigious championship belts:
- WWE Women's Championship [Classic]: This belt, first introduced in the late 1950s, represented the top prize in women's wrestling during the latter half of the twentieth century. Its classic, gold-plated design with a red simulated leather strap makes it a true collector's item.
- WWE Divas Championship: This title was introduced in 2008 for the company's female wrestlers and was unified with the Women's Championship in 2010. The belt features a unique butterfly design, adorned with gems on a white strap, which adds a touch of elegance and is perfect for fans of this era.
- WWE Raw and SmackDown Women's Championship: With the arrival of WWE's brand split, separate women's titles were introduced for RAW and SmackDown in 2016. The belts resemble each respective brand's colour scheme and include a large WWE logo at the centre. Fans can choose the belt of their favourite brand or complete their collection with both.
3. TNA/Impact Knockouts Championship:
The TNA Knockouts Championship, now under the Impact Wrestling banner, has given women's wrestling a prominent platform outside of WWE since its inception in 2007. This unique belt features a black, simulated leather strap with intricate details and highlights the word "Knockout" at the center. It's a must-have for fans of Impact Wrestling and the Knockouts Division.
4. NWA Women's Championship:
The NWA has a storied history in professional wrestling, and its women's championship belt is no exception. With the classic NWA eagle-emblem at the center, this belt pays tribute to the trailblazers of women's wrestling. If you're a fan of wrestling's earlier days, this belt should definitely be part of your collection.
5. Customizable Championship Belts:
As a passionate wrestling fan, you may want to create your very own custom championship belt. Our eCommerce store offers customizable belts, allowing you to put together a design that reflects your passion and love for women's wrestling. Choose from an array of colours, materials, and styles to create the perfect piece of memorabilia that reflects your wrestling spirit.
6. Why Buy Our Championship Belts?
Our handpicked collection of women's wrestling championship belts guarantees high-quality, authentic replicas. With accurate details, beautiful designs, and unmatched craftsmanship, our belts will impress the most dedicated fans. Purchase one of our championship belts today to celebrate your love for women's wrestling and solidify your fan status.
Conclusion:
Whether you're reminiscing about women's wrestling's rich heritage or cheering your favourite current stars, our championship belt collection has something for everyone. Browse our eCommerce store for an exclusive selection of women's wrestling championship belts, and let your heart soar as you own a piece of wrestling history. Make a statement, start conversations, and stand out from the crowd – with our women's wrestling championship belts, you'll truly be a champion among your fellow fans.
About the Creator
We appreciate you visiting the WCBelts website. We are a reputable source for championship belts. World championship belts are referred to by the initials WCBelts. Visit our website: wcbelts.com
Reader insights
Be the first to share your insights about this piece.
Add your insights