Women's Hoop Report 54
It's Game Time All the Time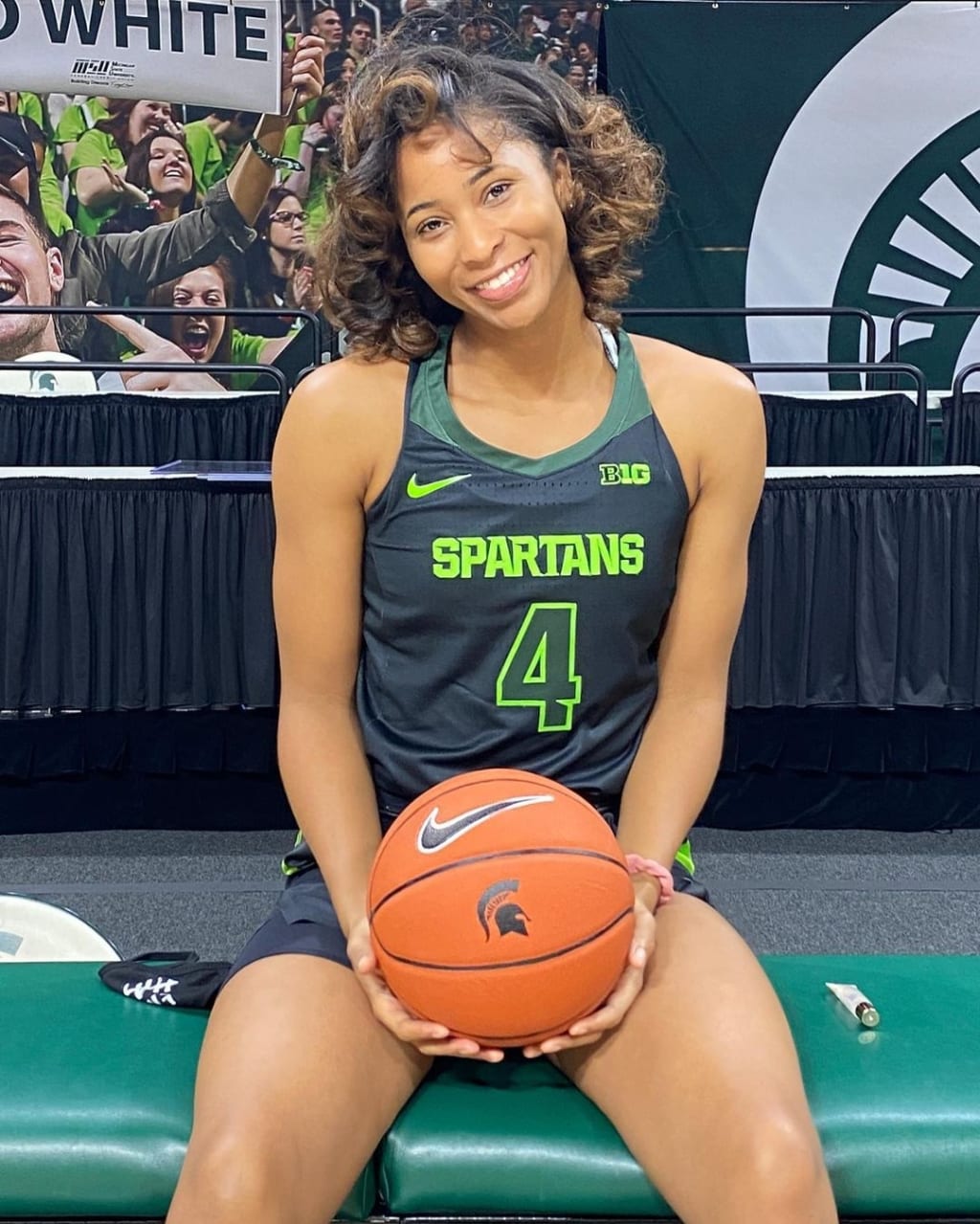 Alisia Smith
Michigan State 76 - Purdue 73
Above: Alisia Smith (4)
Purdue guard Kayana Traylor scored 31 points but Michigan State held off an overachieving performance to capture the late season Big Ten win.
The Spartans got an 18-point, 10-rebound output from forward Alisia Smith in a more collective scoring effort than their opponent to improve to 12-6. Guard Alyza Winston was hot from three as she nailed four-of-five shots from long distance. The 5-7 sophomore scored 16 points to go along with five assists and four rebounds. She has made seven-of-11 threes in her last two games.
Below: Kayana Traylor
Morie Joiner also knocked down three triples in six attempts to score 11 points in the Michigan State win. Traylor had her best game of the season for Purdue. She scored 28 points on Dec. 20 against Penn State, but in this game she was more potent knocking down a season best four threes. Brooke Moore also pitched in 17 points for Purdue as it dropped to (6-13).
Norfolk State 65 - North Carolina A&T 54
Norfolk State (3-7) started with a 25-13 lead in the first quarter and held on to upset visiting North Carolina A&T (10-2).
Below: Armani Franklin
Norfolk State guard Armani Franklin made five-of-nine shots from the field and six-of-eight from the charity stripe to score a game high 17 points. She also tied for the game lead with eight rebounds. Forward Shine Strickland-Gills also posted eight rebounds to go along with eight points and three blocks for the Spartanettes.
Guard Chanin Scott led the way for North Carolina A&T with 15 points but she turned the ball over a season high six times. She also didn't get the usual support offensively as no other Aggie scored more than seven points.
Norfolk State got 16 points from guard E'Lexus Davis who hit four-of-eight three-point shots. Forward Mangela Ngandjui posted 15 points and grabbed seven rebounds. Guard Jalynn Holmes dished out five assists with just one turnover for Norfolk State.
The loss broke North Carolina A&T's 10-game winning streak.
Alabama 71 - Mississippi State 63
Forward Jasmine Walker had a near double-double with 20 points and nine boards as Alabama improved to 15-6 in a home win over Mississippi State.
Walker drained four-of-seven shots from three, continuing a strong stretch of shooting. She has knocked down 14 of her last 26 attempts from three-point territory over three games. She is averaging 27.6 points over that stretch. Alabama also got a double-double from Ariyah Copeland, who posted 19 points and 11 rebounds. Guard Jordan Lewis scored 15 points for Alabama as well.
Below: Ariyah Copeland
Mississippi State got a double-double from forward Jessika Carter who posted 11 points and 12 rebounds. Forward Rickea Jackson led the Bulldogs in scoring with 18 points. Mississippi State outrebounded Alabama 45-34. Alabama overcame the rebounding deficit by taking care of the ball. The Crimson Tide had 20 assists and nine turnovers. Mississippi State had 10 assists and 16 turnovers.
Villanova 64 - Georgetown 56
Maddy Siegrist was too much for Georgetown to handle as she led Villanova (13-4) to a nine-point road win.
Below: Maddy Siegrist
The sophomore forward is proving to be one of the best players in the nation. She entered the game averaging 22 points and 10 rebounds per game. Against Georgetown, she posted 31 points and 16 rebounds in 40 minutes of action. This was her fourth game with at least 30 points this season.
Below: Brianna Herlihy
Forward Brianna Herlihy scored on six-of-nine shots to support Siegrist in the win. Herlihy scored 18 points. The Wildcats got 11 points from reserve Lior Garzon after knocking down three-of-five three-point shots. Georgetown dropped to 1-13 on the season but it gave a solid effort as forward Graceann Bennett led the Hoyas with 13 points on six-of-eight shooting.