Winter is Here! Layer-Up with Disc Golf Apparel for Your Next Game
Keep Yourself Warm on your game day with Disc Golf Apparel.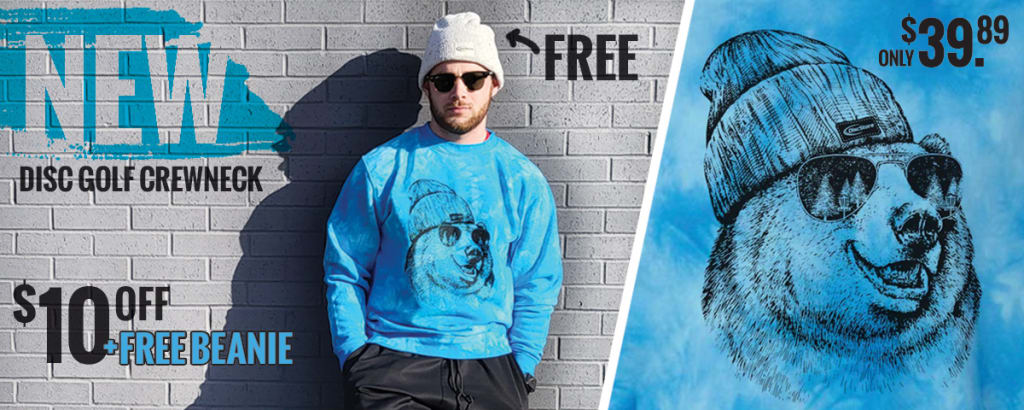 The time of the year for a cozy ambiance and sipping hot chocolate is here, and no one feels like moving outside of the house, especially after the holidays. But, since winter is a feast season and everybody devours food like anything, burning those calories becomes important. And there is no better way to keep yourself fit and active than a game like Disc Golf, which you can enjoy with your friends and family.
Are you feeling chilly just by thinking about getting out of bed and going outside to play a game? If so, don't worry; we will help you add layers to your clothing so you won't feel the chill and will enjoy your game!
Weather should not be a hurdle for playing a game, so we have a list of Disc Golf apparel that you should add to your enjoyment of the game, even in winter:
•Lightweight T-shirt:
The first layer you can wear is a good quality t-shirt because it has lightweight fabric that draws moisture away from your skin. For instance, the USA Disc Golf dry-fit shirt is made from anti-microbial, moisture-wicking, and stain-resistant fabric, which is ideal for a t-shirt.
•Add Colors with a Sweater:
You can add a sweater as a second layer with a soft, quick-dry, breathable fabric such as the Disc the Season Basket Ugly Sweater which is made from a blend of spun cotton and polyester. It has a 3-color screen-printed design featuring white, green, and metallic gold inks, making it more attractive.
•Create a Hoodie:
The additional hood is an add-on to the clothing protecting your head from the chilly weather. Full Sub Blue Saguaro hooded jersey is perfect for all weather because of its moisture management, odor resistance, and anti-bacterial properties.
•Breathable Compression Pants:
You can wear ankle-length compression pants inside the track pants to add a double layer. Performance compression pants do not restrict movement and provide optimum ventilation and comfort. In addition, they are made from quick-dry fabric, which is moisture-wicking and odor resistant.
•Comfortable Pants/ Lounge Pants:
To add an extra layer of comfort, lounge pants and track pants are perfect for game day. These pants will not restrict your movements while running because they are lightweight. Yet, on the other hand, they will keep you warm.
•Socks for Happy Feet:
Warm feet are happy feet; therefore, it is important to invest in premium quality socks that can keep your feet warm in extremely cold weather. The Disc Golf Ugly Sweater Socks have a comfortable, snug fit because of their breathable, lightweight fabric. This pair of socks will represent your love for the sport on the course.
•Beanies and Stocking Hats to Protect Your Head: Beanies and stocking hats never go out of style and are the best headgear to keep your head warm. Colorful beanies and hats with patterns representing Disc Golf games such as the Play Disc Golf beanie and the Disc Golf Ear Flap stocking hat add a fun element. They are made from premium quality material to keep your head warm without causing any discomfort.
•Face Mask with UV Protection:
Sunburn is a major issue in winters, so face masks are an ideal solution to protect your face from the harsh sun rays. Face masks can also protect you from bacteria and viruses. Performance Dry Fit facemask tubular bandanas offer wind, cold, and sun protection. This facemask also helps maintain hydration and breathes well so that you don't have any discomfort while playing the game.
•Other than the apparel above, you can also add a layer of jackets, raincoats, and windbreakers according to the intensity of the cold.
Add a Personalized Touch to Your Disc Golf Apparel!
Personalized items are everyone's favorite, and what if we tell you can add a personalized touch to your Disc Golf apparel? Wouldn't it be exciting to get a jersey with your name or any of your favorite designs?
Yes, you can get customized apparel from premium stores at affordable prices. Screen Printing, sublimation, and embroidery are used to customize apparel. You can use this apparel for your next tournament. In addition, every team member can have their personalized jerseys, which boosts the team spirit.
Thus, you can add layers of Disc Golf apparel during winters so that weather can never be a hurdle in your game. So, instead of lying on a couch for days and becoming inactive, pull yourself off your couch and enjoy hours of Disc Golf games with your friends and family, and keep yourself warm with Disc Golf apparel.
Endnote:
If you are looking for Disc Golf apparel, Disc Store offers a premium range of apparel, discs, and other products at guaranteed lowest prices. Visit our website to explore a wide range of our products. We also provide customization services that you can use to give a personalized touch to our products.
Watch Below: Top 10 Disc Golf Shopping Tips for Every Disc Enthusiast
About the Creator
Disc Store has been one of the most reputed web stores to seek all the best quality disc golf accessories and ultimate Frisbee products at best rates.
Shop Now:https://bit.ly/2Pgecsv
Reader insights
Be the first to share your insights about this piece.
Add your insights