Who was the First MLB Player with an Agent and other Yankee Tidbits
Yogi Berra, Mickey Mantle, Billy Martin, Bobby Murcer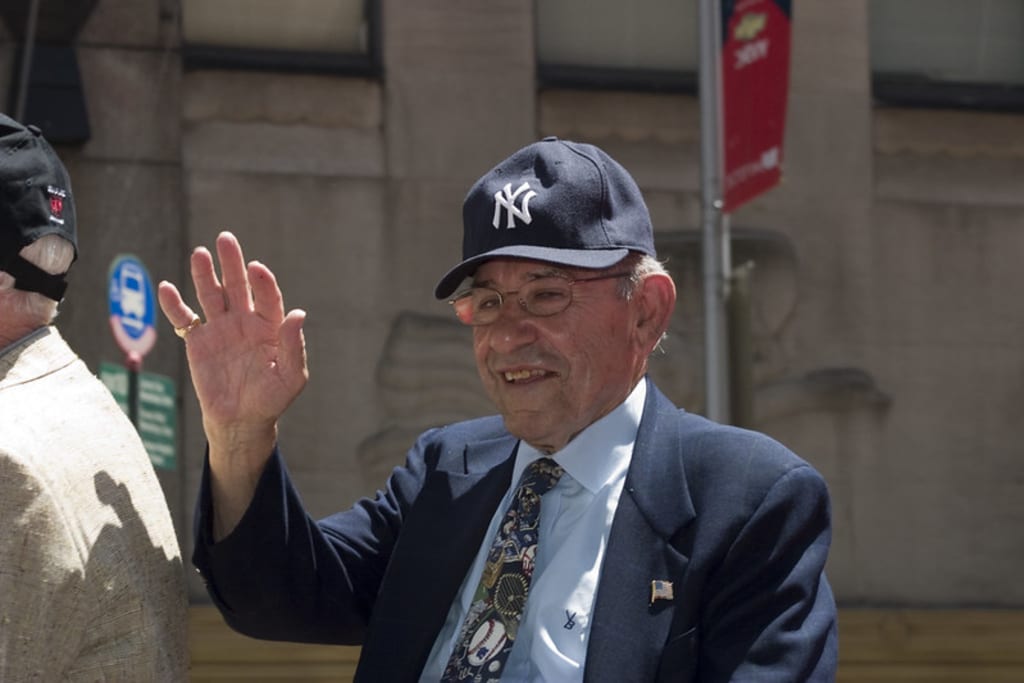 Photo by Rubenstein
A 56 game hitting streak, 714 homers and 27 World Championships - we all know the larger details of Yankee history. But I think it's also telling to know the little things. Here's a few good ones.
Yogi Berra
The idea player agents actually arose through yet another anecdote from the one and only Yogi Berra. As such, Frank Scott was the pioneer who did the honors. He was originally hired as the Yankee Road Secretary and was put in place to help facilitate travel issues for the players. However, General Manager George Weiss wanted the executive to inform on the players, but Scott was developing close personal relationships with his travel companions. Thus, the directive was one he could not follow. So Scott officially refused Weiss and lost his job after the 1950 season. The relationships built, though, he was visiting Yogi Berra's home around the same time, and Yogi's wife observed that the guest wasn't wearing a watch. Carmen Berra then retreated from the room and returned with a box full. "Take your pick," she implored, and the moment changed sports history, according to Scott Feinberg's reporting in the Hollywood Reporter.
Given Yogi's natural ability to amuse, the catching legend often made personal appearances, and in appreciation, a watch typically sufficed for payment. Well, the first player agent to be put an end to that affront, and signing on with Scott, the Yankee great no longer was left winding out stories for nothing. The athletic power structure was never the same, and our players have Yogi to thank.
Billy Martin
I highly recommend Baseball's Flawed Genius by Yankee by Bill Pennington. Thus, the multi-layers of Billy Martin astounds, and starts with sheer determination. Not only was the famed infielder going to do all he could to reach major leagues, but nothing short of pinstripes would do. So whether on the sandlots of San Francisco or at whatever level he played, Martin's genius was in a constant state of amassing information. In other words, Billy was always looking for an edge, and the tidbits emerged in the mostly unlikely of places. One subtlety that really stuck out : On flyball outs, the manager instructed his outfielders to always one hop the ball back to the infield. Huh? The bounce scuffed the ball, and the minor disfiguration unnoticed by everyone, gave an edge to the pitcher. Is it any wonder that Billy Martin won wherever he went.
Mickey Mantle
536 home runs, 18 World Series home runs, a triple crown and three American League MVPs - the numbers don't lie. But Mickey Mantle's most compelling statistic may have taken place in the on-deck circle. In a season where Roger Maris hit 61 homers and won a second straight MVP, the single season standard bearer was intentionally walked only once. Maris also only batted .174 when Mantle was out of the lineup. Who wouldn't sign up for that type of protection.
Bobby Murcer
Bobby Murcer was my first sports hero. How could the centerfielder not be after a game in July 1973. Bobby deposited three home runs into the rightfield bleachers where I was sitting with my brother, father and grandfather. Of course, I was devastated when Murcer was traded in 1974 and equally elated when number two returned in 1979. His prominent place in the 1980 pennant race against the Orioles is still dear to my heart too. Of course, Murcer never got a ring. So how horribly ironic is it that he was replaced by another Yankee hero who suffered the same indignity. Don Mattingly. Interestingly in Mattingly's historic 1985 MVP season, Murcer actually attempted a comeback. He signed a minor league contract, but re-retired after going 1-12 and injuring his shoulder. I'm not sure how that one got passed me, but at least he went down swinging.
Please Like My Page on Facebook
Author can be reached at [email protected]