Where Is Jimmy Butler Going?
What is going on in Minnesota? And will Jimmy Butler stay or leave?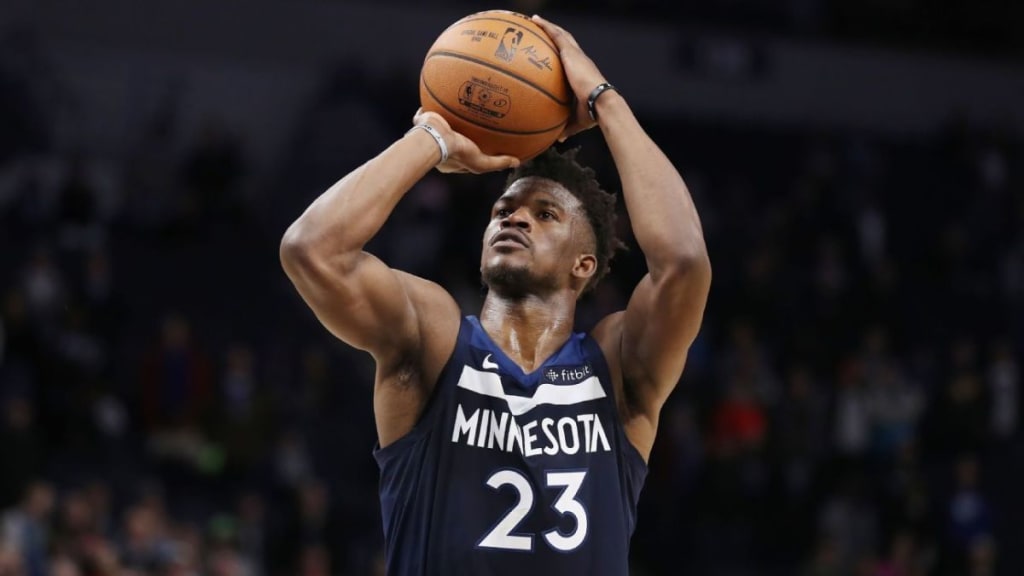 Where is Jimmy Butler going?
There has been a lot of off-season drama in Minnesota locker room, with most of it focused on Jimmy Butler. So, what has happened? About a month ago, Butler requested a trade. But why? Honestly, it seems like he's fed up with this Timberwolves team. I think it's a combination of a lot of things. Karl-Anthony Towns, Andrew Wiggins, Jeff Teague, Tom Thibodeau, the front office, etc.
Starting with KAT, I don't see what the big problem is here. KAT is a great offensive player, but his defensive side is weak. He's too soft. And for a competitor like Jimmy Butler, that is not okay. I can understand Butler's frustrations when one of your most talented teammates is too soft and won't toughen up. Butler is a fantastic defender and very physical player, and he hoped to bring that to Minnesota, but we can see that KAT is not that kind of player…yet.
I can understand some frustration coming from Jeff Teague too. Teague hasn't exactly been the same player he was when he was in Atlanta. When I think of Jeff Teague's season last year, I remember one moment that I think sums up his whole season. It was towards the end of the season and the Wolves were playing against the Utah Jazz. At that time of year, it was vital for both teams to get as many wins as possible. The Jazz were ahead with only a few minutes left and it was clear they would win. Ricky Rubio was on a fast break and out of frustration, Teague threw his shoulder into him, sending Rubio flying. Teague was tossed, and the Jazz won the game. Its been like that all year for Teague. Disappointment and then frustration. Same thing with this Jimmy Butler scene. He showed lots of frustration towards Butler and wasn't a great teammate to him during this stressful time.
Tom Thibodeau has been a piece too. Not necessarily that he has done anything bad to Butler, but rather his intentions are not what Butler wants. Jimmy Butler, Derrick Rose, Taj Gibson, Luol Deng and maybe even Joakim Noah. Thibs is trying to recreate his old Bulls team. At the time, they were amazing, the number 1 seed in the East, but its not gonna work like that now. Especially with Rose. If I were Butler, I would be thinking that coach needs to stop living in the past and focus on the now.
The biggest problem I see however, is Andrew Wiggins. We've already seen how his family feels towards Butler through their tweets, but Wiggins is a problem too. To me, he is just a big whiner. Wiggins was drafted and became Minnesota's first option. Then they drafted KAT, who is better than Wiggins, and he was dropped to the second option. Then Butler, a player better than Wiggins, gets sent to Minnesota and Wiggins becomes the third option. Wiggins is just upset that he was "demoted" and wants to be the main option again. That is just selfish basketball and will not get this team anywhere. Basketball is a team game. There is absolutely nothing wrong with having good players, even better than you, on your team. If you want to become better, fine, then practice. But you cannot be upset at your teammates for doing exactly the same thing you are doing, and that's to get better and make the team better. Wiggins needs to get his mind-sight right, otherwise Minnesota is gonna hit even more obstacles in the future.
I'm sure we've all read about the practice scrimmage that they had. The Starters including Wiggins, Teague, and KAT vs. Butler and the 3rd stringers. Now that was a complete show of disrespect to Butler, putting him with the 3rd stringers. I really applaud Butler for going out there and beating them. He has every right to boast and tell the front office that they need him. Go Jimmy.
The next question is, where is Butler going? What teams are a good fit for him? Lots of teams have made offers for Butler, but no agreements have been reached. The Timberwolves want too much for Butler. And while Butler is a star and deserves lots, many teams are not willing to make those sacrifices for him.
Butler has also stated that he doesn't want to go to a star-rich team. That's why a LA team-up with LeBron seems out of the question. But what about the Clippers? Kawhi seemed also interested in the Clippers. A possible team up between these two defensive superstars would be interesting. Another interesting team-up would be with Kyrie Irving to New York. That would be fun to see, but with Kyrie's -recent commitment to resign with the Celtics next season, it seems the team-up would be unlikely. I think that the most possible destination for Jimmy Butler would be Miami. Miami has no star players, which entices Butler, and its also already a playoff team. Butler would fit in very well with that system and it would make them a lot better.
The last possibility would be that he stays in Minnesota. With the season starting really soon, it seems like this would be a very likely possibility. One that would stay, at least until near the trade deadline. If Butler stays, I expect a rough start for Minnesota due to lack of chemistry but eventually, I see the team getting the hang of it and playing well. Jimmy Butler is a tough and smart guy, he won't do what Kawhi Leonard did and whine until he got out. Jimmy talks a lot but his passion for the game will keep him in focus and on the court. We'll just have to see which court he ends up on.