What is Going on in Portland?
2019-2020 Portland Trail Blazers in Review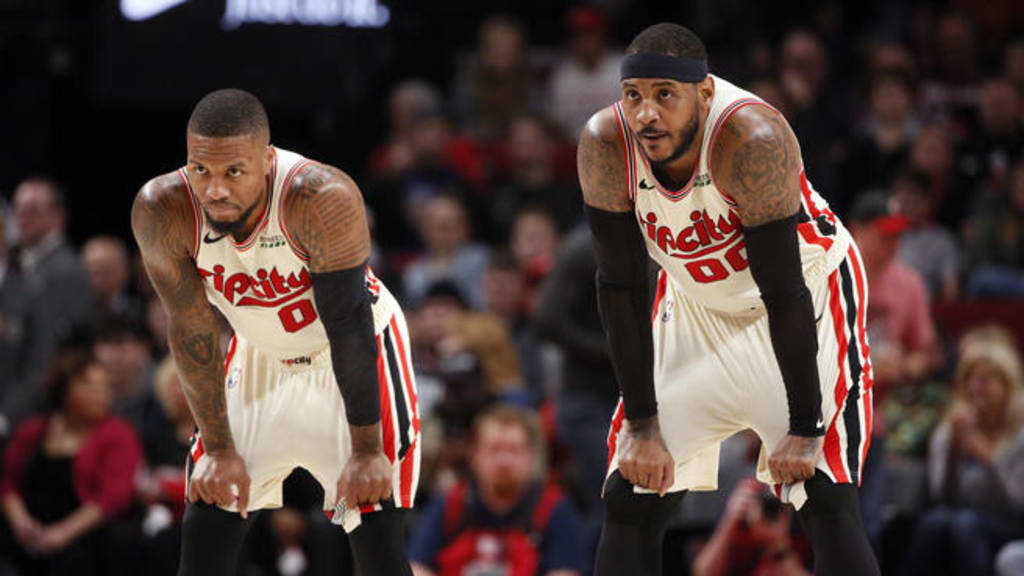 At first glance, when you see the Portland Trail Blazers, you think of a great Western Conference team led by a superstar, Damian Lillard and another all-star calibre player in CJ McCollum. This is the team that went to the Western Conference Finals last year and have consistently made the playoffs the past decade. But right now, at the All-star break, they sit with a losing record. What is going on?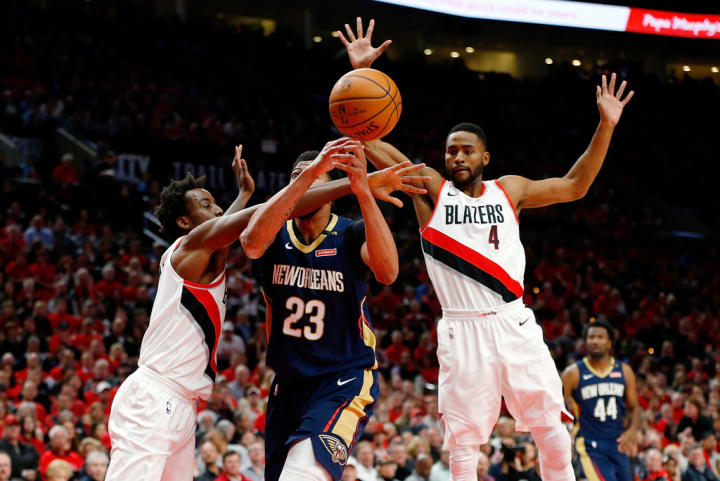 Let's take a look at the roster changes. Here is the 2018-19 roster compared to the 2019-2020 roster:
2018-2019:
Al-Farouq Aminu
Wade Baldwin
Zach Collins
Seth Curry
Mo Harkless
Rodney Hood
Enes Kanter
Skal Labissiere
Jake Layman
Meyers Leonard
Damian Lillard
CJ McCollum
Jusuf Nurkic
Anfernee Simons
Nik Stauskas
Caleb Swanigan
Gary Trent Jr.
Evan Turner
2019-2020:
Carmelo Anthony
Trevor Ariza
Moses Brown
Zach Collins
Mario Hezonja
Rodney Hood
Damian Lillard
Nassir Little
CJ McCollum
Jusuf Nurkic
Anfernee Simons
Caleb Swanigan
Gary Trent Jr.
Hassan Whiteside
Some of the biggest names you're missing this year is Aminu, Harkless, Curry, Turner, Kanter and Leonard.
Aminu and Harkless were starters on this team that went to the WCF. Both great defenders with great reach, and could also knock down the three. Both are massively underrated. Losing these two was a huge blow to the Blazers this year.
Losing Curry as well was rough because that means you no longer have your designated shooter off the bench. He isn't Steph but his 3-point percentage is better, and he can knock down trey's whenever you needed him too.
Kanter and Leonard were two big men that played well. Kanter was brought in to deal with the injury to Jusuf Nurkic, and say what you want about his personality, Kanter can grab boards, play good inside defense and get you baskets as well. Leonard was another solid backup big man who could also knock down the 3.
The last significant loss I see is Evan Turner. Not the greatest shooter, but he was a playmaker and could run the offense off the bench. Losing him hurts a lot because now you have to rely on others who aren't as experienced to run that offense when your main guys aren't in
Now let's look at who stayed. Besides the main guys CJ and Dame, some players returning were Rodney Hood, Zach Collins, Jusuf Nurkic and Gary Trent Jr.
Rodney Hood was great at the beginning of the year. He is a great shooter, averaging over 11 PPG off 50% shooting. Great scoring option to have. But unfortunately, Rodney's been hurt.
Same with Zach Collins too. He only played 3 games this year before he was injured but in those 3 games, his minutes played increased by over 10 and his point production went up to 9 PPG. With so many losses over the offseason, the Blazers had a huge focus on developing Collins from a bench player to a starting role player. Unfortunately that's been delayed and its hurt the Blazers. Hopefully he returns soon and they can get some extra help from him.
I won't say too much about Jusuf Nurkic because everyone knows his value in Portland and how much losing him hurts.
The other returning player I see of importance is Gary Trent Jr. However, this is not a good fit. Trent is getting tons more minutes this year but that isn't really a good thing for the Blazers. His shooting percentages appear to be good, but after watching multiple games, this man is wildly inconsistent. Always jacking up 3's and doesn't have the experience yet to be a role player on a playoff contending team. With all those losses, Trent is forced into a role that he is not yet ready for. While this helps Trent in his development, it doesn't help the Blazers quite yet in the moment. In the future? Maybe. But right now? Trent isn't a good player.
Taking a look at the new additions they picked up, it seems like there are tons of bright spots but I don't know what's going on. Anfernee Simons was a great player to draft but he definitely needs more development for the minutes that he's been playing. He can score the ball but is young and inefficient. He needs time to grow and I think he will develop into a great role player for the Blazers but as of right now, his play doesn't help them.
The Blazers also picked up Kent Bazemore in the offseason, who at first seemed like a great pickup, but in the end, wasn't really a fit. Bazemore can shoot the ball, has long reach and is a decent defender, but the man is very sporadic and proved to be inefficient for them. That's why they traded for Trevor Ariza, who I think is a great pickup. Ariza can shoot the 3, plays outstanding defense. Not only that but Ariza brings in veteran leadership and championship experience. This definitely adds to the Blazers.
Hassan Whiteside is another brilliant pickup. But the man is overrated. When you look at his stats, he leads the league in blocks and picks up the most rebounds. I hear arguments that Whiteside is a better rim protector than 2x DPOY Rudy Gobert. But all these comments come from fans on Instagram. If that's the case then why aren't NBA analysts talking about him that way? This is the way I see it. If you watch the Utah Jazz play, yes Rudy gets lots of blocks but pay attention to how often teams attack the rim when Rudy is on the court. Teams avoid the paint at all costs when Rudy is there. The ratio of blocks versus times he's actually attacked is much better than Whiteside's. When watching Blazer's games, it seems that opposing players are not afraid to attack at Whiteside. I mean, they should be, because he gets tons of blocks, but he's also being scored on a lot, meaning teams aren't as afraid of him as they are Rudy. If you're contesting more shots, then you'll get more blocks. And you're not gonna get as many blocks if teams are gonna avoid you at all costs because they're afraid. That's why Whiteside averages more blocks but Rudy is still the better defensive player. I'm not saying all of this to take away from Hassan, because in the end, he is still a great player and fantastic rim protector. But you need to consider these factors when trying to break down the Blazers.
The last player is Carmelo. Melo is a bucket. Not as efficient as he used to be and slightly a defensive liability. But he has fit well into his role. Carmelo is at his best when he is the number one option and he can iso, but he's old and doesn't have the skill he used to. But here in Portland, he has accepted that role and fit well into it. The Thunder and Rockets owe Carmelo an apology, because he was not the reason for their struggles. They just used him as a scapegoat but here in Portland, he's proved them otherwise. Great pickup.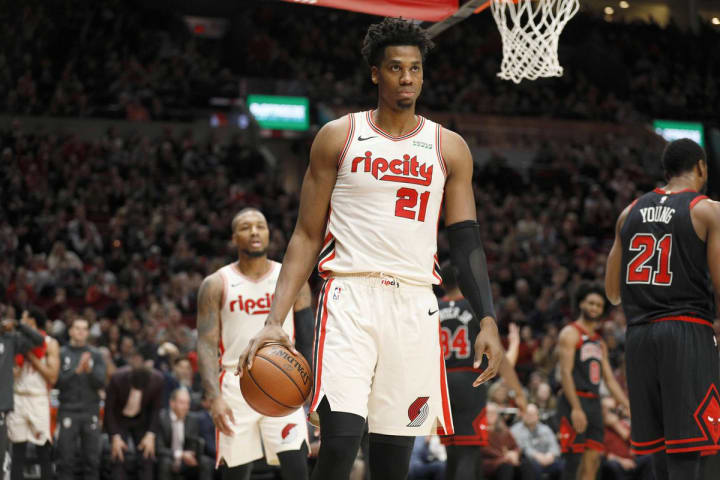 In conclusion, the Blazers roster changes have not helped them in any way. The biggest factor is defense. Losing Aminu and Harkless, two great wing defenders who could hit the 3. Carmelo and Kent Bazemore were poor replacements for them. Offensively they matched up better but that's not what the Blazers need. They already have all the offense they need. Melo and Bazemore couldn't make up for what Aminu and Harkless brought defensively. However, trading for Ariza brings in a guy that plays similar to Aminu and Harkless and will be a huge benefit for them. Whiteside also adds to their defense, but right now, its the perimeter that needs help. The perimeter is weak which allows a lot of offense for the other team along with allowing them to attack the rim easier. Something that Whiteside is doing his best to handle but in the end, isn't quite nearly enough. He will get better but he also needs help.
The second biggest is the injuries. Hood and Collins were two huge blows and it forces other players to step up when they aren't experienced enough yet which hurts the Blazers.
You hear Dame and CJ and you think great team. But they can't do it on their own. That's why they have a losing record right now and are fighting hard to make the playoffs when they've done so easily the past few years.