Vegas Golden Knights Capture First Stanley Cup Title in Spectacular Fashion
An Incredible Triumph in History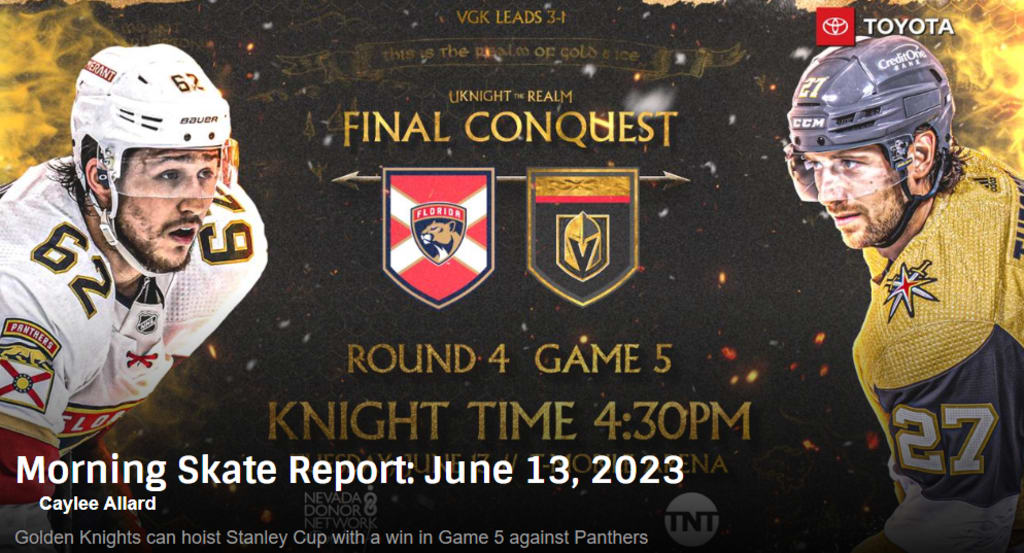 NHL.com
Hey, there, I'm P.Ambrose, and I am passionate about discussing the latest news and sharing interesting topics. Today, I am excited to share the thrilling hockey event that has made history. Yes! The Vegas Golden Knights have left countless people amazed with their incredible triumph!
"They put in so many hours to give us opportunities for where we are today. Can't thank them enough, and couldn't be more proud to have them."

"...it's hard to process what's going on while it's pretty special feeling."

"it's unbelievable. Thanks you for the support! Thank you everyone be part of my journey!"
Now, let's dig in the topic.
Golden Knights' Flashy Style Shines Through in Stanley Cup Victory
The Vegas Golden Knights took the hockey world by storm as they secured their first Stanley Cup championship in just their sixth NHL season. Known for their Vegas-style showmanship, the Golden Knights delivered an unforgettable performance, highlighted by dazzling passes, a remarkable hat trick from captain Mark Stone, and jubilant goal celebrations. Their 9-3 triumph over the fatigued Florida Panthers left no doubt about their prowess.
Marchessault Wins Conn Smythe Trophy, Stone Makes History with Hat Trick
Jonathan Marchessault's stellar postseason performance earned him the prestigious Conn Smythe Trophy as the most valuable player. He played a pivotal role throughout the playoffs, contributing 25 points in 22 games. Meanwhile, Mark Stone etched his name in the history books, becoming the first player since 1922 to score a hat trick in a Stanley Cup-clinching victory. Captain Stone's exceptional leadership and on-ice contributions were key factors in the Golden Knights' success.
Vegas Embraces the Cup and Celebrates a Double Championship Win
With the Stanley Cup now in their hands, the Vegas Golden Knights added to the city's championship glory. In 2022, the WNBA's Las Vegas Aces had already brought home a league crown, making it a remarkable back-to-back championship triumph for the city. The city celebrated the Golden Knights' victory with great enthusiasm, relishing the achievement of their beloved team.
A Cinderella Story: Florida Panthers' Unlikely Run to the Finals
On the other hand, while the Florida Panthers fell short in the Stanley Cup Finals, their journey was nothing short of remarkable. Overcoming the odds, the Panthers secured a postseason berth on the final day of the season and embarked on an improbable run. Defying expectations, they battled through challenging series, including a comeback from a 3-1 deficit against the Boston Bruins and a convincing sweep of the Carolina Hurricanes in the Eastern Conference Finals.
Vegas Golden Knights' Legacy Continues to Grow
The Golden Knights' victory adds to the rich history of the franchise. With their incredible accomplishments in such a short span of time, they have solidified their status as a force to be reckoned with in the NHL. As the city of Las Vegas revels in their triumph, the future holds even more promise for this dynamic and captivating team.
Article Proposal! We'd love to hear your opinions and thoughts on the Stanley Cup Finals and the Vegas Golden Knights' victory. Are there any specific highlights or moments that stood out to you? Are there any players or teams you're particularly excited about for the future of hockey? Comment your thoughts, and let's enjoy the exciting prospects that lie ahead in the world of hockey!

If you enjoyed our article, we kindly ask you to consider subscribing or showing your support. For more articles, please refer to my main page or visit https://linktr.ee/P.Ambrose.article. Thank you!"

Reference: For the cover photo, please refers to https://www.nhl.com/goldenknights.
Reader insights
Outstanding
Excellent work. Looking forward to reading more!
Add your insights