Unapologetically Defending the Texas Rangers
Giving praise to my favorite team and clapping back at disrespectful sources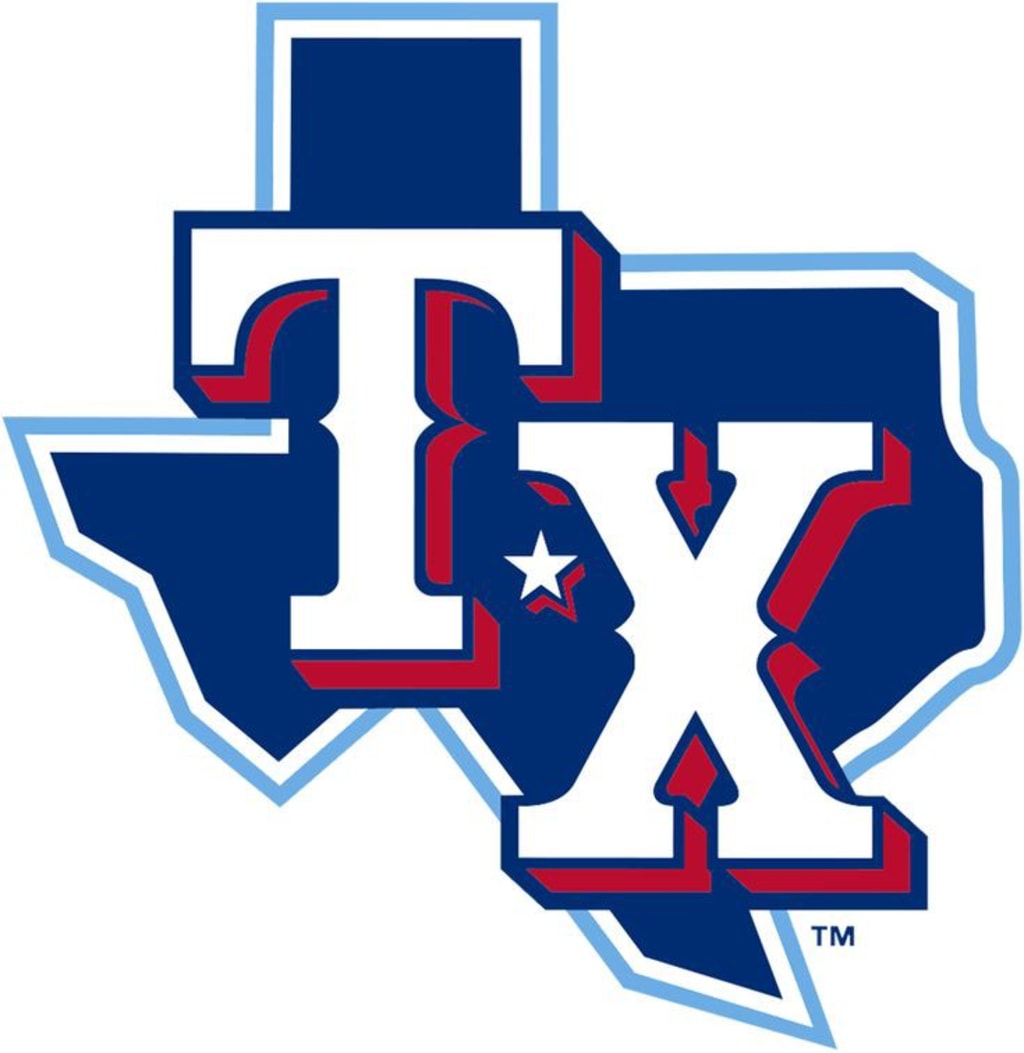 Recently, I celebrated a birthday and very thankful to see another year. Witnessing the Texas Rangers winning their first ever World Series was the best birthday gift I ever asked for. I've noticed in the nearly three weeks since they defeated the Arizona Diamondbacks in five games was an act of disrespect towards the World Series champions. What do I mean by that? Stick around for a while and by the time you've finished reading this story, you'll have a full understanding of why I felt the need to strongly come to the Rangers' defense. I'll start off with the bad and then with the good, because I want my readers and everyone else to understand where I'm coming from.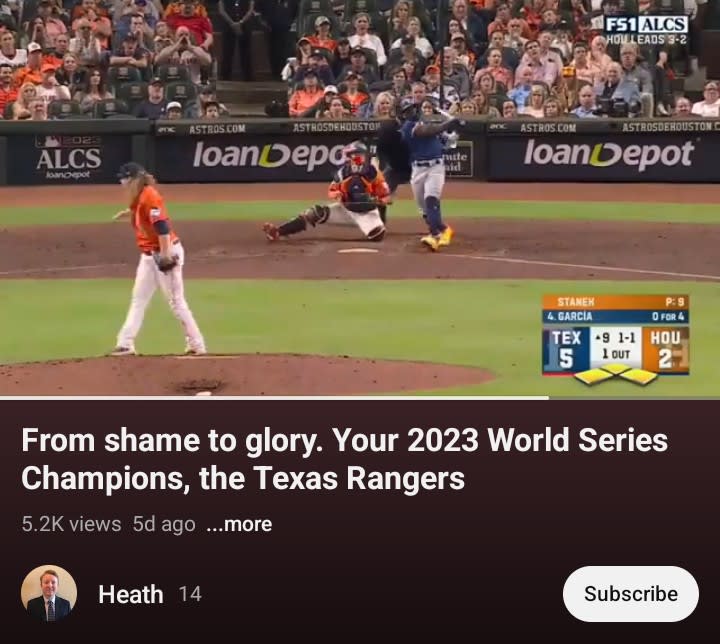 On November 12, I watched the following YouTube video (seen above) and this is a screenshot of it. To be fair, I've watched the entire video and it was well put together. There were clips of different Rangers games, including those from the World Series from 2010 and 2011, which I won't go into further detail, out of respect for my fellow Rangers fans. It was a great video, but the one thing about that irked me was the one word described in the title of this video: shame. What's wrong that, you ask? When you use a word like shame or shameful to describe a team's journey to a championship and eventually winning it all, it comes off as very disrespectful and that was the only issue I had with this guy's video. I'm not sure if he's a Rangers fan or not, but I would have respect for him if he used better wording in the title of his video. I'll give him credit for putting this video together, but he gets an F for poor use of a word like shame.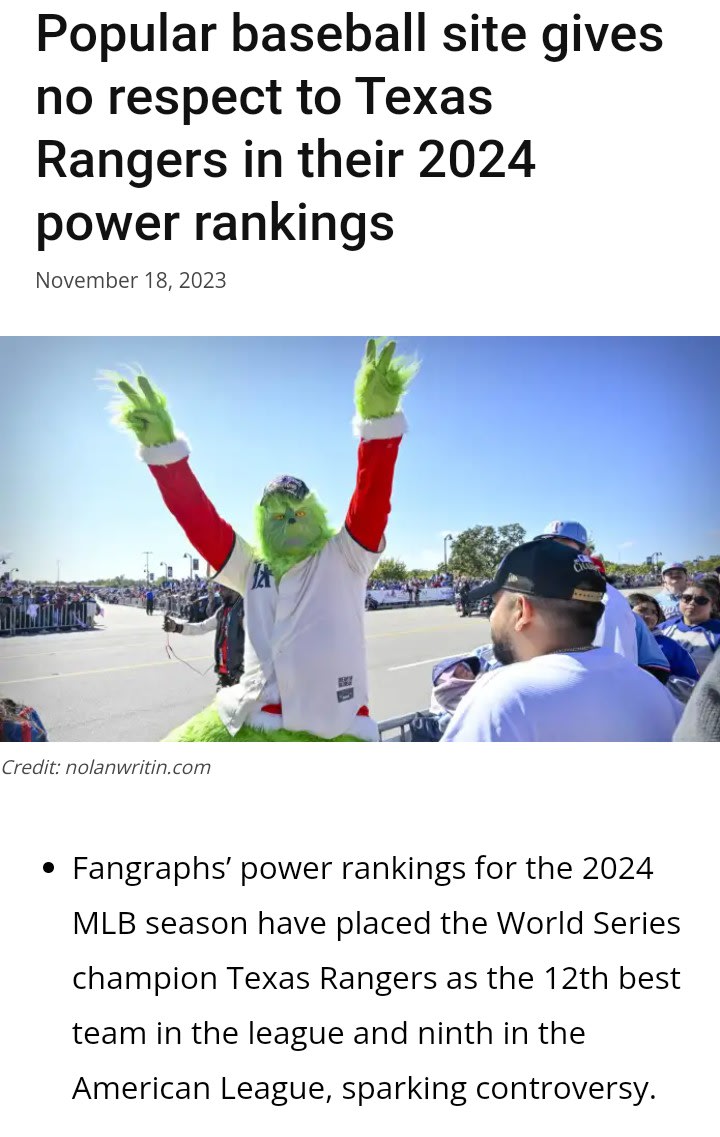 Here's another example of disrespect, also seen above. The baseball site, Fangraphs, recently came out with their power rankings. For those who aren't sports savvy, power rankings are defined as the power rating of a team being calculated of the team's strength relative to other teams in the same league or division. In the case of Fangraphs, they ranked the Rangers as the 12th best team in the league and 9th in the American League, which infuriated me. This is a team that swept the Rays in the Wild Card round, swept the Orioles in the ALDS, defeating their rivals, the Houston Astros, in seven games in the ALCS, and winning against the D-Backs in five games of the World Series and this is how Fangraphs treats them? Really? The Rangers finally winning a championship was 52 years in the making, because they've been in Arlington since 1972 and over 60 years in the MLB when they were known as the Washington Senators from 1961-1971. To me, it's a huge slap in the face towards Rangers fans and their organization. However, there's a bit of good news. According to an article from CBS Sports, as of November 2, the MLB Power Rankings had the Rangers on top, followed by the Diamondbacks, Phillies, Braves, and Orioles to round out the top five.
Now that I got the bad stuff out of the way, here's the good. I want to show my appreciation to the following three Instagram pages. These pages have a dedicated fanbase and I follow all three of them. Between these three pages, they have a combined 1.1 million followers. Us Rangers fans are with our team, during the good and bad times. We never stopped believing in them and if you've seen #goandtakeit and #wentandtookit on Instagram, you know how loyal Rangers fans really were and have been during the 2023 season.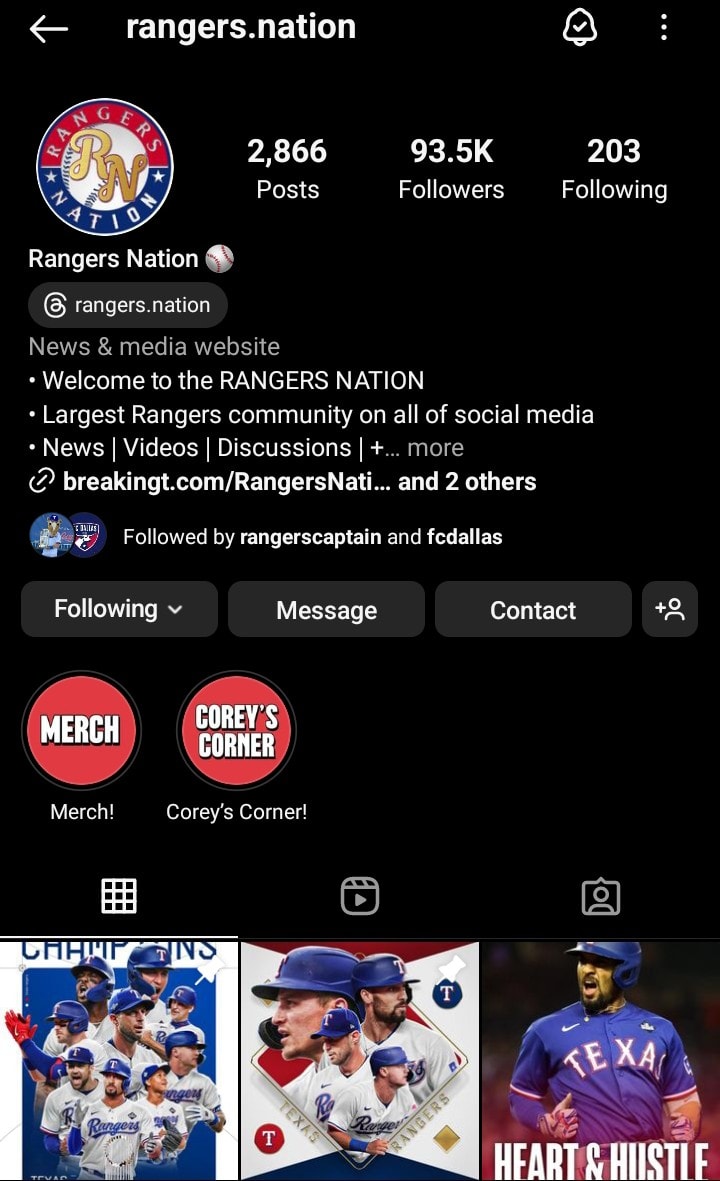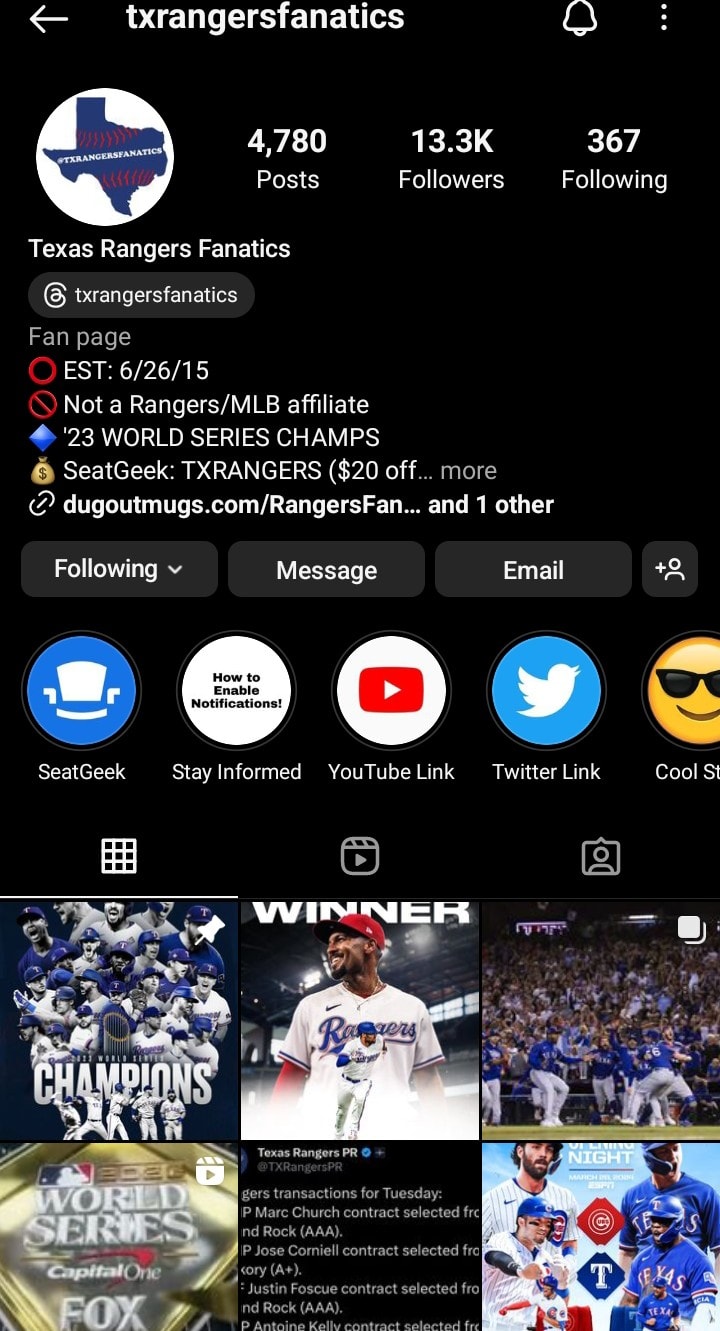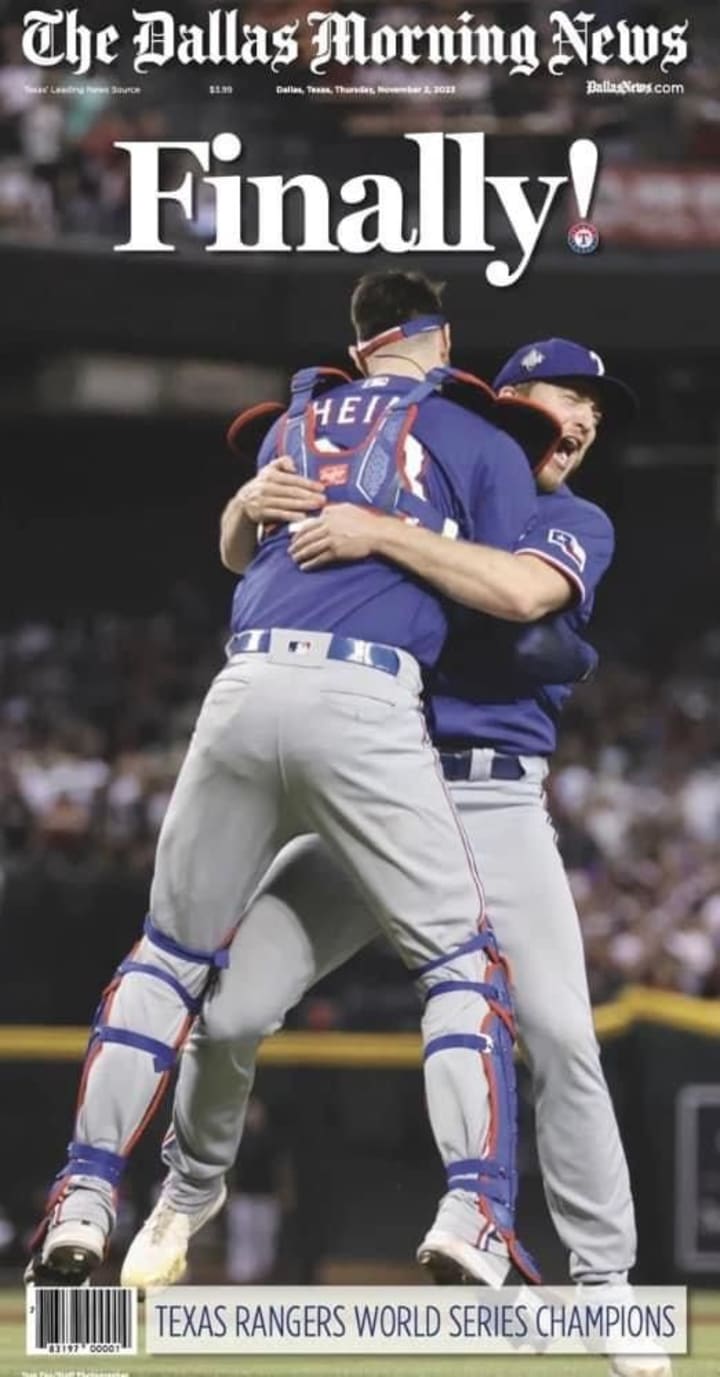 To conclude this story, I want to display one more photo. This is from The Dallas Morning News the day after the Rangers won the World Series. Finally! is the way to describe it. The following day, a parade in my hometown of Arlington, Texas was held for the team. I mentioned in my last story about the Rangers that 50,000 people attended the parade. I later learned while reading an article that the number of attendees was larger than that, around 500,000. After decades of heartbreak, you can't call them yearly disappointments or rebuilders anymore. They're champions and they finally earned it. Now the Dallas-Fort Worth metroplex has a group of champions that they're finally part of, joining the Dallas Cowboys, Dallas Mavericks, and Dallas Stars. To the two people I mentioned earlier in this story and others who have anything negative to say about my team: my beloved Texas Rangers are not a shameful team. Sure, they went through their struggles and no MLB team is perfect, but they worked their tails off to finally accomplish this huge feat. So it's only fair to give them the praise and credit they rightfully deserve. Many people like myself waited their whole lives to finally see this happen. We've always been by their side and will continue to do so for the foreseeable future.
I felt the need to write this story to call out the foolishness of these two disrespectful sources and giving kudos to my faithful and fellow Texas Rangers fans. When you minimize a team's hard work with slanderous language, that's the part I can't stand. Finally, if someone is talking crap about your team and not giving them praise, it's okay to say something and defend your team. I'm not sorry, because these things in my story needed to be said.
About the Creator
Award-winning cosplayer, cosplay model, influencer, retro gaming fanatic, die-hard Texas Rangers fan, and nostalgic freak. Need I say more?
Threads: @thecosplayerfromtexas
Instagram: @thecosplayerfromtexas
TikTok: @thecosplayerfromtexas
Reader insights
Be the first to share your insights about this piece.
Add your insights