Track Stars App: Fab Freshmen of Track & Field NCAA Division I
The top rookies who shined brightest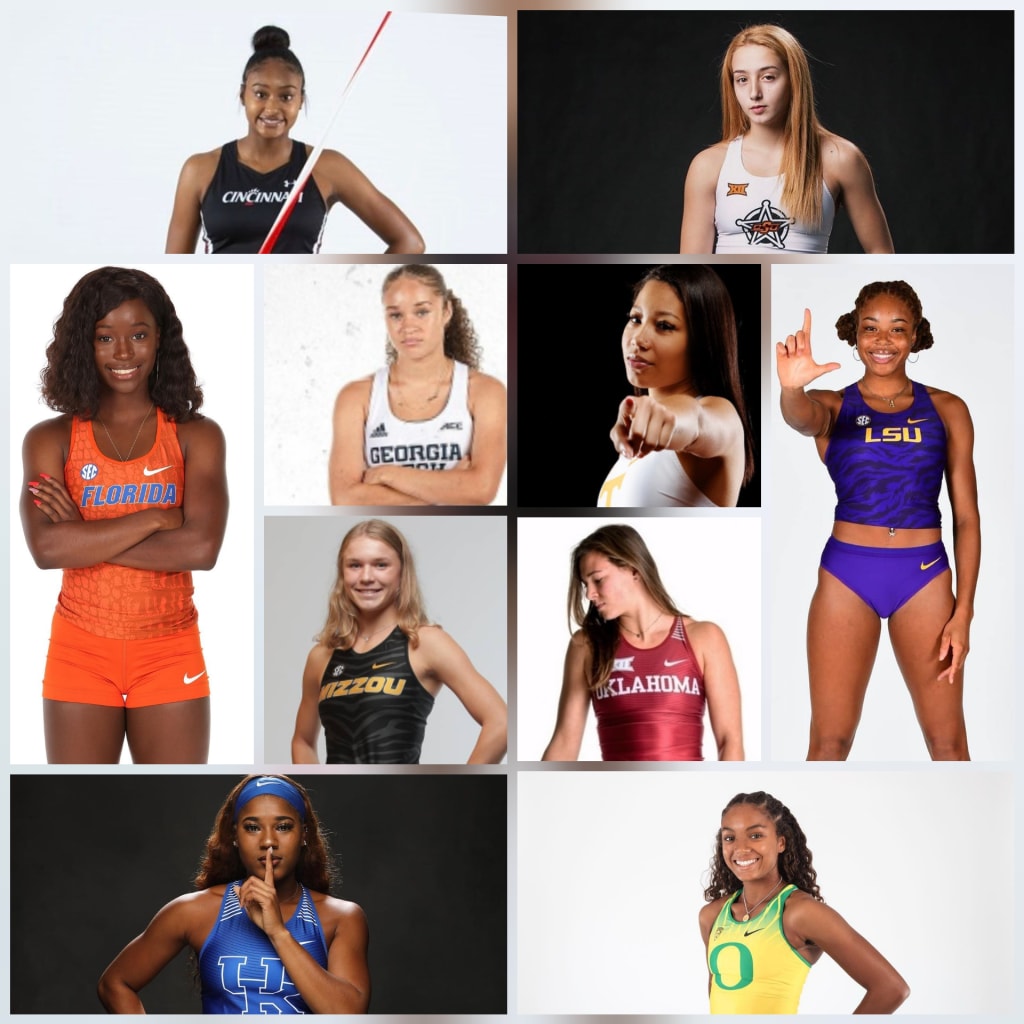 While the 2019-20 track and field season was cut short, these freshmen proved that we have a lot to look forward to for the 2020-21 season. This is a list of the top freshmen on the NCAA Division I level.
This list is brought to you by the Track Stars App.
Click the links below to download the world's first women's track and field video streaming app for iPhone and Android users.
Track Stars App, available for iPhone and iPad users https://apps.apple.com/us/app/track-stars/id1489617224
Track Stars app is also available for Android users at: https://play.google.com/store/apps/details?id=com.app.trackstars
Ariadni Adamopoulou
School: Oklahoma State, Event: Pole Vault
Tosin Alao
School: TCU, Event: Triple Jump
Euphenie Andre
School: Missouri, Event: Triple Jump
Amber Anning
School: LSU, Event: 400 meters
Abi Archer
School: Stanford, Event: 3000 meters, 5000 meters
Alia Armstrong
School: LSU, Event: 60-meter hurdles
Mariah Ayers
School: Baylor, Event: 200 meters
Kaitlyn Banas
School: Arkansas, Event: Pole Vault
Nyagoa Bayak
School: LSU, Event: High Jump
Taylor Beard
School: Cincinnati, Event: High Jump
Jahniya Bowers
School: Youngstown State, Event: 60-meters
Janique Burgher
School: Kansas State, Event: High Jump
Elasia Campbell
School: Duke, Event: High Jump
Kelsey Chmiel
School: North Carolina St, Event: 3000 meters
Thelma Davies
School: LSU, Event: 60 meters, 200 meters
Aja Davis
School: Syracuse, Event: 60 meters
Jalani Davis
School: Ole Miss, Event: Shot Put, Weight Throw
Grace Forbes
School: Rice, Event: Mile, 3000 meters
Daszay Freeman
School: Arkansas, Event: 60-meter hurdles
Julia Fixsen
School: Georgia, Event: Pole Vault
Elizabeth Funderburk
School: Florida State, Event: 5000 meters
Ingeborg Gruenwald
School: UTSA, Event: Long Jump
Darci Khan
School: Kentucky, Event: 60-meter hurdles
Semira Killebrew
School: Florida, Event: 60 meters, 200 meters
Anna Hall
School: Georgia, Event: High Jump, Pentahlon
Alysah Hickey
School: Oregon, Event: Long Jump
Destiny Huven
School: Wisconsin, Event: 60-meter hurdles
Saara Hakanen
School: Oklahoma State, Event: Triple Jump
Mara Hausler
School: Missouri, Event: Triple Jump
Chandler Hayden
School: Tennessee, Event: Weight Throw
Mackenzie Hayward
School: Baylor, Event: Pole Vault
Alysah Hickey
School: Oregon, Event: Long Jump
Gennifer Hirata
School: South Dakota, Event: Pole Vault
Prommyse Hoosier
School: Tennessee, Event: Long Jump
Mackenzie Horn
School: High Point, Event: Pole Vault
Jillian Johnson
School: TCU, Event: High Jump
Shatara Johnson
School: Tennessee, Event: Long Jump
Anna Jordahl-Henry
School: Columbia, Event: High Jump
Lavinja Jurgens
School: Oklahoma, Event: High Jump
Nissi Kabongo
School: Stephen F. Austin, Event: High Jump
Sophie Lasswell
School: BYU, Event: 5,000 meters
Destiny Lawrence
School: Houston, Event: Triple Jump
Joella Lloyd
School: Purdue, Event: 60 meters
Avery McMullen
School: Colorado, Event: Pentathlon
Jasmine Mitchell
School: Ole Miss, Event: Weight Throw
Jasmine Moore
School: Georgia, Event: Long Jump, Triple Jump
Ashlee Osaji
School: Southern Miss, Event: Long Jump
Leonie Reuter
School: Washington State, Event: High Jump
Mathilde Rey
School: Oregon, Event: High Jump, Penthtlon
Kerris Roberts
School: Purdue, Event: 200 meters
Dominique Rutolo
School: Oregon, Event: Triple Jump
Amaya Scott
School: UTSA, Event: Long Jump
Jada Seaman
School: Virginia, Event: 200 meters, Long Jump
Jacious Sears
School: Miami, Event: 60 meters, 200 meters
Jazlynn Shearer
School: UNLV, Event: 60-meter hurdles, Triple Jump
Melany Smart
School: Washington, Event: Mile
Grace Stark
School: Florida, Event: 60-meter hurdles
Carley Thomas
School: Washington, Event: 800 meters
Darby Thomas
School: Nebraska, Event: Long Jump
Cierra Tidwell
School: BYU, Event: High Jump
Shelby Tyler
School: Georgia, Event: High Jump
Elien Vekemans
School: Oklahoma, Event: Pole Vault
Auriane Viola
School: Louisville, Event: Pole Vault
Mikeisha Welcome
School: Oklahoma, Event: Long Jump, Triple Jump
Anna Witherspoon
School: Georgia Tech, Event: 60-meter hurdles
Britton Wilson
School: Tennessee, Event: 400 meters
Taylor Wright
School: Miami, Event: High Jump
Charokee Young
School: Texas A&M, Event: 800 meters
Tara Zeni
School: Quinnipiac, Event: Long Jump