Shaw Boys dominance of 1983
A look at a 24-game win streak that rocked Cleveland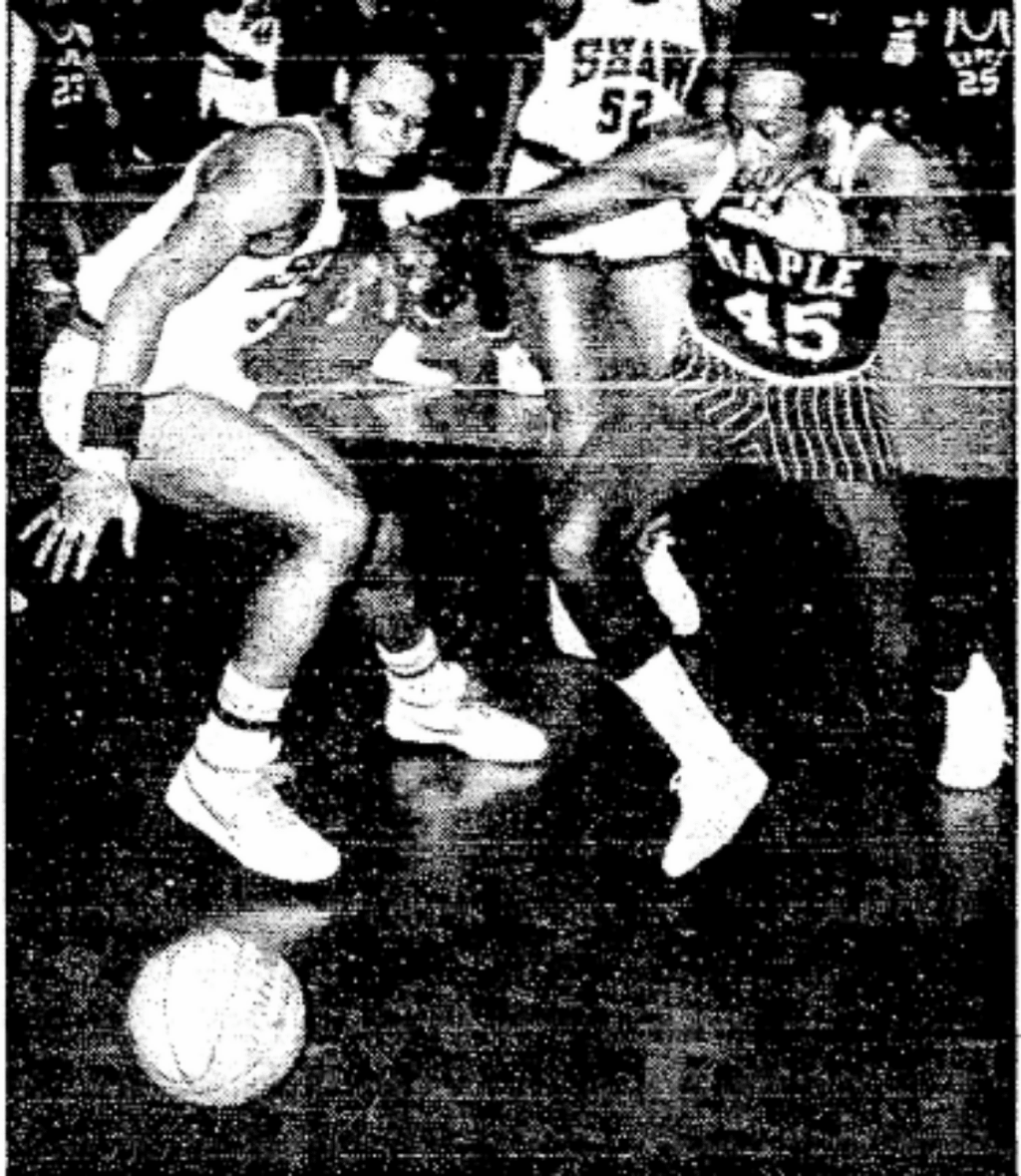 Greg Bell (left) during Shaw's district semifinal win over Maple.
The 1982-83 Shaw High School basketball team took flight from the start and was seen as unbeatable. This is a recap of the season and the many highs it provided for the city of East Cleveland.
Nov. 21, 1982
In the Plain Dealer's 1982-83 high school basketball preview, Shaw was picked as the number one team in the Cleveland area. It was reported that Shaw would play "parachute basketball."
Legendary head coach Walt Killian told his boys to not shoot beyond 15 feet from the basket. The team was said to have seven rebounders and was led by a then 6-foot-3 180 pound star by the name of Greg Bell. In his junior year he posted averages of 19.5 points and eight boards per game. Others such as forward Terrence Jenkins, point guard Tony Jones and shooting guard Cliff Williams were also mentioned.
Nov. 26, 1982
In its opening game, which was the day after Thanksgiving, the Cardinals of Shaw took off with an 84-60 win over John Adams, where Jenkins led the squad with 16 points. Thirteen different Cardinals played that night. John Adams coach complimented Shaw with a bit of wit, "What impressed me the most about Shaw is how its players kept pounding the boards, especially at the offensive end. I think they picked the boards cleaner than most people did yesterday with their turkey bones."
Bell and Williams scored 15 and 14 points respectively.
Dec. 3, 1982
Shaw improved to 3-0 with a 68-48 win over Lake Erie League foe Valley Forge. Bell had 14 points and nine rebounds. Ronald Ross also scored 14 points.
Dec. 10, 1982
Led by small forward John Middlebrooks' 15 points, Shaw topped Shaker Heights, 58-50. Jenkins scored 14 in the win.
Dec. 18, 1982
Shaw travelled to Akron Buchtel and had little problems in the 76-61 victory. The Cardinals started the night with a 22-9 lead at the end of the first quarter. Bell led his squad with 25 points and 15 rebounds. Middlebrooks followed up with 14 points.
Dec. 23, 1982
Greg Bell was now listed as 6-3, 205 pounds when he was named to the Plain Dealer Dream Team. Bell was one of five players honored that week. His performance against Buchtel was praised. Also that week he had a 17-point and 13-rebound game in a win against Lake Erie League opponent Garfield Heights.
Jan. 14, 1983
Shaw's Bell and Jenkins are featured in an article in the Plain Dealer entitled "The Grace of the Cardinals." After Shaw's 9-0 start, it maintained its number one Plain Dealer ranking and was ranked number eight in the Ohio Asscoiated Press poll. At that point Bell was posting averages of 16.8 points and 10 rebounds. Jenkins was averaging 14.2 points and nine boards.
In the feature Coach Killian described them as "polished jewels." Shaw as a team was averaging 79.2 points per game and holding opponents to 59.7 points per game.
On that same day Shaw travelled to Valley Forge for another LEL win, but this one was much closer as the Cardinals won 69-62 behind 12 points from Bell and 11 points by 6-7 center Shawn Pope.
Jan. 18, 1983
After a tight first quarter in which it led 19-17, Shaw went on a 30-14 run on the way to winning 91-75 over John F. Kennedy, the eventual South Senate League champion. Bell put up 20 points as Shaw survived a 31-point performance from JFK guard Wayne Clarke. He scored 26 of those points in the second half. Shaw got a big performance from reserve Williams who posted 16 points.
Jan. 21, 1983
Shaw rolls to 12-0 with a 13-point win over Parma (89-76). Bell was monsterous with 32 points and 18 rebounds. In the fourth quarter he managed to record three straight dunks that demoralized Parma and put the game out of reach. Jones led Shaw with seven assists, while Jenkins posted 10 points, six rebounds and three assists.
Jan. 25, 1983
Bell and Jenkins combine for half of Shaw's points as the Cardinals beat Normandy 64-44. Bell dropped 20 points and Jenkins had 12 as Shaw pounded on the 1-12 Invaders.
Jan. 28, 1983
Once again Bell stomps on an opponent as he scored 27 points, 11 rebounds, six assists and five steals in an 85-70 win at Shaker Heights. Killian called it Bell's best game to date as Shaw rose to sixth in the state rankings. Another fun note is Bell is now officially listed as 6-foot-4.
Jenkins scored 18 points and Pope scored nine of his 11 points in the fourth quarter.
Jan. 29, 1983
One night after beating Shaker for the second time of the season, Shaw hosted Toledo Scott and ripped off an 84-58 victory. Bell led the way with 19 points, Jones and Jenkins had 14 and 13 respectively.
Feb. 4, 1983
Shaw won its third straight LEL title winning 82-52 at home against Garfield Heights. Jenkins recorded a triple-double. That's right a triple-double. He had 16 points, 13 rebounds and 10 assists. Bell had another 20-point performance, of course.
Feb. 15, 1983
Shaw ranks number two in the AP state rankings, where it would finish the regular season .
Feb. 19, 1983
Shaw topples rival Cleveland Heights by just one point, 74-73. The Cardinals wrapped up league play with a perfect 14-0 record as they were 20-0 overall. Shaw was down, 33-32 at the half before having a comfy 46-30 lead going into the fourth quarter. Heights stormed back in the game of runs. Jenkins scored 16 and Middlebrooks had 15. Bell struggled that night with seven points.
Feb. 25, 1983
Shaw started its postseason with an 88-49 win over John Hay. The Cardnals outscored Hay 48-19 in the second half. This time the Cardinals were led by role players Ron Ross and Pope who scored 16 and 12 points respectively.
March 4, 1983
The Cardinals win its sectional championship match over Solon, 88-75. Shaw, now 22-0, hit 55 percent of its shots. Ross continued his amazing sectional play with a 22-point outburst. Bell followed that up with 16 points to counter Solon's Brad DiSandis' 26 points. Killian acknowledged his team's depth in the win. "I wouldn't hesitate putting them in any situation. I've never kept players around who can't contribute. It's a waste of their time."
March 8, 1983
Bell is named to play in the North-South Cage Classic all-star game in Canton Ohio, which was played April 9, 1983.
March 10, 1983
In front of a packed house in Maple Heights, Shaw squeaked past the home team in the district semifinals with a 55-52 win. Shaw once had a 14-point lead but Maple fought and clawed to make things difficult for the Cardinals. Bell put up 20 in the triumph. Reserve Hanson was second in scoring for Shaw with 11 points.
March 12, 1983
Bell is named Ohio Northeastern Lakes District Player of the Year. He shared the honors with Lorain King senior Roger Smith who helped lead his team to a 20-1 finish. Bell was averaging 18.6 points per game before receiving the honor.
Coach Killian was named Coach of the Year as well.
That night, Shaw met LEL opponent Shaker Heights for the third time that season in the district championship game. Shaw swept the season series with an 82-69 victory. Behind Bell's 22 points, Shaw improved to 24-0. Jenkins had 16 points and Ross had another strong game as he contributed 13 points.
March 16, 1983
After a school record 24 straight wins, Shaw's season came to an end in dramatic fashion in a 64-62 heartbreaking loss to St. Joseph. After trailing by nine at the half Shaw put together a strong second half that saw it grab a 62-59 lead with just under two minutes to play. Shaw was done scoring for the rest of the season as the talented junior guard Stan Kimbrough hit a game winning shot with 22 seconds left which made the score 63-62.
St. Joseph had a big block as well by future NBA guard Kevin Edwards who pitched in 12 points. Shaw was led in scoring by Jones' 13 points. Hanson also stepped up with a 12-point effort. The Cardinals star player Bell was bottled up as he only posted four points.
Kimbrough, who led St. Joseph with 19 points went on to compete in college for Xavier, leading them to three NCAA Tournament appearances from 87-89. Edwards teamed up with future NBA star Rod Strickland to take DePaul to the NCAA Sweet 16 in 1987. After that he became a starting guard in the NBA that averaged 10.9 points per game over an 11-year career.
The Aftermath
As for the 1983 Shaw squad it may be the school's all-time best team. It's 24-1 record is definitely the best in school history, though a other teams have advanced past the regional semifinal round which is where this team was eliminated.
Coach Killian won another district Coach of the Year honor in 1991, while leading Shaw to another LEL crown, before leaving Shaw after the 1991-92 season. He went 302-137 after 21 years as the head coach at the school. Killian won eight LEL titles and five district championships.
He continued to coach after Shaw as he moved on to John Adams just months after retiring as a teacher and coach at Shaw. He was able to coach at Adams, while still being retired as a teacher. By the mid-1990s he was coaching at Kennedy and a decade later he was coaching at The Fuchs Mizrachi School, which is an Orthodox Jewish high school in University Heights. He took over a losing program and by the third season they were winning, proving he hadn't lost his touch.
Greg Bell earned some national recognition as a college ball player for Southwest Missouri State. His two seasons, after a stint at Southeastern Community College in Iowa, saw Southwest Missouri State qualify for the NIT and NCAA Tournaments for the first time in school history. His top level play that he developed at Shaw transferred well on the national stage as he helped Southwest Missouri State upset a future NBA All-Star and champion Horace Grant led Clemson squad in the NCAA Tournment.
John Middlebrooks competed at Baldwin Wallace. John Hanson, Shawn Pope and Terrence Jenkins went to Edinboro University which has seemed to be a pipeline for many Shaw athletes over the decades.
Shaw is arguably the most successful high school basketball program in the Cleveland area that has never won a regional championship. Nevertheless the 1982-83 squad provided some of the brightest moments in the history of Shaw High School hoops.