Top 9 Catcher's Mitts You Can Buy Right Now
There's a difference between catcher's mitts and standard baseball gloves. Here are the top 9 catcher's mitts currently available for all levels of play.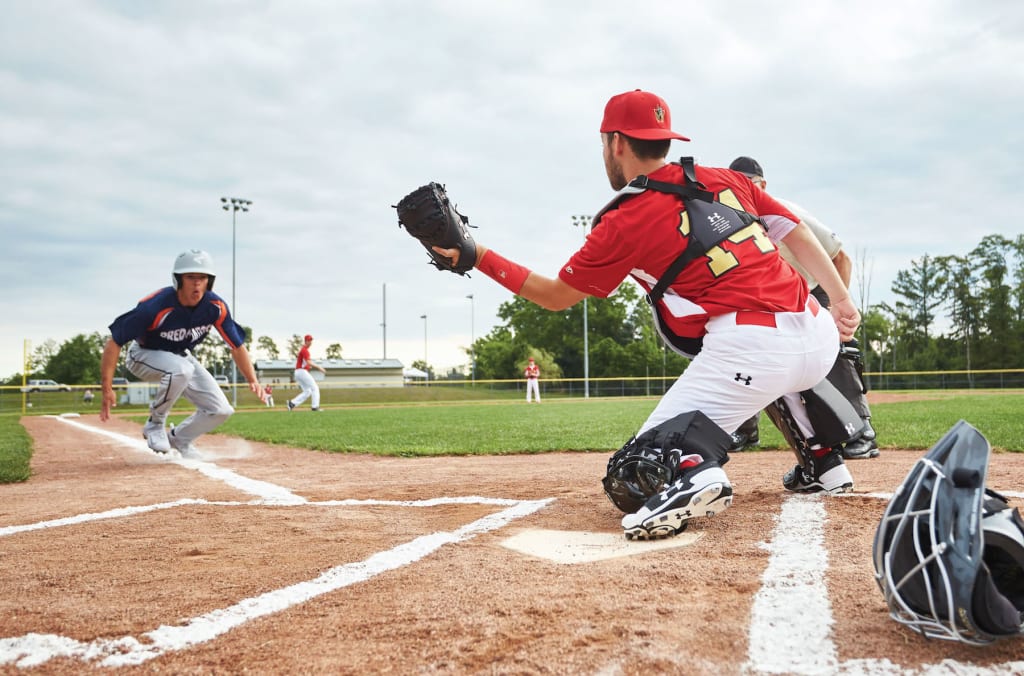 Whether you're a first baseman or a catcher, you're probably used to the having different kinds of mitts than the rest of your teammates. The difference between catcher's mitts and standard fielder's gloves is the circumference and length.
Standard gloves are longer, making it easier to scoop up a ball on a bounce or in the dirt. The best baseball gloves for pitchers have to be used for a variety of situations on the field. Catcher's mitts, however, are wider, and have a deeper pocket. The deeper pocket provides more cushion for the player, since they're consistently catching the ball from the pitcher. Keep these factors in mind when you shop for a new catcher's mitt. Here are the top 9 catcher's mitts currently available this season.
This is one of the more expensive catcher's mitts available, but also one of the highest quality. With a lot of mitts and baseball gloves in general, one of the most irritating things you have to do is break it in. I remember the days of having to oil my glove or wrap it with some bungee cords, and keep it under my mattress. With the AllStar Pro Elite Catcher's Mitt, those days are gone. This mitt has a pretty worn-in feel as soon as it arrives, which is rare. Made with a Japanese leather, this catcher's mitt will last you multiple seasons, and will become more comfortable the more action it receives.
Ah, the A2000. I played with the same Wilson A2000 glove for years, a good sign that this catcher's mitt is durable. Wilson's A2000 series has been a successful brand of glove for decades and is used by baseball players in every league. This mitt was specifically developed with Hall of Fame catcher, Ivan "Pudge" Rodriguez. With its deep pocket and thin outside padding, this mitt gives you a natural, comfortable feeling. It makes it easier to scoop wild pitches out of the dirt and have a general feel for the ball. Another cool feature about this mitt is its DriLex wrist lining, which keeps your hand dry while catching.
One of the more inexpensive catcher's mitts available is the All-Star Pro Advanced, listed under $200 on Amazon. This mitt comes pre-oiled, so you don't have to worry much about breaking in the leather. It's also one of the more comfortable mitts available, with an adjustable Velcro wrist strap and padded wrist guard. With an extended toe on the webbing, you'll easily be able to scoop balls out of the dirt. The All-Star Pro-Advanced catcher's mitt also has a heavier heel channel, which closes the mitt a lot easier if you have smaller hands.
Mizuno is one of the biggest names in baseball. Players across all leagues of the game can be seen using their gloves and mitts. The Mizuno Samurai Pro Baseball Catcher's Mitt is designed to protect your hand at all costs. It includes extra padding and what's called a ParaShock palm, which absorbs the shock when catching a baseball at high speeds. While this mitt is designed for players with big hands, you will never have to worry about injuring your hands or fingers with this safe, affordable catcher's mitt. Plus it'll look awesome while you're playing in one of the most beautiful ballparks in the US.
This is a very affordable Mizuno catcher's mitt that's an excellent option, no matter what league you're playing in. The black and tan leather is very soft, making it easy to catch and close, requiring little time to break it in. This mitt absorbs shock very well also, using finger channels to absorb any stress to the hand. While the padding may be a little thin, this mitt is versatile, fitting just about any size of hand.
This classic-looking mitt named after the great, Shoeless Joe Jackson, has an old-school look with a new aged feel. This mitt is designed with extra padding, so your hands always very comfortable when catching the ball. The tanned cowhide leather really looks great, and it feels worn-in the second you try it on. The Shoeless Joe Catcher's Mitt is a great option for under $200 and is a good fit for any age.
Another quality Mizuno catcher's mitt is the Mizuno Supreme GXC94, made for younger players. Since it's targeted for youth leagues, this mitt's claim to fame is its ability to protect. This mitt also has the ParaShock palm pad, absorbing shock to the hands after repeated use. Listed at $50 on Amazon, this is a very affordable option for young and teenaged players. Although it has a thinner padding, it is very easy to adjust and control when you're behind the plate.
Rawlings is another household name in baseball. And the Renegade Series Catcher's Mitt is among the best available. This mitt is durable, made entirely with a black leather, featuring a sturdy webbing. Listed at just about $60 on Amazon, the Renegade Series Catcher's Mitt is probably the best mitt you can find for the price. This makes it a very decent option for youth players or new catchers, while still appealing to more experienced ones as well. With a short break-in time and well-designed lacing, this is one of the best catcher's mitts available.
This is another Mizuno catcher's mitt, targeted for younger, teenaged players. The Mizuno Prospect GXC105 Youth Catcher's Mitt is designed to open and close easily, using what's called a V Flex Notch, which helps players squeeze the ball. While it may not last during higher-level of play, such as high-school ball, this mitt is still a great, affordable option for those still developing at the catching position. Maybe getting this glove will make you part of the best MLB lineups in the future.
Reader insights
Be the first to share your insights about this piece.
Add your insights