The Worst Mock Draft On the Internet: Part III
What is the worst fit for each lottery eligible team and draft-bound prospect?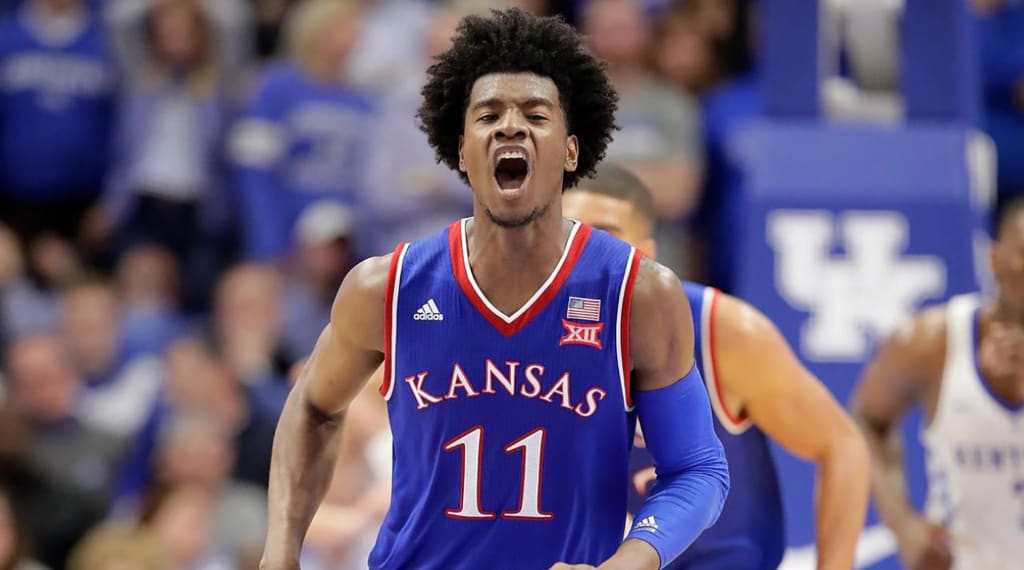 Headed for a WASPISH 40 years of barely speaking: Bad marriage tier three — a poor fit
Trailblazers, Pick 13: T.J. Leaf, Ore…err…UCLA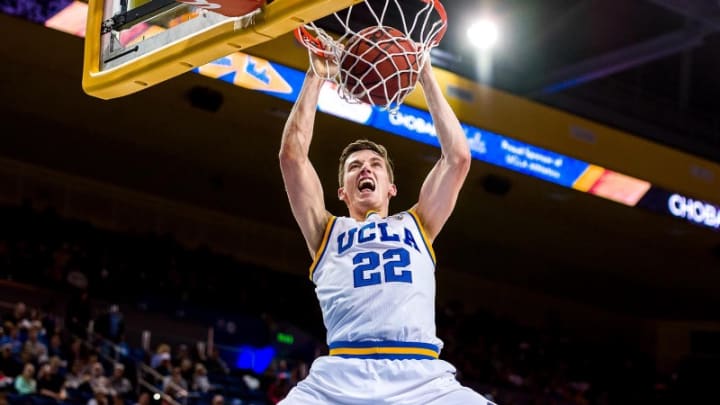 One of my good friends is a Blazers fan. The Rose Garden (MODA center: which sounds like a contemporary art museum) remains the NBA arena in which I have spent the most time. This good friend hates Kevin Love. Kevin Love is from Lake Oswego, Oregon. As one gets on I-5 west of Portland, there is an exit one can take to visit Lake Oswego. Kevin Love opted not to attend Oregon University or Oregon State University. Kevin Love, as you probably know because you're on a relatively new sports and pop-culture website, attended UCLA. As far as choices go, this was a wise choice for an eighteen-year-old. Even good friends with level heads know this. But Blazer fans are insane. They are reared on the '77 team and worship at the shrine of Dr. Jack Ramsay.
T.J Leaf is a very talented, very white forward from UCLA. He (unfortunately) is not from Oregon and did not spurn the local school for the glories of Westwood. However, I'm hoping that if Blazer fans squint hard enough they will see Leaf and think of Love, and find themselves in a psychological disconcerting state. The league needs the Blazers' fanbase to be tortured.
Timberwolves, Pick 6: Ivan Rabb, California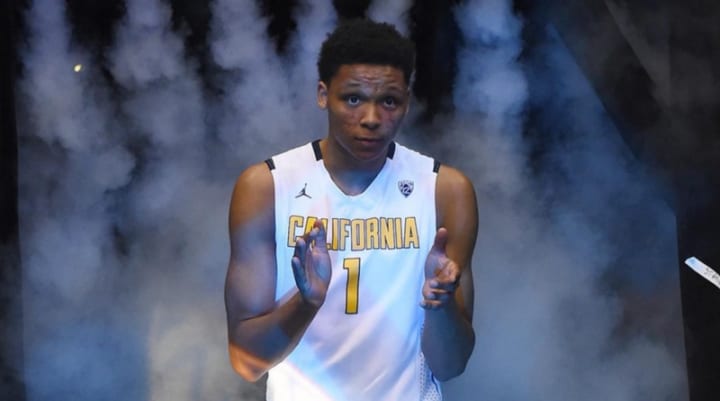 The Wolves should take a point guard here (cue the Johnny Flynn jokes). Ricky Rubio has soured on me. He is so bad at so many basketball things, that it overshadows the very fun basketball things he can do. I imagine Tom Thibodeau eating fried chicken straight from the tub, dreaming of ways to tell Rubio that he's cut. In this, the darkest timeline, The Wolves select California forward Ivan Rabb. Rabb wouldn't be a horrible pick for Minnesota here, but he wouldn't heal the deep wounds Ricky has inflicted upon us.
Mavericks, Pick 8: Literally Anyone, Anywhere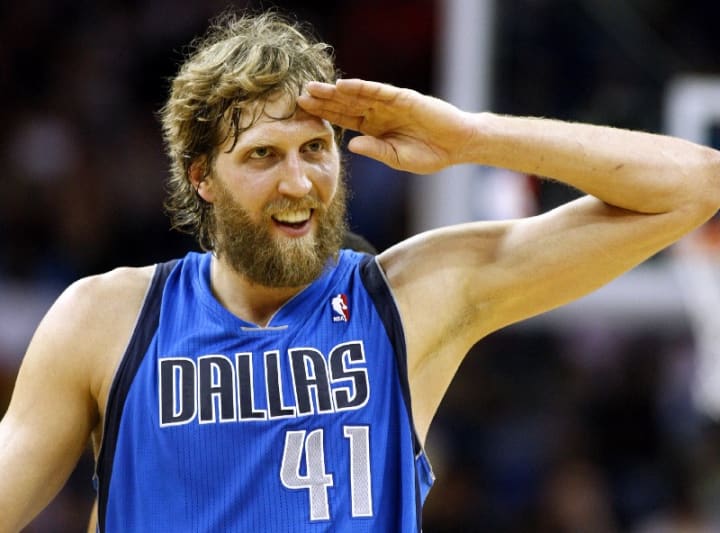 Uggggghhhhh the Mavs are so boring. Have they played a basketball game since Jason Terry did the Jet thing during the finals against the Heat? Dirk's Hans Gruber run is over. He's officially venerated, which means your franchise is a non-factor. The Mavs and Grizzlies should combine to form the most sleep-inducing team ever. That would be the quintessential A-team. But on a side note — YOGI FERRELL!
76ers, Pick 4: Josh Jackson, Kansas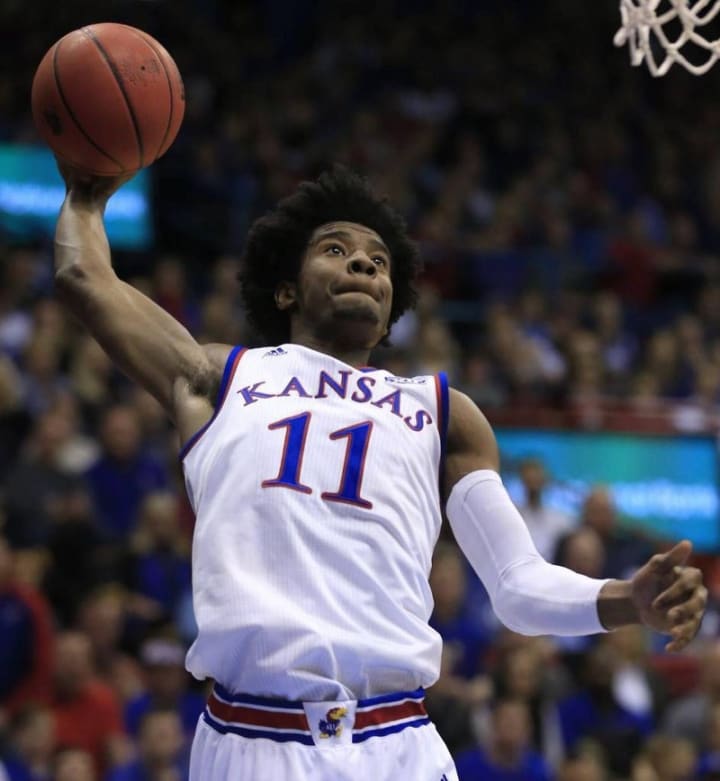 Barring the selection of another back to the basket big, this is a good situation for nearly any prospect. We don't know what Ben Simmons is yet but the odds are that he won't be a traditional power forward, so positions amongst the Sixers will be fluid. What we do know about Simmons is his season at LSU revealed a jump shot that is more Ford focus than Stealth Bomber. Therefore, Josh Jackson would be a difficult fit alongside his hypothetical fellow forward. Watching Jackson play basketball is like finding a car you love at a dealership. It's perfect, the price isn't bad, even your family likes it. Then you get in for a test drive and find out a hobo lives inside (I'm not disparaging the homeless. This dude isn't homeless, he's an old-timey hobo who rides the rails and ties a polkadot handkerchief around a pole as the world's worst backpack). Josh Jackson's jumper is the hobo in the car.
Clippers, (By way of Boston) Pick 1: De'Aaron Fox, Kentucky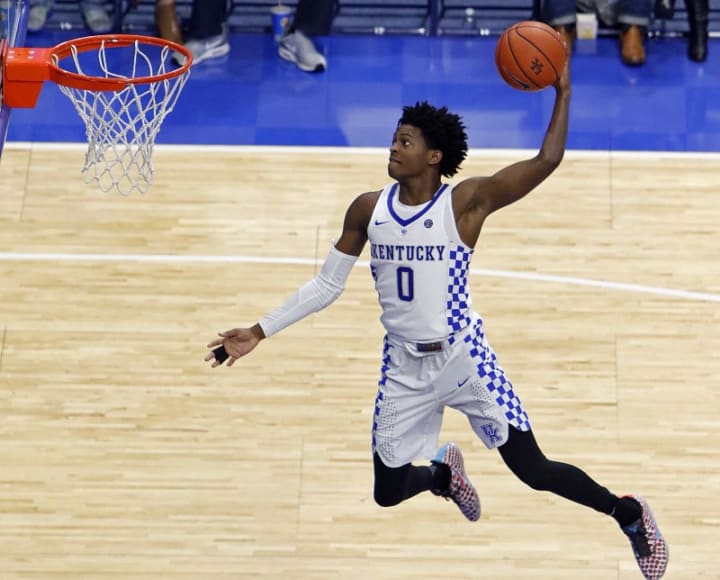 First of all, we need to acknowledge how doorknob stupid the Nets are. Boston, currently a top three team in the East, will receive their pic from which trade exactly? Oh shit, was it really Paul Pierce and KG? Seriously!? KG is on television with White Chocolate now. The Truth just received the same hometown treatment we give the sixty-five year-old dude that plays pick up with us. The Nets are super dumb. Boston trades this pick to the Clippers for Blake Griffin and the Clips' round one selection this year, and their number one in 2020. So…
The real question is: which young point guard do we want CP3 to berate and destroy? I wish Mario Chalmers was in the draft. Recently on The Ringer, Danny Chau wrote about Eric Bledsoe. Remember Eric Bledsoe? Do you care about him? Probably not. Yet on February 2nd, Zach Lowe also wrote about Bledsoe! I'm worried about him. This is too much press for him. His knees have a plan to disintegrate in the works — I can feel it. Y'all pray for Eric Bledsoe. At any rate, Lowe noted that Bledsoe's struggles during the initial stage of his career included "pouting" in response to Chris Paul's presence, and Bledsoe's tendency toward playing too fast. Now, picture an older and crankier Chris Paul wrapped in towels sitting on the bench, scowling at an even younger more blur-like former Kentucky guard. I'm asking you to imagine Chris Paul as Madea.