The State of the UFC's Lightweight Title Picture
The UFC's deepest weight class is in an extremely intriguing situation. Let's dive into what's happening and what is to follow.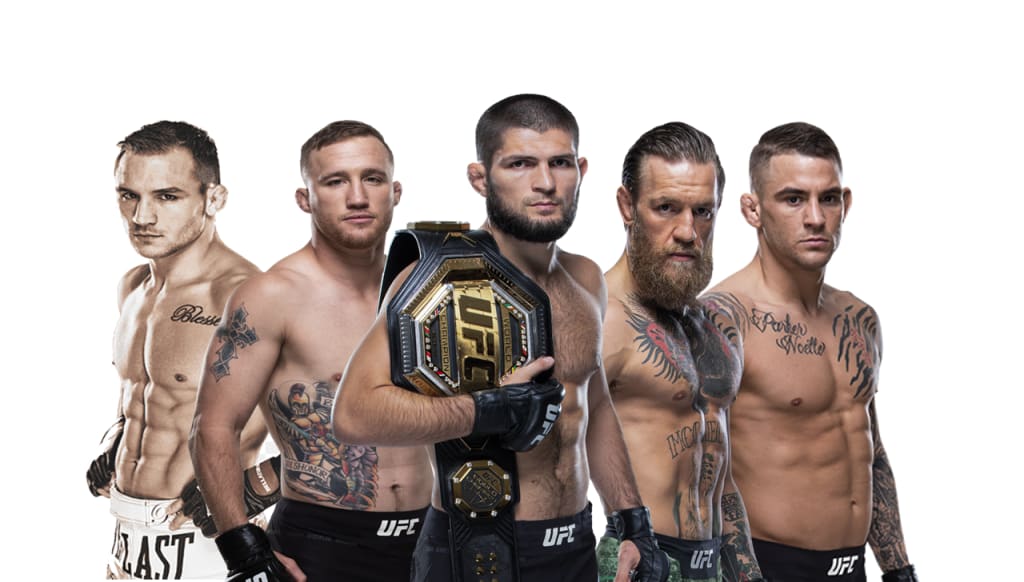 The 155-pound weight division in the UFC has been described as a murderers' row, and there is no better way to put it. Today we are going to take an in-depth look at the top of the mountain though, where it is pretty cloudy at the moment.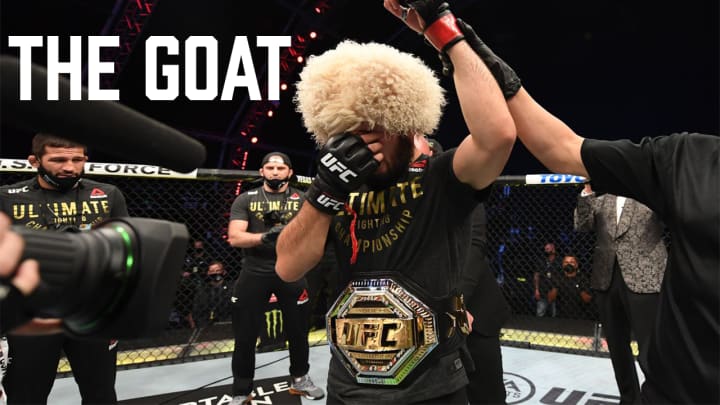 On October 24, 2020, the arguable greatest fighter of all time defended his championship for the last time. But was that truly the last time we see Khabib Nurmagomedov fight in the octagon? After his dominant performance against Interim Champion Justin Gaethje (more on him later) Khabib broke down, and announced his retirement to the world. This came as a shock to the world as he had just proved he was at the top of his game.
After some thought however, it begins to make sense. The Nurmagomedov family had suffered the loss of their father, Abdulmanap, in July. Mixed Martial Arts fans knew he was Khabib's whole world. The way he spoke about him showed the love and respect the champion had for his father. Fans and fighters alike knew this would have a profound impact on Khabib's life, but none of them were ready for the announcement. Khabib mentioned he had promised his mother that she would be there for her in the absence of Abdulmanap and would give up fighting in order to do so. This statement seemed to be the seal the deal as the MMA world knew how much Khabib's family meant to him. That was, until comments from UFC President began to raise some speculation.
Dana White has spoken on this topic and seems to believe Khabib will return to round out a potential 30-0 record. The organization has not stripped Khabib of the championship, which definitely raises some eyebrows. Is this the UFC clinging on to a glimmer of hope that will lead to nothing, or is the Eagle really going to look to add to his illustrious legacy?
Only time will tell, but this question will need to be answered sooner rather than later as the rest of the division rolls onward.
Conor "The Notorious" McGregor is scheduled to make his return on January 23, 2021, against an evolved Dustin Poirier. The last time these two competed feels like ages ago. That contest ended in a 1st round TKO for McGregor after months of trash talk. What is different this time?
Their first encounter was contested at 145-pounds, whereas this will be at 155. Since their last meeting, Dustin is 10-2 with his only losses coming from the unpredictable Michael Johnson and Khabib himself. "The Diamond" has settled into his role as an elite fighter and looks forward to avenging his loss. On the other hand, Conor is sitting at a less active 6-3 combat sports record, including the Mayweather boxing fight. The question on everyone's mind since his last win in January against Donald Cerrone is simple. is "Motivated" Conor back? If the drama that led to this fight being made is anything to go by, it appears he is.
This fight was not supposed to take place. Originally, Dustin was supposed to face Tony Ferguson. Those negotiations stalled after Dustin "wanted too much money." Fighter pay is a topic too big for this article, but I would love to address in the future. After that banger of a fight dissolved, a pissed off Conor McGregor took to Twitter to do his magic. In a world where the UFC was able to be the first live sports to provide entertainment, their biggest superstar's absence was noted by fans and journalists. Dana answered questions regarding McGregor by saying he didn't want to fight. Conor retaliated with leaking Instagram messages between them from months earlier, showing that was in fact not the case. Then, reached out to Dustin over social media to set up a "charity sparring match" in Dublin between the two. The UFC was quick to shut that down, and make the fight for January.
Now we are left with Conor looking to reassert himself at the top of the division, Dustin looking to avenge a haunting loss, and a potentially vacant championship. Even though the UFC has been at odds with Conor, it doesn't take a genius to know their cash cow with the championship again is great for business.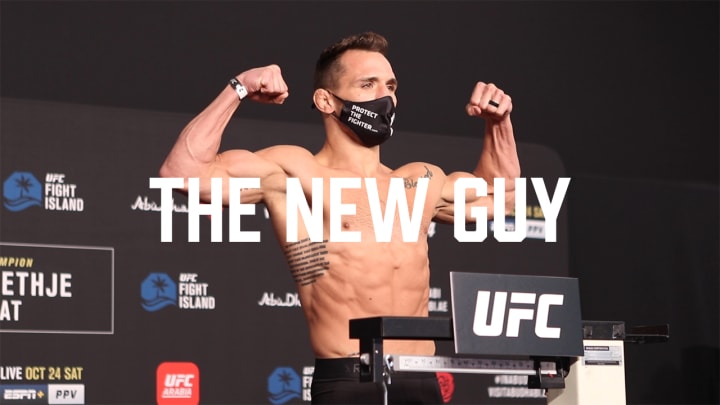 In the lead-up to UFC 254: Nurmagomedov vs Gaethje, the UFC announced they had signed Michael Chandler. Chandler made a name for himself in Bellator MMA with wins over the likes of former UFC champions Benson Henderson and Eddie Alvarez. His signing created some major buzz in the MMA community, and everyone was wondering who would be his first test.
That buzz was followed by a lot of questions when the UFC announced he would weigh in at 154 to be the backup fighter for the main event. Chandler was set up to potentially fight for the championship in his very first UFC fight. This would lead to a multitude of problems. From Michael's perspective, why would he accept anything other than a title fight? From the rest of the divisions' perspective, why is an "outsider" jumping right into the title picture over guys who have been there proving themselves?
With a cloudy title picture, there really is not a clear place to put Michael. However, there is a certain former Interim Champion who does no have a fight lined up. What better way for Chandler to get his title fight than facing the last challenger?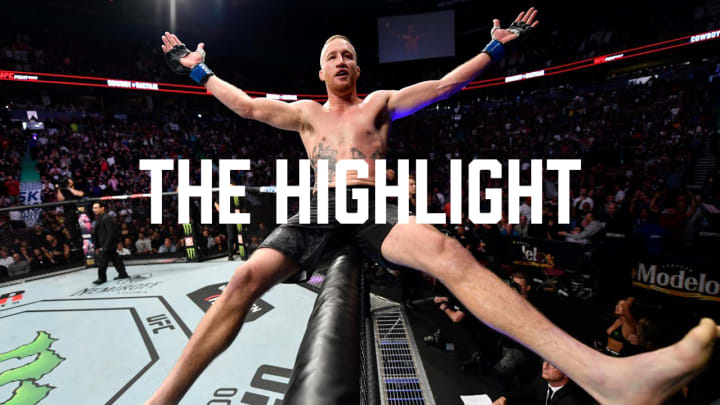 "The Highlight" Justin Gaethje is coming off a rough submission loss to the current, but retired, champion Khabib. Before this loss, he proved he is more than just a fun fight. His last loss before Khabib was to Dustin Poirier in 2018, and since then he is an impressive 4-1. Under the guidance of one of the best coaches in MMA, Trevor Wittman, Justin has leveled up his game. The uncertainty of the division could lead to an opportunity for Gaethje.
Usually, after a second-round submission loss to the champion you don't find yourself in another championship bout in your next fight. However, as the last Interim Champion, he has a very good case to fight for the potentially vacant title. Even if he doesn't fight for the belt, a top contender is a must. With Dan Hooker calling his name, and Michael Chandler waiting in the wings to make his debut the options are there.
Dan is coming off a loss, and Chandler was is obviously seen as championship-caliber by UFC brass. Therefore, I say his best chance to get another shot at undisputed gold would be the new guy in the division. Plus, this gives Michael a good taste of UFC level competition... and violence.
Who will be the one to bring balance to the toughest division in combat sports?

Devin Reno
My name is Devin Reno and I am a:
NASM Certified Personal Trainer
Founder of Gorilla Team Training
MMA and Pro Wrestling Fan
I plan on using vocal to share what I am passionate about, and hopefully entertain some people while I do that.
Enjoy!
See all posts by Devin Reno →