The Future Is Bright for Astros' Alex Bregman
The rookie is coming off a huge division series against the Red Sox, including two crucial bombs off arguably the best pitcher in the game: Chris Sale.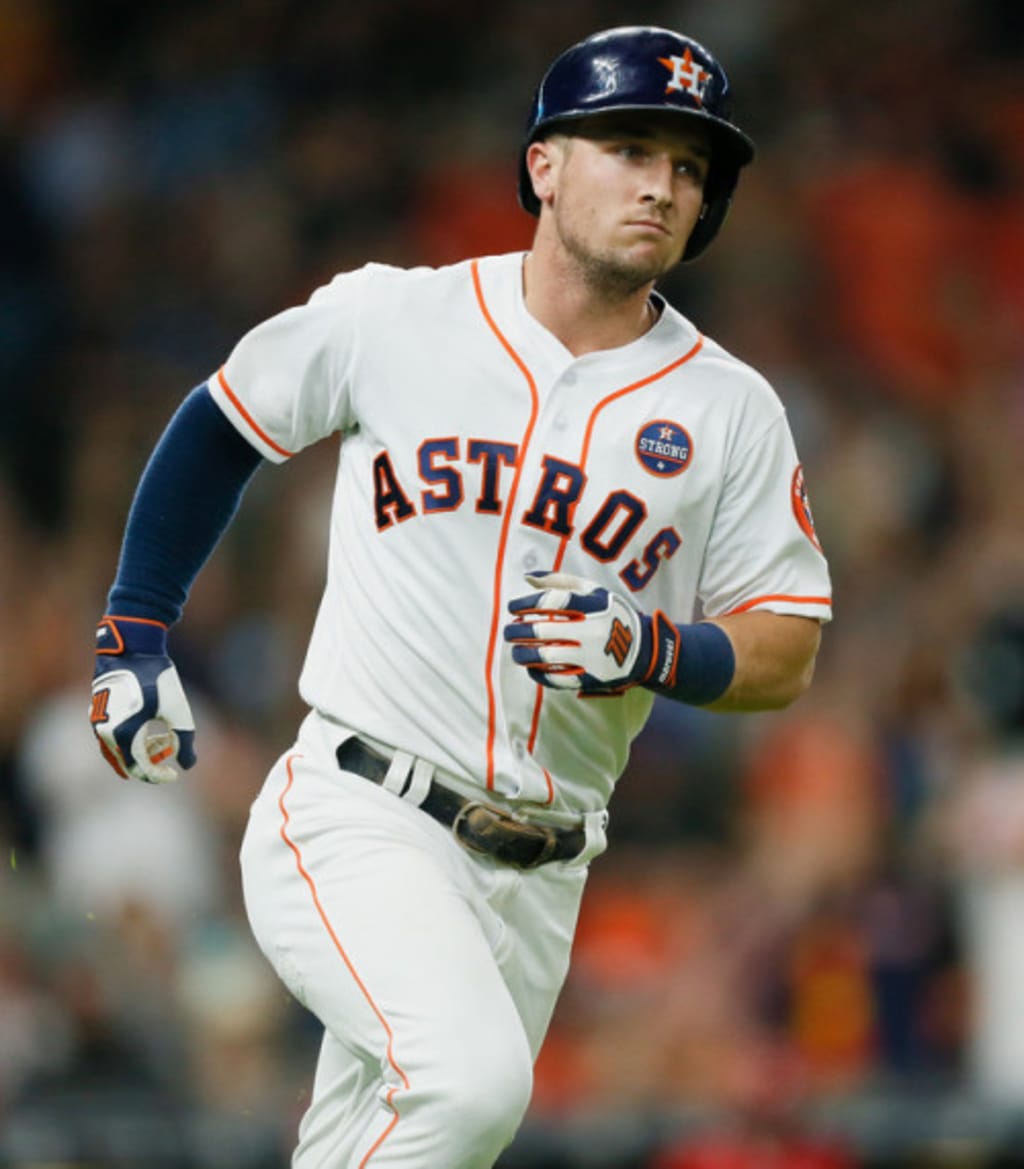 Confidence. Swagger. Two things that you don't see too often in a big league rookie. Well, with Alex Bregman, it's a different story. The Astros' rookie third baseman drips confidence every time he steps in between those white lines. That confidence was evident from the get-go against the Red Sox in Game 1 of the ALDS, where Bregman homered off Chris Sale for an absolute no-doubter on the first pitch he saw from the lefty.
Now, Bregman only hit .222 in the four games against Boston in the Division series. But both home runs he hit were absolutely vital to the result of Games 1 and 4. Not to mention the stellar defense he played at the hot corner, making several great plays. The Astros hit gold with Bregman. They have a true shortstop at third base, so if anything happens to Carlos Correa, they have Bregman to step in at short.
Drafted just two short years ago second overall by the Astros out of LSU, it didn't take A-Breg long to soar from the minor leagues to the bigs. He made his debut in late July of 2016, just over a year after his draft day. 2017 was a breakout year for Bregman and he's carried that momentum right into the postseason. He hit a solid .284 with 19 homers, 71 RBI's, and 18 stolen bags during the regular season.
Why is the future bright for Alex Bregman? Because he has all the makings of a star.
The Tools, the Confidence
When you look at a young prospect, you look for two or three tools that are pro ready. Usually their ability to hit for power, or throw, or field. With Bregman, this guy has all five tools. He can run, hit for average, hit for power, and field. He's got range and a strong arm across the diamond, a big reason he was selected with the second overall pick in 2015. But having all these tools is just part of it. Putting them all together is the tough part. There are so many talented ballplayers in the minors, and even in the big leagues for that matter, who haven't figured out how to put it all together. The mental side of this game is so important.
For Alex Bregman, he's got so much confidence. So much that it's borderline cocky. Asked if he was nervous in his first at-bat in Game 1 when he went deep off Sale, he told the reporter, "No nerves at all." Whether that was true or not, he looked very comfortable during this series against Boston.
The thing I like about watching Alex Bregman hit is the fact he uses the entire field. He's not too pull happy; he sprays balls all over the diamond. For a young hitter, he does show fairly good play discipline as well. He doesn't chase a lot of pitches out of the strike zone. Scouts talk a lot about the makeup of a player, how they can handle failure, how they handle situations that don't always go their way. After all, in this game, if a player gets three hits in ten at-bats, he'll end up in the Hall of Fame. Alex Bregman hasn't dealt with a lot of failure in his big league career to this point, but for every big leaguer, that time will come. Based on the confidence that oozes out of him though, he will handle the pressure and failure he will endure at some point just fine.
We have to remember: he is only 23 years old. He has a ton of time to improve and become that much better. As of right now though, he's a stud who will play a vital part in the success of this Astros team heading into the American League Championship Series. If it wasn't for Alex Bregman, who knows if the Astros would be moving on? He is the one who got the momentum going in Game 1 with that big home run, plus another two hits in Game 1 that paid dividends in the result. Then, in Game 4, with his team down by a run, he once again came up huge with a homer over the green monster off a changeup from, you guessed it: Chris Sale, once again. Between his clean defense at third base and his productivity at the plate and on the basepaths, Bregman is a very important piece of the puzzle for this Houston Astros team.
The future is certainly bright for Alex Bregman, and this is only the beginning.