The Eagles Are Feeling It in Philly
In a wide open league, the Philadelphia Eagles are the team leading the pack.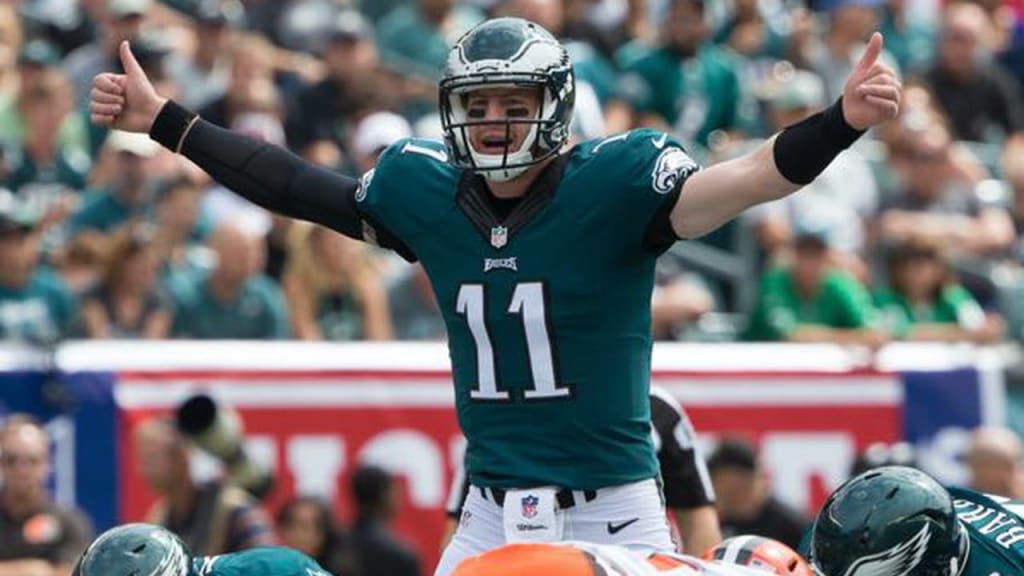 Vimeo
There's something cooking in Philly, and it ain't the cheesesteaks.
It's the Eagles, who on the back of a second-year quarterback, have established themselves as the team to beat in not just the NFC but the entire league.
Philadelphia has been utterly dominant on both sides of the ball and after another strong showing against Washington in their second straight primetime matchup, it's hard to argue that they aren't the team to beat.
Where it all starts with this 6-1 Eagles team is at quarterback where last year's second overall pick Carson Wentz is putting on a clinic and making a case for MVP.
After a pedestrian rookie season, Wentz has come out firing and turned this Philly offense into one of the league's most lethal in the league. The unit, that was ranked 22nd overall in total yards last season, is up to fifth in the league through seven games and averaging 28.4 points per game.
The primary catalyst to this offensive improvement has been Wentz and his own progress. In 2016, the Eagles QB was average at best, throwing for 3,782 yards and 16 touchdowns but also turned the ball over 23 times (14 interceptions, 9 fumbles). He showed promise though, guiding his squad to a 7-9 record.
This season, Wentz has improved in all aspects of his game throwing for over 1,800 yards (fourth in the league), 17 touchdowns (first in the league) to four picks and making play after play on the ground to extend drives like the one on Monday Night Football where he pulled a straight up Houdini move escaping the pocket and busting out a big run on third down to put the game on ice.
It's clear to see that Wentz has a new aura of confidence about him and with a cannon that takes just a flick of the wrist to fire, he has NFL defenses reeling and trying to figure out how to stop him.
Helping out Wentz though has been the fact that GM Howie Roseman and head coach Doug Pederson brought in a slew of playmakers to help out their quarterback. Alshon Jeffrey, Torrey Smith and Mack Hollins have greatly improved the aerial attack and LeGarrette Blount and Corey Clement have been excellent compliments to Wendell Smallwood on the ground behind one of the league's elite offensive lines.
The Extra Help: Zach Ertz and Nelson Agholor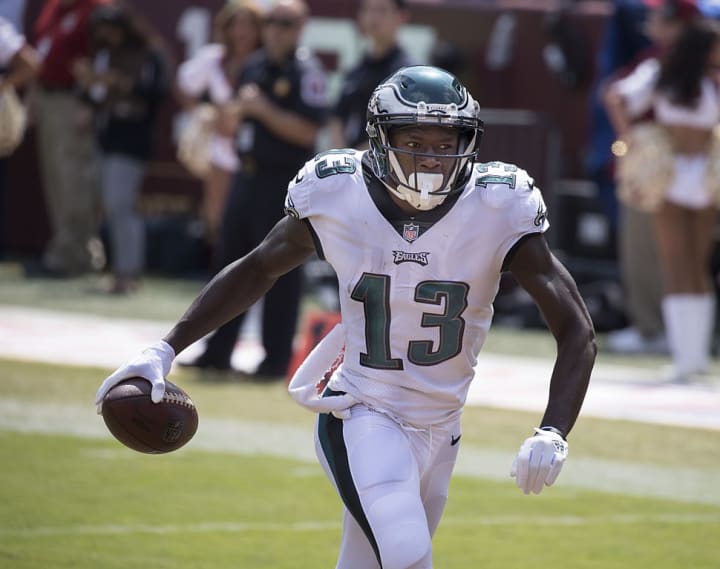 The real difference makers though have come from two homegrown players in Zach Ertz and Nelson Agholor. Ertz has finally maximized the potential many saw from him and now looks as if he's broken into the upper echelon of NFL tight ends and given Wentz a true go-to weapon who can create mismatches all over the field while leading all players at his position in yards (494) and scores (five).
Agholor has shown tremendous improvement in his own right after two disappointing seasons. Now working out of the slot, the former first round pick is looking every bit of the shifty, reliable threat he was in USC with his four touchdowns this season.
Their defense is lights out in their own right behind studs like Fletcher Cox and Malcom Jenkins with 11 total turnovers and a +4-turnover differential. The unit is giving up just over 20 points per game and ranks in the middle of the pack in yards allowed so there's certainly room for improvement but if you're taking the ball away from opposing offenses and capitalizing on those turnovers like this team is doing, it's tough to knock them too much.
Right now, the landscape of the NFL is unlike it's ever been in recent memory. The AFC is a complete toss up with the Chiefs, Patriots and Steelers all showing major weaknesses and all but one team (sorry Browns) within two games of the division lead. And the NFC is almost identical with just about every team (outside of the Niners and Giants) still in the hunt.
Then there's the Philadelphia Eagles who have calmly gone 6-1 with their only loss being a seven pointer by Kansas City. They have the third weakest remaining schedule with only two games against teams currently above .500 and with the way they're rolling it would be no surprise to see them continue their five-game win streak well into the remainder of the season.
It's still early as seven games does not a full season make and things can change on a dime, but if recent seasons have shown us anything it's that a team riding hot can turn out magic after magic and turn it into something real.
With Wentz and his MVP candidacy taking shape and this team clearly feeling themselves, it's time for everyone to recognize these Eagles as what they are: the team to beat in the NFL.
(All stats and info via ESPN.com)