Spotlight on Freestyle Scooter Rider Ernie Young
An Interview With a Professional Scooter Rider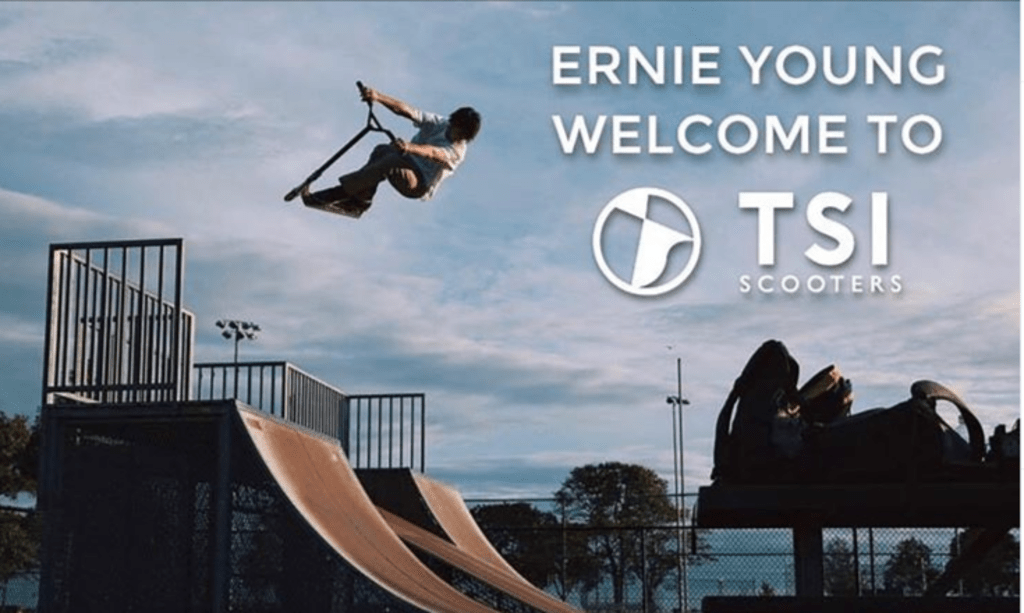 Scootering is making a splash in the world of extreme sports, coming up alongside skateboarding and BMX biking, and I was able to get an interview with a professional scooter rider who is making his living working on his passion.
Meet Ernie Young, age 24, from Norwalk, CT. He currently resides in San Diego, CA and his career took him from one coast to the other. He is sponsored by TSI Scooters and The Scooter Farm. Ernie has been riding since the summer of 2005, a little over 14 years ago. He was kind enough to answer some of my questions about the scooter scene and his lifestyle as a professional scooter rider. At the time of writing, Ernie was back on the East Coast attending the 2019 NYC Street Jam.
Z: Tell us about your current scooter set up that you are riding at the moment. Ernie: My current set up is a Luis Oppel TSI Boxcutter, Affinity T bars, Tilt Headset, Fork, and Wheels with Matt McKeen Signature Hella Grip Griptape, and Merritt Grips. I highly recommend all of these parts. This setup has been by far the best setup I've ever had.
Z: What's going on in the scooter scene right now? E: There's a lot going on in the scooter scene right now. The scene is bigger than it's ever been. I've seen more scooter events hosted this year than ever before, it's amazing to see, and I'm hyped to see how far our community can take it.
Z: Who are some pioneers in the scooter scene? E: Ah, there's so many I can name. Hep Greg, Matt Mckeen, KC Corning, Elmer Ferreras, Brandon Kilbury, Zig Short, Terry Price, and Dakota Schutez, Coedie Donovan.
Z: Who are some people in the scooter scene who have influenced or impacted you personally? E: When I first started, Kota , Terry Price, and Coedie Donovan were my biggest influences. Later in my scootering career, I was heavily influenced by Hep Greg, Matt Mckeen, Tyler Bonner & Stan Smirnoff.
Z: How did you find out about scootering? E: Back in 2005, I attended a skate camp at my local skate park at Calf Pasture Beach in Norwalk, CT. There I met a kid by the name of Tyler Romano, and as soon as I met him and saw how amazing he was on a scooter, I knew I wanted to do the same thing. He helped me out by bolting my first Razor scooter so that it would have more stability, and he also taught me everything from basic tricks like airs and whips, as well as introducing me to the forum The Scooter Resource, which had all the information you would ever need to modify your scooter. Without the help from Tyler, I would not be where I am today, and I thank him all the time for changing my life.
Z: How did you get where you are right now with scootering, and what have been some of your craziest moments so far? E: How I got to where I am today in scootering is all through networking and a lot of practice and dedication. For years, I attended events all over the USA, met tons of other scooter riders like myself, and made the right connections with the right people who eventually gave me opportunities I used to dream about as a kid. I also have to thank Juan Quesada for introducing me to Ben Kowalski and David Cappetta, and the rest of the Basic Bunch crew. Without meeting them, I wouldn't have met the nearly as many people as I did early on. There's so many crazy moments I could name off, but if I was to name one, it would be touring all around Spain with two of my friends, who were also my teammates at the time, for a month straight, hosting ride days and meet and greets. It was an experience I'll never forget, and my first time out of the country on an airplane.
Z: I hear that you're teaching scootering. Where, for who, and why are you teaching? E: I teach scooter lessons because it goes back to the day I met Tyler Romano; if it wasn't for him guiding me, I would've never known anything, and that's what I'm trying to do as well, teach the youth the things they need to learn so our sport can thrive. I currently teach scooter camps and private lessons for The Scooter Farm in San Diego, CA .
Z: How has scootering impacted your life? E: I say this all the time, scootering saved my life. Anyone who knew me when I was younger probably wouldn't have many nice things to say about me. I was a shitty person, to say the least. I had nothing going for me. I was constantly getting into mischief, stealing, using and dealing drugs, getting arrested, getting suspended, and failing out of school. If it wasn't for scootering, I would've gone nowhere with my life, and to be honest, I don't know if I would even be alive.
Z: Any hopes or plans for the future? E: I'm currently working on a video for both TSI & The Scooter Farm, which will be coming out as soon as possible, and other than that I really want to focus on traveling, and experiencing as much life as I possibly can.
Z: Who would you recommend scootering to, who would enjoy it, why should someone try it, and what is the benefit? E: I would recommend scootering to literally anyone. The scooter community is open to anyone who is willing to have an open mind and try it out. There's tons of different kinds of people who scooter. A lot of people make the assumption that scootering is only for young kids, which is false - there's tons of older teens and adults that scooter. Anyone who enjoys being outside and staying active would enjoy scootering.
Z: Parting thoughts, or anything you want people to know? E: I want people to know that if you skate, bike, scooter, unicycle, dance, practice yoga, or whatever your passion may be, stick to it, and never let anyone tell you what you can and can't do. When I was younger, for years I was ridiculed for riding a scooter, and there were points I wanted to stop because it was the "cool" thing to do, but I knew in my heart that this is what I love to do, and no one is going to stop me, and I kept that mentality, and scootering gotten me farther in life than I could've ever imagined; and for those who are lost and may not know what they are passionate about, take it one step at a time, go out and try new things - you never know when you might come across something that will change your life forever. Thank you to everyone who has shown love or hate to me over the years, you all keep me motivated to keep pushing, and I am forever grateful for that.