Shreyas Iyer: The Emerging Star of Indian Cricket
"From Local Hero to National Sensation: The Inspiring Journey of Shreyas Iyer in Indian Cricket"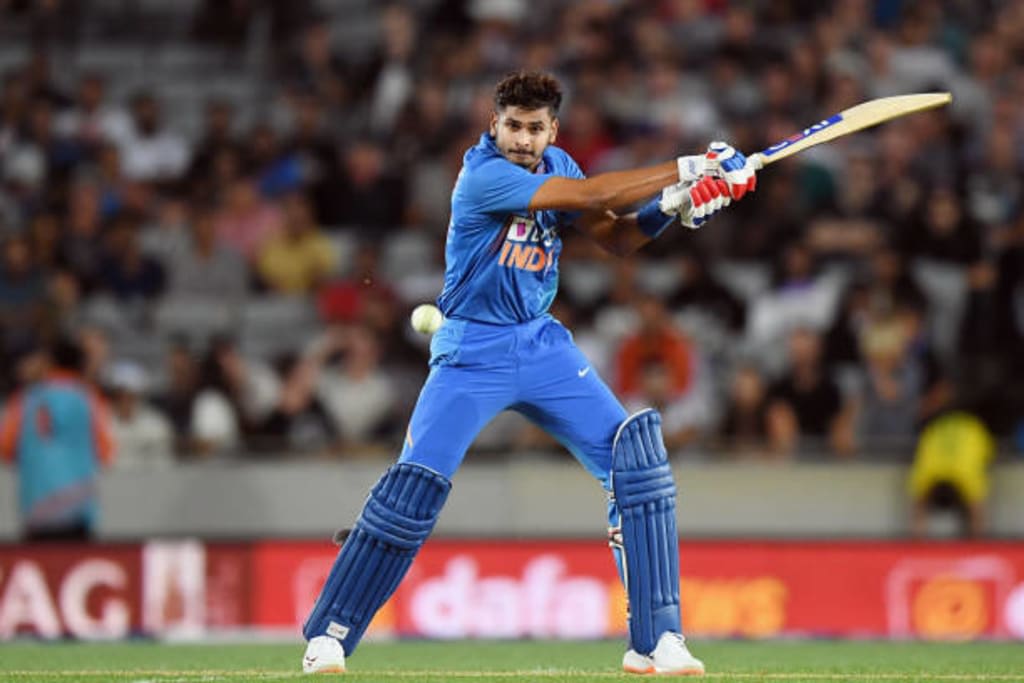 Introduction:
Shreyas Iyer, the dynamic right-handed batsman and former captain of the Delhi Capitals in the Indian Premier League (IPL), has been making waves in the cricketing world with his impressive performances. In this article, we will take a closer look at the rising star of Indian cricket and his journey so far.
Early Life and Career:
Shreyas Iyer was born on December 6, 1994, in Mumbai, India. He started playing cricket at a young age and quickly rose through the ranks in the local cricket circuit. His breakthrough moment came in 2014 when he was signed by the Mumbai Indians for the IPL. He made his debut for the team the same year and showed glimpses of his potential with some impressive performances.
Rise to Fame:
Shreyas Iyer's consistent performances in domestic cricket earned him a call-up to the Indian cricket team in 2017. He made his debut in a T20 match against New Zealand and showed his class with a quickfire knock of 23 runs. He followed it up with a half-century in his next T20 match and announced himself on the international stage.
Iyer's real breakthrough came in 2019 when he was appointed as the captain of the Delhi Capitals in the IPL. Under his leadership, the team reached the playoffs for the first time in seven years. Iyer was the team's leading run-scorer in the tournament, scoring 463 runs in 16 matches at an average of 30.86.
Iyer's performances in the IPL earned him a place in the Indian ODI team. He made an immediate impact, scoring back-to-back half-centuries against West Indies in 2019. He continued his good form in the series against New Zealand and was one of India's best performers in the tour.
Current Form and Future Prospects:
Shreyas Iyer has continued his good form in the IPL, scoring 519 runs in the 2020 season at an average of 34.60. He also led the Delhi Capitals to the final of the tournament, where they lost to the Mumbai Indians.
With his impressive performances in the IPL and for the Indian cricket team, Iyer has established himself as one of the most promising young talents in world cricket. He has shown his ability to score runs under pressure and his calmness and maturity on the field have earned him praise from cricketing experts.
Iyer has been in the news lately for his unfortunate injury during India's tour of Australia in December 2020. He dislocated his shoulder in the first ODI of the series and had to miss the rest of the tour. However, he has been working hard on his fitness and rehabilitation and is expected to make a strong comeback soon.
As far as his future prospects are concerned, Iyer has the potential to be a mainstay in the Indian cricket team for years to come. He is already being touted as a future captain of the team and has shown great leadership skills during his stint as captain of the Delhi Capitals. His ability to score runs in all formats of the game and his sound technique make him a valuable asset to the team.
Conclusion:
In conclusion, the journey of Shreyas Iyer in cricket has been nothing short of remarkable. He has proven his worth as a dynamic batsman and a responsible leader in the IPL, earning the respect of his peers and fans alike. His ability to stay calm under pressure, take calculated risks, and adapt to different situations is a testament to his cricketing acumen.
As he continues to grow and mature as a cricketer, it is clear that Iyer has a bright future ahead of him. With his natural talent, strong work ethic, and a hunger for success, he has the potential to become a legend of Indian cricket.
It is also worth mentioning that Iyer's journey is an inspiration to countless young cricketers across India, who dream of following in his footsteps. His rise to fame is a testament to the power of hard work, dedication, and perseverance, and serves as a shining example for young players who aspire to make it big in the world of cricket.
All in all, Shreyas Iyer is a rising star in the world of cricket, and we can only hope to see more of his brilliance in the years to come.
Reader insights
Be the first to share your insights about this piece.
Add your insights