Shooting Guard Rankings
Where do the top two guards rank among each other?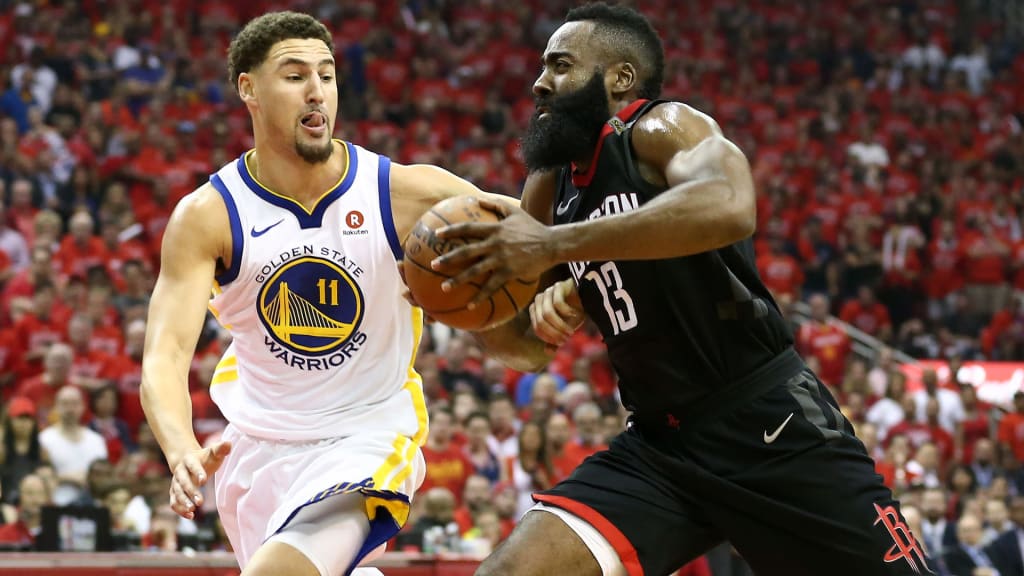 Rockets G James Harden drives against Warriors G Klay Thompson.
The two guard position has given us some of the most exhilarating scorers in NBA history, such as Dwyane Wade, Clyde Drexler, and the GOAT Michael Jordan, along with some of the current stars such as James Harden and DeMar DeRozan. There are also lots of young rising stars, but how do they rank among each other? Here are the top 15 shooting guards so far of the 2018-19 season.
15. Josh Richardson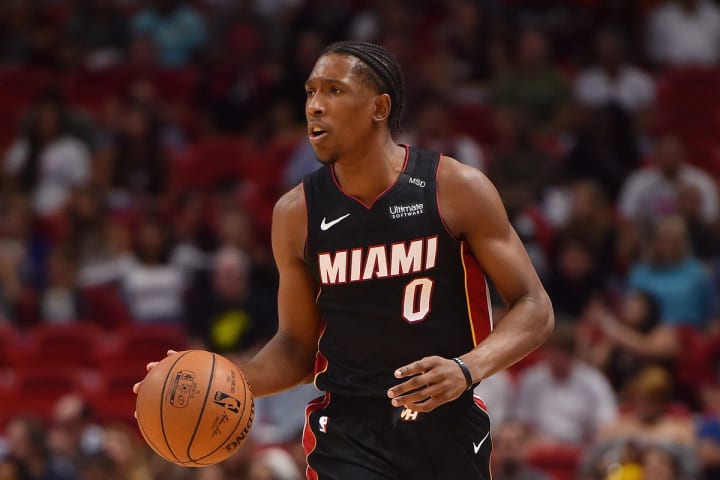 Josh Richardson is having a great year for the Heat, averaging a career high in points at 18.3. He's fit comfortably in the Heat system and has been a great outside shooter, defender and passer for his teammates.
The thing I like about the Heat is that they seem to have no designated star player. Yeah they have Goran Dragic and Hassan Whiteside, who seem to be the stars of the team, but if you actually watch them play, they are a very balanced team all around. However, I think that this does make Richardson a little underrated. He doesn't get as much credit as he should. But in the end, that's okay. It's all about winning basketball, right?
2018-19: 18.3 PPG, 3.9 RPG, 3.7 APG, 1.2 SPG, 0.5 BPG, 40.8/37.6/85.8
14. Buddy Hield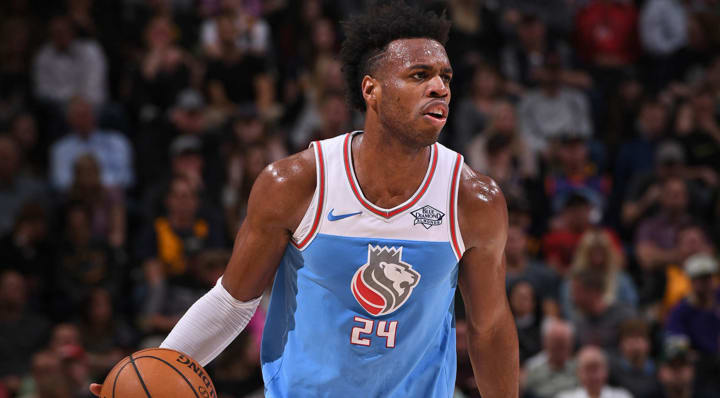 Buddy Hield has really sparked this season. This is one player I honestly did not expect to shine. Because of Hield and the other Kings guards Iman Shumpert and De'Aaron Fox, Sacramento is fighting for a playoff spot, which honestly, most of us did not expect in the slightest. Getting more minutes and starts, Buddy has been fantastic at putting the ball in the basket. It's been real tough for defenses to stop him from putting up shots. So far, I only see this guy getting better. No complaints so far.
2018-19: 20.2 PPG, 5.0 RPG, 2.3 APG, 0.5 SPG, 0.4 BPG, 47.5/44.5/85.5
13. Tim Hardaway Jr.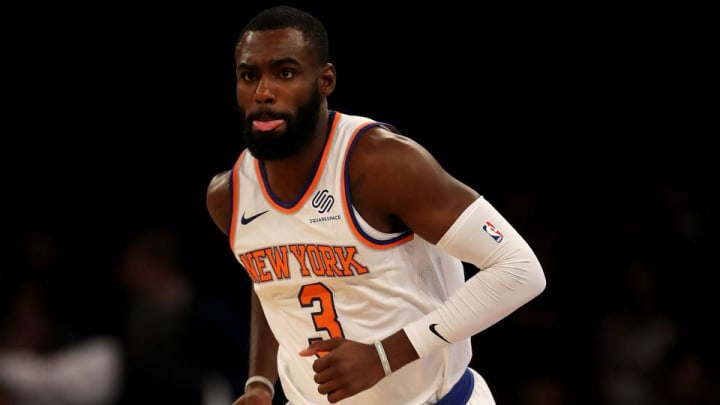 I like Tim Hardaway Jr., but I don't see his ceiling get much higher. The past few seasons, he's been a consistent scorer, but I don't see him as much of a threat as he could've been. Seems like he has plateaued. This season, he's hit a slump and his shooting percentages are down...give him time though.
Besides that fact though, THJ is still a great shooter and very athletic. Although the Knicks are trash, he is one of the few bright spots that the team has. They're lucky, they were able to pick him back up after losing him the first time. If Porzingis stays in NY, I can see these two working well together and the Knicks will improve.
2018-19: 20.0 PPG, 3.3 RPG, 2.7 APG, 0.9 SPG, 0.1 BPG, 39.2/34.7/85.9
12. Lou Williams
Last year, Lou Williams was an All-star snub and easily would have made my top 10, but this year, I don't think he's under consideration anymore. His usage has gone down lots. The reigning 6MOY was averaging over 30 minutes a game but this year, he's down to around 25 min a game. His scoring has also dropped from 22.6 to 18.5.
Now that doesn't mean that Lou is necessarily worse. Given the same amount of minutes and usage as last year, he would definitely be putting up big numbers. Coaching is the reason for this. And that's not saying Doc Rivers is a bad coach, but that many other Clippers are stepping up and they now share the load with Sweet Lou.
2018-19: 18.5 PPG, 2.7 RPG, 4.9 APG, 0.6 SPG, 0.1 BPG, 42.2/38.3/90.7
11. Donovan Mitchell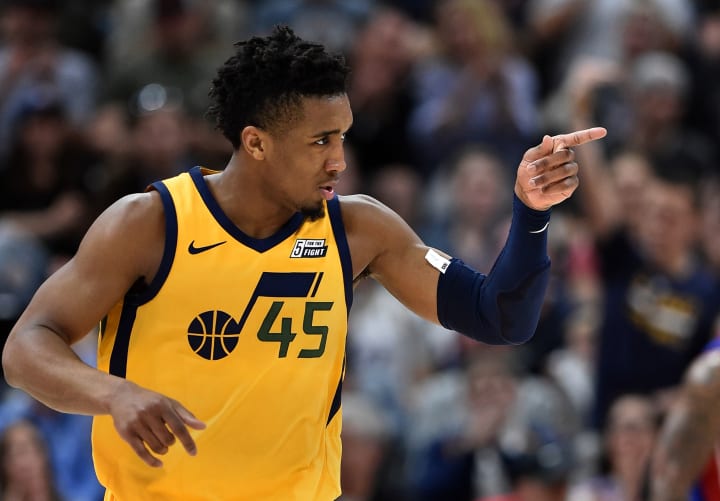 Mitchell's stat line compared to last year is almost identical. Except that his efficiency has gotten worse. I think part of that reason is the increased pressure placed on the young kid. Last year, teams were not ready for this young and explosive rising star, but this year, defenses are prepared and it makes Spida's job much harder.
Despite jacking up more shots than needed, Mitchell is great at getting teammates involved and has been playing stellar defense too. He's only in his second year, so give him some time and the kid will be an All-star one day.
2018-19: 20.7 PPG, 3.6 RPG, 3.5 APG, 1.6 SPG, 0.3 BPG, 41.4/31.6/79.6
10. Zach LaVine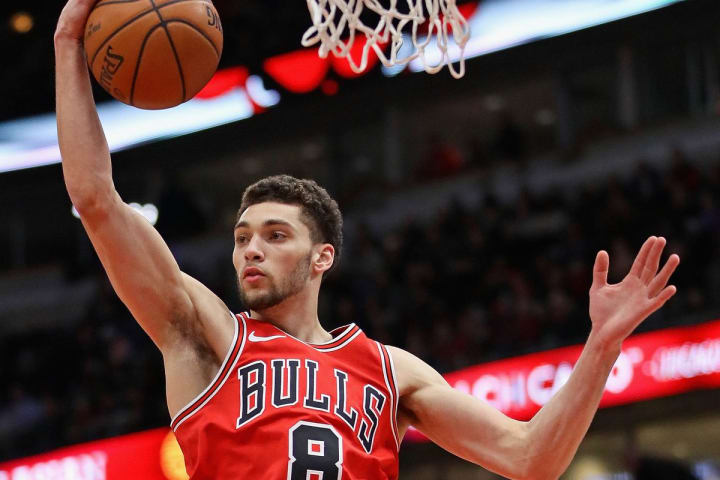 Zach LaVine absolutely exploded to start the new season off. He's slowed down a bit since then but is still playing at an All-star level. His point production has increased lots and it seems like he has found his role here in Chicago. Even if they happen to be terrible. Zach is freakishly athletic. The kid has BOUNCE and he knows how to get to the rim. I haven't had many opportunities to watch him, but I am impressed. He deserves an All-star nod in the East this year.
2018-19: 23.5 PPG, 4.4 RPG, 4.3 APG, 0.9 SPG, 0.5 BPG, 45.7/35.4/86.8
9. Jrue Holiday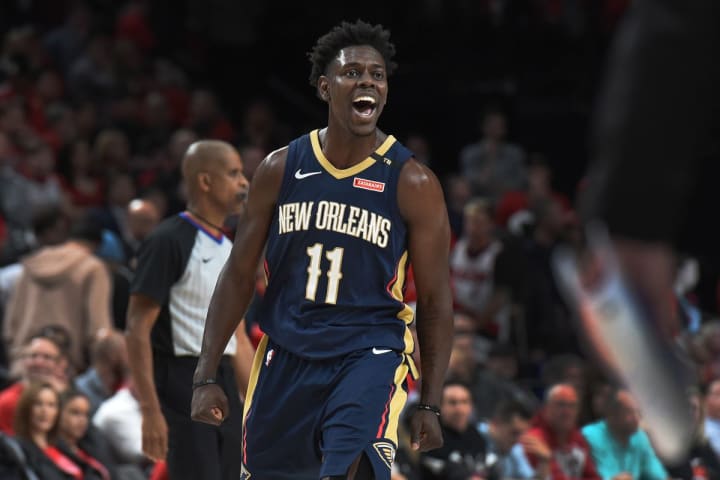 Easily one of the most underrated players in the league. No one even batted an eye at Jrue Holiday until he was on the big stage during the playoffs. That's when people realized he was a star two-way player. Receiving First Team All-Defense considerations last year, his defense is just as good this year.
The reason I don't have Jrue higher is because of poor performance by New Orleans. The Pelicans are not the same team they were last year and very much might miss the playoffs. Jrue also isn't the biggest offensive threat that some of the other guys are, especially at this position, the "shooting" guard. With that said, however, Jrue is still a fantastic player who knows his way around the point guard position as well and fits just as good into that role.
2018-19: 20.7 PPG, 4.6 RPG, 8.3 APG, 1.7 SPG, 0.7 BPG, 47.8/33.2/77.7
8. CJ McCollum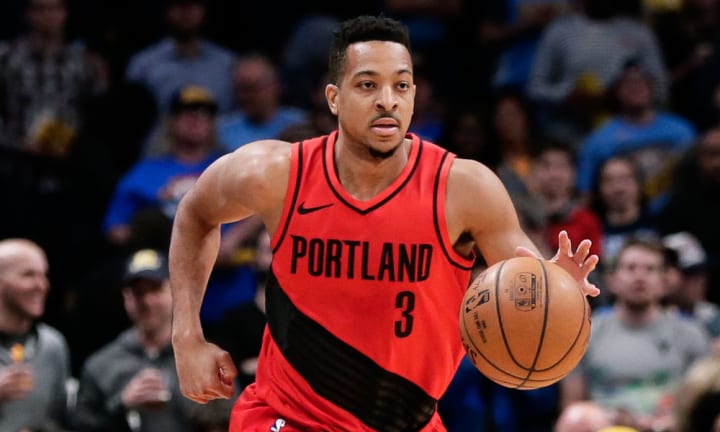 Another snub from last years All-star game. CJ compliments Damian Lillard amazingly in that Portland backcourt. However, CJ isn't playing at the same level as he was last year. His point production has decreased and his 3-point percentage is down. He just isn't the same. These are signs that in the near future Portland may be making some big changes. Whether that includes shipping CJ or Dame, we don't know. But we do know that the Portland backcourt can't carry this team alone much longer.
2018-19: 20.9 PPG, 3.7 RPG, 2.7 APG, 0.8 SPG, 0.4 BPG, 45.9/33.2/82.6
7. Bradley Beal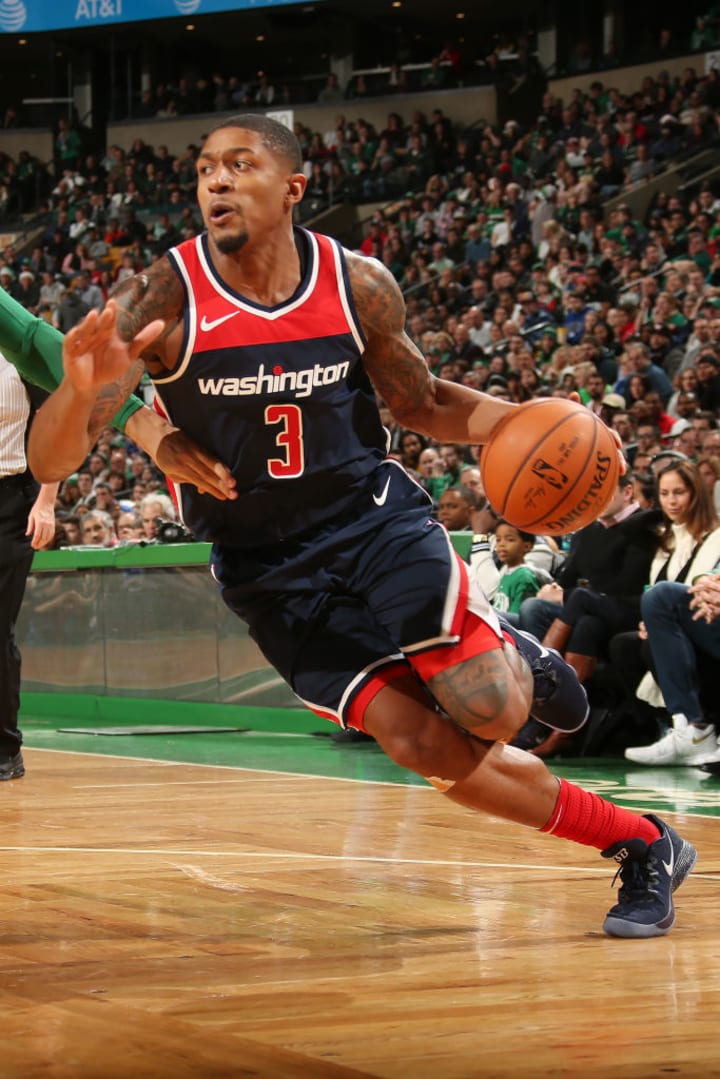 Bradley Beal has been a consistent scorer for a long time. He's having the best scoring numbers of his career so far. The only problem is...well...there are lots of problems...
Washington is crumbling. With adding Dwight Howard and Jeff Green, I honestly thought that the Wizards were going to finally improve. But they have only been a huge disappointment. Chemistry is the biggest problem and Bradley Beal does not get along with his teammates. If Washington had played at the expected level they were to, and Beal could get along with John Wall, he would be ranked a lot higher than he is now. Stats alone, he is one of the best, but other factors make him a liability.
2018-19: 24.2 PPG, 4.8 RPG, 4.8 APG, 1.3 SPG, 0.8 BPG, 47.2/34.7/79.3
6. Devin Booker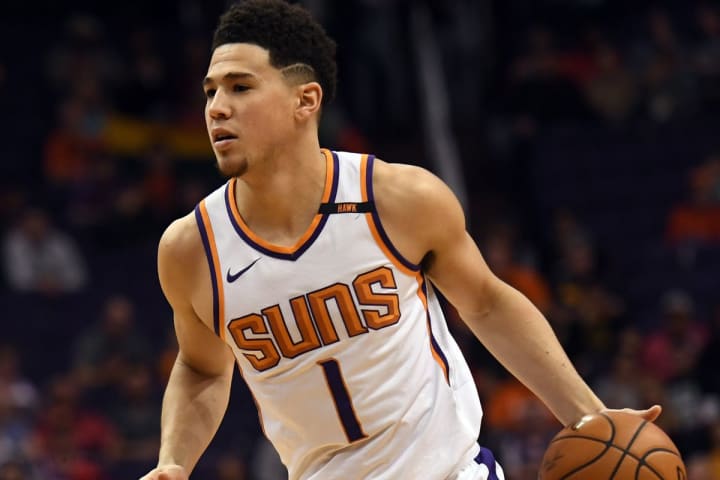 D-Book is a stud. Very underrated and is a top scorer in the league. The biggest problem is that he is on a terrible team. A terrible team gives him an advantage and a disadvantage too. It gives him more opportunity to show off his skill, which is why he has blossomed so quickly, but it also means that it makes him look better than he really is. Now if Book could produce those numbers on a playoff team, he'd be competing for a top three spot. With that said, I still think Book is fantastic, which is why I gave him the number six spot and I definitely think he's finally earned that All-star spot.
2018-19: 24.8 PPG, 3.7 RPG, 6.9 APG, 1.1 SPG, 0.2 BPG, 45.2/32.6/84.3
5. Victor Oladipo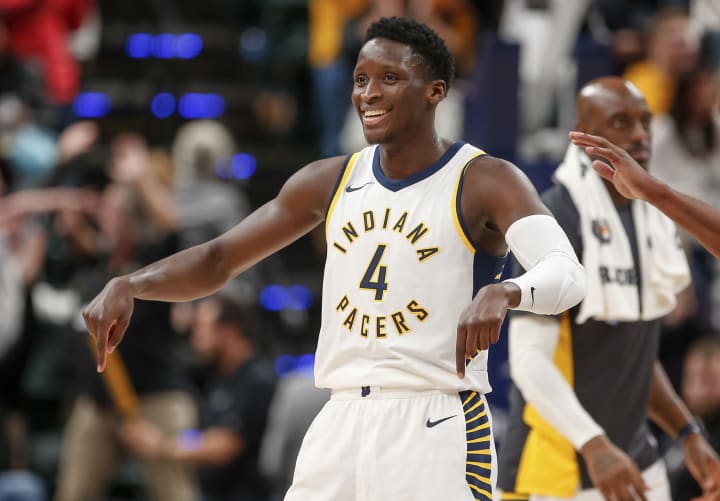 Victor Oladipo is a beast out there. The reigning MIP has been showing the league that Indiana is once again a great team. He can score the ball, he has great court vision, IQ, and ball-handling and his defense is great. He does receive some criticism however, about his actual defensive ability. Some claim that he only gets steals and other than that, can't perform defensively. As for me, as long as those steals translate to wins, he's doing his job. However, there is always room for improvement.
If Vic can increase his point production, he'd do better. His shooting percentages are down from last year and he isn't as efficient. But he still makes a huge impact when he's on the court and the Pacers are playing great.
2018-19: 19.9 PPG, 5.9 RPG, 5.1 APG, 1.7 SPG, 0.4 BPG, 43.4/34.0/72.9
4. Klay Thompson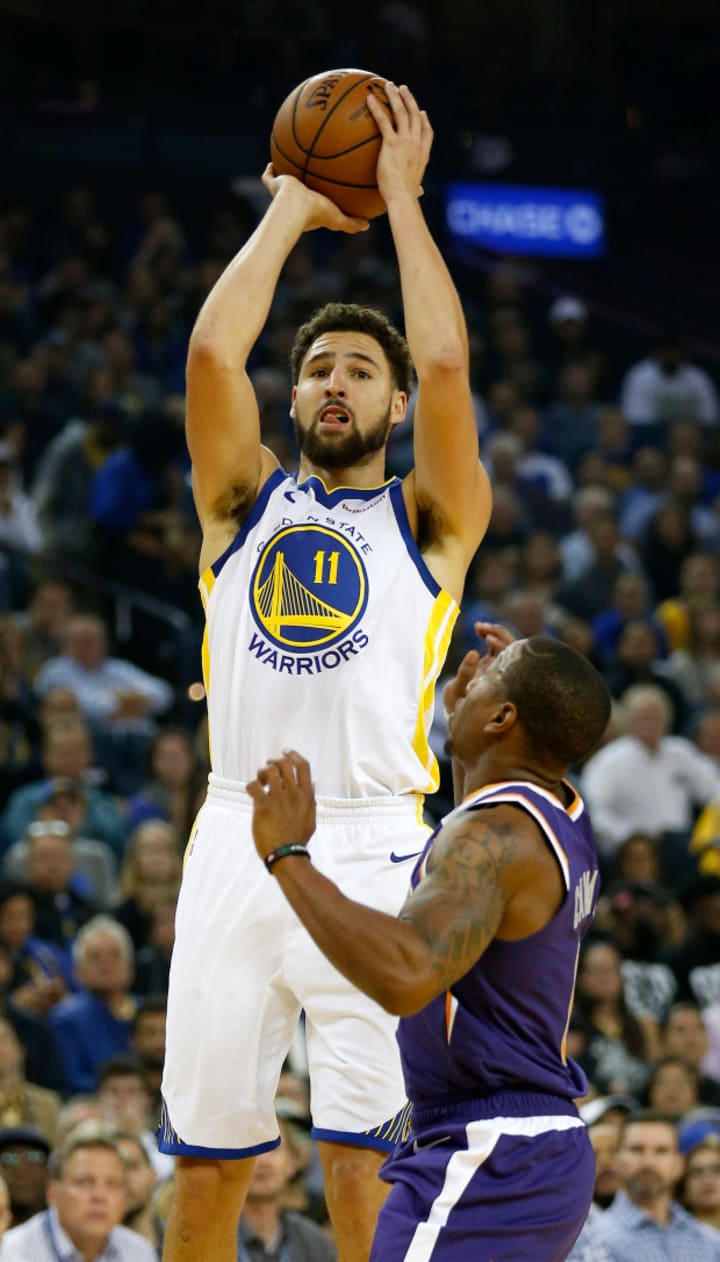 Klay Thompson's season has been a roller coaster. He has games where he can't hit a shot and then he has games where he breaks the record for most made threes. All in all, I think Klay's run is coming to end soon. This next off-season for the Warriors will be very interesting. Will the Splash Bros break up?
Either way, Klay is still an elite scorer and an elite defender. If you can put up 20+ points with Steph Curry AND Kevin Durant on your team, that proves that you can score the ball. Klay is one of the best, if not THE BEST, catch and shoot player in history. Only inconsistency has hurt him this year.
2018-19: 21.6 PPG, 4.2 RPG. 2.0 APG, 1.2 SPG, 0.7 BPG, 45.1/35.6/80.4
3. Jimmy Butler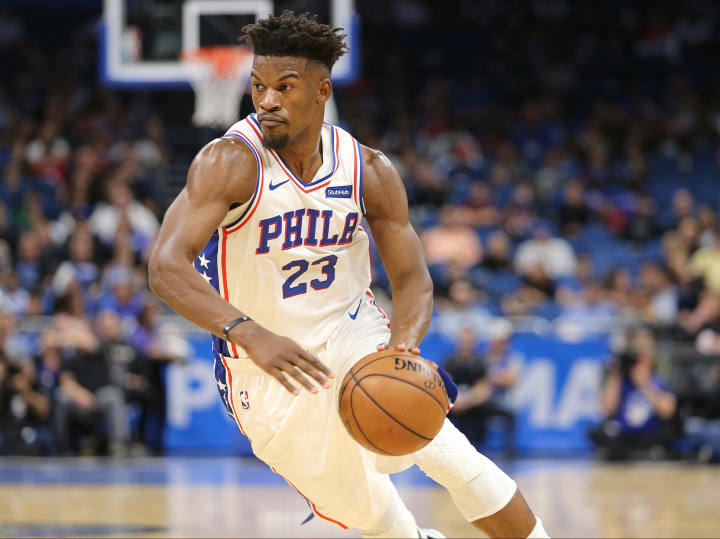 I originally had Jimmy Butler at number two, but recent conflicts with the Sixers bumps him up to three. Jimmy was the man when he got to Philly. He's a clutch player and was hitting shots when needed. The problem now is that the Sixers don't really know how he fits into this system. They already have a main star in Embiid and a facilitator in Ben Simmons. So where does Jimmy Butler fit in? He's a closer, but they can't just sit him on the bench until crunch time, he needs a role here.
One of the best two-way players in the league, Jimmy can lock-down almost anybody and he's got a nasty jumpshot, along with great influence to get his teammates playing well together. Jimmy is the whole package. The only problem is that he doesn't quite belong anywhere yet. And that affects his potential.
2018-19: 19.2 PPG, 5.0 RPG, 3.5 APG, 1.9 SPG, 0.5 BPG, 47.1/38.3/83.5
2. DeMar DeRozan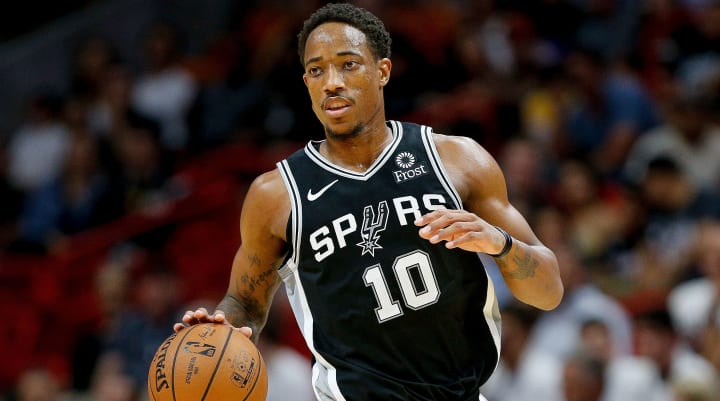 I was a little worried at first for DeMar, coming into a new system, but he has fit in just GREAT. He can score the ball and he is a great floor general for the Spurs. With Ginobili and Parker gone, much of their leadership left too, but that is something the DeMar brought with him. The mid-range king is doing just fine in his new role.
2018-19: 22.3 PPG, 6.1 RPG, 6.4 APG, 1.0 SPG, 0.5 BPG, 47.3/17.5/83.7
1. James Harden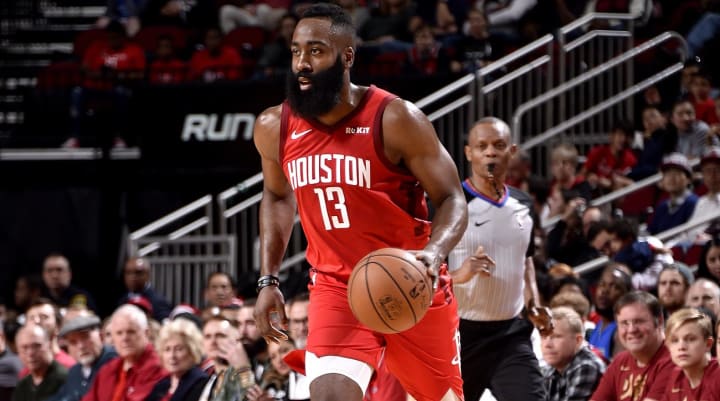 Who else would be number one? The reigning MVP is playing even better than last year. Personally, I don't think he deserved MVP last year, but this year, he is making a case. Easily one of the best scorers in the game, he also has great court vision and always knows where his teammates will be to set them up.
However, Harden has received lots of criticism, such as his defense, which honestly has improved and he has shown that he is an elite post defender. Free throws, flopping and traveling are another story. The man can take four steps and the refs don't even blink an eye. He also flops more than a fish on dry land. But he's still a great scorer. Even without his 10 or so free throws per game, he'd be averaging mid-20s and that is still impressive. Whatever you believe about Harden, the fact is that he knows his way around the game. Not just the physical part, but the mental part too.
2018-19: 33.9 PPG, 6.0 RPG, 8.6 APG, 2.0 SPG, 0.6 BPG, 43.6/38.6/85.3