Predicting the NHL Western Conference Playoffs
Honestly, what's wrong with me?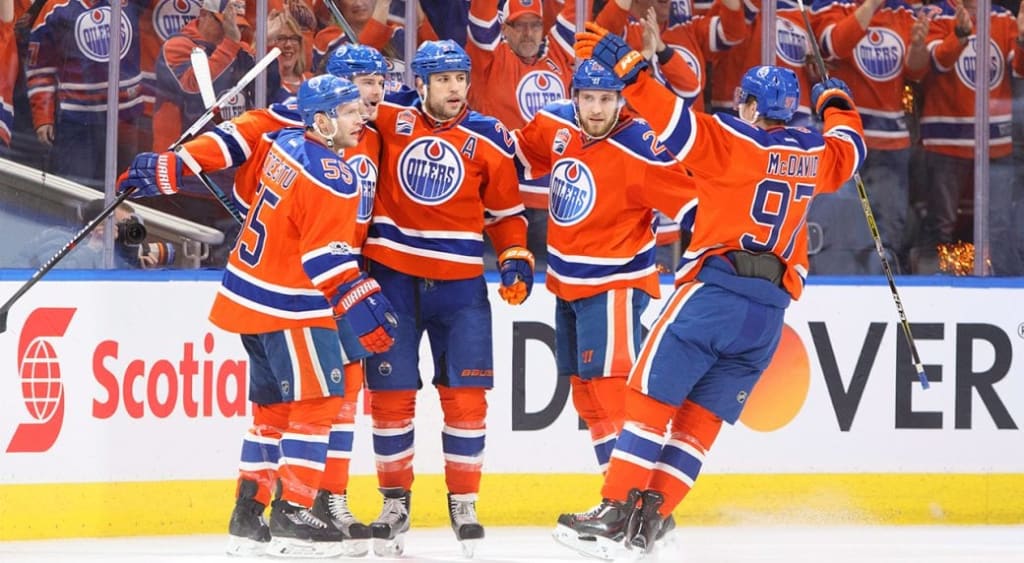 The young, exciting Oilers hope to be the class of the West (Image via Sportsnet)
Last week, I discussed who might be in line to make the playoffs in the Eastern Conference. Admittedly, preseason playoff predictions don't usually go so well. But it's fun to think about who might have great years, comeback years, or fall out of their conferences top eight, even if your own moderators express concern over your potential existential crisis. I assure you, I'm fine. And here's who I think is going to the playoffs in the West.
Pacific Division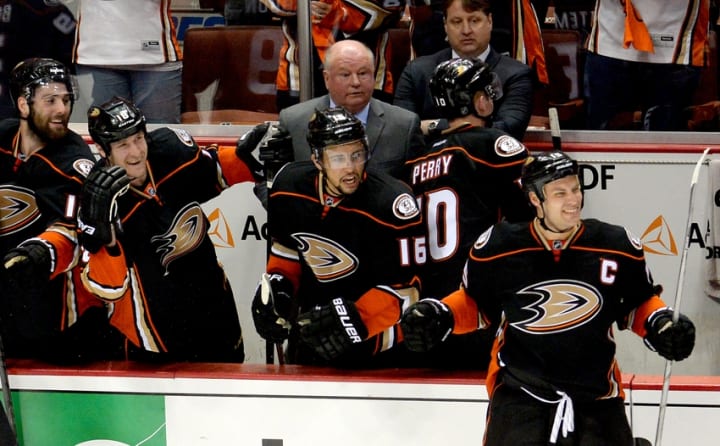 P1: Edmonton Oilers
The Oilers amassed over 100 points on their way to their first playoff appearance since 2006 in 2017, and made it through to the second round before being beaten by Anaheim in seven games. Seeing what this team is capable of now that it has become more well-rounded should give fans hope that the boy wonder, Connor McDavid, can and will lift the cup in Edmonton someday soon. The motivation is there, and Edmonton is very close to becoming a powerhouse once again.
P2: Anaheim Ducks
There's a part of me that is ready to count Anaheim out every season. How long can they depend on Corey Perry and Ryan Getzlaf to be the centerpieces of this team? The answer: at least one more year. They were the class of the division a year ago, and this is still a good team that has plenty of depth. They will need to have good play at defense and John Gibbons has to continue to play well in order for them to succeed, but this is still a dangerous team out west without a doubt.
P3: Calgary Flames
They made the playoffs as a wild card a year ago before being swept by Anaheim in round one. They have high end offense up front that features some of the best young players in the game in Johnny Gaudreau, Sean Monahan, and Matthew Tkachuk. They have great defenders even after losing Deryk Engelland via the expansion draft. Adding Mike Smith in goal answers a big question for them and will take this team from wild card contender to division leader.
Wild Card: San Jose Sharks
I again expect both divisions to be represented in the wild card selections I've made, starting with the San Jose Sharks in the Pacific. While the Sharks have been a solid playoff selection every year, I worry that they may be trending in the wrong direction. The loss of Patrick Marleau could affect them negatively, or could pave the way for young talent to step up. That remains to be seen. But there is decidedly less talent on this roster without him, and although they have perhaps the best defenseman out there in Brent Burns, the aging Sharks have to hope their young players turn out to be highly talented if they want sustainable success.
Central Division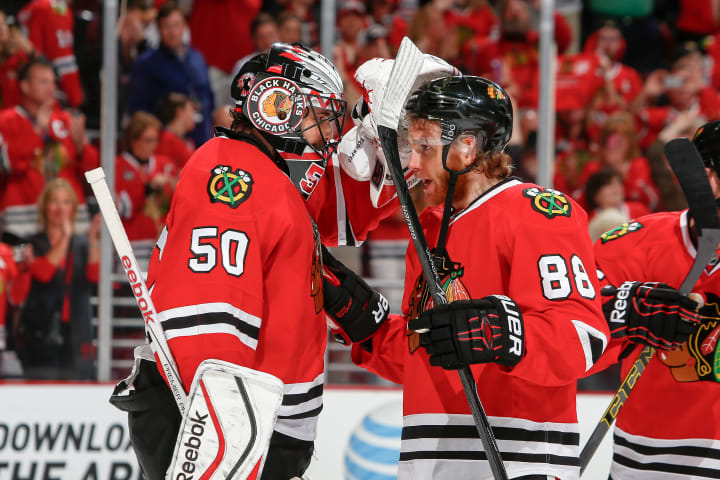 C1: Chicago Blackhawks
The Blackhawks have been a perennial powerhouse for quite some time now, and don't show any signs of slowing up. Even with the moves they've made this offseason, the outstanding structure and core have remained in place for several years and have this team constantly pointed in the right direction. Talent and experience on both ends of the ice could keep this team at the top of their division, as long as everyone stays healthy. The only question they may face is how to replace Marian Hossa for the year, but they should have enough depth to cover at least some of his production.
C2: Nashville Predators
The defending Western Conference champs made for an amazing story in last year's playoffs, and hope to continue making noise this season. I would still anticipate that they perform better in the regular season this year with many of their key players returning healthy, such as Ryan Johansen. Notably, the loss of James Neal's scoring output and Mike Fisher's leadership could pose a barrier to their winning the division. Of course, nothing can outperform heart, and the Preds have plenty of that.
C3: Dallas Stars
The lone team on this list that did not make the playoffs a year ago, the Stars seem poised for a return this season. After revamping several key parts of their lineup, they appear ready to make noise in 2017-18. A changing of the guard in net now has former Vezina nominee Ben Bishop taking over, who should do well in his new surroundings. A core of young, talented defensemen also has veteran blue-liner Marc Methot on board to bolster them, fresh off an Eastern Conference Finals trip. Adding Alexander Radulov and Martin Hanzal will also tip the scales in their favor in goal production, adding to what Seguin and Benn have already done. This team is definitely trending upwards.
Wild Card: Minnesota Wild
Minnesota has also remained a strong team out of this division for the past few seasons, most notably since the season that saw them sign both Zach Parise and Ryan Suter. And while they've certainly added some good supportive pieces—thanks in 2017 should go to the surprising reemergence of Eric Staal and the outstanding play of Devan Dubnyk—they never have been able to put it all together and win a cup. Whether that happens this season remains to be seen, but in a tight division, the Wild are definitely one of the top four and should easily grab a Wild Card berth.
We can revisit this in a few months when all these teams are plummeting, but for now, these two lists comprise who we can expect to make a run for the playoffs this season. What do you think? Will your team make a run?
Is it October yet?
Reader insights
Be the first to share your insights about this piece.
Add your insights