NFL Week 9 Recap: Nine Months
The Buffalo Bills and the Cincinnati Bengals faced off on primetime--the first regular season meeting in Cincinnati since Damar Hamlin's collapse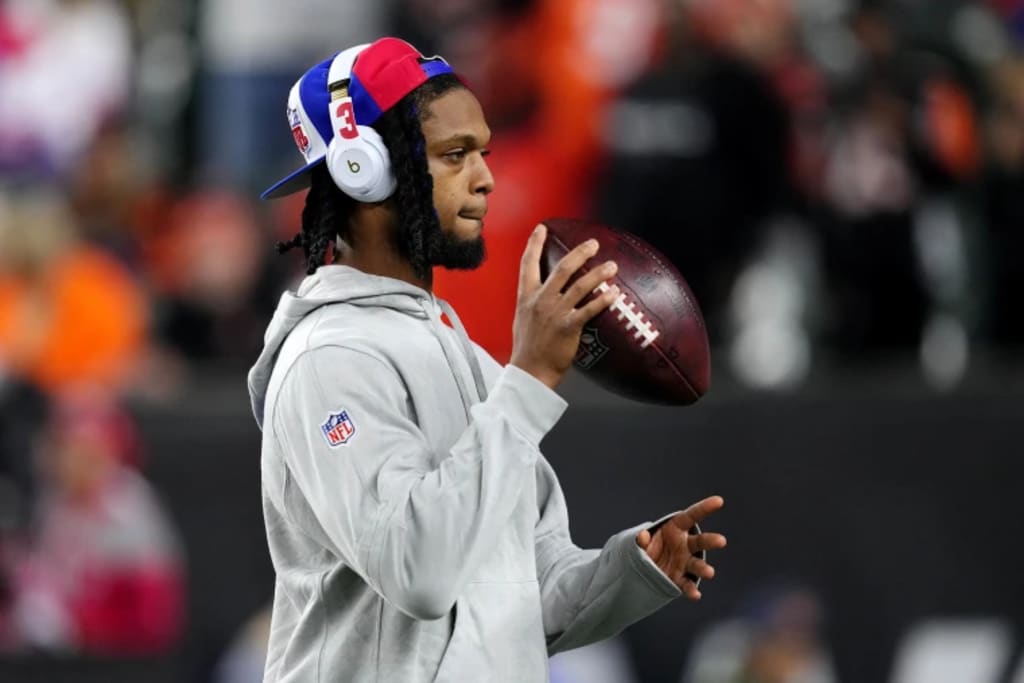 January 2, 2023. We all remember that Monday evening. The Buffalo Bills and the Cincinnati Bengals faced each other in what was the final Monday night game of the season. Regarding the game and the storyline, it was two teams jockeying for position in the AFC, as they were both in position to possibly take the AFC's #1 seed. This was an important game for both teams, but before the 1st quarter ended, there was suddenly something much, much more important than the game of football.
Damar Hamlin, who is part of the Buffalo Bills secondary, suddenly collapsed, and as I watched, I was chilled by the scene, because I thought it was a bad injury. A bad injury would have been less heartwrenching than the news we all heard: cardiac arrest. Hamlin was taken in an ambulance, and everyone watching, myself included, found ourselves praying for Hamlin. A lot of us were scared for him. Yet we did say our prayers for Hamlin and hope for a recovery. It was slow, it was steady, but Hamlin did recover. The Bills became the emotional story, and I still remember the first game after that Monday game. When the Bills kicked off that season finale against the Patriots with a touchdown on the opening kickoff, we all had the same thought: "That was for Damar."
Fast forward nine months. We've seen Damar with the team this season, we've even seen him in uniform, and every time I see him, I smile. We all do. On the evening of November 5, 2023, the Bills went to Cincy for the first time since that fateful evening. Hamlin was not in uniform for the game, a healthy scratch, yet the fact that he was on the field in some capacity was a very amazing moment. Regarding the game itself, it saw the Bengals dominate for the most part, and go on to win by a score of 24-18, continuing Cincy's road to returning to that prime spot they've been in since the 2021 season. As for Damar Hamlin, he greeted a number of Bengals players, the Bengals fans cheered when they saw him, and he actually stood very close to the spot where he collapsed.
Again, nine months. Hard to believe so much time has passed. We are all so elated to see Damar Hamlin fully recovered, and back in action this season.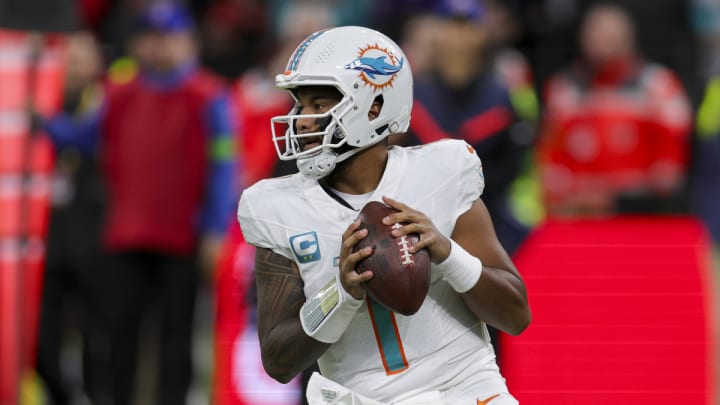 We were treated to another international game, this time in Frankfurt, Germany, where the Miami Dolphins faced off against the Kansas City Chiefs. This was Tyreek Hill's first game against KC since they got rid of him (and still won a Super Bowl), but KC dominated to start the game. Miami managed to make it interesting, but an attempt at overtime (which I was pulling for) saw some incompletions, and ended with a bad snap that helped the Chiefs seal it. KC won 21-14, and all despite Travis Kelce being a near non-factor.
Sadly, all of the blame is being put on Tua Tagovailoa. I am so sick of Tua getting picked on all the time. Tua is an amazing QB, yet when one thing goes wrong, he gets shit on. Have they forgotten how well the Dolphins are playing this year? That's all under Tua. Miami is 6-3 halfway into this season, and could get a prime position in the AFC this year. But sure, let's pick on Tua if that helps certain people sleep at night.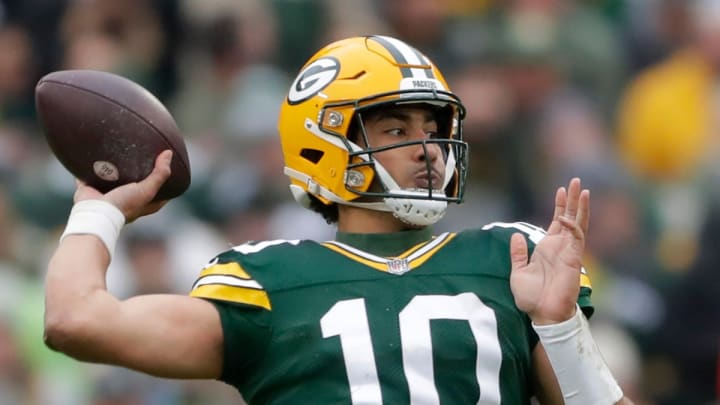 Another QB who has been shit on too much is Jordan Love. Here's the thing. The only problem I had with Love is how we drafted him. That's it. I knew he would be a good QB because he had a good teacher in the form of Aaron Rodgers. The Packers started off 2-1 with Love, but have dropped four straight, and that has so-called fans putting all of the blame on him; I really don't know why. We are so spoiled that we can't last even a half a season without shitting on Love. Well, Love fought back this past Sunday against the Los Angeles Rams, leading the Packers to a 20-3 victory to end the skid.
To any of my fellow Packers fans still doubting Love, here are some facts. In 2008, the Packers' first year with Aaron Rodgers as starter, we were 4-4--only one game better than Love this season. We finished 6-10 that year, and regarding Love, he's on pace to win seven games this year, which is one more than Rodgers. Also, Rodgers' first taste of the postseason was in Year Two. So yeah, even the GOAT struggled in his first year as our starter. Yet we were patient with Rodgers. We need to show that same patience with Love.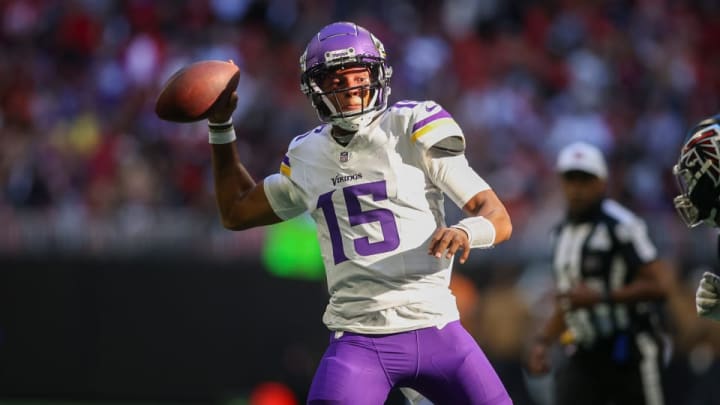 Week 9 began with the Pittsburgh Steelers winning 20-16 over the Tennessee Titans on Thursday Night Football, while the Baltimore Ravens and the Cleveland Browns enjoyed blow out wins on Sunday, meaning that with Cincy's win later that evening, everyone in the AFC North won this week. The Houston Texans won an offense-filled shootout, 39-37, over the Tampa Bay Buccaneers, while the Washingto Commanders and the New Orleans Saints picked up key wins. The centerpiece of Sunday's early window was the Minnesota Vikings emerging victorious over the Atlanta Falcons, 31-28, despite losing yet another player due to injury. Cam Akers, who was signed by the team just weeks ago, tore his Achilles. Another one out due to injury. The team was led by Joshua Dobbs, who they acquired from the Cardinals. Amazing.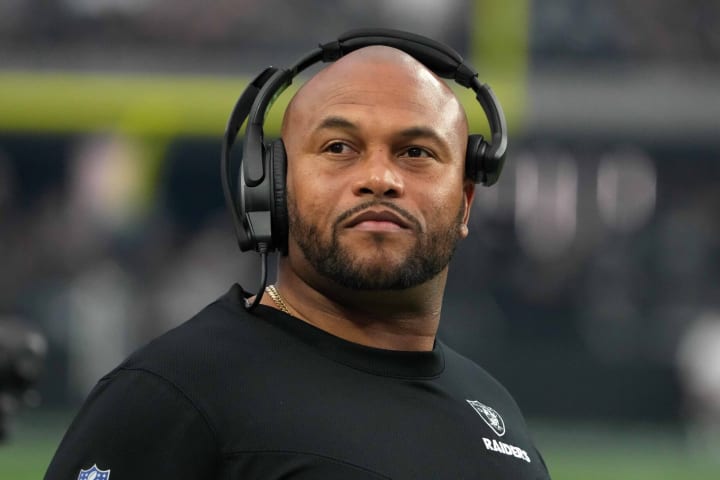 In case you haven't heard...they did it. The Las Vegas Raiders actually fired Josh McDaniels. I swear to you, Vegas had to have celebrated bigger and louder than they did when the Golden Knights won the Stanley Cup. Antonio Pierce took over as the interim head coach, and if that name sounds familiar, it should. Pierce is a former linebacker who was part of the New York Giants' 2007 championship, the one that ended the Patriots' attempt at perfection. Pierce's debut as HC came against the Giants, and it was an easy rout of a win for the Raiders: 30-6. It's also a big plus for diversity: at the moment, there are now five Black HCs in the NFL, though interim coaches don't really end up staying, unless there's a huge turnaround for the team. Even so, it's an amazing moment.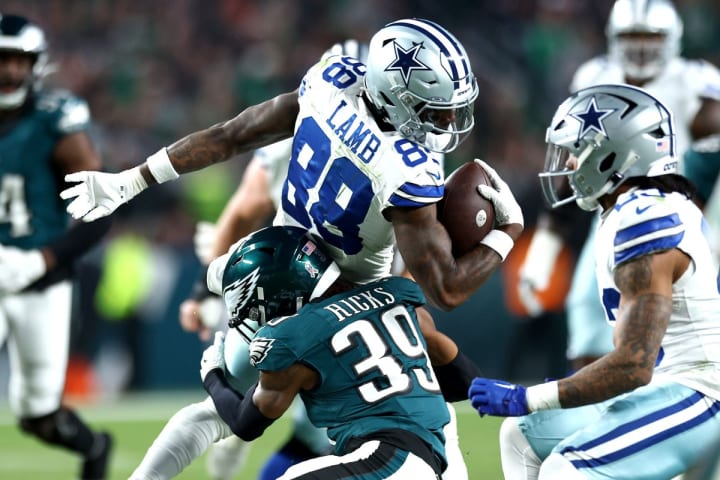 The Indianapolis Colts won their game over the Carolina Panthers, but the true game of the week was the NFC East clash between the Dallas Cowboys and the Philadelphia Eagles. This was a high-scoring and close affair, as well as entertaining, as we saw the Eagles' now famous "Tush Push" on two occasions. Seriously, I picked a great time to have Jalen Hurts on my fantasy team, because he'll score a lot of rushing touchdowns with that push, which other teams have attempted to copy. Anyway, the Eagles ended up winning this big time battle, 28-23, meaning that the NFC East is theirs to lose.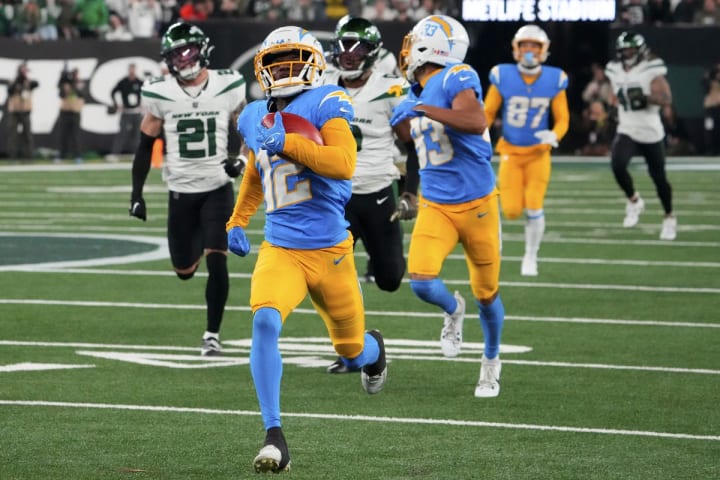 Monday Night Football featured the Los Angeles Chargers against the New York Jets, in an interesting battle in the AFC. Though the Jets were coming up an ugly, yet huge win, I picked up the Chargers defense on fantasy because they were playing against the Jets. Something told me that the Chargers defense would totally feast at MetLife Stadium. How right was I? Let's go to the fantasy numbers.
In Fantasy Football, team defense and special teams are all one in the same. Regarding scoring defense, it's 10 points for a shutout, 7 points for giving up 1-6 points, 4 points for giving up 7-13 points, 1 point for giving up 14-20 points, no points for giving up 21-27 points, a 1 point deduction for giving up 28-34 points, and a 4 point deduction for giving up at least 35 points. Regarding other stats, sacks are 1 point each, interceptions are 2 points each, same with safeties and fumble recoveries, while touchdowns are 6 points. In the case of the Chargers' defense, they had a punt return TD (6 points), eight sacks (8 points), three fumble recoveries (6 points), and only gave up six points (7 points). That's 27 fantasy points, the highest scoring defense on Fantasy Football this week. 27-6 was the final score, putting both teams at 4-4.
So that's that, the season is now half over: nine weeks down, nine weeks to go. Week 10 will begin with the Carolina Panthers and the Chicago Bears facing off on Thursday Night Football, and will also feature the season's last international game of the season, as the Indianapolis Colts will face off against the New England Patriots in Frankfurt, Germany. The Las Vegas Raiders will look to go 2-0 under Antonio Pierce, as they host the New York Jets on Sunday Night Football, and Monday Night Football will feature the Denver Broncos and the Buffalo Bills.
If you like this story, click the heart and the subscribe button, and feel free to comment below! Tips and pledges would be greatly appreciated, but only if you want to do so!
Reader insights
Be the first to share your insights about this piece.
Add your insights