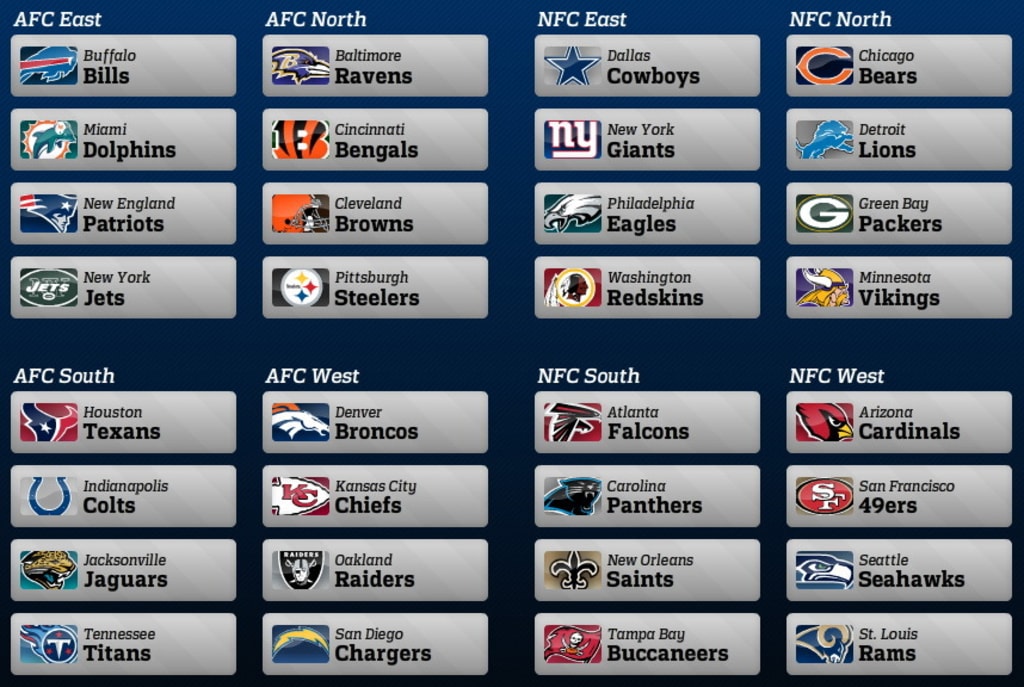 As we move at a fast pace into week 3 of the NFL, teams are trying hard now to be more consistent, and to really set themselves up as contenders. But before we move into the predictions, let's have a look at the results of my second week predictions.
Ravens @ Bengals: 1 point, as the Bengals held on to an eleven point lead to beat a second half fightback from the Ravens to win 34-23.
Panthers @ Falcons: 3 points, as the Falcons took the lead in the second quarter, and kept the Panthers down long enough in the fourth to take the win 31-24.
Chargers @ Bills: 1 points, as the Chargers were able to deal well enough with Josh Allen's first NFL start in Buffalo to win the game, though not by the 14+ point margin I predicted.
Vikings @ Packers: 0 points, as no one could have predicted that these two NFC North rivals would battle it out to an entertaining 29-29 tie.
Browns @ Saints: 1 point, as the Saints were lucky to avoid defeat to a much improved Cleveland team in New Orleans in a game where the Browns were ultimately doomed by their kicking, but with an excellent TD pass from Tyrod Taylor. Saints won the game 21-18.
Dolphins @ Jets: 0 points, as Sam Darnold was unable to come out and carry on from his first game against the Lions. Dolphins won 20-12.
Chiefs @ Steelers: 0 points, as the Chiefs continued their great offensive start to the season to overcome the Chiefs on their own turf, and won 42-37.
Eagles @ Buccaneers: 0 points, as the Buccaneers proved my assumptions that their game against the Saints was a fluke incorrect. They held off the reigning Superbowl champions to win 27-21.
Texans @ Titans: 0 points, as I call the close game wrong and the Titans come away with a close victory. They won 20-17.
Colts @ Redskins: 0 points, as the Colts stop Alex Smith's hopes of starting 2-0 with his new team, winning in Washington 21-9.
Cardinals @ Rams: 3 points, as the Rams continue their form from the regular season last year to shut out the Cardinals 34-0.
Lions @ 49ers : 3 points, as the 49ers edge out a close game against the Lions, with the game going all the way to the wire. 49ers win 20-17.
Raiders @ Colts: 1 point, as the Broncos kick a 36 yard field goal in the last ten seconds to win the game, and give Gruden two losses this season. Broncos won 20-19.
Patriots @ Jaguars: 0 points, as the Jaguars take revenge for their playoff defeat by handing Tom Brady his first defeat against the Jaguars, having lost to Brady the last eight times they played against him. The Jaguars took this one 31-20.
Giants @ Cowboys: 0 points, as the Cowboys claimed their first win of the season, beating the Giants 20-13.
Seahawks @ Bears: 3 points, as the offensive line failed the Seahawks, and Russell Wilson was sacked three times in a 24-17 win for the Bears.
So I only did slightly better this week, claiming 16 of 48 points available. Still, it is an improvement over the first week, and I hope to be slowly improving throughout this season. Without further ado, it is time for me to show my predictions for week three.
Jets @ Browns
As the Jets lost and the Browns suffered a close defeat to the Saints, I'm going to plump for the Browns to claim their first victory since December 2016. I think they are going to hand Darnold a further defeat this season here, and I believe there will be another couple of takeaways for the Browns too.
Win prediction: Browns by 7-14 points
Saints @ Falcons
I'm finding it harder to call this one than I thought I would, as I don't think either of them really have it in them to win it. But I'm going to say that the Saints will work this one out, and take home the win over the Falcons on the strength of their offense.
Win prediction: Saints by 3-7 points
Packers @ Redskins
There shouldn't be too much trouble here for the Packers, and an easy victory should await them in Washington against Smith's Redskins.
Win prediction: Packers by 7-14 points
Colts @ Eagles
Beforehand, I may have handed this game to the Colts, but I think that Carson Wentz's return to the starting line up should propel the Eagles to a victory over Indianapolis this week.
Win prediction: Eagles by 3-7 points
Bills @ Vikings
Whomever the Bills start here, I cannot see them getting their first win of the season away to Minnesota. The Vikings should be able to score a good number of points here, while their defence should be good enough to keep the Bills waiting for that first win.
Win prediction: Vikings by 14+ points
Raiders @ Dolphins
The Dolphins have started well here, with an 0-2 start, but it looks like Gruden's team are starting to come into their own with a narrow defeat away to the Broncos last week. I expect a close game, but advantage to the Dolphins.
Win prediction: Dolphins by 3-7 points
Broncos @ Ravens
The Broncos cut it close last week in their narrow win against the Raiders, and I think that a good defensive performance will be needed to defeat the Ravens here. I think Flacco should just bring the win to Baltimore.
Win prediction: Ravens by 3-7 points
Bengals @ Panthers
Though I've been impressed by the Bengals start this season, I still hold some concerns over them, and I think they will struggle against the Panthers, and suffer their first loss of the season here.
Win prediction: Panthers by 3-7 points
Giants @ Texans
After the Giants and Texans have both gone 0-2, at least one of them must finally get their first win of the season. And this week, I'm backing the Texans. The Giants keep trying to work their run offense, but I can't see it beginning to function here.
Win prediction: Texans by 3-7 points
Titans @ Jaguars
The Jaguars will be on a high note after beating the Patriots in week two, and I think it will carry on into this Week 3 matchup, delivering a comfortable win for the Jaguars against the visiting Titans.
Win prediction: Jaguars by 7-14 points
49ers @ Chiefs
With Patrick Mahomes playing amazingly so far this season against the Chargers and the Steelers, it would just be irresponsible for me to look past the Chiefs for this game. Expect them to go 3-0.
Win prediction: Chiefs by 14+ points
Chargers @ Rams
As the two LA teams go face to face, I see more in the Rams team than I do in the Chargers. I expect the Rams to win this battle for LA, and I expect them to do it by quite a margin.
Win prediction: Rams by 7-14 points
Cowboys @ Seahawks
After a roughing up in midweek by the Bears, Russell Wilson will want to bounce back with a win, and I think he could be looking for a bit too much here against the league's 4th best defence. But I still back them to win, if not by much.
Win prediction: Seahawks by 1-3 points
Bears @ Cardinals
I fully expect the Bears to pile on the misery for Cardinals fans, who already had an utterly dismal time last week against the Rams. Bears to gain their second win, and the Cardinals to continue searching for their first W of the season.
Win prediction: Bears by 7-14 points
Patriots @ Lions
Tom Brady will be disappointed at losing to the Jaguars, and I think it will show in this performance. The Patriots should take down the Lions with relative ease in this matchup.
Win prediction: Patriots by 7-14 points
Steelers @ Buccaneers
Usually, I would go for the Steelers to win this game. But after contrasting starts for both teams, I'm going to say that the Buccaneers can continue their strong start with another win here against Pittsburgh.
Win prediction: Buccaneers by 3-7 points
That's all he wrote folks.
And so that's all for this week. I'll be reviewing my scores this week as always after the games. And let's enjoy some football.
Alex's Prediction Scores
Week 2: 16/48 - 4 correct winners, 4 correct winners and scores, 8 incorrect
Week 1: 15/48 - 6 correct winners, 3 correct winners and scores, 7 incorrect