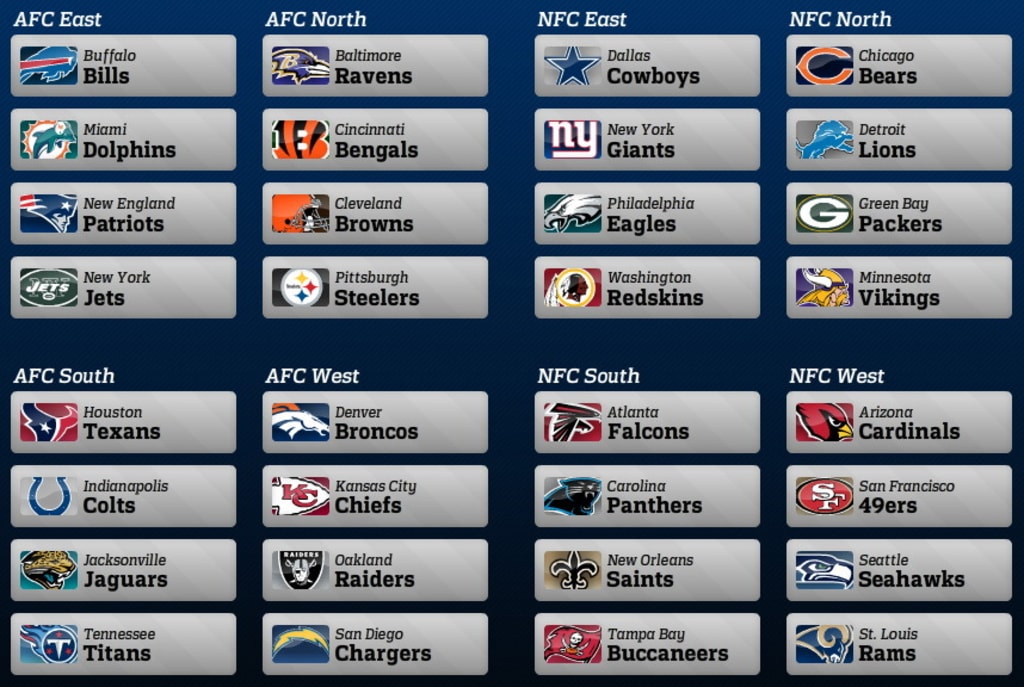 As the NFL heads into it's second week of matches, I first want to look at my first set of predictions. Right results are going to be worth one point, where as the right result and correct win margin will give me three. So here we go.
Falcons @ Eagles: 0 points, no prediction as article was a bit late going up.
Bills @ Ravens: 1 point, correct winner. Was very far off on the point margin as the Ravens destroyed the Bills 47-3.
Steelers @ Browns: 0 points, as the two teams played out to a tie.
Bengals @ Colts: 0 points, Bengals beat the Colts 34-23, against my prediction.
Titans @ Dolphins: 0 points, Dolphins beat the Titans 27-20.
49ers @ Vikings: 1 point, Vikings beat the 4934s by 24-16, one point more than I thought they would score.
Texans @ Patriots: 3 points, my first correct score bracket as the Patriots win at the bottom end of my 7-14 point bracket.
Buccaneers @ Saints: 0 points, as the Buccaneers exposed the Saints' old weaknesses in a game filled with brilliant offense. Buccaneers won 48-40.
Jaguars @ Giants: 3 points, as the Jaguars held on to beat OBJ and Eli Manning 20-15.
Chiefs @ Chargers: 1 point, as I successfully predicted the Chiefs win, but underestimated their winning margin.
Redskins @ Cardinals: 1 point, as I vastly underestimated the Redskins in this game, but correctly predicted their win.
Cowboys @ Panthers: 0 points, having backed the Cowboys to beat the Panthers in Carolina.
[email protected] Broncos: 3 points, as I predicted the Broncos defense to successfully hold off the Seahawks. They won 27-24.
Bears @ Packers: 1 point, I did not know that Aaron Rodgers would get injured before returning to the game later, but am happy to have predicted the win 24-23.
Jets @ Lions: 0 points, as I was proved wrong to discount Sam Darnold and the Jets in this matchup.
Rams @ Raiders: 1 point, as I successfully predicted the win by the Rams over Oakland and Gruden.
So, as we enter week two I have claimed only 15 out of 48 points, and have got to do much better this week. So finally we get what we are here for, lets get on with this week's fixtures.
Ravens @ Bengals
Both teams come into this matchup with a week one win under their belts. And I feel that the Ravens may not do as well as their first game, given that they came up against a Bills side that I reckon may be rock bottom this year. Hard one to call for me, but I'm sticking my neck out here for the Bengals to win it in front of a home crowd.
Win prediction: Bengals by 3-7 points
Panthers @ Falcons
As the Panthers come into this NFC South matchup, I can't shake the feeling that the Falcons should be able to bounce back in this one. I think the Falcons offense should bring them to a comfortable victory at the stadium for Superbowl 53.
Win prediction: Falcons by 7-14 points
Chargers @ Bills
After the thrashing that they received from the Ravens, the Bills will know that they have to do better. The size of victory for the Chargers may depend on if Peterman starts once more for the Bills, but I think Buffalo will be powerless to stop the Chargers leaving New York State with a victory.
Win Prediction: Chargers by 14+ points
Vikings @ Packers
The second NFC North clash in as many weeks for the Packers sees them go up against what is looking like a very good team in the Vikings. The emphasis has to lie with not allowing Rodgers to be injured as he was against the Bears, and hope for a strong four quarters instead of in just the one. I think the Viking could just about edge this one out in Green Bay.
Win [email protected] Vikings by 3-7 points.
Browns @ Saints
This could be a tough game for Cleveland, even though they played well against the Steelers. They will have to stifle the Saints offense, and hope that they can make the most of a defense that may have stepped backwards since last season. But at home, I think the Saints can beat the Browns.
Win prediction: Saints by 7-14 points
Dolphins @ Jets
A tough game to call in the AFC East, but I'm going to go for the Jets here. I'm backing Darnold to have another good game, simply because I liked what I saw from him in the first one, minus the first pass interception.
Win prediction: Jets by 3-7 points
Chiefs @ Steelers
Even though the Steelers didn't win their first game at Cleveland, and they are still without Le'Veon Bell, I think that James Conner showed enough in that first game to give himself a continued start against the Chiefs. And I heavily favour them to win this game against the Chiefs.
Win prediction: Steelers by 7-14 points
Eagles @ Buccaneers
The Buccaneers I think stunned everyone with their performance in New Orleans, but I don't think they can expect the same free scoring to happen here against the Eagles. Expect a reality check for them as they lose to the Eagles here.
Win prediction: Eagles by 3-7 points
Texans @ Titans
I admit to be unsure how to call this game, given how little I know about these two teams. But I'm going to edge this game for the Texans, as I think they have just a little more about them than the Titans.
Win Prediction: Texans by 3-7 points
Colts @ Redskins
I can't look beyond the Redskins for this game. I think that it should be easy enough for them to continue to 2-0 against the Colts, especially in front of their own fans.
Win prediction: Redskins by 7-14 points
Cardinals @ Rams
There's is only one result I can see in this game in LA, and that is a slaughter by the Rams. I truly expect to see a high scoring game, though most likely one sided as the Rams dominate the Cardinals here.
Win prediction: Rams by 14+ points
Lions @ 49ers
With two teams that have come off losses, it will be about who can pick themselves back up quicker and better. And for me, this race is won by the 49ers, who I think will be able to bounce back to a well earned victory here against Detroit.
Win prediction: 49ers by 3-7 points
Raiders @ Broncos
The Broncos have gotten lucky in having two home games to start the season, and I think they will start with two wins as well. I was not impressed by the Raiders performance against the Rams, and I think that the Broncos will be able to take advantage here.
Win prediction: Broncos by 3-7 points
Patriots @ Jaguars
In a repeat of last years postseason, I think the Patriots will be in for a tough game. But in the end, the Patriots should come out on top of this Jaguars team, even in Jacksonville. Though I think there could be an upset if the Jaguars can play well enough, they'll have a tough time stopping the Brady-Gronkowski machine.
Win prediction: Patriots by 7-14 points
Giants @ Dallas
Simply put, the Giants impressed me more in their defeat than the Cowboys did, and I think that Giants showed enough to give them my backing here. Though the run game could be a bit better, I think New York really can pull it off here.
Win prediction: Giants by 3-7 points
Seahawks @ Bears
I'm going to take what might be a long shot here, but I think the Bears could win this one. It was only an MVP performance by Aaron Rodgers in the fourth quarter that lost them the last game, and I think they could hold on to beat the Seahawks in this one, if only just.
Win prediction: Bears by 3-7 points.
There we are!
Another week of predictions all ready to go, and I even got in Thursday's game this week. Teams are looking to improve here, whether they won or lost in the first week, and I think this is the week where we could see who is going to have a disappointing season. Good luck to all your teams, and let's play some football.
Alex's Prediction Scores
Week 1: 15/48 - 6 correct winners, 3 correct winners and scores, 7 incorrect