NBA Free Agency Vol. 1
Day 1 to Day 5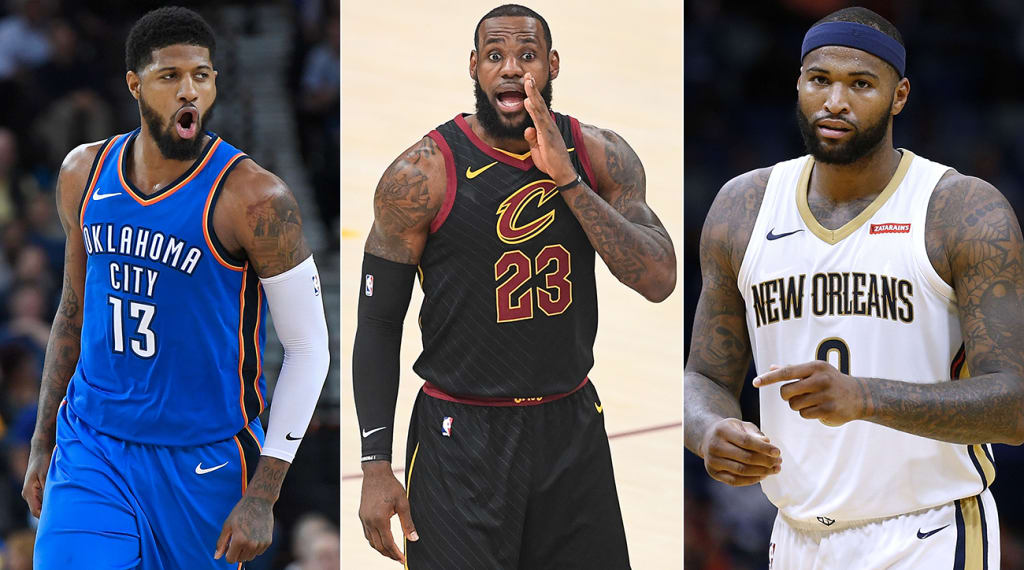 Courtesy of SI.com
When you need quick facts to make small talk on the topics everyone is talking about, COME HERE. It'll be our little secret that you didn't actually spend six hours reading articles while listening to podcasts and watching YouTube videos to try and figure out a nuanced opinion on cultural topics... but if you do really enjoy this share it with your friends.
Basketball is the fastest growing sport in North America and that growth has caused it to become a 12-month sport—much like the NFL used to be. For the last three years, high-value players have switched teams and this year is no exception, even with few teams having salary cap room. This causes bandwagons empty and others fill up and you find out who really knows what's going on. Our goal is to have you know what's going on. We're going to start with the big talking points and then move on to the smaller ones as we move along. Without further adieu (curtain reveal)... LeBron James
LeBron, His Billionaire Aspirations... and Maybe His Family
Contract: 4 Years $154 Million, Player Option After Year 3
If you don't know who LeBron James is—which may mean that you have been in a coma—he is one of the two greatest basketball players ever. He's built like a literal freight train, has the tendency to play like one, and every time he changes teams he shakes the NBA like one they're a little house cozied up right next to train tracks.
With the NBA being the most star-driven league in the professional sports world a shift in the stars changes everything. To put LeBron's move into comparison, think about what happened the last time that he moved teams from the Miami Heat to the Cleveland Cavaliers. The Heat went from being the NBA Finals favorites to a mid to low-tier team over that summer, while Cleveland went from being a mid-tier team to a championship team. One player changed everything. Lebron has the gravity of a black hole that sucks in finals appearances and he just moved to one of the biggest franchises in the world, the Los Angeles Lakers.
This move has been expected for about a year and there is a couple of reason for that.
Cleveland Sucked - It was one of the worst built finals teams ever.
He bought property in LA - I don't think he needs to start an Airb&b business.
His son is VERY GOOD at basketball - Legitimately, watch some YouTube highlights.
The Cleveland mission has already been completed - He wanted a championship for his hometown and the second most unlucky sports city in North America... hmmm... Toronto.
Magic Johnson - This point is worth exploring.
Magic Johnson is someone current players look up to more than even Micheal Jordan. Yes, Jordan is better than Magic at basketball (slightly), but Magic Johnson is more of an icon in the age of entrepreneurship. Magic Johnson is the most successful basketball player business-wise and one of if not the most successful Black businessman in the USA and that means a lot in a prominently Black league like the NBA where it used to be reported that a majority of players would go broke after five years of being out of the league. We also know that Lebron is a fierce competitor and that no matter what the game, he wants to win. He didn't play the most games ever played in year 15 of his career because he liked the exercise. He did it to win and he's going to bring that mentality to his business.
The implications of this move on the playoff landscape will likely be seen next season. The players they have been signing are not great and even if the rumors that Kahwi Leonard will be joining the Lakers are true, the chance of them getting past the Golden State Warriors and the Houston Rockets are slim to none.
You can say Lebron was making a basketball move but that is ignoring a lot of the facts, this was a business move. The LA Lakers are, player-wise, not a special team. They have Lonzo Ball, Kyle Kuzma, and Brandon Ingram that can develop into a great core around Lebron within these next years but this isn't a win-now team, its a contend now but make Lebron a bit more money and let him biz-dev team.
Demarcus Cousins to the Golden State Warriors
Contract: 1 Year, $5.3 Million
He has been one of the best centers in the NBA for the last eight years and he is finally getting a legitimate shot at winning a championship by signing with the Golden State Warriors.
When he was with the Sacramento Kings he was a good stats bad team— and bad attitude—guy. After seven years with the Kings, he was traded to the New Orleans Pelicans which allowed him to play with one of the most underrated players in the league, Anthony Davis (The Brow).
DeMarcus signing with the reigning NBA champions essentially turns them into an All-Star team. HOT TAKE ALERT!!! There has never been a better team built in the history of the NBA than the 2018-19 Warriors.
That said there are a couple snags in this real-life Justice League.
DeMarcus is coming off an Achilles injury - He won't be back until late December to early January which played into the fact that he is taking an 11 million dollar salary cut. This is a scary injury. For comparison, Kobe Bryant had an Achilles injury and never really looked the same after.
Attitude issues - DeMarcus is a bit of a hot head and is pretty much hated by referees (Steve Kerr has a lot to work on).
Changing Role - Let's expand on this one.
Cousins has always been a first or very close second option for scoring on every team he has been with. Going into Golden State. he becomes a third or fourth option which reduces his touches by a massive margin. His points per game is likely to dip below 20 for the first time in five seasons and his field goal attempts are likely to drop from 18 to 20 a game to around ten or 12—with a majority coming from three-point range. How he adjusts to this will be seen, though I think that him
wanting to win a championship will overrule any objections he has to the offense they are running
.
Paul George Staying with the Oklahoma City Thunder
Contract: 4 Years, $137 Million, Player Option After Year 3
Paul George was rumored to be joining Lebron James in LA but this recent max contract he signed with the Oklahoma City Thunder seems to say otherwise. Resigning with a team that only won two games in round one of the playoffs against the Utah Jazz and acting like this year will be different is questionable at best. They could be really good, but I don't see that happening for one reason.
This is the same team they had last year...with one exception... their payroll is the highest in NBA history at $300 Million. The Thunder are not going to win the NBA championship and they may not even be one of the TOP 5 teams in the Western Conference this year and they have the highest payroll in history. That's like if Avatar came out and only made one billion dollars instead of two billion. It's good, not great, and not worth the time and effort you're putting into it.
In my opinion, it's better at this point for OKC to cut their losses and start betting on the 2021 and 2022 drafts.
DeAndre Jordan to the Dallas Mavericks
Contract: 1 year, $24.1 Million
DeAndre Jordan was the last remaining piece of the Lob City left on the Clippers. It was his time to leave, so in that respect it makes sense. The questionable part of it is his landing spot.
The Mavericks are young and looking to contend. Jordan is old and slowing down. So, his fit with the fast and fresh-faced backcourt of Dallas is a strange one. Luka Doncic and Dennis Smith Jr. are going to want to push the floor and play the modern NBA style, a style Jordan is a rough fit in.
He does provide rim protection, but last year he tied a career low in blocks per game (0.9). He did have one of his best seasons in terms of points and rebounds per game.
Dallas should want to stay young, which I hope they focus on after DeAndre's contract is up. To me, a better signing would have been Clint Capela or Derrick Favors because they can grow with this young core. DeAndre seems like filler until they are able to get the player they want next year.
The "What the Hell" Lakers
The Lakers have made some questionable moves since signing LeBron.
They've signed Kentavious Caldwell-Pope to a one-year $12 million contract. KCP is worth half that at best. The Lakers have signed Rajon Rando to a contract worth $9 million for one year. He's joining a team with a very promising prospect in Lonzo Ball. They also signed JaVale McGee, of Shaqting a Fool fame, to a one-year $2.4 million contract and they also signed Lance Stephenson to a one-year $4.5 million contract.
These contracts add up to $27.9 million spent this year on players that are flat out just not worth it. These signings initially seem like a waste. I can't tell you how they will play together come the start of the regular season but I'm going to predict a soft meh.
These moves have been paralleled to the moves the Heat made after they got LeBron but they seem more reckless and short-term. With the Heat, at least they had two other bona fide stars in Chris Bosh and Dwayne Wade, the Lakers have LeBron and some young guys.
This could be a symptom of LeBron/Klutch Sports (his agency) wanting to get some of their guys paid like Kentavious Caldwell-Pope, a Klutch Sports client. KCP is a decent replacement starter that is making the same amount as one of the breakout players from last season, Tyreke Evans. They shouldn't make the same amount of money, Period.
Rajon Rando is an interesting pick up for two reasons:
The similar way he and Lonzo Ball play - Pass first point guards with athleticism. Rando is better on defense than Lonzo
Who gets the minutes? - Neither Lonzo or Rando have shown that they are great off the ball. Could this lead to a trade for Kawhi featuring Lonzo? That sure would make this offseason fun.
JaVale McGee is on the team for leadership? I'm not 100 percent sure why they need him. Lance Stephenson can hold his own on defense but doesn't really provide shooting to a team that needs some. Right now the total radius of the McGee-James-Rando-Stephenson-Lonzo lineup on offense is ten feet, they have the spacing of moths flying into a light.
The appropriate response to the Lakers recent moves is "Uhhh... what the hell?"
I hope you enjoyed this.
You can contact me on Twitter @amos_calder
I'd love to hear what you like'd and didn't like.
About the Creator
I wanted to be like Indiana Jones until I realized that there were probably mosquitos where he did his adventures.
I like basketball, rap music, esports and books.
Twitter: @amos_calder
Reader insights
Be the first to share your insights about this piece.
Add your insights