Mick Foley is Now a WWE Smackdown on the Comedy Circuit
90s wrestling icon makes easy transition to comedy after hitting early retirement age.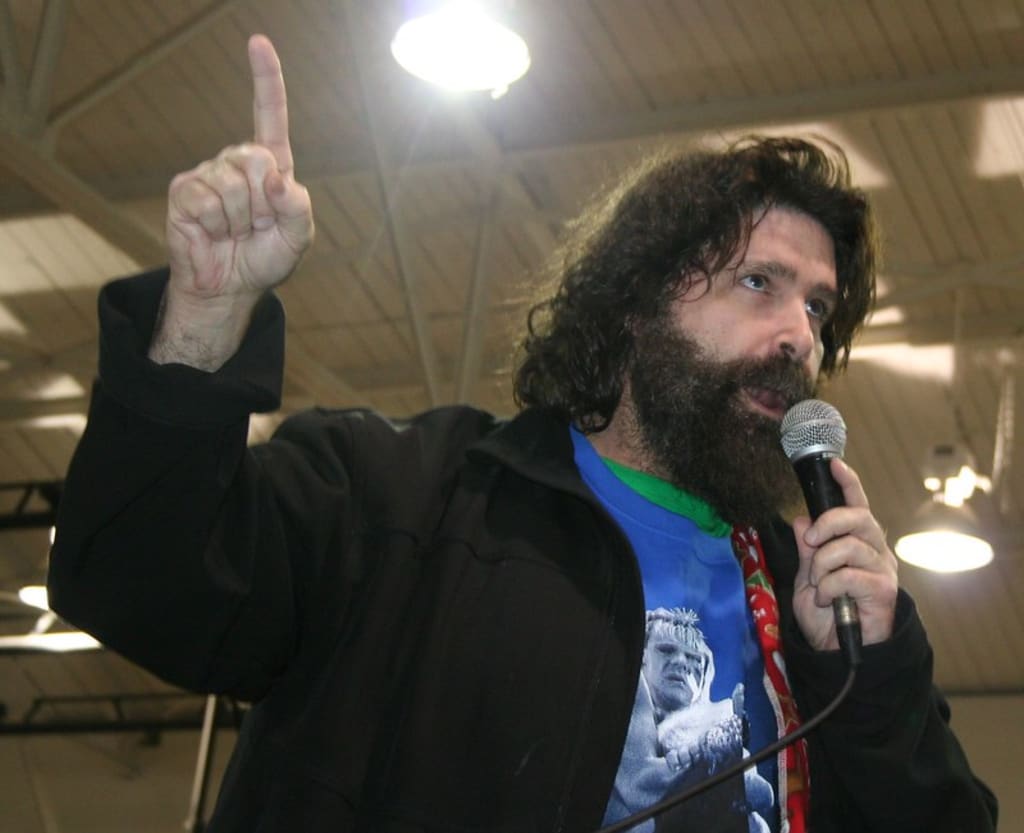 Photo by Mike Kalasnik
Long before WWE Smackdown became a thing, Mick Foley got his first full-time wrestling job in 1988. Comfortable in the tights as "Cactus Jack," he soared the heights as WWE's "Mankind." Earning three belts, Foley joined wrestling lore in his epic battle against "the Undertaker." Literally taking flight off a caged structure, he rose to finish despite being knocked unconscious and completing the match with a tooth wedged in his nose. Nonetheless, when finally succumbing to age, retirement gave him the chance to write a bestselling memoir, which resulted in a profession that could quite possibly rival that 16-foot dive off the "Cell from Hell" in 1998.
"Nothing could replicate getting up on that cage and seeing people below who appeared like ants. But I used to get extremely nervous before the shows," he said of the terrifying beginnings of being a stand-up comic. "That's not the case anymore. I feel pretty confident, and I'm very much at home."
The varied professions, though, emanate from a similar impetus. "I think it stems from being a young man who liked to get reactions. I found out late in my career that receiving laughter could be as rewarding as inducing winces," Foley revealed.
The sit-down aspect of making a success of stand-up has always been with him but it ended at that as a student. "I was a very good writer but an underachiever," said Foley who lettered in baseball, basketball, football, lacrosse and amateur wrestling.
High School Wrestling Puts Him on the Path
The latter gave him an interest in professional wresting, and later he got the chance to set up rings in New York City as a sophomore. "Eventually, I was invited to join a company for aspiring wrestlers in Pittsburgh," he said.
On the other hand, he started to do well in school so the grinding it out that lay directly ahead didn't have to do with half nelsons and body slams. "My parents said I had to stay in school," the communications major remembered.
He took the directive in stride and retrospectively was glad he had something to fall back on. Of course, he really didn't give much thought to what graduation was going to get him into. "I pointed out in my last book that wrestlers don't necessarily do careful risk-reward analysis or else they would never get involved. Luckily, I beat the odds," Foley says.
But not entirely according to his deliberations in front of an audience. "Yeah. You can tell by the way I prod around onstage," said Foley.
Right Cue Paves way for Early Retirement Age
Even so, Foley knew it was time when the right cue came along. "WWE Smackdown signed with Judith Regan, and I was one of three wrestlers approached with a book deal," he boasted.
Contrary to most in his position, Foley was quite spirited in his efforts. "After reading several chapters that the ghost writer put together, I thought I could do a better than this," he said. "So you can imagine trying to convince a publisher that this wrestler was going to write a book."
Speechless suffices to describe the response. "There was silence on the other end of the phone," Foley joked.
After the awkward pause, Foley piped up and offered the 76 pages he had written already. "It turned out that I had a nice way of telling stories," Foley conveyed their sentiment.
200,000 handwritten words, he deferred any cramps to all the people who had to make sense of his scrawl. "I know a lot of people were trying to decipher my handwriting," said Foley.
Married to the Semi Colon
However, his prose still had him feeling a little self-conscious so Foley compensated to make up the difference. "Along the way, I became enamored with the semicolon to sort of prove I was a writer," he joked.
Nonetheless, all the semicolons still didn't sit well with him - especially when he heard that many think they are unnecessary. "I had my editor go back and take a bunch of them out," Foley lamented.
He was hooked regardless. "I put them back in," he said, "and my wife is actually afraid I'm going to leave her for a semicolon."
Stand up Comedy Career Comes into Focus
He can only laugh off the idea of 90s wrestling fans trying to envision "Mankind" debating the proper usage of the semicolon, but the grammar aside, the eventual success of his novel brought him full circle. "The book opened the door to begin speaking at some pretty prestigious colleges starting in late 1999. I got about ten engagements a year until around 2007. I was then offered a chance to do improv in L.A. I used a couple of stories that worked from my college days and also threw in some barely formed ideas. It ended up being a pretty good show, which was the worst possible thing because it left me under the impression that I didn't have to work to be a success. I've figured out in the last four years that is absolutely not true," said Foley.
Going forward, Foley realized pragmatics had a place in his future success. "I used to go out of my way to do as little wrestling material as I could. I wanted to prove I could talk about things outside of wrestling, and I can. But it's almost like saying you can do the Catholic Mass in Latin. It's impressive but not necessarily practical," said Foley.
The defining moment came at a festival in Montreal. "There were hundreds of comedians under the same roof who were funnier than me. The message was clear – semicolon - that if fans wanted to hear material outside of wrestling there were literally hundreds of better places to go. But if fans wanted to hear some unique stories about a unique industry from the perspective of a guy who traveled the world with his eyes and ears open for 28 years, I was a pretty good source," Foley asserted.
On the Learning Curve Too
This has left him with an audience that is usually comprised of 95% wrestling fans, but the remaining five don't take a fall. "They usually tell me that they have no idea what to expect, and it's almost like they settled in for a night of agony. In reality, they enjoy it more than they could have imagined," he said.
Foley also encountered the painful learning curve despite his natural talents. "I had a terrifying experience one night. I couldn't get a laugh. If I was in a pool, I would have asked for a life preserver. Judah Friedlander told me you have to have some better material, but you still have a way of telling stories that keep people interested. So I've learned through my mistakes and feedback like that," said Foley.
The stop at Caroline's definitely proves that. "It's one of the biggest shows I've done. Hopefully, it could lead to the connection that helps to disregard your fear that I'll embarrass myself and their image of me," he concludes.
Rich Monetti can be reached at [email protected]
Reader insights
Be the first to share your insights about this piece.
Add your insights