LeBron James Set to Produce Show 'Brotherly Love'
The show is based on the life of reigning Rookie of the Year Ben Simmons.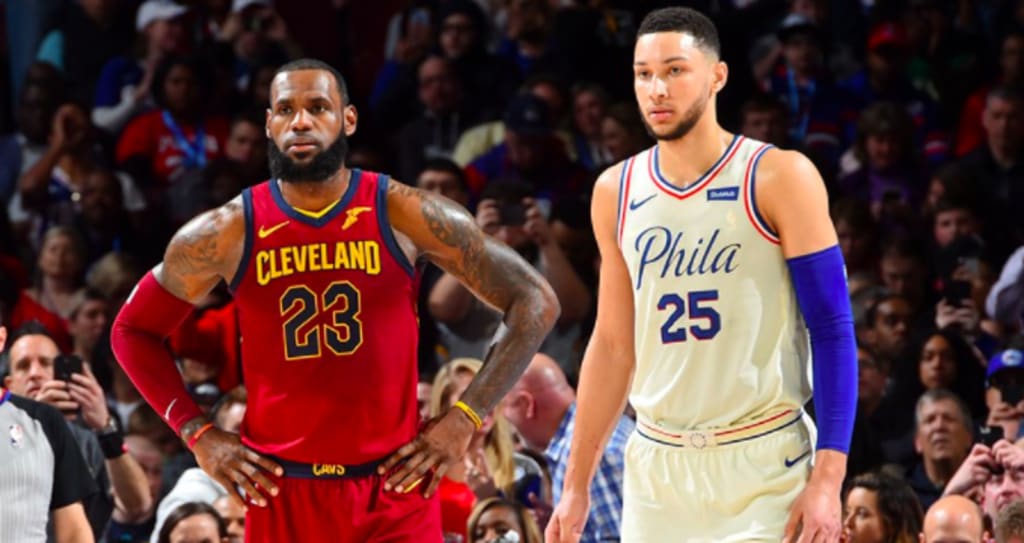 LeBron James continues to make moves off the court. According to Deadline, James's production company SpringHill Entertainment sold a show to NBC titled Brotherly Love. The show will also be produced by former Fresh Off the Boat co-executive producer Kourtney Kang.
The premise of Brotherly Love is based on the life of Ben Simmons. The show focuses on the relationship between siblings within a multi-ethnic family. They go through adventures in Philadelphia all while pursuing their dreams.
Ben Simmons is the reigning Rookie of the Year, which depending on who you ask, he was still considered a rookie this season. Simmons was drafted by the 76ers in 2016, but a foot injury prevented him from playing. He made his debut in the 2017-2018 season, where he nearly averaged a triple-double. He averaged 15.8 points, 8.2 assists, 8.1 rebounds and 1.7 steals. Simmons also averaged 16.3 points, 9.4 rebounds, 7.7 assists, and 1.7 steals. The Rookie of the Year race between Donovan Mitchell and Ben Simmons was a close one. However, Ben Simmons prevailed and won the award. Ben Simmons is a tremendous talent with a bright future. His future will lead to other opportunities such as this show and more. Especially if he keeps a relationship with LeBron James, who is a mentor to Ben Simmons.
LeBron James and Ben Simmons have a relationship that extends beyond the court. James is a "big brother" figure to Ben Simmons. James and Simmons have even worked out together on multiple occasions. They've developed a bond that will likely last after one or both of them retire (Simmons is only 22 and LeBron James 33). When Simmons came into the NBA (from Louisiana State University), he drew comparisons to James. Simmons is a 6'10" guard/forward with a knack for handling the ball. His court vision allows him to pass the ball exceptionally well. While his shooting needs improvement, he is a triple-double caliber player. Does this sound familiar? Several of these qualities could be said about a (young) LeBron James. Even at the age of 33, LeBron James is playing at a high level. Early in his career, James showed similar qualities to Simmons, and he got better year after year. Will Ben Simmons be the next LeBron James? Probably not. However, he will have a long, successful career.
Besides comparisons, Ben Simmons and LeBron James have another connection. Ben Simmons is managed by Klutch Sports Group, the same sports agency as LeBron James. Rich Paul, a longtime friend of LeBron James, established Klutch Sports Group in 2012. When Simmons signed with Klutch Sports Group, he said, "It's another family for me. Now it's all about putting in that hard work and getting ready for the next level,
Klutch Sports Group manages players such as Eric Bledsoe, J.R Smith, Nerlens Noel, and Tristan Thompson. However, their two biggest clients are (arguably) Ben Simmons and LeBron James. Since Ben Simmons is managed by Rich Paul, he will be working closely with one of LeBron James's closest friends and in turn working (indirectly) with LeBron James. Brotherly Love, the potential upcoming show, is one of many things Ben Simmons will work alongside LeBron James and his friends such as Maverick Carter and Rich Paul.
Brotherly Love has been given a script commitment plus penalty. This means that producers and writers will get paid, even if the pilot is never produced or aired. Personally, I hope the pilot is made. It will be one of many shows SpringHill Entertainment has produced. Their portfolio includes NBC's The Wall, Survivor's Remorse, and an upcoming documentary called Shut up and Dribble. They have other shows and films in development as well. If Brotherly Love is picked up, it could be a potential success.