Junior dos Santos: Still a Heavyweight Force
The former champion is on yet another surge for the UFC heavyweight strap.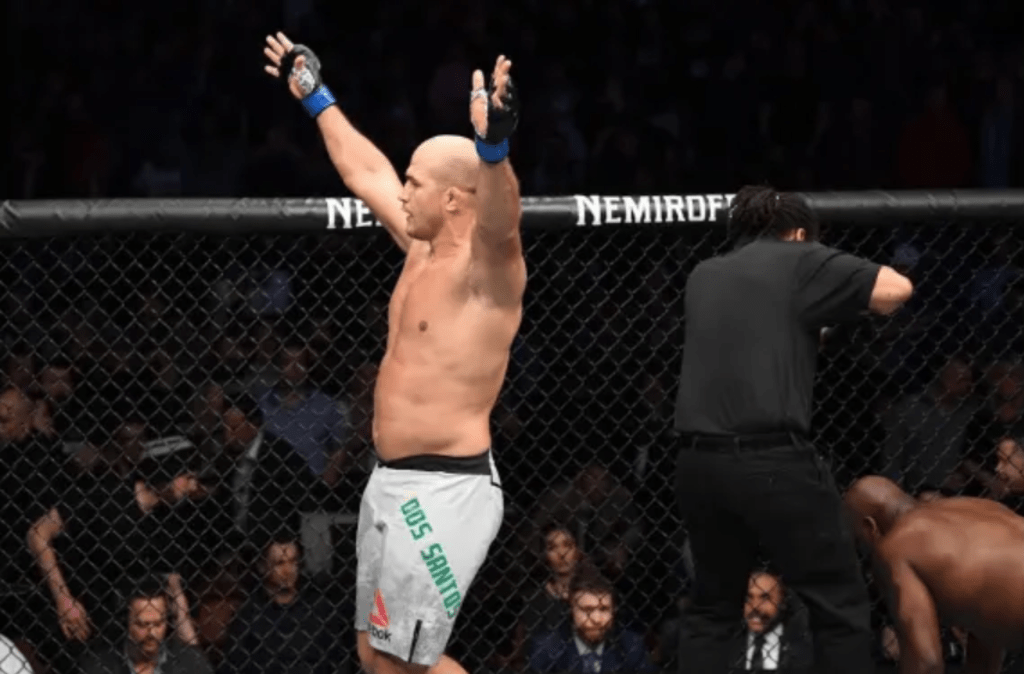 Not very often in the UFC heavyweight division do we see someone stay on top a division for so long (11 years to be exact), and continue to win decisively, and in devastating fashion. Not only is it hard to stay relevant in the UFC alone, it is much harder to stay relevant, and active at heavyweight for as long as a certain Brazilian we seen shine this past weekend, once again.
Perennial UFC heavyweight contender Junior dos Santos is on yet another surge towards the UFC heavyweight strap.
UFC Fight Night: dos Santos vs. Lewis took place Saturday, March 9, 2019 in Wichita, Kansas and was capped off with #8 ranked heavyweight dos Santos starching #3 ranked Lewis in the second round of their scheduled five round main event.
A division staple since 2008, "Cigano," has fought and defeated the top tier of the murderers row heavyweight division. He defeated names like Fabricio Werdum, Mirko Cro Cop, Cain Velasquez, Frank Mir and Stipe Miocic, all while winning 15 times with 12 TKO/KOs. Impressive numbers for the heavyweight division to say the least.
The only people dos Santos lost to were former champions Cain Velasquez(twice) and Stipe Miocic, along with the always dangerous Dutch striker Alistair Overeem.
Wins and losses aside, dos Santos continues to make his case of constant relevance in the heavyweight division, which was obvious on Saturday night. Now having won three in a row against formidable opposition such as young prospect and Australian KO artist Tai Tuivasa and former Russian Combat Sambo champion Blagoy Ivanov, capped off by the destruction of heavyweight top contender Lewis, it's hard to deny his upper echelon status once again at heavyweight.
In my opinion if there is no title shot next, where I believe dos Santos gives reigning champ Daniel Cormier more problems than most at heavyweight, perhaps a fight with Francis Ngannou, for the legitimate number one contender matchup should be on the horizon. Not only is the fight marketable for both men's knockout abilities and resumes, but their skill sets and constant destruction of the heavyweight division is appealing enough to sell pay per views.
No doubt in my mind Junior dos Santos has been and will continue to be a force in the UFC heavyweight division for years to come. Its undeniable that if the 35 year old who was born in Caçador, Santa Catarina, Brazil continues his resurgence since returning from a long lay off from a suspension for PEDs that he someday in the near future reclaims his throne atop the UFC heavyweight elite. With the depth of talent in the UFC heavyweight division, there are many possible exciting bouts for dos Santos to propel him above the top five for an exciting fight with reigning champion Daniel Cormier.
If you look at the UFC heavyweight division as a whole, JDS is really the only contender surging at the moment, other than Ngannou and Alexey Oleynik, who is coming off of back-to-back submission wins. Perhaps, a fight between the two could make sense. Possibly, the Fight Night event happening April 20th in Russia headlined by Alexander Volkov vs. Alistair Overeem? It would require dos Santos to have a quick turnaround with a lot to lose against a submission specialist, on a card jam packed with top tier heavyweights.
The former champ should never be labelled a "gatekeeper" at heavyweight as he continues to stay relevant and lethal amongst elite opposition. Let's run back the appealing matchup between Cigano and "The Predator" that was originally scheduled for September, 2017.