Is Philly a Contender?
The Sixers have plenty of talent but do they have what it takes to win it all?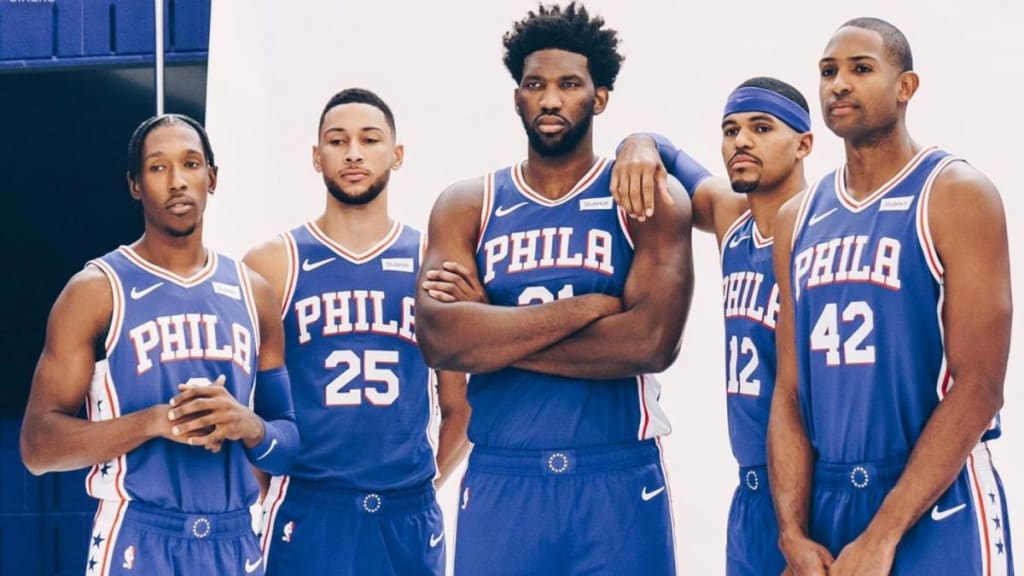 Taking a quick look at the 76ers you see three All-stars, a borderline All-star and an elite 3-and-D player. This team looks like they could take down anybody and get to the chip, but are they really that good? Let's break down the 2019-2020 Philadelphia 76ers.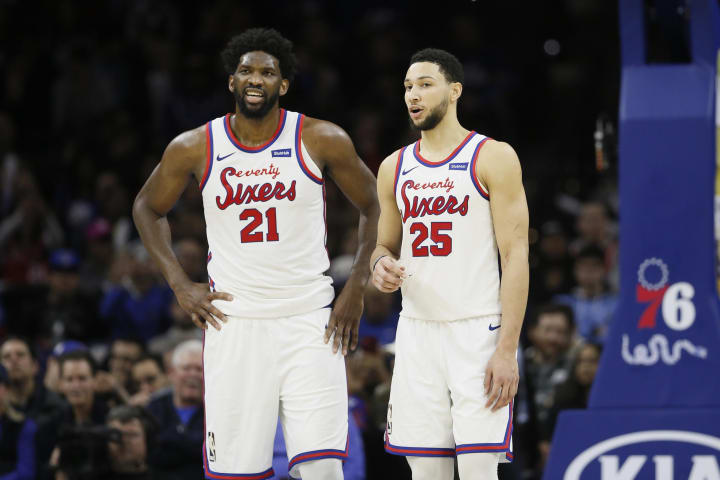 First two guys you think of when you think of the Sixers are Ben Simmons and Joel Embiid. Now what's the first thing you think of when you think of Ben Simmons? I don't know about you, but I think of shooting. And by shooting, I mean the non-existence of his shooting.
Ben Simmons is an elite defender, elite passer, floor general, and unstoppable in transition. However, unless he learns how to shoot, he has reached his peak. Being a bad shooter is fine, you can work with that, however, what you can't work with, is someone who even refuses to try. I'm not saying Ben needs to start jacking up 3's but he can easily pull-up from the elbow and a short mid-range from the baseline, or something. He just needs to start TRYING. When you start trying is when you begin to improve. He can practice all he wants but it means nothing until he actually applies to in-game situations.
Not only does this lack of shooting create a problem for him, but it does for his teammates as well. It really hurts the Sixers ability to space the floor. You've all seen the clips of the disrespect defenders give Simmons by camping in the paint and leaving him open on the arc. Well obviously Ben isn't gonna shoot that 3 and it also makes it tougher for the ball to get into the paint due to there being an extra defender.
Transition-wise, Ben Simmons is a monster. You have him running down the court full-sprint, you are not stopping him. Either he powers his way in or he uses great court vision to find a pass. However, you can't play transition all night. Especially when the Sixers use a system with two big men in Horford and Embiid, which is rare in today's NBA. And even though Horford and Embiid can shoot the 3, they're not like JJ Redick (who they should have kept...) and can move around the perimeter and get off shots. They can shoot, but their natural position is to play inside the paint. You remember how hesitant Embiid was to shoot deep...
Almost everyone in the NBA is running small-ball and either using a 3 to play the 4 or using a stretch 4. Usually just one big man. But with Embiid, Horford, AND Simmons, you are essentially playing with 3 big men which makes it tough for their offense. Their is no spacing. Tobias Harris and Josh Richardson are basically forced to stay on the perimeter. Tobias Harris is someone you want at the 4 spot in today's NBA, but he's playing the 3 and with 3 big-men, his cutting and slashing ability, as with J-Rich is tougher.
This is a huge problem.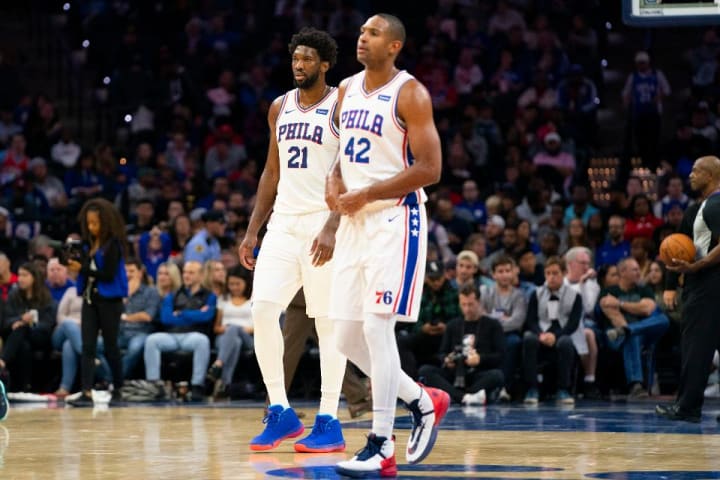 Another problem I see is the attitude of Joel Embiid. He is very emotional and passionate about the game and a lot of the times, it gets the best of him and hurts the team. The trash talk is fine and the aggressive play is fine, but when you let it affect the way you play negatively, that can't happen. Many people consider Embiid an MVP candidate, and if you are looking at the stat sheet only, most definitely he is. But if you watch him on the court, his attitude at times hurts the team and that definitely lowers your value to the team.
A lot of times you see him let his emotions take over and he holds the ball too long, tries to do too much to prove his point and ends up with a costly turnover or a bad shot. Pride hurts and it that is something you need to address if you're the coach.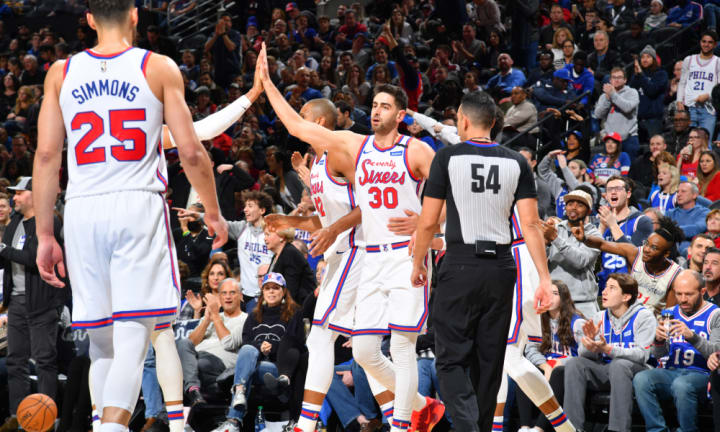 The other problem is that there is no depth on this team. Outside the starting 5, you're relying on players like Furkan Korkmaz, Matisse Thybulle, Mike Scott, etc. No disrespect to these guys, but that's a joke. I'm sorry but if I'm the coach and I have to rely on Korkmaz to lead my team when my starters go out, I'm worried. Now Korkmaz has shown to be a great shooter and a lot better than we all thought, but still, I don't want to rely on Korkmaz to lead my second unit...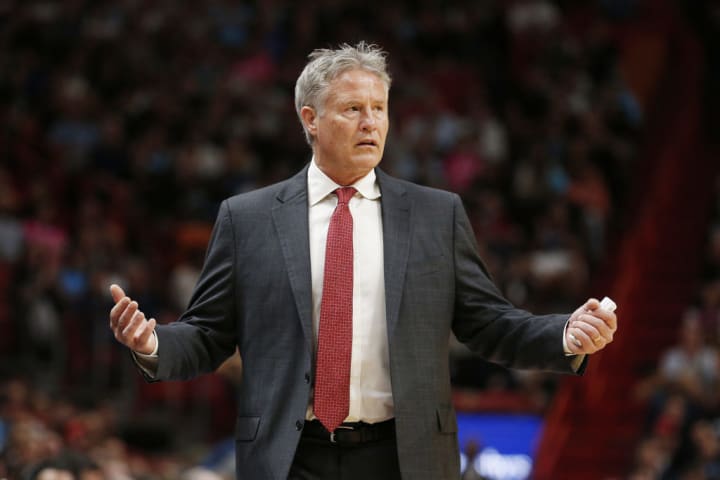 The final problem is the coaching. Brett Brown is a shit coach. End of story. So many problems that the Sixers have, have NOT been addressed. Ben's shooting NEEDS to be addressed by the coach, the spacing NEEDS to be addressed by the coach, the Process attitude NEEDS to be addressed. These things absolutely hurt your team and if they were fixed, you would most definitely be a championship contender. But because they aren't, the team may look like a contender on paper, but when you watch them play, they're good, but they are definitely not a contender for the chip.
Solution? First of all, get a new coach. This current system does not fit the players at all. Second, Ben needs to shoot the damn ball. At least try. I don't know, set a goal or something like one shot outside the paint a game or idk, but there needs to be SOMETHING.
And if neither of these things work, then this team needs remodeling. Essentially 3 big men in the starting lineup cannot work in today's NBA. Last year's lineup if Simmons, Redick, Butler, Harris and Embiid worked a lot better, but trading a guard for a big man ruins the spacing of this unit.
Ben Simmons, an all-star; Al Horford, an all-star and defensive tank; Joel Embiid, all-star and potential MVP candidate; Tobias Harris, borderline all-star; and Josh Richardson, great 3-and-D player who is can score in high volume. Team looks great on paper. But when you put them on the court, they are second round of the playoffs at best, unless changes are made.