International Tennis Hall Of Fame Announces New Podcast: It's An Ace
Tennis Worthy podcast begins January 25th.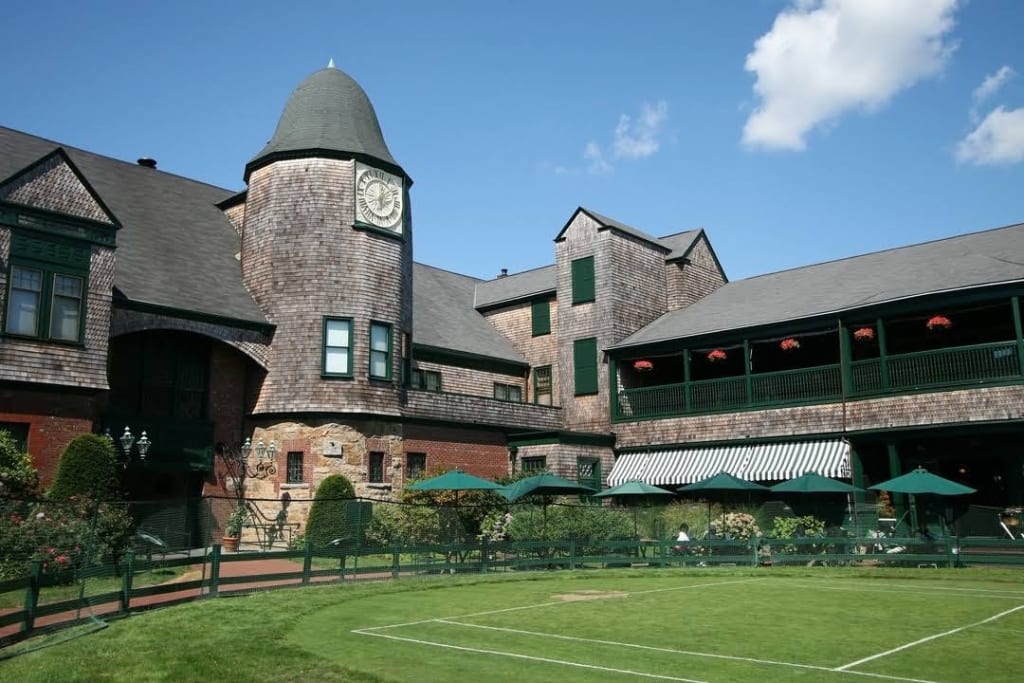 There are several tennis podcasts out there of varying quality. The best of these podcasts is No Challenges Remaining, which is a humorous and informative podcast discussing the happenings in the world of professional tennis. It's hosted by Ben Rothenberg and Courtney Nguyen.
Now, the International Tennis Hall of Fame has announced a new podcast that will feature conversations with Hall of Famers and tennis legends. The podcast will uncover the mindset of champions and the unique, special characteristics that define greatness on and off the court. The podcast will be called the Tennis Worthy Podcast and you can click HERE for additional information about it.
Many people are not aware that there is an International Tennis Hall of Fame. It is located in Newport, Rhode Island, and it honors both players and other contributors to the sport of tennis. The complex, the former Newport Casino, includes a museum, grass tennis courts, an indoor tennis facility, a court tennis facility, and a theater.
How did a 19th century casino become a sports hall of fame? The Newport Casino was in danger of demolition, and with its rich tennis history, it was the perfect spot to establish a hall of fame. Jimmy Van Alen was a tennis player, tennis official, and the inventor of the tiebreak. He successfully lobbied the leadership of the United States Lawn Tennis Association to sanction the establishment of a National Tennis Hall of Fame in Newport, which was approved in 1954.
The Hall of Fame hosts several tournaments, including the Infosys Hall of Fame Open in July. The Infosys Hall of Fame Open is a part of the US Open Series, as well as being part of the men's ATP World Tour, the tournament is the only grass court event in North America.
In addition to our beautiful and historic property which is open to the public year-round, our Enshrinement Gallery, located in the museum, celebrates 262 distinguished Tennis Hall of Fame inductees representing 27 different countries. Additionally, the museum is home to an array of artifacts including objects, art, fashion, photos, images, videos, and publications showcasing an impressive collection from tennis' greatest moments and most inspiring champions. Highlights include a hologram of Roger Federer speaking about why he loves tennis, a 5-foot tennis trivia touch table, and the Arthur Ashe '68 VR experience which travels back to the year 1968 and immerses visitors in the tennis champion's moment as he becomes the first Black man to win the US Open, and uses his newfound celebrity to lift his voice against injustice.
The podcast trailer is now live HERE, with the first episode set to debut on January 25 featuring 2022 International Tennis Hall of Fame inductee Lleyton Hewitt. New episodes will be released biweekly through June. Listeners can subscribe and listen on iHeart, Spotify, Apple Podcasts, Google Play and Amazon Music.
Chris Bowers, an esteemed tennis journalist of more than three decades and biographer of Roger Federer and Novak Djokovic, hosts the podcast. His wide-reaching conversations uncover what makes a Hall of Famer, from the habits that contributed to their triumphs, to the innate mental attitudes that kept them striving for more.
Episode 1 (Jan. 25) — Australian great Lleyton Hewitt discusses the drive, intensity and "never say die" attitude that he credits for his achievements.
Episode 2 (Feb. 8) — Tracy Austin details her immersion into tennis from her earliest days, her innate ability to push herself, and the importance of taking small steps to reaching goals.
Episode 3 (Feb. 22) — Ivan Lendl opens up about how absorbing experiences on and off the court led to mastering the intricacies that defined his consistency.
Episode 4 (March 8) — Mary Pierce shares her story, from how fate led her to pick up a racquet for the first time at age 10, to her desire to be the best she can possibly be every day.
Check out the Tennis Worthy podcast on January 25, especially now with the first grand slam event of the year, the Australian Open, now underway.
About the Creator
I am a South Jersey-based author who is a writer for the Pod-Alization podcast blog on Substack, Ear Worthy on Medium, Podcast Reports on Blogger, Auditorily on Vocal and The Listening Post on Tealfeed.
Reader insights
Be the first to share your insights about this piece.
Add your insights