I'm "That" Baseball Mom
And I'm not sorry for it!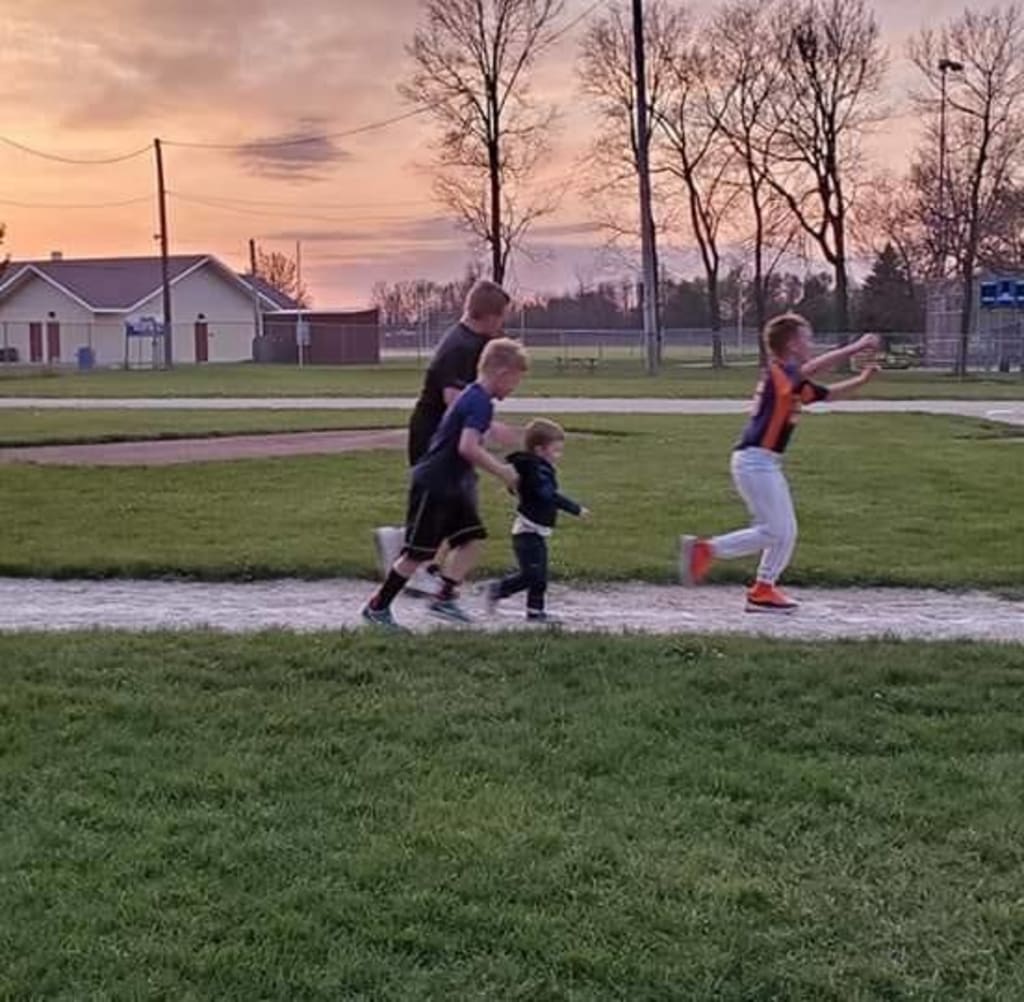 I always knew that someday when I had kids I would be "that" mom. I would be overenthusiastic, loud, and unapologetic for my actions. There was never any doubt in my mind. As a teenager, I was an athlete and also a sport's girlfriend. And I was always there, always loud, and always opinionated. It didn't hurt that I loved all sports and had a working knowledge of what was happening. Of course, I had imagined having girls and envisioned a life full of cheerleading, softball, and volleyball. Or, if I had boys, it would be football. And then I had kids, and my oldest, at an extremely young age, showed quite an aptitude for baseball skills. So, baseball it was.
My oldest started playing when he was four. I remember struggling with the lack of coaching, and the chaos that is beginners baseball. None of the kids know what to do, none of the coaches care. They bring them out to have a fun experience and maybe learn a little about the game. As a competitive mom, the tone of this generation was agony. Participation trophies and loose regulations. There was no "game," it was a glorified practice session with two teams.
Now, I'm not saying I didn't enjoy it. Watching your child learn a sport that you once played, one that he has showed a natural ability for, is an experience I wish everyone had. From the get go, he was focused and consistent (as much as a four year old can be). I would holler and clap for him, and for all of the other kids, too. I would cringe when I saw kids playing in the dirt or just flat out not having any interest. It drove me bonkers.
I recall one occurrence where my son, in a moment of frustration because it took forever at every at bat, actually sat down on third base as a runner. I was waiting for him behind the fence at home plate, and congratulated him on his trip around the bases. And then I told him if he ever sat down on a baseball field again, he wouldn't play anymore. My mother freaked out and reminded me that these were four year olds. And in hindsight, perhaps it was a little harsh. However, he has never once sat on the field again, so I take it as a Mom win.
My second son also has a knack for baseball. As a matter of fact, I believe he will end up being a better technical player than my oldest. However, nobody has more heart than my oldest boy. So, I went from being a baseball mom of one to two. A whole new team to get to know and love. And a whole knew struggle of controlling my intensity. Once you finally reach a competitive level and they keep score, the clapping, the opinions, and the whole experience changes.
The hardest part for me is the fact that they are two years apart, so they will probably never play on the same team. Which means diamond hopping on nights they both have games. So there I am, running back and forth, supporting everyone while having no idea who did what while I was gone. And to go from a competitive game over to an instructional game is tough, sometimes I find myself reacting like I would to the big kids during the younger kids' games.
My mom is horrified by my enthusiasm and extremely vocal spectating. I won't hesitate to go over to the dugout to encourage the kids, or to speak with the coaches. I jump to my feet for major plays. I pace. When my son pitches, I have to stand at least 15 feet away, and take my flip flops off in case I need to go somewhere really quickly. It is just REALLY intense. I am learning from other baseball moms that it will hurt your child when it comes time for the scouts to come out. So I have been trying to tone it down, and stay away from the dugout now. While it has been somewhat challenging, I understand the need to not interfere with the coaches. Not that it stops me from being an encouraging parent for every kid.
These kids, these teammates... they become like family. When you go to every practice, and heaven knows I do, you learn all of their strengths and weakness. And you watch them struggle, and you watch them grow. There are times when I have seen someone overcome something on the field, and it has brought me near tears. To see them growing up is a miracle and blessing that I am so grateful to have.
So maybe I am a little extra, a little intense, and a lot loud. But I also am supportive, instructional, and involved. At the end of it, I praise all of the kids. I congratulate them on great plays or awesome hits. I smile and laugh, and listen to them while we go over something. I clap as they shake hands and praise the other team. I am teaching my kids that no matter what the outcome, doing your best every time is great. Not only good enough, but great.
I am THAT mom. No bones about it. And the best part of being that mom is knowing that I am present. I pay attention, not sit on my phone. My involvement in the game is one more way that I can show my love to my boys. They will never doubt that I am watching and supporting them. They will grow up and have memories of summer ball, and they will remember that I was there, hollering and being their biggest fan, every single time. And that is what is the most important thing for me, is my kids knowing how much I love them and how proud I am. It is the single most important thing I strive for. So I will be that mom, and I will revel in it. Because I know the day will come when it ends, and I won't have anyone to cheer for anymore.