How to help save Nascar
An oft forgotten sport can get back into gear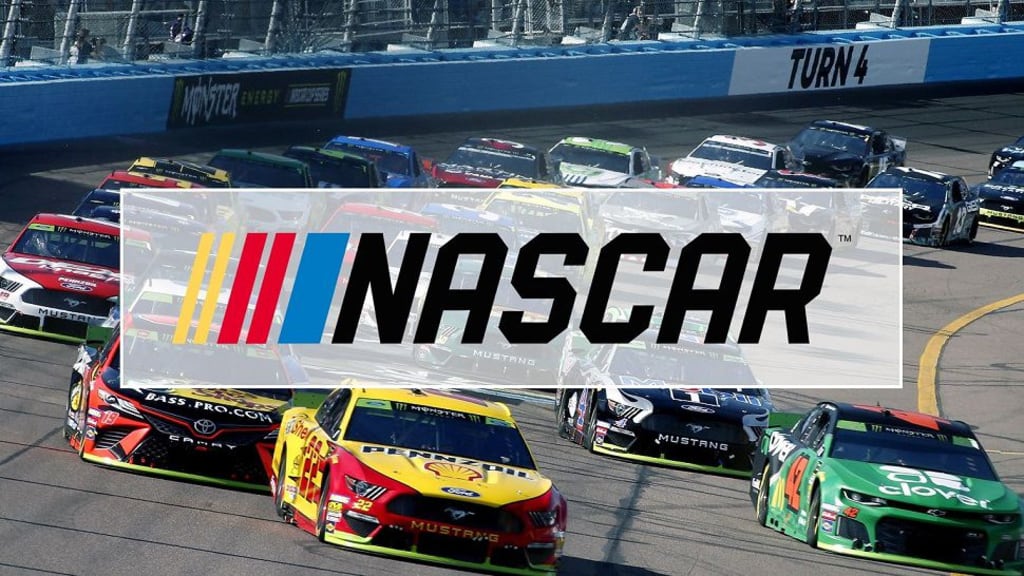 Slowly but surely, the world is trying to restart. We are seeing stores welcome back customers and restaurants reopening. The same can be said for the world of sports as countless organizations try to resume their seasons, while others try to get their own underway. We've seen a few get things started, like the Korean Baseball Organization and both German soccer league Bundesliga and Portuguese soccer league Primeira Liga restarting this weekend and June 4 respectively. But for America, the first sport restarting is one that most wouldn't expect. Nascar drivers return to tracks this Sunday to resume their season with a handful of races over the next few weeks. The sport itself has been in a decline for quite some time and is in dire need of a change. There are several different things that can help the sport turn things around. Some are up to the drivers while others are up to the officials of the sport to change.
NEW DRIVERS ESTABLISH THEMSELVES
Look at drivers that are at the top of the series. All of them have characters and personalities. Joey Logano, Kurt and Kyle Busch are willing to wear the black hat of the villains, Chase Elliott is the soft spoken hero, Jimmie Johnson is the grizzled veteran, you have the dominant drivers like Martin Truex Jr., Kevin Harvick, Denny Hamlin, and others that have been in the series for a long time have established themselves and the fans know who they are. Even some of the young guys like Ryan Blaney, Matt DiBenedetto, Ross Chastain and Corey LaJoie have created a character that fans are flocking to, large in part to their natural charisma. DiBenedetto has been featured in Penske social media, so it seems like he and Blaney are the future of that team. LaJoie is in a position to possibly take a ride from Stewart-Hass Racing once Kevin Harvick or Clint Bowyer decide to retire. And Chastain is the perfect candidate to replace Kyle Larson or Kurt Busch at Chip Ganassi, and Ganassi still owes Chastain after the fallout of the DC Solar Xfinity Series ride (both stories for another time). But what about Christopher Bell, Chris Buescher, Ryan Preece, John Hunter Nemecheck, Cole Custer, hell even Erik Jones. Jones has won races in the Premier Series, but why should fans care about him. These guys are just blank slates and have no real characteristics that separate themselves from the rest of the pack. With a lot of the old guard at the tail end of their careers, these young drivers need to establish who they are going to be in the future of the sport. Whether it's the villain, the next face of the series, or a whole new character, that is going to be important going forward.
UPDATE AND CHANGE THE SCHEDULE
This is something that has been needed for quite some time. The schedule feels like it has been the same for quite a long time. We go from Daytona, to the west coast swing, then the long summer stretch, and the same final 10 races close the season. This year is supposed to end at Phoenix Raceway, and not Homestead Miami for the first time in 17 years. While I'm not sure how I feel about the season finale being at Phoenix, it does point out something that has been a topic for debate for a while between the fans. S1apsh0es did a fantasy 2021 schedule on his YouTube channel, and had some great ideas. I don't know if the premier series is ready to return to dirt like he recommended, but I do like the idea of tracks no longer getting two dates in a season. This year, we go to 12 tracks twice, not counting Charlotte and the Roval race. Now I am fine with Pocono having two dates, as the double header weekend they have planned for this year. It's something different and innovation is always welcomed to me. Talladega is also fine for two dates, as I am someone that doesn't mind restrictor plate racing. We get some underdogs running towards the front that we don't get to see run well often. Daytona is also okay by me, but instead of two races on the oval, why not use the road course for the second race of its two for the season. Instead of giving places like Michigan, Bristol, Las Vegas and others two date tracks, why not allow for more tracks to have a race. Circuit of the Americas in Austin, Texas and Road America in Wisconsin immediately come to mind. And there are many other tracks that could hold a Premier Series race as well. There is the Nashville Fairgrounds, Mid-Ohio, Gateway, Canadian Tire Motorsports Park, Mexico City, Rockingham, and many others. There is also the idea of returning to airport racing, as S1apsh0es mentioned in his video. He specifically pointed out Cleveland's Burke Lakefront Airport, and being someone that lives in the Cleveland area I would love to see Nascar return to the state, and specifically my home area.
EXPAND THE CAR ALLOWANCE
This is not saying that the team allowance of drivers per team back to five like it was in the past. I probably should explain this one before going too far. So let's say next season, Hendrick Motorsports has his brigade of Alex Bowman, Chase Elliott, William Byron and whoever replaces Jimmie Johnson. He has to enter these four drivers into every race of the season. But for a handful of races he is allowed to enter a fifth car into the field. This would allow one of his younger drivers in the Xfinity Series to get experience at the next level. This would allow for Daniel Hemric, Noah Gragson, or Jeb Burton to get laps at the top level, and allow for them to have some experience at that level before they move to the series full time. This would also make it easier for teams to find new drivers that have experience in the series to replace retiring drivers for the next season.
OFFER BIG COMPANIES BETTER SPONSORSHIP DEALS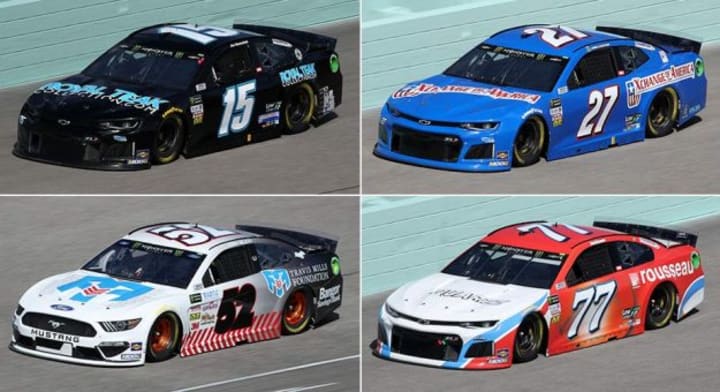 Now allow me to explain this one. We used to see teams with the likes of Target, Best Buy, Phillips, John Deere, and many other well known brands on cars despite how good or bad they ran. Now there are still some well known sponsors like Bass Pro Shops, Napa and Mobil 1, but there are a lot that are only sponsors for a race here or there that people have never heard of. Sponsors like Goettl, Acorn and Jacob Companies have been sponsors for teams, and fans don't know anything about them as companies. So what I am proposing here is teams offer big name sponsors a better deal for them to be on their car. It would get smaller teams more money from bigger sponsors, and allow for those sponsors to not operate at a huge loss to sponsor a lesser known team. Imagine a company like Wal-Mart, Irish Spring body wash, Old Spice or Ragu sponsoring someone like Brendan Poole or Timmy Hill for a bunch of races and helping them and their team get some much needed extra cash flow.
LESS FAST TRACKING TO THE PREMIER SERIES
How many times have we seen drivers move up from the Xfinity Series to the Premier Series to only fail because they came to the top series too quickly? Drivers like Daniel Hemric, Daniel Suarez and Bubba Wallace are all examples of drivers moving up way too soon. There is a new crop of rookies that have a lot of potential, but you have to wonder if it was too soon for them to move up. Christopher Bell, Cole Custer, Tyler Reddick and John Hunter Nemecheck are the latest crop of drivers that I am concerned that this will struggle at this level. So far Custer and Reddick have shown promise, as Custer recorded a top 10 finish at Phoenix and Reddick has a pair of top 20 finishes and would have also recorded a top 10 at Phoenix if it wasn't for a blown tire. Nemecheck finished 11th at Daytona, and three straight top 25 finishes in average equipment with Front Row Motorsports. Bell has struggled, failing to record a top 20 finish in Gibbs supported equipment. Instead of these drivers coming up to the Premier Series after a few seasons in the lower levels, let them develop there and then when you think that they are completely ready for the next level then move them up. But how can a Premier series team know when a young driver is ready for the move? Well that is a simple answer.
MAJOR TEAMS ADD LOWER LEVEL PROGRAMS
How long has it been since we've seen a team like Hendrick or Penske in the Truck series, or Wood Brothers have an entry in any other series outside of the Premier Series? Some teams do have feeder systems for their programs, like Hendrick working with JR Motorsports and Gibbs with Kyle Busch Motorsports. Even Stewart Hass and Penske have feeders from the Xfinity Series, but there are so few for other teams. You look at some of the young talent in the Truck, Xfinity and the Arca Series, you have plenty of talent with not many big time opportunities at higher levels. If some Premier Series programs added teams in the lower series, then they could add even more talented drivers to their team and develop them to be their next big star for years to come.
ADD ANOTHER MORE MANUFACTURES
It's tempting to just write Dodge and move on here, but that would be too easy. The Premier Series is dominated by Chevrolet and Ford, with only Joe Gibbs Racing and Levine Family Racing being the only teams that run Toyotas. I think Toyota should try to grab another team just to add a few more cars to it's group of competitive cars. A team like Penske most likely won't budge just for that, but I think a team like JTG-Daugherty or Front Row would be a good idea to try to recruit. Now we get to adding a new manufacturer to the sport. Dodge has a very long history in Nascar, but departed from the sport in 2013. The only question is who would make the jump to the manufacturer? Teams like Hendrick and Roush Fenway are going to stay where they are, but what about Richard Childress, Stewart-Hass, Ganassi or even Penske, who has a history with the manufacturer? While it's highly unlikely that all four make the switch, I can see one of them making the jump and being the flag bearer for the manufacturer. There have also been rumors that Nissan might want in as well, and either them or Dodge would work in this scenario, but if one has an easier in than the other, my money would be on Dodge.
FIGURE OUT THE PLAYOFFS
I've been 50/50 on the playoffs since they were first introduced. We first started with 10 drivers, before it expanded to 12 and now the 16 that we know. On one hand, I like the idea of having the 16 best drivers on the season duking it out for the title, but on the other hand the knockout style of the playoffs doesn't always show who had the best season that year. While I don't know if getting rid of the playoffs and having it be a battle between all 40 drivers is the right answer, there is an answer that I prefer to the layout that we have now. Cast your mind back to the 2011 Chase for the Championship. We had the drama of 12 guys that could have all won the championship, and one of the best championship battles in the final race of the season in recent history. Why we ever got rid of that style is confusing to me and one that could easily be brought back. You take the 16 best drivers from that year, have them duke it out in a 10 race shootout, and that determines the champion for the season. It seems like a pretty simple solution, but sometimes simple solutions are the right ones.
GET RID OF STAGE RACING
Let's be honest now, stage racing hasn't worked since its inception in 2017. When it was first introduced, I was cautiously optimistic on it being successful. Then the first stage race happened. It didn't mind me that there were mandatory cautions, but when the race restarted, there were already laps completed in the next stage, which made no sense at all to me. If you're going to run a certain number of laps in a race, just run those laps without stages. And the stage bonus points and race wins bonus points are very frustrating. Last year going into the round of eight, it was clear who was going to advance to the Championship Four. It was going to take a miracle for Chase Elliott, Joey Logano, Ryan Blaney and Kyle Larson to advance. I say we get rid of stage racing, and go back to the old style. One stage, all the laps in one set. And when the race is over, maybe we give the winner and the person who led the most laps a bonus point to help determine the starting order for the playoffs.