Goodbye, Kobe
To Kobe & Gianna Bryant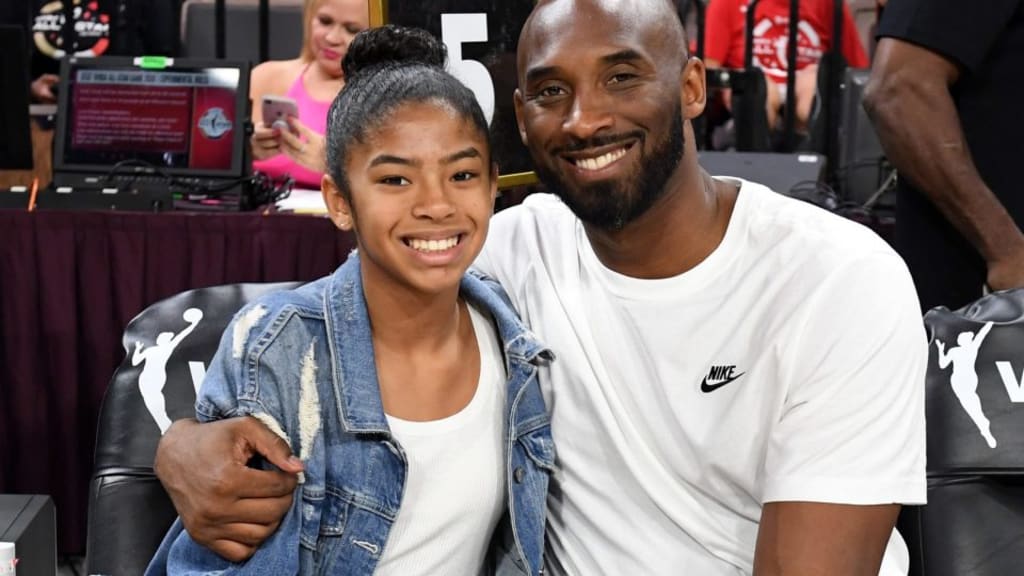 Kobe & Gianna Bryant
On January 26, 2020, the world was really shaken up. My world was really shaken up. Kobe Bryant, a legendary NBA player, his daughter, Gianna and 7 others were tragically killed in a helicopter crash. I know, it seems like it's been so long already, but to me, I just can't keep my mind off of it. I grew up loving the Los Angeles Lakers, especially Kobe. How he played, what he and the Lakers represented, he was one of my heroes. I even went to a Lakers game for my 18th birthday. He wasn't there but his spirit certainly was. I could feel the Lakers energy in the room, even if Kobe wasn't playing that night. So, when the crash happened, something inside of me broke.
When Kobe Bryant, it was like my heart sank to a point that I didn't even want to leave my room. I wasn't hungry, I didn't really want to talk, I just sat there, crying and thinking to myself, "How could this happen? Why did this happen?" It really tore me apart. It felt like my entire childhood was nearly shattered right there. To know that one of my childhood idols was now killed so tragically with his daughter and 7 others, it hurt. It felt like a punch to the face of my childhood self.
Kobe was more than just a great basketball player to me. He put his heart and soul into everything he did. He gave 110% to absolutely everything. From basketball to his Oscar winning short film and especially all the way to parenting. He showed me that if you work hard and give it all you have, you can win at life. He did just that and it set a tone for what I have at least attempted to do in life. Sure, I've never been much of a basketball player, just a fan. But, with my life, I try my best to give it my all at what I do. I'm not always good at everything, but I give it my all. I want to try as hard as I can so maybe I can be a little bit close to as good of a person as Kobe.
But, it wasn't just Kobe that was lost. But, one of his little girls. His daughter, Gianna was taken as well. And Kobe loved his kids. He worked very hard to care for his kids. So, the fact that one of his little girls went with him, makes it hurt even more. The fans may have lost a legend and his daughter who could've grown up to be a legend in her own right, but Vanessa & Kobe's three other daughters lost a father and a daughter/sister. And family is one of the most important parts of life, even more than professional sports. I can't even imagine how hard it must be for them, but I assume it must hurt more than any physical injury ever could.
What I'm trying to say here is that we lost Kobe Bryant, his daughter and of course, seven others and I'm still pretty sad about it. I will never forget that day or that loss. But, we mustn't live in sadness. Kobe wouldn't want that for his fans or his family. We move on, living our lives in their memory and working tirelessly in every goal we have to honor them. It does hurt to lose those who we love, but at the same time, we honor them in every way we can.
So, to Kobe Bryant, Gianna Bryant, Alyssa Altobelli, Payton Chester, Keri Altobelli, John Altobelli, Sarah Chester, Christina Mauser and Ara Zobayan, we still miss you. We still remember you. We want to honor you and the memories of you. And I personally hope that I can do all of you justice by living my life giving everything I can 110%. So, thank you for everything and I still miss you and you will never be forgotten.