Florida Prep Wins, Braden River's O'Mariah Gordon Breaks Records
Records are made at Brazz Sports Elite Classic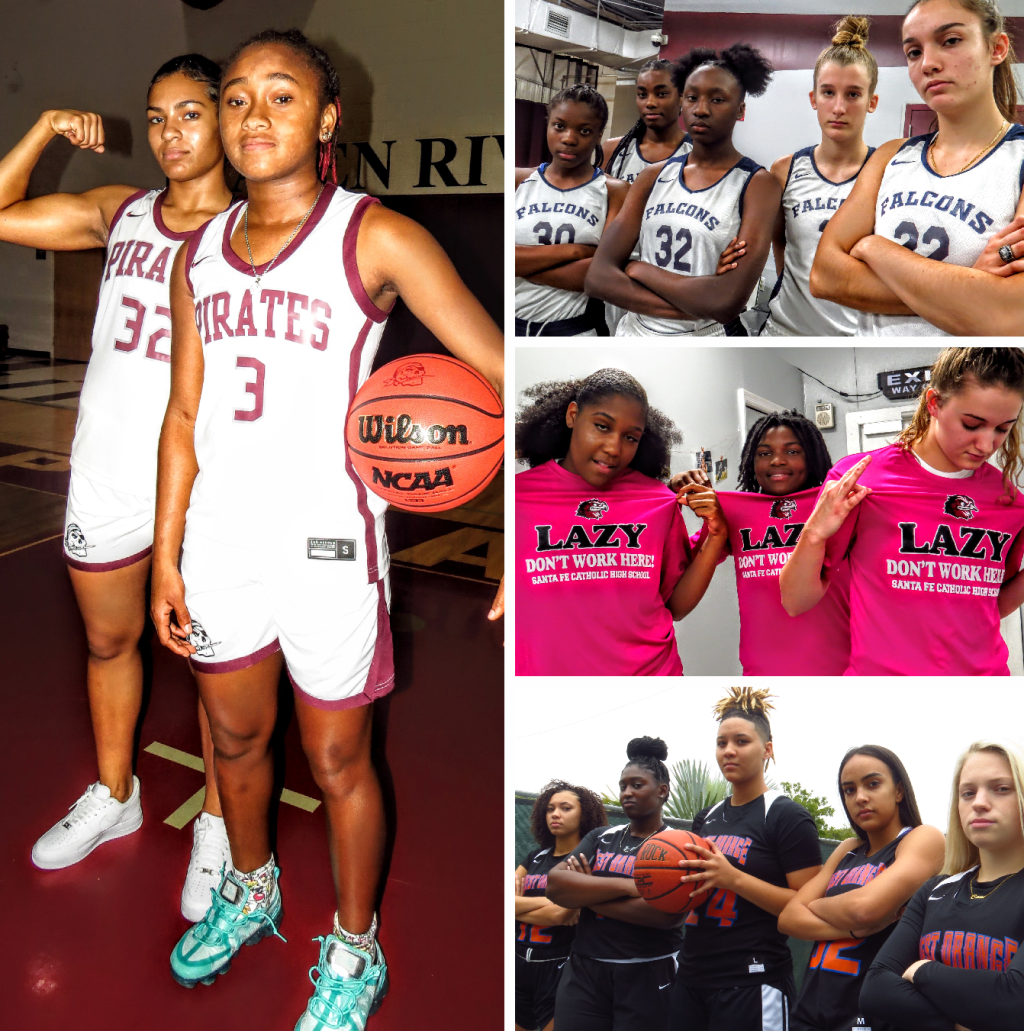 Left: Braden River, Top Right: Florida Prep, Middle: Santa Fe, Bottom: West Orange.
Hosted by Seffner Christian Academy in Seffner, Fla., the third annual Brazz Sports Elite Preseason Classic was filled with great individual performances and memorable high school basketball battles.
The first of the two-day event featured Santa Fe against Land O' Lakes in the opening game. Santa Fe, like five of the six teams, was new to the Classic but one of its players, Omega Payton was a familiar face. Two years ago she brought havoc to opponents when she played for City of Life. As a freshman she was won the All-Hustle Award at the first Brazz Sports Elite Classic.
This year she came armed with more experience and a new band of sisters as Kassidy Jones, Courtni DeMorest and Zaria Lawrence led Santa Fe to a 56-24 win over Land O' Lakes.
"I think that we're really unknown right now," Jones said. "I think this year it's time to get on the map. We've been putting in a lot of work on and off the court, so it's time to show out!"
Jones and her teammates showed out right from the opening tip as Santa Fe took a Brazz Sports Elite Classic record 33-4 lead to the locker room at halftime. By the end of the third quarter Santa Fe was up 49-10. Land O' Lakes' did outscore Santa Fe 11-7 in the fourth as Nina Santana and Jakayla Lawson scored a combined nine points in the final quarter.
Santa Fe's Payton received the Player of the Game medal with 10 points, six assists and six steals. DeMorest led Santa Fe with 14 points as she made four threes during the win. The team's center Lawrence led all players with 13 rebounds.
Land O' Lakes' Player of the Game medal winner was Santana who had flashes of strong defense to go along with six points. Land O' Lakes' scoring leader was Lawson who posted seven points and a blocked shot.
Game two on day one was West Orange versus Lake Gibson. West Orange was the only team who competed in last year's Brazz Sports Elite Classic. Led by the mighty 6-2 center Paris Pickett, West Orange thrilled spectators last season and didn't let them down this year as well.
Point guard Camryn Siemer served as a role player last year who did an amazing job limiting former Seffner star, now Florida Gator Brylee Bartram on the offensive side. This year Siemer showed what she could do offensively as she hit four of her six three-pointers in the first quarter. Siemer finished with a game-high of 26 points.
"At practice I make sure I get my shots in," Siemer said. "We do 250 shots every day to reach our goal at 1,000 each week, to make sure we're consistent."
Pickett showed growth in her game as she's gone from a shot blocking, rebounding machine who could score by the basket, to a defensive force that can now pass, shoot from further out as well as dominate the paint. Pickett posted 14 points, 13 rebounds, five assists and three steals in the 71-48 win.
While Lake Gibson lost by a lot, they're effort throughout the game was impressive and allowed them to show signs of life during the contest. Guard Olivia McGlashin's 24 points kept fans interested in the game despite the score.
"I'm not going to lie, I was always the scared one. I never liked to shoot," McGlashin said. "Me shooting was actually like a step up in moving forward with my game. It's nice but I take pride in defense on that side. I don't care for the offensive side."
McGlashin took the Player of the Game medal for Lake Gibson and Siemer collected it for West Orange.
Day one action was wrapped up by what is called the best game in the history of the Brazz Sports Elite Classic. Braden River came into the game with the reigning Florida Gatorade Player of the Year O'Mariah Gordon to take on the defending state champion Florida Prep.
There was a difference in styles as Florida Prep was physically taller and strong while Braden River was more of a run-n-stun type of outfit. Behind Gordon, Braden River had a 19-8 lead during the first quarter. At the end of the opening quarter Braden River was up 22-13 as Gordon almost outscored her Florida Prep with 11 points.
An important player who kept Florida Prep in the game was point guard Shamiya Joiner who did her best to keep Gordon on her toes. Joiner scored seven points in the first quarter, before playing more of a pass first role in the second quarter and stepping up big on defense including taking a charge against Gordon which helped shift the momentum of the game.
"I feel like the energy going into the third quarter was high, because we got Shamiya taking charges, getting stops on defense which just brought our momentum up," said guard Emma Risch. "We were ready to be in the third quarter and play our hearts out and finish it up."
After trailing 34-28 at the half, Florida Prep took its first lead at 40-39, since the first quarter when it led 6-4. Behind the shooting of Risch, who hit six threes in the third quarter, Florida Prep was in the driver's seat with a 52-42 lead going into the fourth.
Anyone who thought that the state champs were going to cruise to an easy win at that moment, would be disappointed. Gordon and teammate Julia Rodriguez led Braden River to a strong comeback. Rodriguez, who had a hard time dealing with the size that Florida Prep's post players Emani Burkes and Aleah Sorrentino brought to the contest, figured things out and scored eight of her 20 points in the fourth. Gordon fought against Joiner, the rest of Florida Prep and horrid leg cramps to score 13 of her 33 points in the quarter. Braden River's resolve led to both teams being tied up at 65-65 at the end of regulation.
In overtime Sorrentino scored five of Florida Prep's nine points, which delivered the team a 75-71 victory.
Sorrentino scored 22 points to lead Florida Prep, while Risch posted 20 followed by Burkes' 16 points. Despite just having nine points Joiner earned the Player of the Game medal with her excellent court awareness and hard fought defense which led to many baskets and stops throughout the contest. She was genesis of her team's success.
"[Joiner] deserved [to be Player of the Game]," Sorrentino said. "She was definitely Player of the Game the whole way. She didn't have to score, that's not her role on this team. Her role is to distribute and to play some defense and I feel that she played with such energy that it just translates throughout the whole team."
Gordon was the Player of the Game honoree for Braden River.
It was hard for any game to follow that action, however on day two all six teams came back to do it all over again.
Braden River had their encore performance in another hard fought battle, this time against West Orange. Braden River trailed for most of the first half. West Orange countered Braden River's chaotic style of transition basketball by controlling the pace and limiting its turnovers early on.
After trailing 62-57 in the fourth, Gordon and Rodriguez decided they'd had enough and they led a 19-9 run that resulted to a 76-71 Braden River win over West Orange. Rodriguez had another big fourth quarter, scoring eight of her 16 points in the final stanza. Gordon set the all-time single game record at the Brazz Sports Elite Classic with 44 points. The previous record was 40 points set last year by Chaniya Clark of Fort Myers. Gordon also scored a record 77 points in two games which had never been done previously at the event.
West Orange was led by Kyla Cruz's 18 points and Ajalon Gillard also pitched in 15 points. Post players Pickett and Lakada Bryant dropped in 13 points apiece.
Players of the Game were Rodriguez of Braden River and Cruz West Orange.
The middle game of day two was Lake Gibson against Land O' Lakes. Both teams worked to right the wrongs of their opening day defeats. Lake Gibson raced off to a 15-2 lead, making it easy to assume that Land O' Lakes was going to be knocked out early once more. To the team's credit Land O' Lakes scratched and clawed its way back into the game and trailed only 31-23 at the half.
Whatever momentum Land O' Lakes had, Lake Gibson found a way to extinguish it outscoring its foe 13-4 in the third quarter on its way to a 60-37 win. Lake Gibson's Player of the Game medal went to Delicia Oglesby, who scored six of her 11 points in the second quarter when her team was having a difficult time with Land O' Lakes.
Lake Gibson was led in scoring by Honesti Jones' 18 points. Others in double digits included Arniya O'Neal (11) and McGlashin (10).
Land O' Lakes Player of the Game medal was earned by Natalie Rodriguez who scored 10 points in the first half and played a key role in her team getting back into the game before the intermission. Santana led Land O' Lakes with 14 points.
The final game of the weekend was between Florida Prep and Santa Fe. Many in attendance expected Florida Prep to handle Santa Fe, however with Payton's defensive tenacity and Jones' strong energy anything was possible. Early in the game Santa Fe stood toe-to-toe with Florida Prep as it only trailed 21-14 after one quarter.
For the remainder of the game Santa Fe had difficulty scoring and didn't put up more than eight points in a quarter again. Florida Prep put its foot to the gas and scored a combined 43 points in the second and third quarters before pulling its key players in the fourth quarter. Florida Prep won 66-36 and was the only team to come out of the weekend at 2-0.
Florida Prep was led by Sorrentino's 18 and Emma Risch's 16 points. Jones was Santa Fe's top scorer with 14 points. Sorrentino got the Player of the Game medal for Florida Prep and Jones won it for Santa Fe.
Ten players received plaques as Brazz Sports Elite Preseason Classic All-Stars. The honorees are as follows:
Braden River: O'Mariah Gordon - 38.5 points per game
Florida Prep: Aleah Sorrentino - 20 points per game, Emma Risch - 18 points per game, Emani Burkes - 12 points per game, Shamiya Joiner - 6.5 points per game
Lake Gibson: Olivia McGlashin - 17 points per game
Land O' Lakes: Nina Santana - 10 points per game
Santa Fe: Kassidy Jones - 12.5 points per game, Omega Payton - 7 points per game
West Orange: Paris Pickett - 13.5 points per game