Fighting for More than Glory: The Stories of Joe Louis and Jack Johnson
African-American Heavyweight Boxing Champions and their fight through racism
Pictured: Jack Johnson & Joe Louis (Image from Tumblr)
Joe Louis and Jack Johnson are two of the best boxers of all-time. World champions of a sport during a time when boxing was second only to baseball in terms of national popularity in the US. The path towards being a champion was not as easy one for either of them, and the realities of racism in the US made this path all the more difficult.
The Story of Joe Louis
Joe Louis, nicknamed the Brown Bomber, was the world heavyweight boxing champion from 1937 until 1949. He defended his title successfully 25 times, which still holds as a boxing record for all weight classes. No boxer has ever held the title of world champion for as long as Louis.
And beyond the ring, Joe Louis was, and is, an important figure culturally and historically. Joe Louis was extremely popular in the US, and is often times considered to be the very first African-American nationwide hero.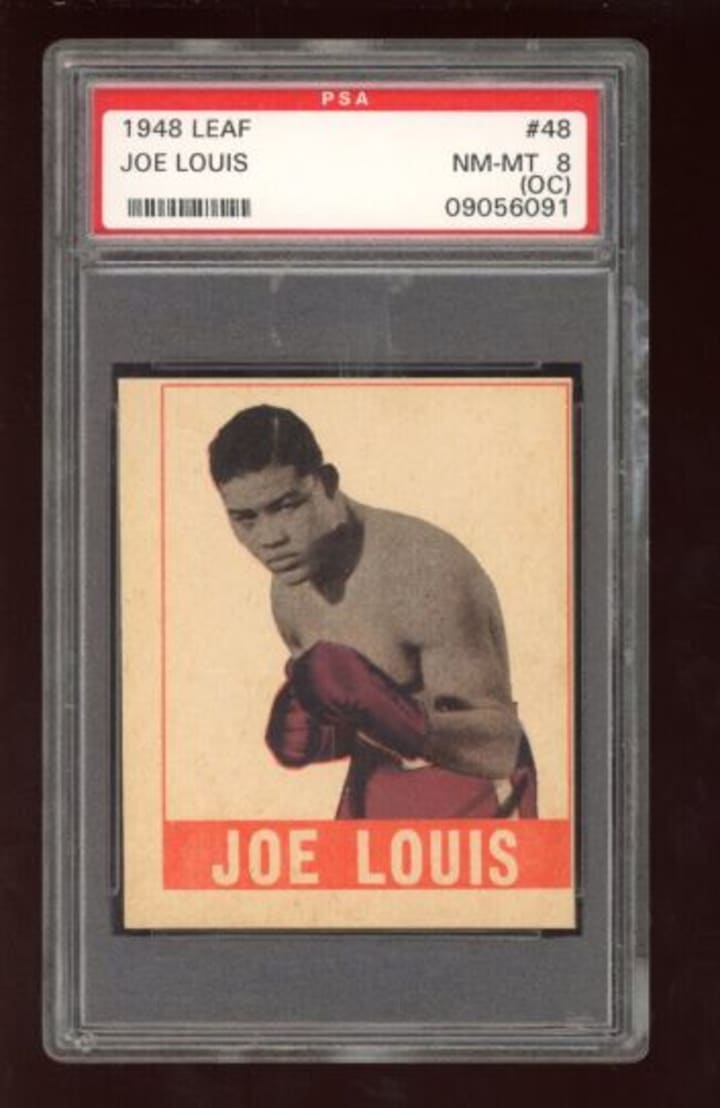 Growing up during the Great Depression, Joe Louis had it tough as a kid, but in order to keep himself focused on a positive path, Joe would spend time at a local youth rec center, where he learned to love boxing. His mother didn't approve of this at first, trying to convince him to take up playing the violin instead. But Joe would just hide his boxing gloves inside a violin case, and head off to the rec center to box.
Then, in 1932, at the tender age of 17, Joe made his amateur boxing debut and quickly made a name for himself. By the end of his amateur career, Joe had a record of 50 and 4, with 43 knockouts.
Just two years later, at the age of 19, Joe Louis began his professional boxing career. When Joe Louis first became a professional boxer, it was very difficult for him to find any path forward towards being a champion, but not due to a lack of skill or will, but instead due to severe racism.
We'll come back to continue the story of Joe Louis, but before we do, let's look at the story of Jack Johnson, to get a bit more context for the path uphill battle Joe Louis was facing.
The Story of Jack Johnson
Many white people in the US did not want another Black boxing champion. There had been one before- Jack Johnson. And to just say it briefly, the Jim Crow era was not easy on Jack Johnson. As a heavyweight champion from 1908 to 1915, he was in the spotlight, and as a Black man married to a white woman during the Jim Crow era, he received more than his fair share of the vitriol and venom from a society where hate for Black people was embedded into its origins.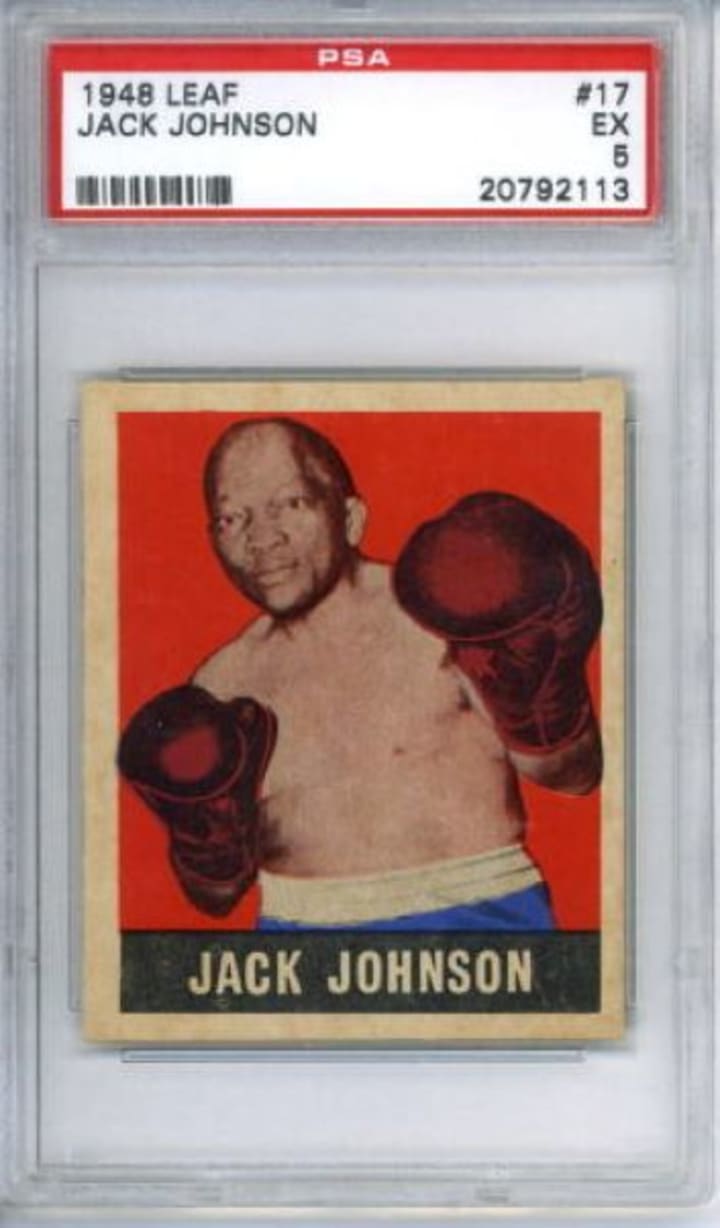 During his boxing career, Jack Johnson felt the weight of an entire society pushing against him constantly. During Johnson's reign as heavyweight champion, renowned American author Jack London called for a "Great White Hope" to win the title from Johnson, and from then on out every title challenge match was promoted as the "Great White Hope". And there were plenty of title challenge matches. The white boxing world desperately wanted the title out of the hands of a Black man, but no matter what they tried, they just couldn't pry it from him.
The New York Times wrote at the time, "If a black man wins, thousands and thousands of his ignorant brothers will misinterpret his victory as justifying claims to much more than mere physical equality with their white neighbors."
Almost the entirety of the boxing world was working towards dethroning this man… but he just kept winning. He held his title for seven years, including against the formerly undefeated heavyweight champion James Jeffries who came out of retirement in 1910 specifically to, in his words, "…fight for the sole purpose of proving that a white man is better than a Negro."
Johnson wrote in his autobiography, In the Ring and Out, "I was well aware that most of that great audience was hostile to me. These things did not disturb or worry me. I was cool and perfectly at ease."
And Johnson just kept winning.
Many people in the Black community celebrated jubilantly Johnson's success against Jeffries, but spiteful and hate-filled groups rose up to crush the celebration, and this led to race riots occurring in 50 cities throughout the U.S., resulting in at least 20 deaths.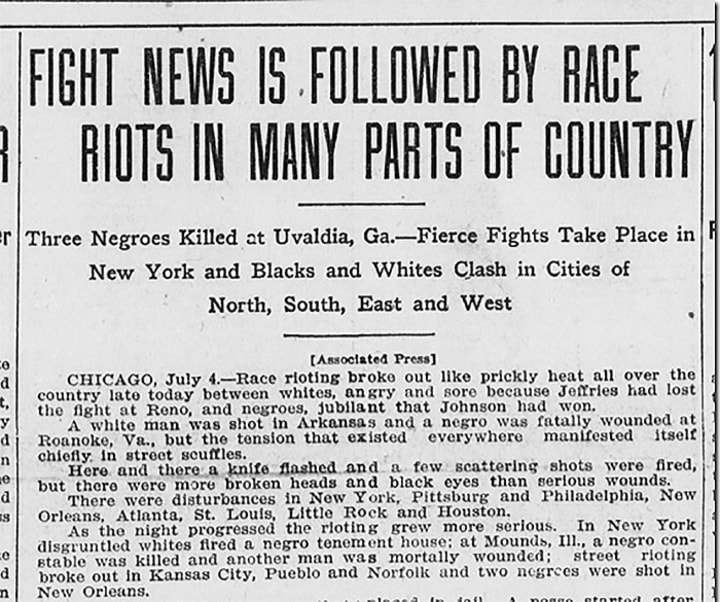 A film made of the Johnson-Jeffries fight was watched by more people in the US than any film ever made up to that point in history, despite the fact that there was significant effort made to ban and censor the film.
Two years later, Johnson was arrested… for driving with a white woman, his then girlfriend, future wife, across state lines. After that case fell apart, he was arrested for the exact same charge less than a month later. And in the court of judge Kenesaw Mountain Landis, who would later become the commissioner of baseball and would hold extremely strongly to not allowing Black people into Major League baseball until the day he died, Johnson was convicted by an all white jury and sentenced to a year in prison. Again, for driving across state lines with a white woman in his car.
Instead of facing this unjust prison sentence, Johnson fled to France and later to Canada, where he would live in exile for seven years, defending his world championship title in fights in Paris. He eventually was defeated in 1915 in a title fight held in Havana, Cuba.
In 1920, he returned to the US, turned himself in, and served out his jail time for illegally crossing state lines with a white woman in his car.
So, when Joe Louis came along in 1934 with aspirations to become a heavyweight champion, the boxing world kept shutting the door on him.
Boxing was not officially a segregated sport when Joe Louis became a professional boxer, but he faced the force of a boxing world that did not want another Jack Johnson. Joe Louis and other Black boxers were constantly denied title bouts.
Louis's managers (who got a 50% commission from Louis's fights, by the way) worked with Joe to carefully and deliberately shape a persona that would be accepted by the media. His managers wrote him a set of "Seven Commandments" that he must follow, including never taking a picture with a white woman, never gloating about a win, and living and fighting clean and respectful.
As a result of this carefully cultivated image, Louis was portrayed in mostly positive ways in the media, which helped him to gradually be more accepted by a white society that had never been accepting of any Black sports figure before.
This doesn't mean he didn't meet extreme racist push-back frequently, but Louis pushed through it, and just kept winning.
Finally, in 1937, Louis was given the chance to fight in a title fight, and he won. From then, until 1949, he held on to the title of world heavyweight champion, despite the fact that he had to defend his championship in more title fights than anyone had ever had to do before.
During the middle of his heavyweight champion reign, he also enlisted in the army to fight in WWII. He also facilitated the army enlistment of another man who would later become a very close friend, Jackie Robinson, who would later go on to break the color barrier in professional baseball.
If you are into sports cards (as you know I am if you have read any other of my articles), then the 1948 Leaf boxing set is a special one, historically speaking. Perhaps the most iconic card of Joe Louis can be found in this set, as well as one of the most highly thought of Jack Johnson cards.
Check out the following YouTube video if you would like to learn more about it:
fighting
About the author
Start writing...I love writing. I love writing about sports cards, permaculture, sports history, education, China, fiction, thoughts, ideas, etc. I also am a sports card YouTube content creator.
Reader insights
Be the first to share your insights about this piece.
Add your insights