Erling Haaland — Brousia Dortmund to Manchester City analysis
Manchester City has confirmed they have signed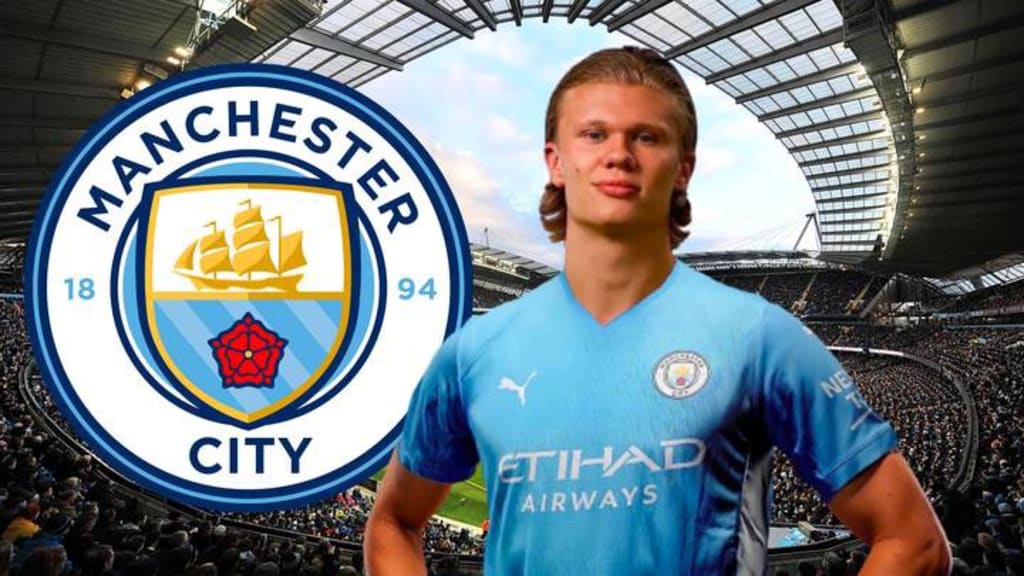 Manchester City has confirmed they have signed young sensation Erling Haaland for 75 million euros by paying his release clause from Broussard's Dortmund.
Will the Norwegian prodigy be the final piece of the Pep Guardiola Champions League puzzle?
Playstyle
Haaland is a guzzle, 6 foot 4 physical specimen, with the build of burley centre-back, yet he has the speed of a cheetah, moving like a freight train with the ball at his feet and possessing the finishing of the best penalty box poachers in history (82 of his 88 goals for Dortmund have come inside the penalty box.)
It's not just the dead eye finishing though, it's the ability to find and create space off the ball, when you look at some of the greatest penalty box scores of the modern era — Aguero, Van Nistelrooy and Micheal Owen their innate ability to know where and when to make that last second sprint to the far post for the tap in, or when to pull off the defender's shoulder — dart into space and finish-off the delivery, was what made scoring goals inevitable for them, providing there was good service provided, good service is not something Haaland will have to worry about at Man City.
(The combination of DeBruyne through balls — finding Haaland's running in behind is a terrifying one, for Premier League defences.)
What makes Halland so special, is the goalscoring mixed in with his ability to be an electrifying threat on the counter-attack.
The most famous example was, during a Champions League tie between Dortmund and Paris Saint-Germain in February 2020 when the striker was clocked sprinting 60 metres in just 6.64 seconds.
This is arguably his most terrifying weapon, the speed to run at defenders in transition. He can also drop deep, hold the ball up, link the play and combine with forwards and midfielders.
Where can he help Man City?
Gary Neville compared Haaland to Eric Cantona in an interview with Sky Sports a few months ago. I liked the comparison in terms of Haaland's maverick personality, his attitude, and his demeanour.
In terms of impact, it's almost impossible to make Manchester City better, they are already one of the best teams in Europe and have dominated the Premier League for half a decade.
If Haaland were to be highly influential in City winning the Champions League, he could have the impact Cantona had on United winning the league, with being remembered as the guy who bought City and Pep that highly sought after European cup.
Stats
The goal-scoring statistics are well known by this point but that does not make them any less outrageous;
179 goals / 198 appearances for club and country
85 goals for Dortmund in just 88 games
61 goals in 66 Bundesliga games
15 goals in 13 Champions League matcheS
Records
Haaland is also the first Dortmund player ever to score on his debuts in the Bundesliga, the DFB Pokal, and the Champions League. I'd bet good money on him continuing that trend for Manchester City.
Became the fastest player in a century to rack up 25 goals in any of Europe's top five leagues — doing so in just 25 Bundesliga matches.
First player with 10+ goals in each of his first 2 Champions League seasons.
Since his Champions League debut on Sept. 17, 2019. Haaland is the third-highest goal scorer (23 goals) in the competition behind only Karim Benzema (26 goals) and Robert Lewandowski (33). (Lewandowski and Benzema have played 26 and 29 Champions League games.) Haaland has reached his total in just 19 matches.
Big Game Player
In signing Erling Haaland, City has signed a forward who has consistently performed on the big occasions.
Dating back to his encounter with Liverpool in 2019 in a Salzburg shirt, where he scored at Anfield and then went toe to toe with Virgil Van Dijk in the reverse fixture.
Haaland scored four goals against Bayern Munich in his last five encounters in Der Klassiker. He scored a double against PSG in the 2020 round of 16 Champions League. He is not going to be intimated by the big games, the big occasions.
Conclusion
There is no guarantee in football, Romelu Lukaku was viewed as one of the top five centre-forwards in the world when Chelsea resigned him for £90 million last summer.
I don't believe Haaland will struggle to score goals in the Premier League as the Bundesliga's fast-paced nature, tempo and aggression translate well to the Premier League.
All the metrics suggest that Haaland is on a career trajectory that only a few players in history will reach and that he will not struggle to form an identity and goals the way Lukaku has for Chelsea.
He has had few injuries this season, missing a total of 16 games and for a player of his size, injuries will be a concern going forward. The original Ronaldo O'phenmono was an example player who peaked as a teenager and then had a career derailed by knee injuries. Haaland is yet to have any serious injuries and let's hope it stays that way.
He will have to adapt to Pep's ways and Pep will have to embrace Haaland's big character and personality. We've seen Pep struggle with superstars with big personalities in the past, such as Zlatan Ibrahimovic and Yaya Toure.
Haaland at age 21, turning 22 in July is young enough to be coached and developed by one of the coaches of this generation.
For Man City, this is a signing for today, tomorrow and the next decade.
Haaland will join Manchester City and be regarded instantly as one of the best players at the club, alongside DeBruyne, Foden, Maherz, Sterling and Cancelo.
He has the talent, the time and the personality to become one of the Premier Leagues' greatest ever players.
Maybe the greatest.