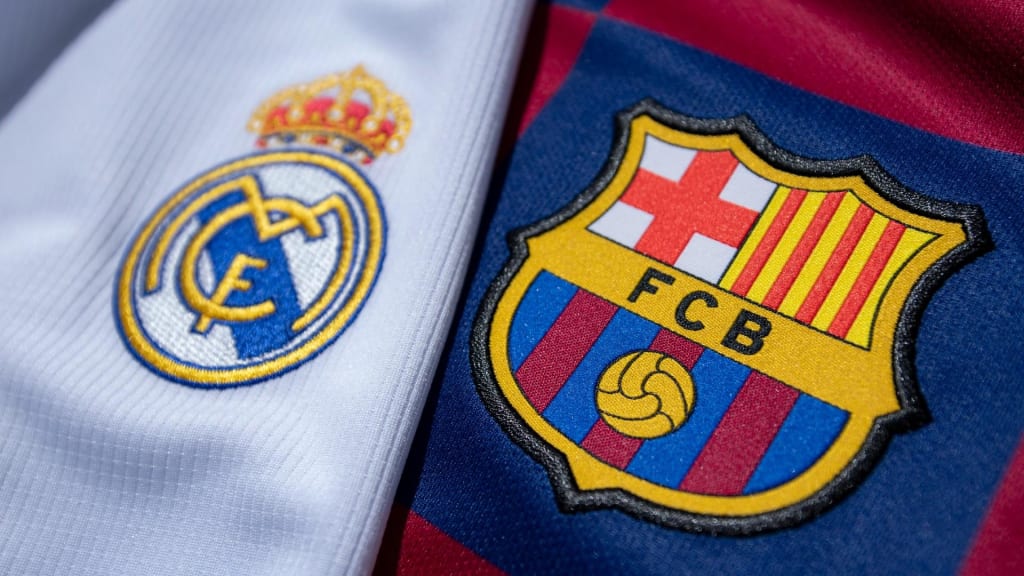 El Clasico is one of the most iconic and historic football matches in the world. The rivalry between Real Madrid and Barcelona, the two most successful clubs in Spain, is known as the biggest rivalry in football. The two teams have a long and storied history, dating back to the 1900s. The match between Real Madrid and Barcelona is a fixture that generates an enormous amount of excitement, interest and passion among football fans all over the world. In this article, we will take a closer look at the history of El Clasico, the players, the coaches, the tactics and some of the most memorable moments from this iconic match.
History of El Clasico:
The first El Clasico match was played on May 13th, 1902. The match was held at the Hipodromo de la Castellana, the racecourse of Madrid, and was a friendly match. Real Madrid was then known as Madrid FC, and Barcelona was known as Foot-Ball Club Barcelona. The match ended in a 3-1 victory for Barcelona, with Carles Comamala scoring the first goal in El Clasico history.
Over the years, the rivalry between the two teams has intensified. The matches between Real Madrid and Barcelona are always high-stakes affairs, with the winner often taking the lead in the La Liga table. The two teams have faced each other over 250 times in all competitions, with Real Madrid winning 98 matches, Barcelona winning 96 matches and 52 matches ending in draws.
Players:
Over the years, some of the greatest football players in history have played in El Clasico. From Alfredo Di Stefano, Ferenc Puskas, and Raul for Real Madrid, to Lionel Messi, Ronaldinho, and Xavi for Barcelona, El Clasico has seen some of the best footballers in the world. The rivalry between Cristiano Ronaldo and Lionel Messi, two of the greatest footballers in history, added another layer of excitement to El Clasico.
The rivalry between Ronaldo and Messi was particularly intense, with both players competing to outdo each other in every El Clasico match. Ronaldo, who played for Real Madrid from 2009 to 2018, scored 18 goals in 30 El Clasico matches, while Messi, who has played for Barcelona since 2004, has scored 26 goals in 45 matches.
Coaches:
Some of the greatest football coaches in history have also been involved in El Clasico. From Johan Cruyff and Pep Guardiola for Barcelona, to Jose Mourinho and Carlo Ancelotti for Real Madrid, El Clasico has seen some of the best tacticians in the game.
Cruyff, who played for Barcelona in the 1970s, introduced the "total football" philosophy to Barcelona, which emphasized attacking football, possession, and movement. He later became the coach of Barcelona and led the team to four consecutive La Liga titles from 1991 to 1994. Guardiola, who played under Cruyff, took over as Barcelona coach in 2008 and led the team to 14 titles in four years, including two Champions League titles.
Mourinho, who coached Real Madrid from 2010 to 2013, was known for his pragmatic approach to football, emphasizing defense and counter-attacking football. He led Real Madrid to the La Liga title in 2012 and a Copa del Rey title in 2011. Ancelotti, who coached Real Madrid from 2013 to 2015, was known for his emphasis on attacking football and his ability to manage superstar players. He led Real Madrid to the Champions League title in 2014.
Tactics:
El Clasico is known for its tactical battles between two of the best teams in world football. The tactics used by each team often reflect their strengths and weaknesses, as well as their respective coaches' philosophies.
Barcelona, under Cruyff and Guardiola, were known for their possession-based attacking football, also known as "tiki-taka". The team would keep the ball for long periods, patiently passing it around until they found an opening to attack. This style of play was heavily reliant on the midfield trio of Xavi, Andres Iniesta, and Sergio Busquets, who were known for their ability to control the game through their passing and movement.
Real Madrid, under Mourinho and Ancelotti, were known for their more direct and aggressive approach to football, often relying on quick counter-attacks and individual brilliance from their attacking players. The team had an array of attacking talent, including Cristiano Ronaldo, Karim Benzema, and Gareth Bale, who were all capable of scoring goals out of nothing.
In recent years, both teams have moved away from their traditional styles of play. Barcelona has struggled to find a successor to their midfield trio, and have relied more on the individual brilliance of Lionel Messi to win matches. Real Madrid, under current coach Zinedine Zidane, have adopted a more possession-based style of play, with an emphasis on pressing and quick transitions.
Memorable moments:
El Clasico has seen some of the most memorable moments in football history. From last-minute winners to controversial decisions, El Clasico has never failed to produce drama and excitement.
One of the most memorable moments in El Clasico history was in 2010, when Barcelona defeated Real Madrid 5-0 at the Camp Nou. The match is often referred to as the "Mourinho meltdown", as Real Madrid coach Jose Mourinho lost his cool and poked Barcelona assistant coach Tito Vilanova in the eye during a touchline scuffle.
Another memorable moment was in 2014, when Barcelona defeated Real Madrid 4-3 at the Santiago Bernabeu. Lionel Messi scored a hat-trick, including a stunning free-kick, to secure victory for Barcelona in a match that had everything - goals, drama, and controversy.
Conclusion:
El Clasico is more than just a football match. It is a symbol of the intense rivalry between two of the most successful clubs in world football, and a showcase of the best players, coaches, and tactics in the game. The match is watched by millions of people around the world, and has the power to unite and divide football fans in equal measure. With so much history and drama behind it, El Clasico is a fixture that will continue to capture the imagination of football fans for generations to come.
Reader insights
Be the first to share your insights about this piece.
Add your insights