Cricketing Summer Ends on a High
Cook bows out and Anderson swings into record books as the Test Match summer ends in victory for England.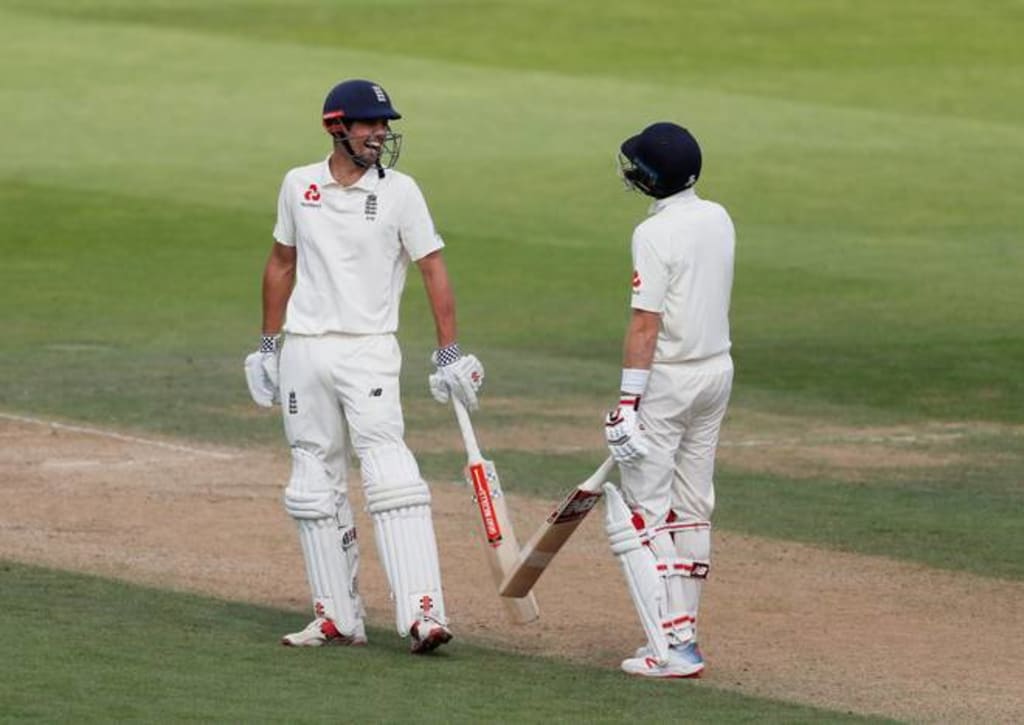 The final test match of the English summer ended in another comfortable win for England. It was an emotional day as Alistair Cook bowed out of Test Cricket and James Anderson passed Glenn McGrath's total to become the seam bowler with the most wickets. Not a bad way to end a positive summer for England.
It would be almost rude not to start with Cook. His 71 and 147 in the Fifth Test brought a stunning career to a fitting end. He has struggled for runs over the summer, a factor which helped him decide to call it a day, but these runs made sure things ended on a high for England's highest ever Test Match run scorer. In his 12-year international career, Cook has given fans 12,472 reasons to admire him and his critics a similar number of reasons to reconsider their foibles.
As a world class batsman retires, England can both boast and be grateful that they still have the best fast bowler in world cricket at their disposal. James Anderson clinched his third and the final wicket to seal the win yesterday. It was also his 564th Test match wicket—more significantly, it moved him ahead of Glenn McGrath as leading fast bowler in this list. The man is a phenomenon and the things he can do with a cricket ball will be sorely missed when he decides to follow the path of Cook. England fans will be hoping that won't be for some time yet, however.
The 4-1 series win against India which was clinched at the Oval yesterday showed how well this England side can perform, but it wasn't without its faults. It's perhaps too far to say the score line was flattering on England, but India didn't deserve to be on the wrong end of such a result. English conditions and an Indian batting line-up short on confidence helped mostly.
England's victory at the Oval will boost the morale of several players in the side. Joe Root hasn't had the greatest of summers but a hard-fought century alongside the man he replaced as Captain would have done him the world of good. Moen Ali contributed with bat and ball once more, he looked comfortable coming in at number three, and his resilience may prove to be useful in the winter and spring tours; particularly his bowling when England visit the sub-continent in November.
One man who will be fortunate to keep his place in the side is Keaton Jennings. Both innings, which yielded just 33 runs, ended in disappointing circumstances. The summer has seen the Lancashire opener score just 199 runs in ten innings, with a top score of just 46. This was his second chance of nailing down a place at the top of the English batting order. The national side would ideally want another Alistair Cook style player, someone to persist and dig in through the tough times year after year. Unfortunately, Jennings won't be this man and he shouldn't get another chance in the foreseeable future at least.
The winter months will see England travel to Sri Lanka and then West Indies in the spring. The squad may not look too dissimilar to the one which turned out at the Oval. However, one name which will be absent from the line-up for the first time in nearly a decade will be Cook. Arguably his replacement will have the toughest task handed to any new England batsmen in recent history. Whoever is chosen to replace him will be in for a real test, but they need to be given time to settle. After all, Cook himself went through several tough spells. Life as a Test Match opener can be relentless. Therefore, let the speculation begin as to who the lucky man will be.