Cowboys Trade for Amari Cooper
What to Expect from the 24-Year-Old Receiver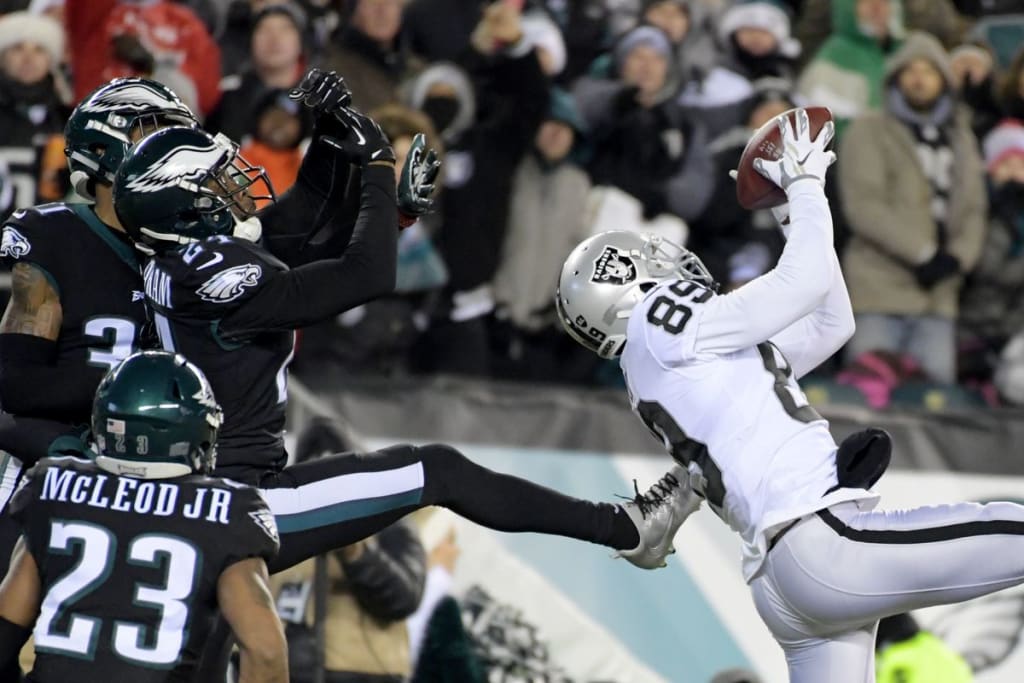 Source
The Cowboys have agreed to trade a 2019 first round pick to the Raiders in exchange for 24-year-old wide receiver Amari Cooper. Wide receiver Brice Butler will be released to make room for Cooper on the 53-man roster.
The Cowboys offense has been lacking a viable deep threat for years, and they may have just finally gotten their guy. Over the past few years, the Cowboys have not been very willing to part with high draft picks in exchange for players, so this trade tells me that they are either desperate or that they truly believe Cooper makes this team a Super Bowl contender. I would lean towards desperate. The reports are that they Cowboys were bidding against themselves for Cooper, as the second best offer for him was a third round pick. If those reports are accurate, then this reeks of desperation.
The trade for Cooper is a vote of confidence in Dak Prescott as the quarterback of the Cowboys future. The Cowboys do not make this trade if they don't believe Prescott is their guy.
Cooper is in his fourth year in the league, already with an all-pro season under his belt and two seasons of 60+ catches and 1000+ yards but over the last two season, his numbers have fallen off a bit. Part of the blame is shouldered by quarterback Derrick Carr, who has been struggling, but Cooper isn't without fault. Cooper had the highest drop rate in the NFL last season, at 12 percent. Cooper has also had struggles with his attitude as well. Cooper has been described as lacking passion and has been seen taking plays off, but with all of the bad, there is just as much good. Cooper is supremely talented, and it may just take a change of scenery to light that fire inside of him again.
Amari Cooper has all-pro level talent at wide receiver, and he is 24 years old. Cooper is an exceptional route runner and has devastating deep speed. Cooper becomes this offense's best deep threat by a country mile. It's not all that close. The addition of a deep threat to this offense will do wonders for an Ezekiel Elliott and Cole Beasley. The two most dangerous weapons on this offense all year were Beasley and Elliott, and the game plan to stop them is simple. When you work to stop Beasley on the short, underneath routes that he makes a living off of, you put more defenders closer to the box, which helps you defend Elliott. Cooper's presence alone opens up the entire offense for the Cowboys.
According to ESPN stats and info, Cowboys receivers rank 25th in receptions per game, 26th in receiving yards per game, and are tied for 22nd in receiving touchdowns on the year. Those are ugly numbers. The Cowboys have only had a receiver amass 100 or more yards in two times in their last 15 games and Cooper has already gone over 100 yards two times this season. Cooper has gone over 1,000 yards twice in his young career, while the Cowboys have not had a 1,000 yard receiver since 2014 when Dez Bryant had 1,320 yards. Cooper brings explosiveness to an offense that, for the most part, has been in desperate need for some.
When you replace Allen Hurns in the starting lineup with Amari Cooper, and more of Hurns and Deonte Thompson's snaps go towards Michael Gallup, you have a decent receiving corps all of the sudden. Amari Cooper at the X, Michael Gallup at the Z, and Cole Beasley in the slot is as "Dak-friendly" as it gets. Cooper's addition means the subtraction of Hurns and Thompson, which will be very good for this offense.