Boxing's Biggest Opportunity
How They Can Do Right by Fans and Help Themselves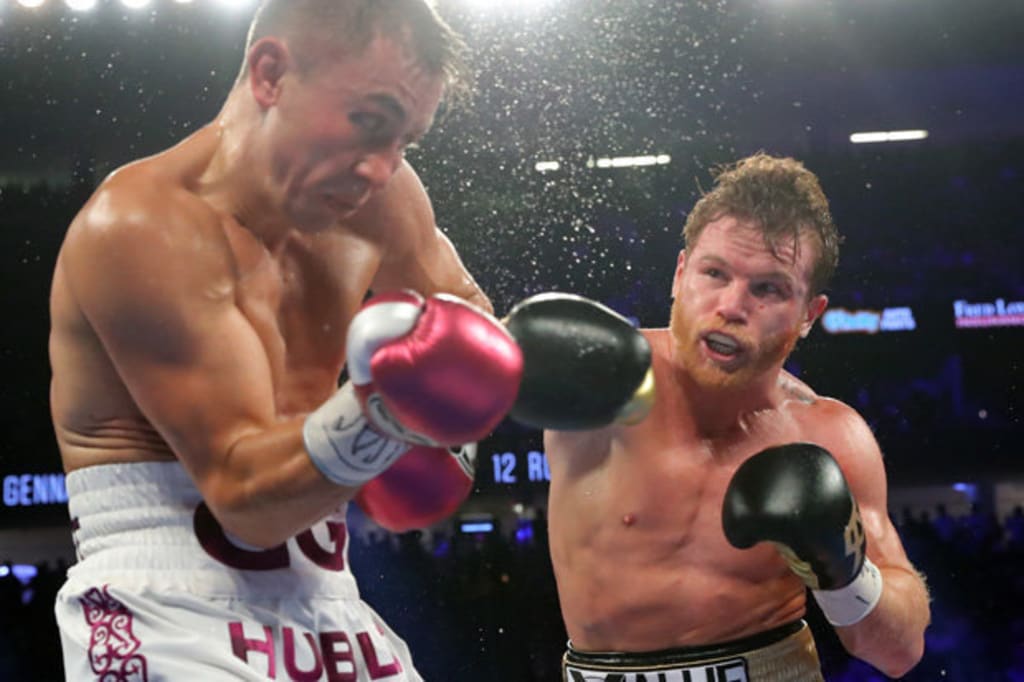 Canelo scored here, then Golovkin came back, and so on
All boxing fans recognize that the sport has very obvious problems. The sport is plagued by bad judging, complicated negotiations, and alphabet belts that change hands frequently, and sometimes without even a fight. Wading through hyped fights and mandatory challengers, and with broadcasts being infrequent and mediocre at best it is tough to draw new fans. Then factor in the competition from MMA, which seems to always be on some channel.
Now once again we've come to a September weekend. During the opening minutes of Mexican Independence Day (Dia de la Independencia) Mexico's favorite son Saul "Canelo" Alvarez and the man many claim is keeping Mexican style boxing alive Gennady "Triple G" Golovkin heard the decision of the year's most anticipated rematch. The fight belonged to Canelo, the story remaining marred with disagreement. Their fight was proceeded by some of boxing's best, brightest, and toughest fighters stepping through the ropes, with three impressive winners who now can expect fights with a higher profile, and payday.
This fight will was unable to effectively record straight between Alvarez and Golovkin. Both claimed to have won the last fight, and at least one judge agreed with either man. Ultimately a third saw the fight as a draw, and the two would be destined to meet again. Alvarez, the most marketable fighter in the world has a knack for drawing pay-per-view buys. Golovkin is an exciting fighter, and both have the ability to deliver a highlight real moment.
Their second fight saw Canelo able to change his game and attack more effectively than Golovkin's. Despite the pressure and boxing prowess of Mexico's favorite son, Golovkin found his range and started to turn the corner on a clearly exhausted Canelo. With the fight on the line in the final round, both men threw everything they had at the other. When the dust settled both were beaten and bloody. Once again, a single judge saw a draw. This time around, two judges saw the fight going the way of the new WBA, WBC, and The Ring middleweight title, Saul "Canelo" Alvarez.
David Lemieux rocked Gary "Spike" O'Sullivan with a first-round knockout, putting himself on display. Former champ Roman "Chocolatitio" Gonzalez proved that he can still fight with a quick stoppage in his return to the ring, as he looks for a return to the title picture.
A young world champion defended his title in Jamie Munguia. He put on an impressive display with a third round stoppage. The 6'0 twenty-year-old is already beyond his competition at 140 pounds. His future will lead him to 147, 154, and maybe even higher. With Munguia being only 20, and Canelo 28, it's possible they could one day be fighting each other, not just fighting on the same card.
Why is all of this important? Does it really matter what the undercard fights were, or who they were? Does it even really matter if the main event is? Once you click the button on your remote control, or order on the phone, the money is gone, right? Sure, but boxing needs to build momentum, and this is its best opportunity. With top talents all being able to deliver a show, on one of the most watched events of the year, boxing his a chance to capitalize.
The sport is on the verge of a series of top-flight contests. Shawn Porter is on a collision course with Errol Spence Jr. at welterweight. Manny Pacquiao, a pound-for-pound great remains an entertaining fighter and fresh off of a knockout, appears to be eyeing up Vasyl Lomachenko, a world champion who many have tagged as the world's best boxer, with the potential to one day match, or surpass an idol. Floyd Mayweather, the ever-present undefeated, semi-retired great continues to jaw and attempt to goad the best and biggest, like Pacquiao, into another fight with hopes of a nine-figure payday. Terrance Crawford could also match up with any of them other then Lomachenko. Lomachenko is also a potential opponent for Munguia.
All of these fights have potential for major pay-per-view sellers. The one most likely to happen will be in boxing's former premier division. WBC Heavyweight champion Deyonte Wilder is going to take on undefeated former champion Tyson Fury. After various personal issues, the enigmatic Fury is back in the ring and has talked his way into a title shot after two warm-up fights. Wilder, the brash champion with a take all comers mentality and devastating knockout power has accepted and negotiations could lead to a December showdown.
Let's not forget that Canelo has contenders eager for a shot at him. Billy Joe Saunders is a counter puncher who might be as skilled as him and currently holds the WBO belt. Daniel Jacobs is still in the picture, and his fight with Serhiy Derevianchenko will decide likely who moves up the ladder and into the atmosphere of title contenders.
Fury vs. Wilder?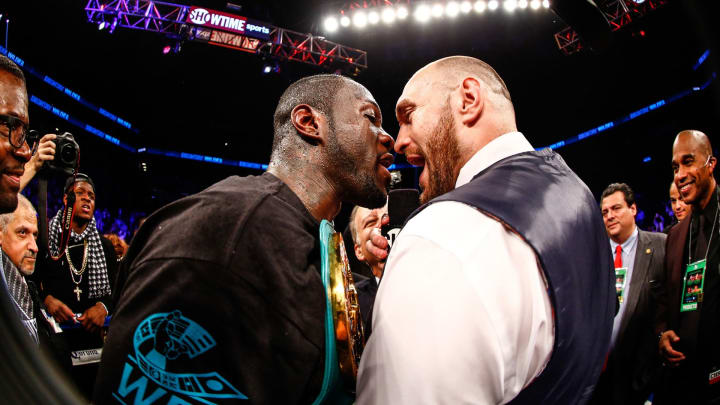 Finally, in boxing the top fighters are eager and anxious to fight each other. Their managers are reluctantly allowing it happen. If this trend continues, the marquee fights will continue to happen. Eventually the importance of keeping the zero in your loss column will fade, even just a little. The money keeps coming in, the accolades, exposure, and endorsements continue to grow, making taking the chance to fight the best even more tempting. Boxing is finally, after much speculation, coming back.
fighting
Young writer with just enough to say. I love sports, beer, and anything to do with the art or craft of writing. I'm doing my best to hone it here, I hope you enjoy it! If you like it follow me on Twitter and Instagram at @mmaratea22
Receive stories by Matthew Maratea in

your feed