Aaron Judge: A Star in the Making
The young 6'7" Yankees outfielder is hitting over .300 so far in 2017 with a major league leading 12 homers, and no one could have expected this.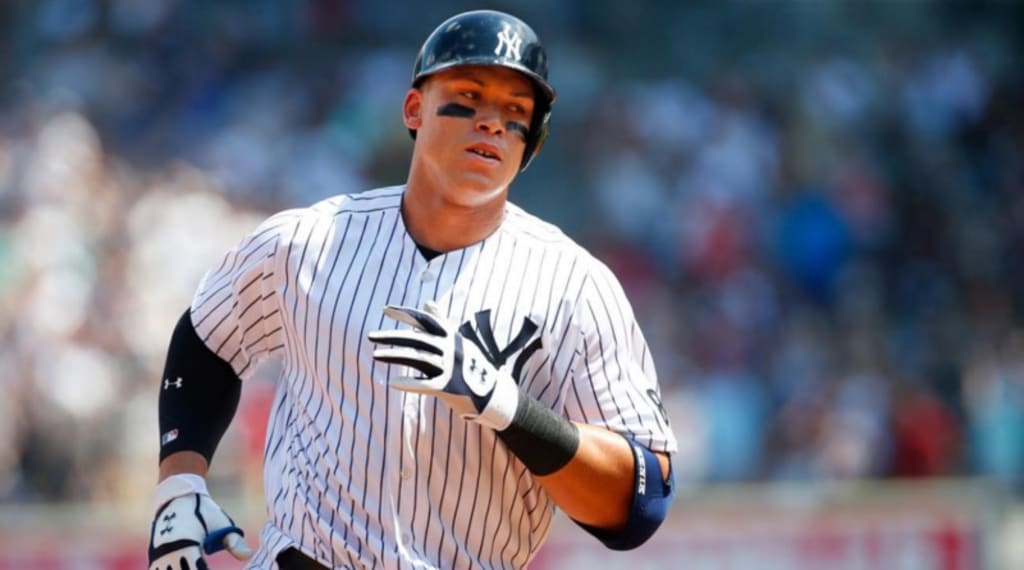 SI
The day I saw the Yankees draft Aaron Judge in the first round out of Fresno State in 2013, I didn't know too much about him. But once I looked him up, I was extremely impressed in his raw power and athleticism for such an enormous guy. As mentioned above, he stands 6 foot 7, and 282 pounds. Now that's quite heavy. But this guy is absolutely sheer muscle.
Judge's performance at the plate in 2017 has everyone talking, thanks to his eye popping bat speed.
This year, is the start of something special for the 25 year old.
2017 is his breakout year.
Judge struggled when he got the call to the big leagues last year, hitting just .179 in 27 games. But he did show some pop, going deep four times in that span. Just like for any young guy, it's about getting the reps at the major league level. Realistically, he's only had about 165 at bats in the big leagues to this point. But that hasn't seemed to matter. Judge is tearing the cover off the baseball. In fact, last week he hit an absolute frozen rope to left center for a homer against the Orioles at an astounding 119.4 mph off the bat. Yes, you read that right. That homer recorded as the highest exit velocity off the bat since the Statcast era began. See Below.
Judge averages an exit velocity of almost 95 mph off the bat, which is mind blowing. This shows that he's squaring up the ball very often, which is the polar opposite of last year, where he struggled to make contact and adjust to big league arms. Whatever adjustments he made in the off-season have paid off so far. Through 24 games, he's struck out 26 times in 83 at bats, which is a 31% strikeout rate. A huge improvement over his 50% strikeout rate in 27 games last season when he struck out 42 times in 84 at bats. Judge is being more patient at the plate.
I get it, when you come up to the big leagues you want to make a statement. You're anxious, and probably nervous too. But this year, he's settled in, and he's waiting for pitches in the zone. The plate coverage has looked a lot better. He's also using the entire field and hitting the ball where it's pitched too. Judge is going to strikeout. He's a power hitter, and that's what they tend to do along with hit a lot of homers. But the youngster looks much more comfortable and in control this year. Overall, he just looks like a more advanced hitter.
The start that Judge is having is definitely promising. He hit another two homers last night against the Jays, and really hasn't shown any signs of slowing down. Even when he rolls over on an inside fastball it's still registering close to 100 mph off the bat. There's never been a doubt in the talent he has. It was just a matter of when he would put all the tools together. It's looking like that time is now, and the future looks very bright for the California native.
There aren't too many players in the big leagues over 6 foot 5 that are position players. But if you're a baseball fan, the way Judge plays should remind you of another power hitting outfielder.
Judge and Stanton are very similar.
If you look at their statures alone, the two have lots of resemblances. They're both extremely tall and muscular. Before Judge came onto the scene, Giancarlos Stanton was known as the one player in the big leagues who hits the ball harder than anyone else. Now he's got competition in that category with Judge. The one thing that Stanton was known for was his can't-miss batting practice, where he hit balls close to 500 feet. Opposing players would even take a knee and watch the display.
Now Judge is getting the same attention from his BP, where he's hitting balls nearly out of Yankee Stadium. Even their athleticism in the outfield draws comparisons. For big guys, they move around very well in right field and both have great arms. Interesting fact, according to Baseball reference, there have only been 82 players since 1901 who were 6 foot 6 and 240 pounds or bigger. In that group, only 10 weren't pitchers. These two men stand as the lone major leaguers of that stature.
The sky is the limit.
The future is bright for Judge. The hot start he's having is an exciting glimpse into the future for baseball fans, especially Yankees fans. If Aaron Judge continues to play like this, I have no doubts he will be the centerpiece of a Yankees team who have a lot of promise. Don't be surprised to see Aaron Judge representing the Bronx Bombers in the midsummer classic for years to come.