A week of 'Blue' was umping Charlotte baseball, now its Panthers Blue with Darnold, CMc, Moore, & DEFENSE
Panthers GM Scott Fitterer's first major move impressed, delivering an arch-typical Hollywood story of a talented but unloved QB getting moved...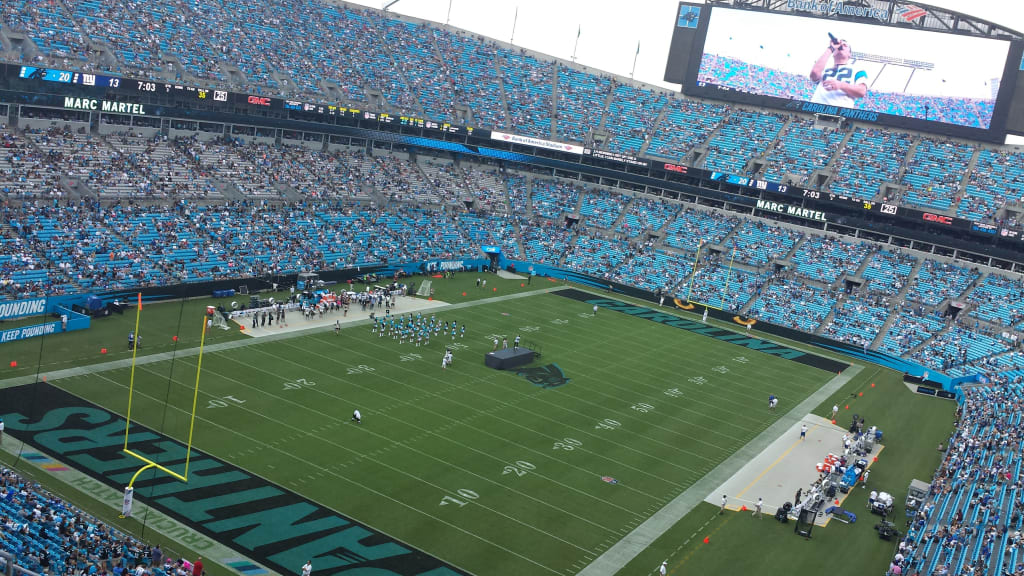 Putting fannies in the seats will be part of a resurgent Panthers team in 2021, 'The QB Whisperer' gets going with Sam Darnold
Without burying the lead, Panthers GM Scott Fitterer made an impression with his first major move, delivering pretty much the arch-typical Hollywood story of a QB unloved getting moved to a new place, where he flourishes as The Guy That Was Needed.
That would be Signal Caller and Arm version, because CMc (that's pronounced CeeMack for you now-arriving Yankees) will be back on Ground Attack. It could be a video game-type stats year when a highly motivatd Christian McCaffrey gets paired with a quarterback that can make all the throws.
Newton threw nothing but fastballs, Kyle Allen and Teddy B. knew how to lead receivers, putting DJ Moore (now #2 in your programs) in elite company and making Curtis Samuel kind of rich elsewhere. Quarterback was the obvious need and Fitterer can put up a mission accomplished sign.
Good young QBs traditionally got torn up, because they often went to the worst teams to start careers. Those who immediately click, like Chargers stud Justin Herbert or Patrick Mahommes, coming in and blowing away rookie records, get lots of positive press. Traditionally though, the first couple years are rough, and Darnold's 'Escape From NY' backstory will be replayed early and often.
Snake Pliskin? I heard you were dead.

Yeah, I get that a lot.
You can't get more a up-close example of that process than Chris Weinke, 2000 Heisman winner, with the Carolina Panthers. https://www.heisman.com/heisman-winners/chris-weinke/ The only thing he couldn't do was lift the Panther from a shipwreck win-loss season.
He wound up with stats that triggered incentives for yards, TDs, total snaps during his early years, but the knock was he'd played six years of minor league baseball before going back to college at 26! Those were glory years at FSU, but on the calendar, Weineke was "almost thirty" quickly. Terrific passer, but Panthers gave the keys to a caretaker, Rodney Peete, instead, because, well, they hadn't invented the $5MM Backup then.
It won't hurt that the Panthers play the Jets here to kick off the 2021 season. Recognize that Darnold was the #3 pick just three years ago, and yes, his coach in New York was Adam Gase, who has a reputation as a 'quarterback killer.'
More about Sam and the Panthers whisperer thing later. I have to get the umpiring part of this in, as we AMERICANS start enjoying some of the benefits of great weather and a concerted effort (240 million-plus COVID-19 injections - roll on!) to safely renew ourselves in joyous activities.
'MERICA, FAMILY BASEBALL (and a little Macho)
As a $20-plus an hour gig with a kick of macho from hearing people in the shade go "ooooo!" when a foul tip cracks into the chest protector...
I'm not getting bleary-sorrowful, being 'Blue' goes in the positives column after umpiring all kinds of baseball - from coach pitch munchkin-sized to 15-16s and *lots* of 9-12 year olds last week. Actually, I feel I've got a physical groove back, and 'Merica, nothing wrong with feeling strong.
Working as the plate umpire for the first time - I got the shirt, mask, chest and shin protectors on Thursday - I'm glad to say the equipment stopped half of what came at me during three-2 1/2 hr. games. A pitch the catcher didn't stop and a foul tip 2" apart on left wrist were memorable, but didn't swell up.
Yeah, I took a bunch of hits, but as a $20-plus an hour gig and a kick of macho from hearing people in the shade go "ooooo!" when a foul tip cracks into the chest protector, umpiring actually pays some bills. There's a sense of getting to participate in a renewed energy for outdoors in America, and family baseball is what's happening in thousands of places again, because we got a lock on that virus and vaccination deal.
Personally, things started looking better regarding that on March 18th, but a contact from church (imagine, in 'Buckle on the Bible Belt' Charlotte!) got me working as an umpire within days this May, and its been a joy.
One catcher asked before the game if I was going to be a good umpire, they'd had some really bad ones. The second time he stepped in, I said, "You're the guy who wanted to know if I was a good ump? Strike two."

I crack me up.
Its been about 30 years since I umpired softball in FL and NY, and being behind the plate for baseball is different.
Yes, I took plenty of bounces off the plate hits in softball, but in Little League there's a lack of control factor by most pitchers that's a constant consideration. Players constantly rotate through all positions, including catcher, and I took control when one set up way back, told him "I'm going to need you, here." I still took three pitches in the foot.
Maybe you know about the expanded strike zone - there's no reason to try being too tight and kids walking (and then stealing) constantly. All leagues run, so positioning is important. 'Inside' on grass with 10-12s, or 'Modified B' on a dusty skin infield with 9-10s in a rec league, it makes a difference.
I told managers before each game that my strike zone was evolving, but if it was kicking up dirt, the down and outside pitch wasn't an automatic strike. 'Up' was also going to be an area I'd be watching.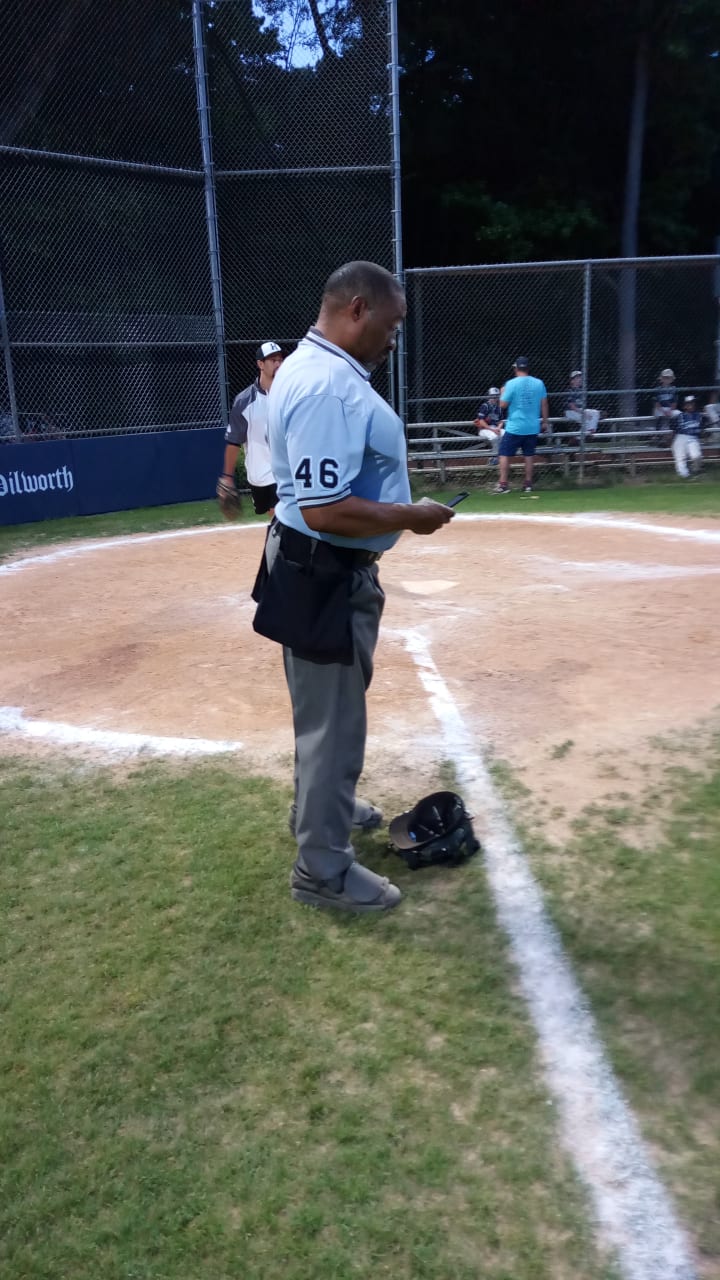 This guy is my hero, because he stopped guys from jerking around and stepping out to disrupt a pitcher who was working quickly. Even the other coach recognized the problem was his batter's, shouting "This guy's ready to go, and you're only halfway through your little dance."
Another ump took a coach aside and let him know his pitcher giving the arms out, "I don't know why I'm not getting the call on strikes" look isn't going to fly. My man!
I will have to say, I had a discussion with a particular coach - kind of at a volume, because he asked FOUR TIMES - if I'd let him ask the other umpire at second base about a situation that happened directly in front of me. Eeeeverybody heard me standing up for "I got this coach, don't ask again."
LOL Turns out the guy I was bitchin' to in the concession stand later is #1 on the Executive Board. As an umpire, I see myself as representing Fairness. I tell people, "Anyone can call it down the pipe, I get the big bucks for calling all the rest."
Doing coach-pitch games, kids going base to base, that occasional pwing! of a solid metal hit, and cheers for all good plays - often jumping on the ball and running it to a base, even the wrong one, man, if that doesn't make you smile...
But more than anything, the cherry ice-stained and still widely smiling face of the girl who started her team's rally with a solid single, then scored the winning run - twenty minutes later with Mom and sis, THAT is what competing is about.
Participation trophy like last year? No, self-confidence builder v.2021.
At the end of the first game, one team scores when a kid slides head first into home. The other coach appeals to me: It's a Little League rule, head first slides only when returning to a base. Kid is automatic out, other coach says he didn't actually know that, but game ends, everybody stands on baseline and tips caps to the other team.
FACTS and rules made the difference. Not to put too fine a point on it, but that's the same principle as our country's democratic voting system. You live with the rules and results, don't keep asking for it to be different.
Panthers being 9-8 won't be good enough
Joe Brady, The QBWhisperer is now in session
Sam Darnold wasn't wanted where he was, the Panthers definitely needed more from the QB role than 15 TD/11 INT production Teddy Bridgewater put out as a $21MM caretaker. The price in draft picks was nominal - a #6 this year, a #2 and #4 next year - Fitterer pulled the trigger on a trade, the Panthers bigggest problem was (theoretically) solved.
I didn't care about Sam Darnold with the Jets, and its certainly true, Robbie Anderson contributing 95 catches/1,096 yards to the Panthers last year https://www.panthers.com/team/players-roster/robby-anderson/ meant Darnold couldn't throw to him in New York.
A season after having iconic players like Newton, Kuechly, and Olsen depart the Panthers had FOUR 1,000 yard gainers not named McCaffrey - Samuel (851 recv./200 rushing), Mike Davis (642 rush/373 recv./8 TDs), Anderson, and DJ Moore (66 catches/1193 yards/4 TDs).
At the same time, their first in NFL history all defense draft in 2020 contributed to it moving from bottom three in almost every category to 18th overall, with a secondary that was right on the league average in yardage. Everyone agreed a better distributor for allllll that Panther offensive firepower - plus a highly motivated weapon like McCaffrey - would be a jackpot.
In 2021, Darnold is set to get $4.775MM, and team will have to decide about picking up a 5th year option in May for another $18MM, making him marginally more expensive than Bridgewater. It's a two-for (years) that's wasn't tough math for Tepper or Fitterer.
Heck, the Rams and Lions recently moved a bunch of #1 draft picks around, and the Panthers wanted/needed a #1 thrower so bad, they were in the sweepstakes for DeShaun Watson, but his $177MM contract cooled most potential takers. https://cdtalententerprises.com/2021/02/05/watson-would-work-wonders-for-panthers-25-free-agents-a-concern/
Without Watson's contract, the offensive line will get paid – four were part of 25 Panther free agents.
Resurrection on the Cheap
In a season-year that will be more memorable for playing before empty seats, the Panthers were an entertaining 5-11 bunch that let at least two games slip away late (Minnesota was the worst). Jeremy Chinn became a chess piece Coach Rhule and Defensive Coordinator Phil Snow moved between safety and linebacker - with #1 pick Jaycee Horn (USC) possibly coming in as a safety, Chinn becomes a terrific threat in his second year.
If this had been a team where playoffs were on the line, the injuries McCaffrey suffered, and mostly recovered from, might have pushed them to use their $21.3MM man late, but there was no reason to test 'the franchise.'
Most Panther fans have moved on from Cam Newton thoughts, and I thought Bridgewater did a decent job distributing most of the year, but 15/11 are numbers that don't lie. Kyle Allen had 17/15 the year before (yeah, but those fumbles) and didn't get invited back. We'll wave goodbye to Mr. Samuel's special skills (3 yr./$34.5MM), now that he's working for former Panther head man Ron Rivera in Washington.
So the business of the Carolina Panthers is moving forward. Mr. Fitterer appears to have put a satisfactory conclusion to the question of who's going to run this team, on and off the field.
As for that New York thing, heck, a LOT of us will probably say, "Gawd bless 'im, he must feel like he's made it to the promised land," and leave it at that. ORRRR...we can call 10-7 a legitimate rebooting of the franchise, and you know what, 11-6 would sound like lots of bah bah bah! time in Charlotte.
About the Creator
YIKES, only a 240 bio?! https://cdtalententerprises.com/a-writer-whos-smarter-than-average-bear/ will have to do for intro. LONG time blogger. Late stages of 2nd Romance book, "With Platinum Fury Focus." Ex-rugger, trying site out.
Reader insights
Be the first to share your insights about this piece.
Add your insights