4 winners and 3 losers from Week 5 in the NFL
"How 'bout they Cowboys?"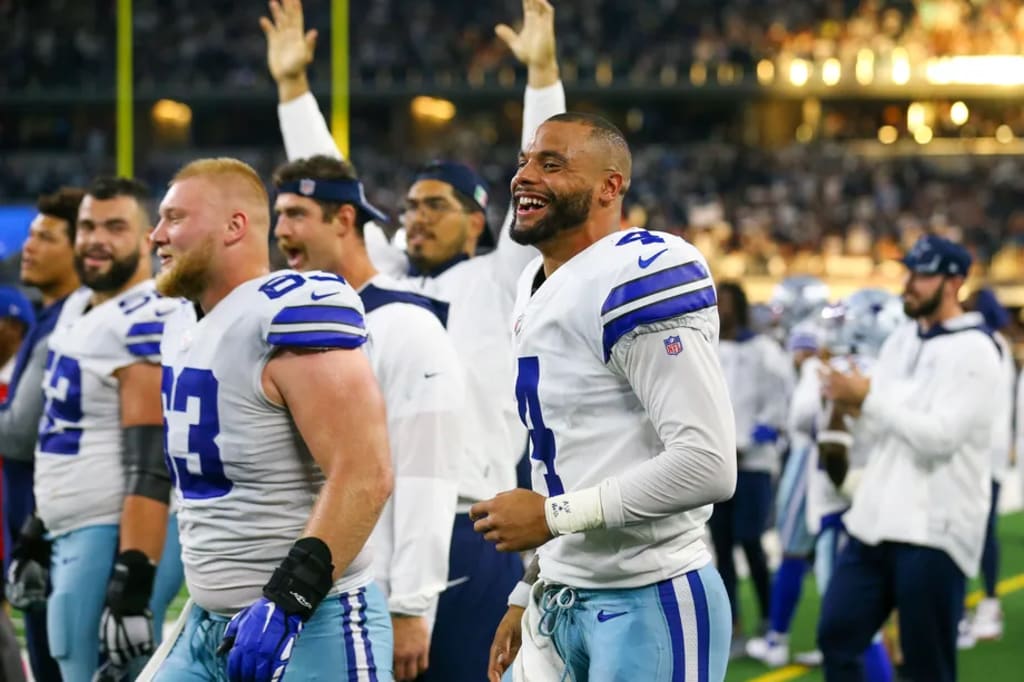 "How 'bout they Cowboys?" This saying, which was first used by Jimmy Johnson in 1992, has been unquestionably the most irritating in sports for the past three decades. It's been a symbol of everything that frustrates 31 other Dallas fanbases for years. Over-exposure, endless promises that this is their year, and frustration at reaching mid-season wondering why a 3-5 team has still four primetime games on the schedule.
There is a tendency for a lot fans to ignore Dallas. It's as if they think that downplaying their achievements will make them less relevant. But it's impossible.
It's not about Dallas beating Giants on Sunday. This is more about what the Cowboys aren't doing this season and what they did against New York: Blow it. For the past few years, this has been kind of the Cowboys' modus operandi. They appear to be incredibly talented and eager to control the NFC East. However, they play down to their opponents in dramatic fashion, sometimes dropping games that they should have won.
The team now sits at 4-1 and is firing on all cylinders. It feels like everything is falling into place for the first time in a long time. There's no weakness to their game, which is what makes this season so special. You used to see a combination of a great defense and an explosive offense in Dallas. Maybe it all works out, but then the result is poor coaching. What has been the most disappointing season thus far? It's hard to fault the Cowboys for what they are doing.
Although it's still early, Mike McCarthy is starting to give me serious Andy Reid vibes. It's still to be seen whether the change in scenery will lead to Reid's success in Kansas City. There's more time to prove it, but I like what I've seen as a coach.
McCarthy spoke out to stress the importance of Dallas being more aggressive on defense and forcing turnovers. This is a complement to an explosive offense. It's easy to win football games if you can generate more offensive series and a team that can score at will. The Cowboys have a league-leading 10 interceptions and a +7 turnover differential for the season. This is proof that McCarthy's emphasis on results is paying off.
It's also a benefit to inherit the best offensive weapons of the NFL. We won't forget that. Dak Prescott is playing amazing football right now. This is great after his 2020 season being cut short by injury. Ezekiel Elliott is back to being a dominant backup the 'Boys could rely on for 100 yard games whenever they need them. Dallas' receiving weapons are unmatched, making it difficult for opposing defensive coordinators to keep up with them.
It's not clear how you're supposed to cover CeeDee lamb and Amari Cooper, when there's a new pass-catching threat in tight end Dalton Schultz. Schultz is an unheralded Dallas star this season. The Cowboys average 34 points per game, so nobody knows how to stop it.
You can hate them if necessary, but for now you should just respond "They're damn good", because any other answer would be disingenuous.
Winner: Davante Adams
It's not clear that Packers supporters would feel comfortable using the phrase "overtime shot with the Cincinnati Bengals". I mean, it's certainly not a confidence-building phrase. The Bengals are a good team, and I thought this game was going to be close.
Aaron Rodgers wasn't the hero of all this. Instead, it was Davante Adams who, despite being Green Bay's only true receiver, somehow made it possible to uncover his brilliance. Adams was the hero of the team with 11 catches that netted him 206 yards and one touchdown. This is a staggering rate, and Cincinnati couldn't keep up with it all afternoon.
Ja'Marr Chase did a great job on the other side of it and deserves some praises. But the edge goes to the winner and the player who kept getting his number called over and over again and didn't give up.
Loser: Carolina Panthers
This one was coming to me, but it's still a snub for Panthers fans. When I was talking about five undefeated NFL teams after Week 3, I mentioned Carolina's record-breaking start as the reason the team was a "pretender." It was a combination of great play and really bad opponents.
I thought there was hope after last week's Cowboys game. This team might have been legitimate and ready to hang with NFC's elite. But they lost 21-18 to Eagles after giving away 15 points in the second quarter after shutting out Philly the first.
It's not helping that Sam Darnold has three picks. But the problems with Carolina's roster have become very pronounced. Their offensive line is missing. The truth is that the Panthers have been more or less ignoring the o line for most of a decade and now they are finally coming home to roost.
The Panthers are not likely to turn this ship around. It was a fun run, though.
Kyle Pitts is the winner
The No. The No. 4 overall pick was fine this season. But, there wasn't much to make you go "damn, that was why he was a tight finish taken with the fourth overall." Pitts' London game changed everything.
It felt like this team has finally seen the potential of the rookie, with nine catches totalling 119 yards and one touchdown. It felt like there was some hesitation from the Falcons about releasing him and making Pitts the focal point of their offense. But that has changed.
It's hard to believe that this was only the first of many 100-yard games in Pitts' career. But, more importantly, I feel that Atlanta and Matt Ryan now realize they can take the game on Pitts and still come out victorious.
Loser: Jon Gruden
Never one to be outdone, it's almost like Jon Gruden saw Urban Meyers terrible week and said "I will have what he has."
Gruden, instead of focusing on football at the end of the week was embroiled in controversy after emails from 2011 revealed that Gruden made a racist comment against DeMaurice Smith, the NFLPA chief. Gruden was forced to apologize to his team multiple times before Sunday's game and again after the Bears' 20-9 defeat.
Las Vegas seemed stale and lacked purpose. This was a stark contrast to what we have seen this season. One can only imagine that the email played some role in distracting the team's focus this week.
We'll now wait to see if Gruden's racist comment will cause enough discord for the Raiders to end their season.
Loser: Urban Meyer
Urban Meyer is a loser.
Sorry, this is a little too short. Urban Meyer is a loser who loves to blame others when he loses.
This was in response to a question regarding why the Jaguars gave Carlos Hyde the ball on a fourth and one when James Robinson was running the Titans for 8.3 yards per run.
This is where I think it is precisely the job of a head coach to question personnel decisions in potentially game-altering circumstances. But what do I know?
Winner: Justin Herbert
Every week Herbert makes a home here, and it's rightly so. He's gone from being a "great rookie QB" to "great QB," and it's hard to argue with that.
It was a wild game against the Browns on Sunday. The fun-filled 47-42 Chargers win was a great one. Herbert was almost perfect. Herbert finished the day with 26 of 43 for 398 yards, four touchdowns.
Tom Brady was the only better quarterback this week, but I chose to leave it out because "Tom Brady doing Tom Brady stuff against Miami" is too old to be gush about.
Reader insights
Be the first to share your insights about this piece.
Add your insights