2019-2020 Utah Jazz in Review
Do the Utah Jazz have a shot at the title?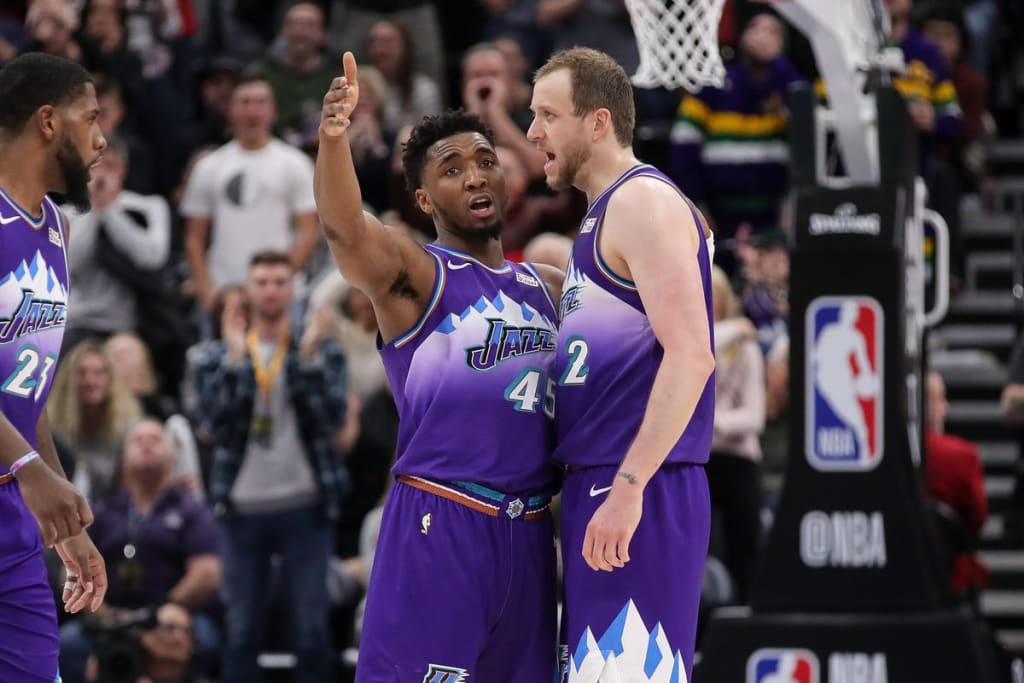 We are nearing the end of 2019 and the Utah Jazz are currently sitting at 20-12, good for 6th place in the West. Honestly, this year has not been what I had expected for the Jazz. Lots of ups and downs with the team, but in general, I am satisfied and believe that if the Jazz can keep it up, they have a shot of making the Western Conference Finals. Let's take a look at what this year has been like.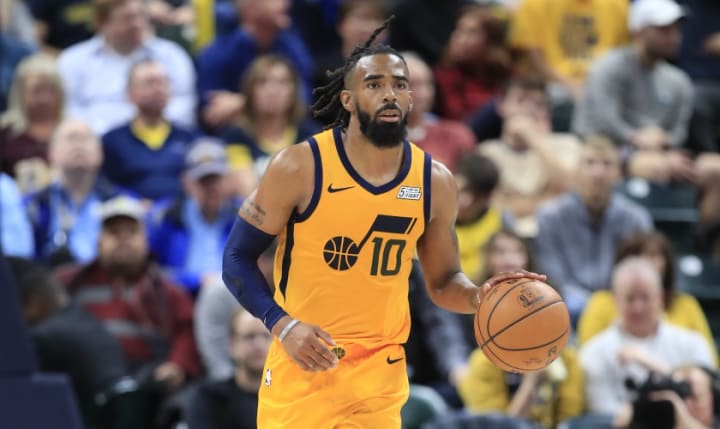 The roster this year looks a lot different than it did last year with lots of departures such as Ricky Rubio, Derrick Favors, Jae Crowder, Thabo Sefolosha, Grayson Allen, Kyle Korver, Raul Neto and Ekpe Udoh to name a few. However, the Jazz did bring on a lot of great new players such as Mike Conley, Bojan Bogdanovic, Emmanuel Mudiay and Ed Davis.
I was extremely excited for Mike Conley but so far, he's been a bit of a disappointment. I understand that he is new to the team, and he is placed in a new system which can be very tough, especially for someone who has to run the offense. Conley had a VERY slow start to the season but he's starting to pick it up a little, averaging 13.9 PPG and 4.6 APG.
The one thing that threw me off though was that they pushed Joe Ingles into bench rotation. Joe has been starting for years and helping running that offense but the bench just doesn't seem like a fit for Joe. But ever since Mike Conley got injured and Joe has been starting at point guard for him, we've seen how important Joe really is in this offense. Joe's been averaging 10.2 PPG but the last 3 has put up 15, 26, and 27 while shooting absolutely lights out from 3.
I heard an interesting suggestion for the Jazz lineup the other day: Once Conley returns from injury, continue having Joe start and have Conley lead the bench squad. With Jordan Clarkson and Mike Conley being the go-to guys on the bench, the Jazz can still hang when they're resting the starters. I guess you could make an argument for the other way around too but either way, Quinn Snyder's got some adjustments to make coming the new year.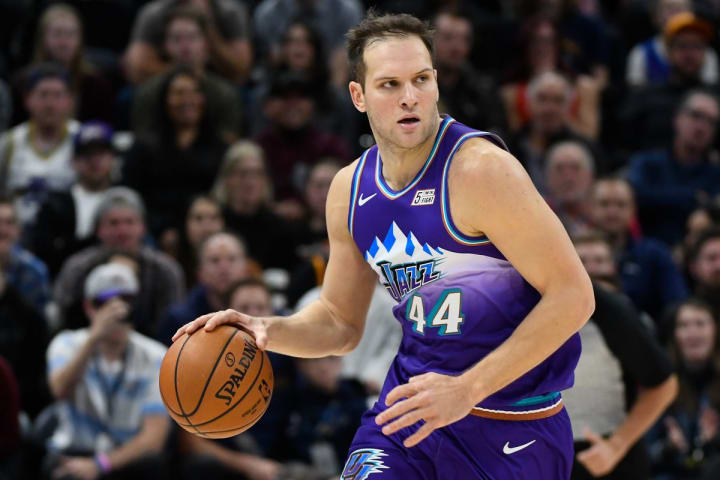 One HUGE bright spot that I have been LOVING is Bojan Bogdanovic. I knew from the past few seasons that the man was a scorer and could shoot the ball but I didn't realize how much of a bucket getter this guy was. Bojan is currently averaging 20.8 PPG and if he continues like this, it'll be the first year two Jazz players averaged over 20 since the 90s. The man is deadly from beyond the arc and I about cried when he hit the buzzer beater against the Bucks. Utah, keep this man for as long as you can. It relieves SO much pressure off of Donovan Mitchell. Because before, Mitchell was the only REAL scoring threat so teams focused their defensive efforts on him, but now, since Bojan can get buckets just as well, teams are scrambling trying to stop these two.
Other new players have been good as well. Emmanuel Mudiay, I like him. His style of play honestly, doesn't really match the Jazz system but he makes it work and plays well. He can shoot well from the mid-range and can drive and attack the rim well. He's kind of like Dante Exum, but his defense is slightly worse but has a lot greater offense. He's averaging 8.1 PPG and the Jazz have a much larger chance of winning when he plays extended minutes.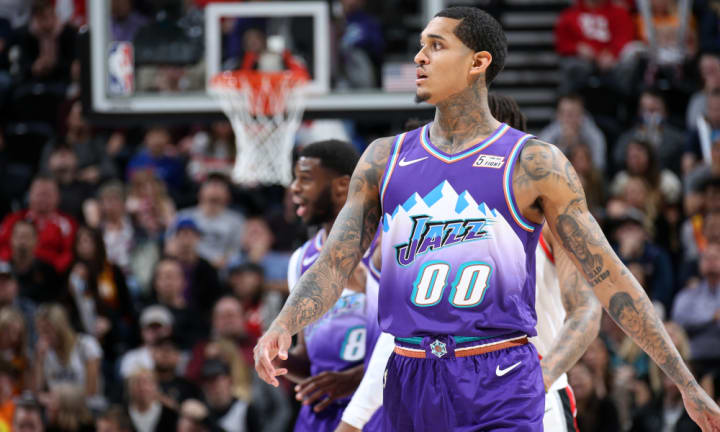 One thing I am loving so far though is the moves the Jazz have made. After the crazy off-season, this year has been really quiet when it comes to roster changes, but the Jazz changed that when they waived Jeff Green and traded Dante Exum for Jordan Clarkson. This move was amazing in my opinion. I'm a little bummed out we lost Jeff Green, because he was great at getting buckets for that second squad but he is pretty old and sort of was a defensive liability.
However, the Clarkson-Exum exchange was perfect. Clarkson was averaging over 14 PPG for the Cavs before this and so far, in his 2 games with the Jazz has dropped 9 and 19. The kid knows how to score and is a HUGE upgrade from Dante Exum. Especially since Ex wasn't playing any minutes and getting big money. Clarkson makes a little more but plays big minutes and shows that he deserves that money and minutes. With him on that second squad, I am pumped to see the second half of the season.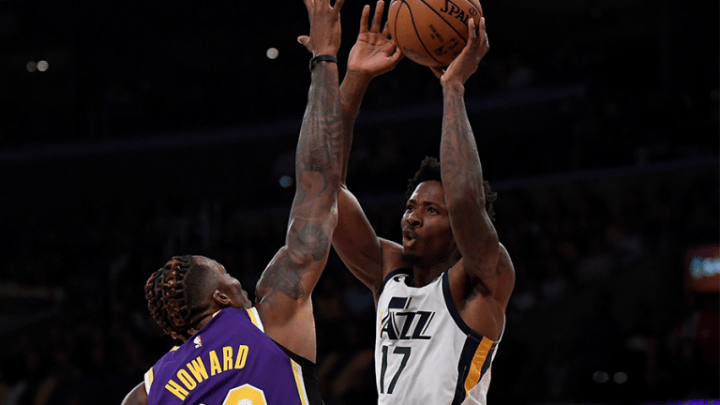 The one thing I am worried about however, is the inside defense. Losing Derrick Favors hurt. Especially when looking at the big men that are backing up Rudy. Now when Rudy is on the court, I have no worries. 2x DPOY and his offensive game is improving every year. However, the backups aren't too reliable. Ed Davis' offensive game is almost non-existent and that includes not being able to perform a proper pick and roll. However, he can provide rebounding and good defense on the bench but he is very much a backup center. And don't even get me started on Tony Bradley. I'm sorry but he is trash. Offensive game is terrible and defensive game is just as terrible. Losing Jeff Green means that we have less big men and Bradley will get more minutes. We need help down low if we wanna win a title.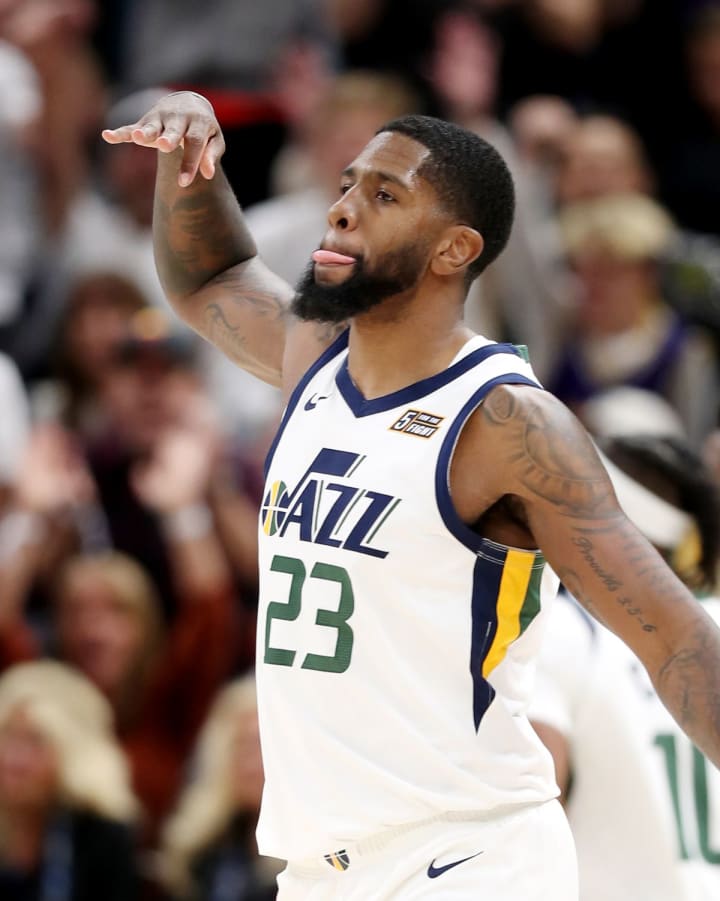 One thing I am really loving this year though is the Jazz 3-point shooting. They currently lead the NBA in 3pt % at 38.9%. That's amazing! Royce O'Neale has been shooting lights out and at one point led the league in 3pt %. I heard one of the opposing team commentators say the other day that Royce basically shoots 3s and layups, but he said in such a condescending way that it seemed like he was roasting Royce. Nah, that guy doesn't know what he's talking about. First of all, that what half of the NBA does nowadays anyway and second, when you shoot over 45% and provide stellar defense, you can do whatever you want. Royce sits at 6th in the league and Bojan sits at 8th with 43.6%. That's right, the Jazz have two shooters in the top 10 and with Joe Ingles, the Jazz have 3 players shooting over 40% from three. That's incredible. Mitchell is doing great too not jacking up 10 three's a game like he did in the past. He's now more careful when shooting them and has a higher tendency to drive and take the mid-range which he is FANTASTIC at. He's averaging over 25 a game right now and definitely deserves to be an All-star this year.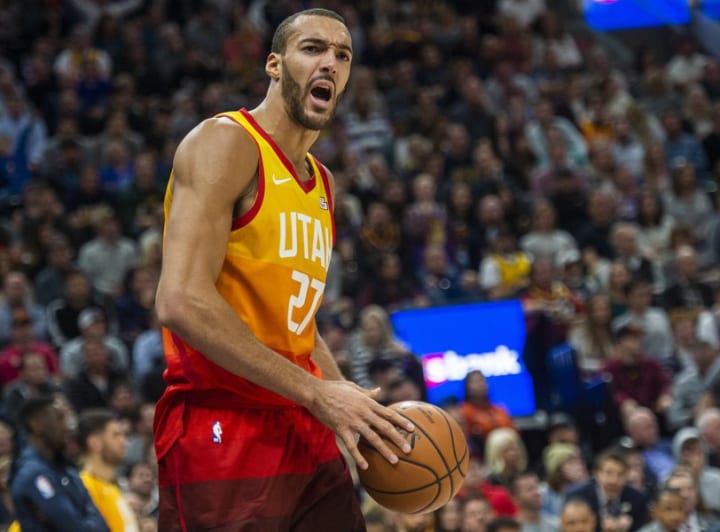 At the end of the day, the Jazz have been competing high and can show they can beat any team. One problem though, is that the Jazz are near the bottom of the league when it comes to assists AND turnovers. That needs to flip flop if they wanna contend. But other than that, the Jazz are playing great and I am excited to see how 2020 comes!