2018 NFL Mock Draft: 1.0
With the 2018 NFL Draft just a month away and mock draft season in full swing, here's one more to check out.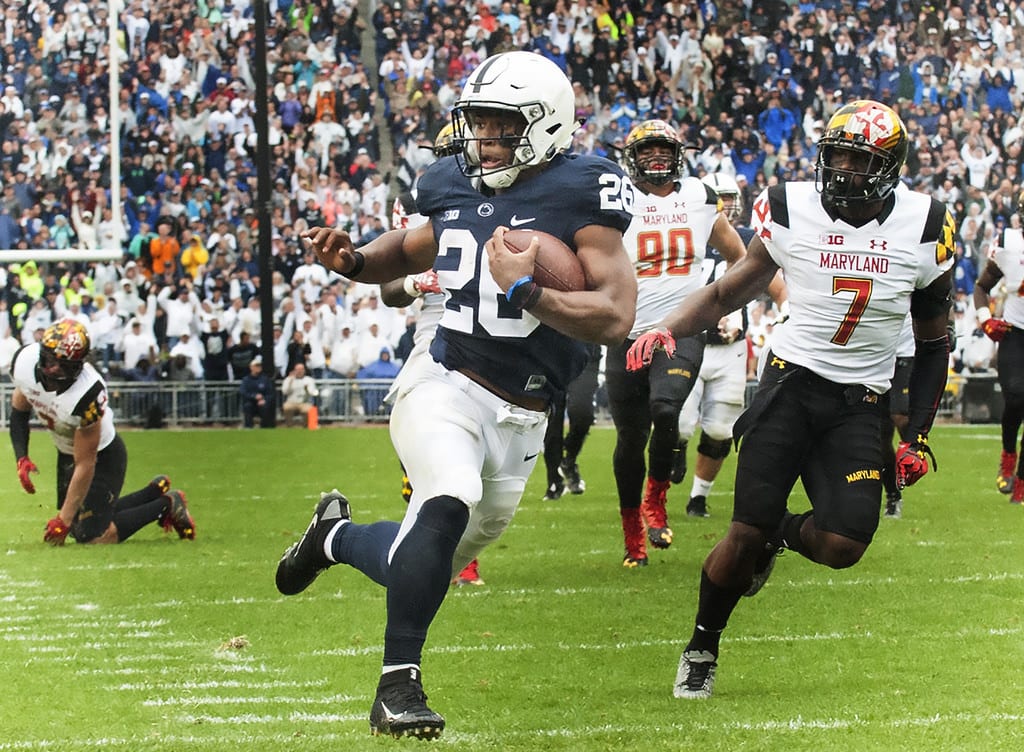 Flickr
The NFL Draft is just under a month away and that means that Mock Draft season is in full swing and should only ramp up further in the coming weeks. Mock drafts are all constructed differently across the NFL media world. Some base theirs off what media pundits are hearing, other on what a team should do based on their own big board.
This mock is designed to hopefully combine a number of perspectives to give a best guess at what might happen on Day 1 on April 26. For simplicity's sake all teams are drafting with their original (or already traded) picks. It's safe to assume there will plenty more trades to come by—or on—draft night (looking at you, Buffalo) but here we'll keep it simple.
So kick back and enjoy just one more mock draft before the real thing in April.
1. Cleveland Browns — Sam Darnold QB, USC
This one seems locked in. The Browns can't pass up on their franchise QB and it seems Darnold is their favorite at this point.
2. New York Giants — Bradley Chubb DE, NC State
NY could go a number of ways here but if they stand pat it seems more and more like Chubb is going to be the pick to help bolster the defensive front.
3. New York Jets (TRADE) — Josh Allen QB, Wyoming
The Jets HAVE to take a QB after trading this far up. For right now, signs point to that being the big guy, Josh Allen.
4. Cleveland Browns — Saquon Barkley RB, Penn State
There's speculation Barkley could go No.1 but there's just no way Cleveland can do that. At No. 4 though, he's a terrific get and an immediate impact weapon on offense that suddenly looks pretty potent.
5. Denver Broncos — Baker Mayfield QB, Oklahoma
The Case Keenum signing shouldn't prevent Denver from getting their QB of the future. Mayfield seems like the guy John Elway would love under center.
6. Indianapolis Colts (TRADE) — Quenton Nelson G, Notre Dame
The Colts trade back was brilliant and if they can get a can't-miss offensive lineman like Nelson the trade looks even better.
7. Tampa Bay Buccaneers — Minkah Fitzpatrick DB, Alabama
Tampa Bay is sitting in a great spot behind plenty of QB-needy teams. Their secondary has needed help for years and after beefing up the defensive line in free agency, Fitzpatrick would be a versatile, dynamic weapon to throw in behind them.
8. Chicago Bears — Derwin James DB, Florida State
Pretty similarly to the Bucs, the Bears have needed defensive backfield help for a few years now and in James they'd be getting just that—an immediate contributor who can move around and make plays.
9. San Francisco 49ers —Roquon Smith LB, Georgia
Smith flies around the field like a heat-seeking missile and should easily be a top 10 pick. With an up-and-coming team, the Niners should snatch him up quickly.
10. Oakland Raiders — Vita Vea DT, Washington
This is a common pick among mock drafts, but it makes too much sense not to happen. The best DT in the class would immediately help out a Raiders D that needs it at just about every level.
11. Miami Dolphins — Tremaine Edmunds LB, Virginia Tech
Edmunds is a versatile, athletic linebacker—a position the Dolphins desperately need help at—and would be a tremendous value at pick 11 for Miami.
12. Buffalo Bills (TRADE) — Josh Rosen QB, UCLA
There's no way Rosen lasts this long, and it seems safe to assume the Bills won't sit at 12 but it just so happens to make sense in this no trades mock. Buffalo gets their QB of the future at long last.
13. Washington Redskins — Derrius Guice RB, LSU
With all the Barkley hype, Guice has flown a bit under the radar but he is absolutely a first round talent and would be an excellent pick for a Redskins team that has lacked a legit rushing threat lately.
14. Green Bay Packers — Josh Jackson CB, Iowa
Losing Aaron Rodgers last year proved just how much he covers up. Green Bay could go a number of ways with this pick, but they absolutely should use it on one of the top CBs in Jackson to help shore up a secondary with another young playmaker.
15. Arizona Cardinals — Lamar Jackson QB, Louisville
Sam Bradford and Mike Glennon are clearly not the answer in Arizona. The Cardinals don't necessarily have the ammo to make any big moves, but they might not need to. Jackson should go in the first round and would be an exciting add to an Arizona team that needs some juice.
16. Baltimore Ravens — Calvin Ridley WR, Alabama
It's simple: The Ravens need WRs and lots of them. Ridley isn't terribly flashy but he's solid and dependable and at this point that's what Baltimore needs in their receiving corps.
17. Los Angeles Chargers — Da'Ron Payne DT, Alabama
The Chargers roster is pretty solid from top to bottom but an area they could use some help at is at DT where Payne could give them plenty of power and versatility.
18. Seattle Seahawks — Billy Price OL, Ohio State
The Seahawks STILL need help on the offensive line and in a class rich with interior options, someone like Billy Price (despite the pec injury) should be very high on their radar.
19. Dallas Cowboys — Denzel Ward CB, Ohio State
The Cowboys need some secondary help and if Ward falls to them they would get that in a big way. Ohio St. CBs have a solid history in the NFL and this one should be a starter from the get go.
20. Detroit Lions — Jaire Alexander CB, Louisville
Another top corner from this class goes to Detroit here to help make a fearsome duo with Darius Slay. The Lions defense has its moments but is far too inconsistent overall. Alexander could help with that in a big way.
21. Cincinnati Bengals (TRADE) — Isaiah Oliver CB, Colorado
The run of CBs continues with the Bengals taking Oliver here. Cincinnati needs help all over their roster but adding a top-flight corner to the mix is a good place to start.
22. Buffalo Bills — Isaiah Wynn OL, Georgia
The Bills roster build over the last year has been an interesting one, so it seems like it's anyone's guess as to what they do with 22 (if they even still have it come draft day) but adding one of the aforementioned interior linemen would be a quality get at this spot.
23. Los Angeles Rams — Harold Landry DE, Boston College
Landry has flown largely under the radar after a down, injury-plagued 2017 but if he falls to the Rams, this makes an already terrifying defense into a downright petrifying one.
24. Carolina Panthers — Justin Reid S, Stanford
It seems the holes on the Panthers roster are the same ones they've had for the last few seasons. A top safety like Reid would help Carolina finally stop using bandages and instead fill one of those roster holes.
25. Tennessee Titans — Rashaan Evans LB, Alabama
This would be a nice get for Tennessee at 25. Evans is a top LB behind the first two in this class. And after losing Avery Williamson the Titans could get a younger replacement right away.
26. Atlanta Falcons — Mike Gesicki TE, Penn State
The Falcons are pretty set across the board, so they can afford to splurge a bit. Austin Hooper is too inconsistent so why not add one of the top TEs who also jumps off the charts athletically in Gesicki?
27. New Orleans Saints —Mike Hughes CB, USF
Another CB comes off the board to a team that just landed a pretty great one last year. The Saints '17 draft set them up with so much talent they have very few holes so with Hughes they can take one of the BPAs and make a strength even stronger.
28. Pittsburgh Steelers — Ronnie Harrison S, Alabama
The Steelers are finally putting the finishing touches on a rebuilt defense and after shedding Mike Mitchell, they could stand to add a safety and here they'd get one of the draft class' top ones in Harrison.
29. Jacksonville Jaguars — Courtland Sutton WR, SMU
The WR class isn't very top heavy but has a lot of intriguing depth. If Sutton gets to Jacksonville they should snatch him up in a second. They chose to part ways with both top WRs and only added Donte Moncrief. Sutton would give them a big target for Blake Bortles to replace those guys at a cheap rookie cost.
30. Minnesota Vikings — Will Hernandez G, UTEP
The Vikings offensive line played surprisingly well last season but towards the end of the year, the wear and tear started to take a toll. Grabbing Hernandez would be an immediate plug and play at either guard spot and help keep Kirk Cousins upright and Dalvin Cook plowing forward.
31. New England Patriots —Mike McGlinchey OT, Notre Dame
The Patriots find themselves in quite a bind along the offensive line. They lost both starting tackles in free agency, so OT is a must somewhere in the draft. McGlinchey is one of the top tackles in a weak class but would be a great pick for New England at 31.
32. Philadelphia Eagles — D.J. Moore WR, Maryland
The hype-train for Moore is starting to build so he might not last until pick 32 but if he does he's the type of WR that the Eagles could do wonders with and make them even more lethal than they already are.