2001-2003 New Jersey Nets
The unknown team that went to 2 straight Finals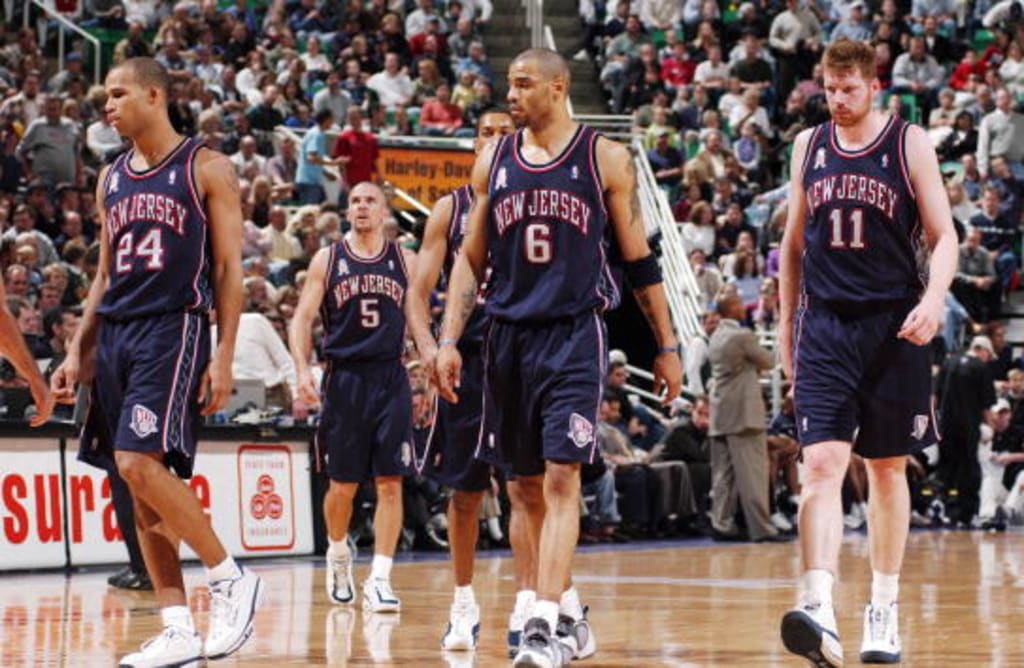 I was recently watching some of the old NBA finals games and I came across this gem. The New Jersey Nets. The Nets went to finals for two straight years, and although they failed both times to capture the title, they were a great team and an exciting one to watch too.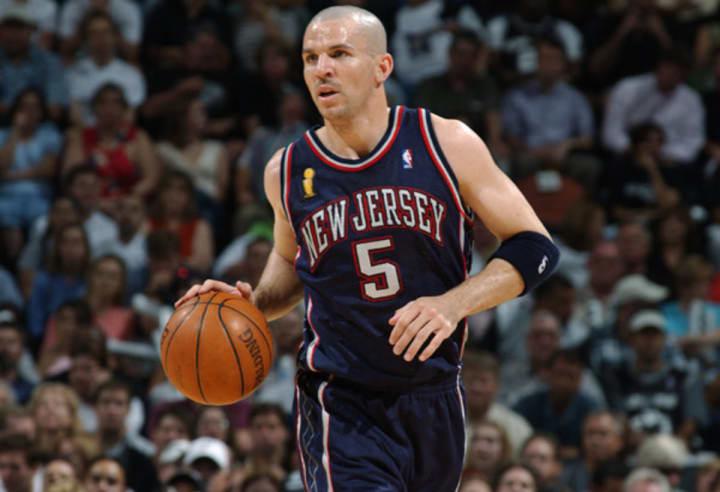 The biggest reason why this team did so well was Jason Kidd. The Nets picked up Kidd just prior to the start of the 2001-2002 season and the star player finished top 10 in MVP voting both years that they went to the finals. Kidd goes down as one of the greatest point guards in NBA history and his impact on this team shows why. Incredible court vision and IQ, this man ran that offense perfectly, always knew where his teammates were and made amazing passes look easy. He turned a team that had only won 26 games into one that won 52 and went to the finals in one short year. He turned mediocre players into stars. Jason Kidd was the real deal.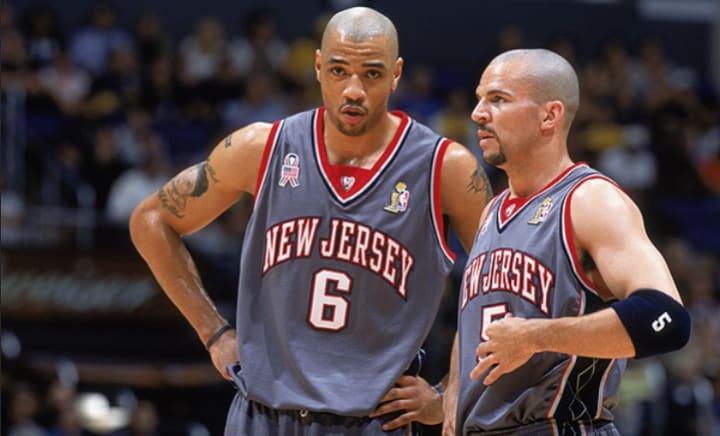 Another star that the Nets had during this time was Kenyon Martin. When I think of K-Mart, I usually remember the Denver Thuggets era, but New Jersey is where he really made a name for himself. This is where he earned his only All-star nod. Him and Kidd could really run the floor, keep a fast-pace during the game and throw down some beautiful slams. This team was one of the best transition teams there was and the J-Kidd-K-Mart duo showed us why. K-Mart was also AGGRESSIVE. K-Mart was a little smaller for a big man but could board the ball, a great hustler and knew how to get in the face of the opponents.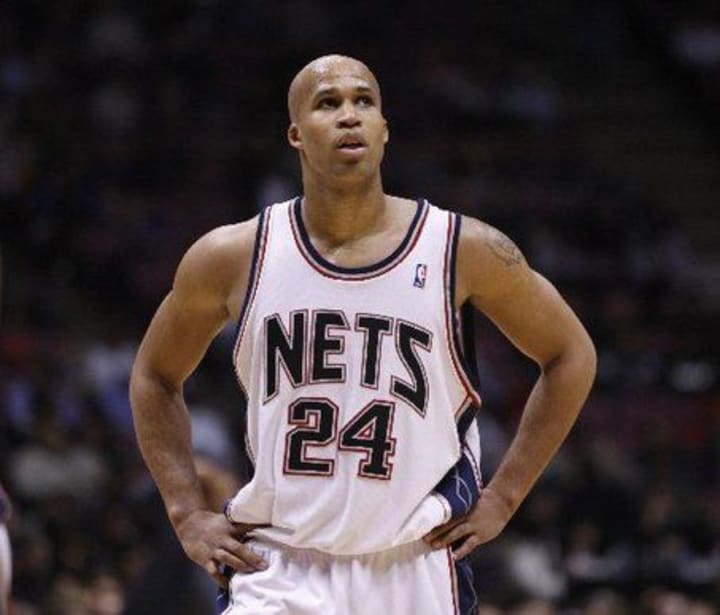 Richard Jefferson, the man with the ugliest tattoo in NBA history, was also a huge piece to this offense. He was still young in their first series, but he improved lots his second year and quickly became one of their biggest scoring options and eventually being a guy that gave you 20 a night easily in later years. RJ could shoot the ball well, was athletic and a great hustler.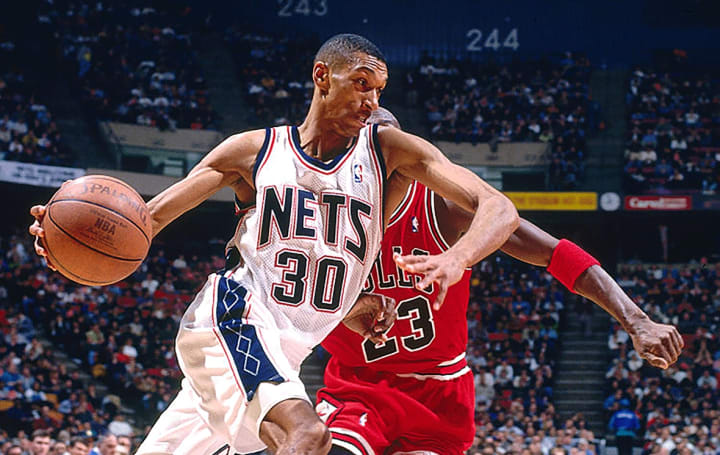 Other key pieces that the Nets had were Keith van Horn and Kerry Kittles. Now Keith was only there for their first run at the trophy but he was a solid scorer for them and really pushed them to be the best team they could be. While Kerry Kittles was a dog out there. He was a great scorer for the Nets, giving them about 15 a night for his career there and was an underrated defender and playmaker. These two really helped the Nets fight their way to win the Eastern Conference those two years.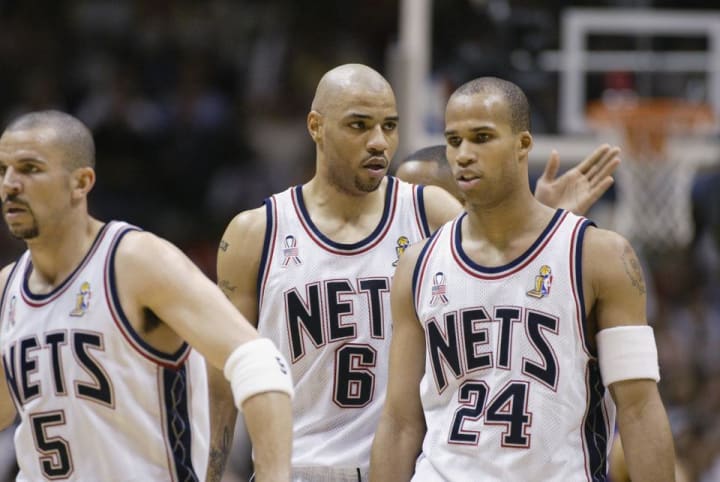 This team had great players like Jason Kidd, Kenyon Martin, Richard Jefferson, Kerry Kittles, Keith van Horn, and a good supporting cast including Lucious Harris, Rodney Rogers, Todd MacCulloch, Dikembe Mutombo, Jason Collins, and Aaron Williams. With a great team like this, what went wrong?
One of the reasons I see, was a lack of a consistent scorer. Their first year they made the finals, not a single player averaged over 15 a game. They improved on that their second year, but no one was getting over 20 a game. While this may seem good, because it means they are playing team ball and everyone is contributing, it's also a bad thing because it means you don't have a go-to guy, you don't have the guy that brings you up during crunch time and hits that game winner for you. They had guys like Kidd, RJ, K-Mart, Kittles, and van Horn that could give you 20 on any given night, but they didn't. A team like this has the attitude that "hey if I don't score tonight, someone else will just do it." There's no dog mentality there. Someone needs to step up and be the go-to offensive player. While Kidd was the best player there, his main role is not to score the ball. He's the playmaker and he is setting everybody up. He did his job putting the ball where it needed to be, but the others had a responsibility to put the ball in the hoop.
The other problem I see was the lack of a solid big man. Big men ruled those days. Just look at who won those finals series, Shaq with the Lakers, and Duncan with the Spurs. You're gonna tell me that Todd MacCulloch and Jason Collins are supposed to handle Shaq and Duncan? Sorry but no way in hell. This lack of solid big man is a huge reason why the Nets couldn't finish the series off. K-Mart, although he was a dog and aggressive as could be, wasn't big enough to handle Shaq or Duncan. The Nets tried to answer this with Dikembe Mutombo, but at this point, Mutombo was too old and wasn't the 4x DPOY he used to be.
Offensively and defensively they were screwed when it came to post-play. The Lakers ran their offense through Shaq and the Nets had no answer for that, which is why Shaq averaged over 36 a game. Duncan, the MVP of the league that year, also was a monster that year. During that finals stretch, he averaged 24 along with 17 boards. The main purpose of basketball is to put the ball in the hoop and the Nets couldn't stop them from doing that.
Offensively, there was a problem too. Defense was too great that the Nets had a tough time scoring inside. This forces them to score from the perimeter more and we know how great of a defender Kobe, Rick Fox, Bruce Bowen and those playing under Pop were. The only answer was transition and while the Nets were fantastic at running the fast break, you can't win a championship that way. You don't have the energy.
Todd MacCulloch and Jason Collins just got bullied anytime they go into the post whether on offense or defense, and because of that it caused many problems. I'm not trying to roast on those two, I actually give them props because they did their best, but you need to remember that Shaq and Duncan are too of the greatest players of all-time. Had the Nets had an answer for the big-men, like the Pistons did with Ben Wallace the following year, they would have had a legitimate shot at the title, but instead they were swept by the Lakers and lost 4-2 against the Spurs.
Although they lost both series, the Nets were a great team. They were exciting team to watch with their fast-break play and great passing. Eastern Conference champs two years in a row and had they had maybe just one more piece, they could've had a couple more rings to their name.