WEEX Optimizes Copy Trading Rules to Fully Protect Followers' Interests
Protecting Crypto Traders and Followers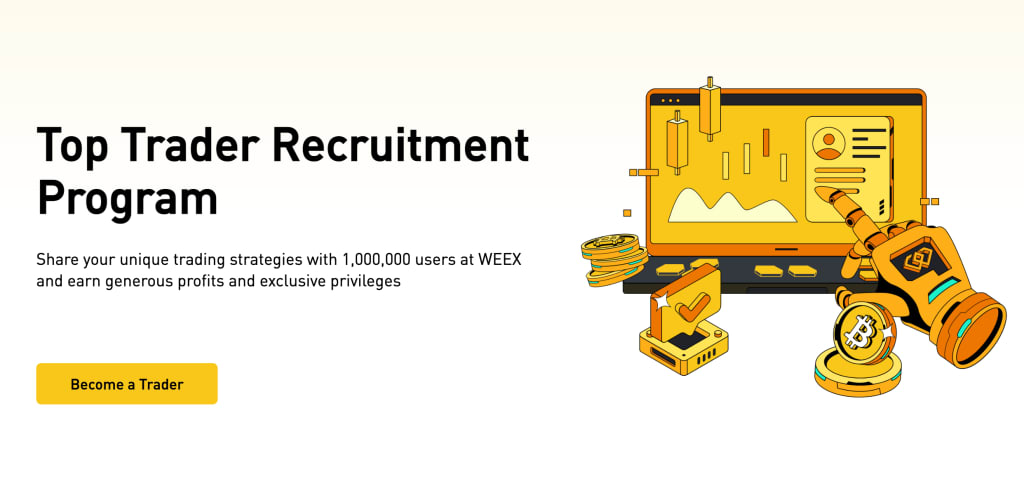 WEEX Optimizes Copy Trading Rules to Fully Protect Followers' Interests
WEEX, as a client-oriented exchange, has launched copytrading, to optimize the trading experience and increase user profitability. Since its launch, it has been widely favored by users. As of now, more than 5000 traders have joined, with a cumulative trading volume exceeding $100 billion, and the number of copytraders exceeding 20,000. The traders have made a total profit of more than $50 million, with an average annualized return of over 365%. The number of followers of head traders exceeds 1,000, allowing contract newbies to experience zero-threshold copytrading and copy the trading strategies of top traders to earn stable profits.
To protect copytraders and eliminate gray areas, WEEX has set strict screening thresholds and review rules for trader registration. For example, each trader can only register one account for copytrading, and traders can only receive rebates if all positions are closed and followers are profitable.
Optimization of copytrading rules for traders
Recently, WEEX has optimized the copytrading rules for traders to improve the trading efficiency and better protect copytraders. The optimization includes:
1. The maximum number of positions for traders is limited to 50 to better control trading risks, provide more security to followers, and improve trading efficiency.

2. The minimum number of positions for traders is adjusted to 10 to protect the interests of both traders and followers.
The first rule, limiting the maximum number of positions for traders to 50, aims to require traders to control the number of trades, analyze each position calmly before opening, make a good plan for stop loss and take profit, and strictly follow trading discipline after opening a position. This is to ensure the safety of their own positions and the funds of their followers. Even a team of traders has limited time and energy, and their expertise in trading strategies is also limited. They should pursue a core strategy based on trading win rate and return rate, rather than being greedy and trying to seize every opportunity. The latter is obviously impossible and is irresponsible to their own and followers' positions and funds.
The trading circle often says, "Only when you have a real position in the market will you care about the trend." Similarly, only when the trader's position is relatively heavy, will they take every opening and closing trade seriously, consider it carefully before opening a trade, and execute the plan strictly after opening the trade, instead of relying on luck. This can further improve the trader's winning rate and profitability, thereby helping followers to increase their profitability.
However, the above rules are just the maximum and minimum limits required by WEEX Trading Platform for traders, and the actual trading volume of most traders is below the limit, ensuring that followers can also earn profits.
In recent weeks, WEEX App's latest data show that the top five traders with the highest profitability are qq5***@163.com, Mao Li Xiao Wu Lang, Rocket Man, Fei Shi Tian Kong, and Yi Zhan Cheng Ming, with a profitability rate of 1980.53%, 1468.02%, 1131.46%, 1119.55%, and 926.34% respectively, and an average profitability rate of 1325.18%. The winning rates in the past three weeks were 100%, 100%, 85.09%, 100%, and 100%, respectively.
These traders' achievements are not easy, considering the recent market volatility, which has fluctuated more than 15% with a drop of about 4% in BTC. In absolute terms, assuming that followers have the same position as traders, the traders have led more than 2,000 followers to earn more than $16.75 million in total.
WEEX Trading Platform not only maximally protects followers but also provides traders with various benefits, including profit sharing, commissions, and access to over one million users. With a commitment to customer satisfaction, WEEX Trading Platform strives to help traders grow together with the platform and make contributions to its development.
If you are keen to become a WEEX Partner, do reach out to our Head of Global Expansion at [[email protected]]
Connect With the Community Here:
Official Website: [https://weex.com/en/]
Discord: [https://discord.com/invite/2CFnGbMzbh]
Facebook: [https://www.facebook.com/Weexglobal]
Twitter: [https://twitter.com/WEEX_Official]
Telegram: [https://t.me/Weex_Global]
About the Creator
WEEX is one of the world's top futures exchanges in terms of trading depth, aimed at providing the most professional, secure, and private futures trading services.
Reader insights
Be the first to share your insights about this piece.
Add your insights