Top 10 Money Podcasts in 2019
Mo' money, mo' problems? Not necessarily. Money podcasts will help you get more in touch with your personal finance side.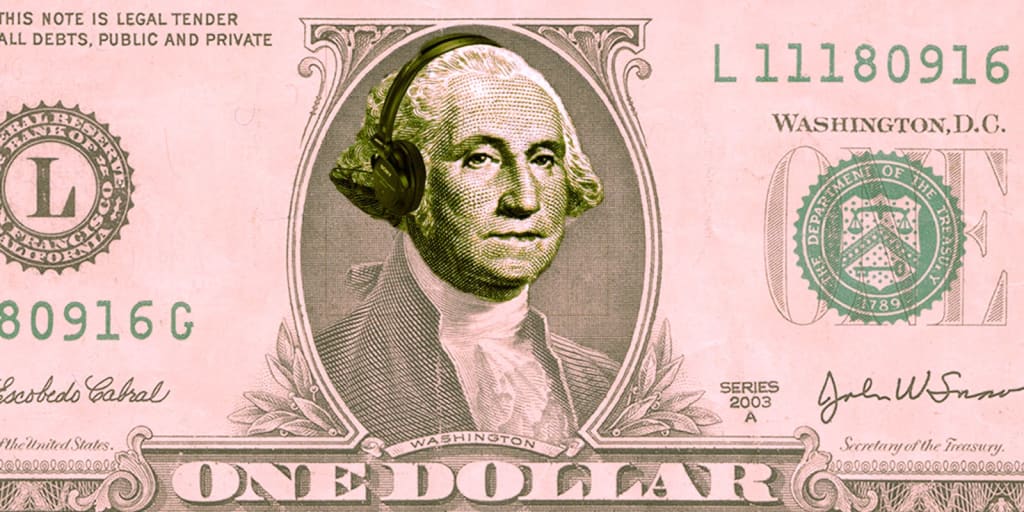 Is there anything more useful than money? Money can make it possible for you to achieve your dreams, live safely, and also help you achieve the kind of life you want to see. Money is great—but only if you know how to handle it.
Money is a tool. When used well, it can make your life a dream come true. If you are bad with money management, the cash you make will become the cash that breaks you.
Listening to some good money podcasts can help you make the most of your cash. There are plenty of titles that are out there on the topic already, too, designed to advise you as to how to make the most of your money. These top-rated podcasts, for example, are highly recommended by wealth management experts around the world.
ChooseFI is one of the best money podcasts to focus on getting people away from wage slavery. Johnathan Mendonsa and Brad Barrett are the guys from the Financial Independence Tribe, and they are here to invite you into their clique.
You get to enjoy chats about learning to stand on your own two feet, and finding out how to make the most of your money. Crush debt, get some passive income, and be a bro with these two awesome hosts. Go ahead, you know you want to.
The Stacking Benjamins Show is one of the top personal finance podcasts out there for you to stream that is part humor, part inspiration, and all education. Always live from Joe's mom's half-finished basement, Stacking Benjamins is about bringing you news about the finance world, as well as advice from wealth experts.
You'll laugh, you'll learn, and you'll feel a little better about building wealth and empowering yourself.
Millennials are known for not being the most financially astute demographic, and to a point, it's also what keeps us tied to problems. Millennial Money is one of the many money podcasts geared towards helping Millennials gain control of their cash.
This podcast has a massive following because of how easy it is to follow the hosts' advice. Money doesn't have to confuse you; this podcast will really expand your knowledge on the topic, as well as the money in your pocket.
Everyone knows that they should have a side hustle that helps them pay the bills. Trying to find a side hustle that pays, though, isn't always easy. Even when you do find one, it's hard to make it max out.
Side Hustle School is a podcast dedicated to helping people make the most out of their money-making time on the side. You will love the moneymaking advice you get, and adore hearing the stories of how others found their side hustles.
Planet Money is practically a staple among top money podcasts, so it's obvious we had to include it. This humorous and lively podcast has episode after episode of money-making, credit card debt-killing, finance-explaining fun.
This is the kind of podcast that is great for people who are usually bored with personal finance. You will love it, even if you are not the type of person to love money talk.
Most Millennials have a pretty bad taste in their mouths when it comes to Wall Street, and rightfully so. We're a generation that has witnessed a lot of serious bad faith moves on the Street. Invested is a podcast that urges us all to invest if we want to make a difference.
Host Phil Town is a hedge fund manager and New York Times bestselling author. He will show you how investing can be a marked revolt against Wall Street—and how to make money from your money while doing it.
Most people want to start their own business, but have no idea where to begin. Laptop Empires is one of the personal finance podcasts with an entrepreneurial spin. Bobby Hoyt and Mike Yanda give awesome advice for building your own empire.
If you like the idea of financial independence, this podcast is a great choice for you to try out. Who knows? You might just learn something.
Are you tired of money podcasts that are hosted by people who are either trust fund kiddies or flat broke? Money Peach is a different kind of podcast. Chris Peach has personal experience getting himself out of debt.
He offers up his own advice, invites guests on his show, and helps you learn how to make your financial life a little easier. Chris really is a peach—and not just because of his last name.
There are podcasts for money-wealthy individuals who are looking to spend a little money on passive income. Then, there's Money For the Rest of Us. This podcast is for the people who work a 9 to 5, the ones who didn't have any particular finance course they studied at school, and the ones who want to learn how to build a portfolio on $8.50 an hour.
Money For the Rest of Us is all about helping the ordinary Joe help get ahead in an ever-evolving world. J. David Stein is a great speaker, and will make you feel amazing about your finances.
Did you ever wonder why you feel the urge to spend money, or what makes certain things seem pricier than they should be? Sarah Li Cain's Beyond The Dollar is one of the better money podcasts to help people understand the psychology of money.
If you are curious about what money has got to do with your psyche, this is a great listen for you to explore.
About the Creator
Riley Reese is comic book fanatic who loves anything that has to do with science-fiction, anime, action movies, and Monster Energy drink.
Reader insights
Be the first to share your insights about this piece.
Add your insights