How To Choose A Broker In Forex Trading
Choose A Broker In Forex Trading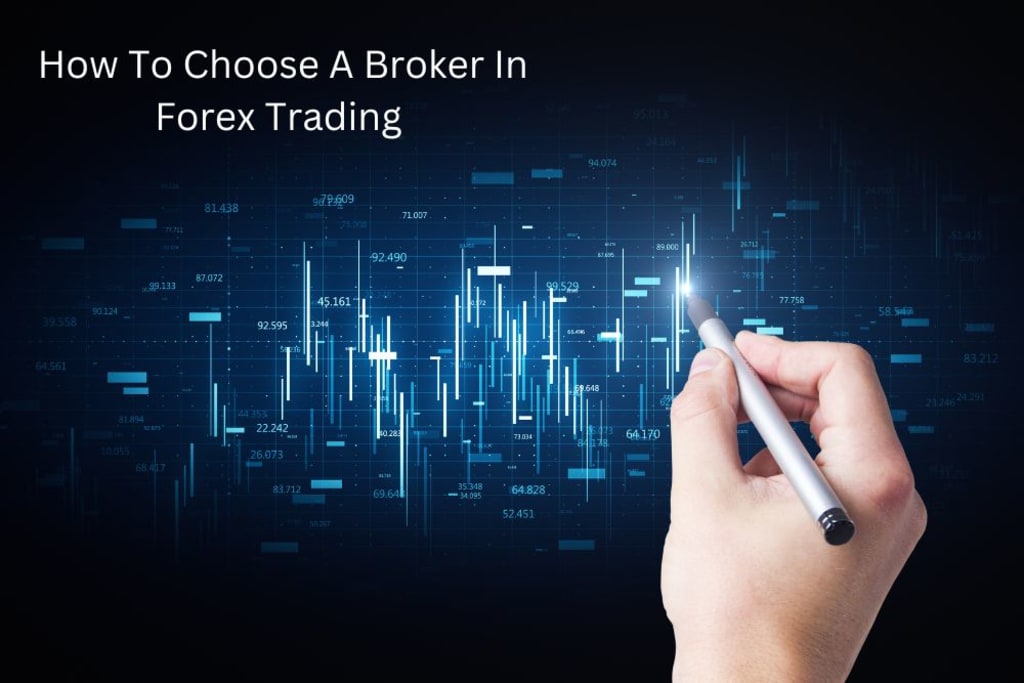 Choosing a forex broker for trading is not that difficult the way a trader reacts. To make the forex trading process easier and faster, first, you must clarify what type of investor you are and what your goals are for investing in forex currency pairs.
Are you troubled about how to choose the best and safest broker for forex trading? Always ask some important questions from yourself whether the forex broker is:-
Reputable and trustworthy
Research well before choosing
Offering Free Demo Account or not
What kind of educational resources offers
Security Level
Regulated by any centralized authority or not
Here we will briefly discuss the above points that help you choose the right forex broker. Let's discuss one by one-
Regulated Forex Broker
Always choose a broker that is regulated and controlled by any local, financial or internation authority or body. This is the obvious point but you would be shocked to know that there are various forex brokers that are unregulated.
Some forex brokers allure traders to invest in forex currency pairs, which lead to creating critical issues. Always be safe and select the broker whom you can trust. Forex brokers following the proper rules and regulations are the green signal for forex traders as they can trust them very seriously.
Low Spreads
The difference between any financial instrument's asking price and the bid price is defined as spreads. Some forex brokers offer high spreads, while other forex broker offers low spreads. However, high spreads are an indication of a red flag. Many brokers earn a profit from high spreads, so it is recommended that they choose the forex brokers that offer low spreads.
Variety of Trading Instruments
When searching for forex brokers, always choose a broker with various products available for trading because it gives you flexibility. Also, you can choose any trading instrument as per your trading requirement.
For example, for the time being, you are interested in trading in forex currency pairs, but later on, you have changed your mind and want to trade in cryptocurrency.
Moreover, it is better to choose a forex broker that has all the trading instruments available, including cryptocurrency, stocks, commodities, forex, CFDs etc.
Trading Platforms and Tools
Many forex brokers offer the best trading platform, such as Metatrader4, MetaTrader 5, Web-version, app- version, and so on. With the help of these platforms, traders can evaluate the fundamental and technical analysis of stocks, securities, or any financial instrument.
Apart from trading platforms, some brokers also provide advanced tools though some of them offered by forex brokers are as follows:-
Economic Calculator
Economic Calendar
Trading Chart
Automated Technical Analysis
Tools that provide the detail of market analysis, insights, and sentiments
Many More
Fast Execution
Forex market is a fast-paced market as it requires fast execution, so always choose a broker that executes your trades effectively and efficiently. However, low speed or execution can create hindrances while transacting on the trading platform.
Customer Support
Customer Support is the most important point to consider while choosing a forex broker, though always choose the platform that resolves customer issues promptly and fairly. You don't have to worry about queries related to deposit/withdrawal, technical issues, incorrect statements, or any queries that disturb in performing trading activities. Most forex platforms used the following ways in the customer support section:-
Live Chat Facility for 24/5 or 24/7
Email Support
Contact Support
Social Media Presence
Physical Address
Customers only enjoy the trading experience when the broker offers good customer service.
Educational Resources
Many forex platforms believe in spreading awareness by providing education among more & more people. In this way, the traders can develop their trading skills and enhance their knowledge. From blogs to FAQ all the educational and learning resources are available on the forex trading platform. Let's check out common educational resources:-
Blogs
Glossary
Academics
FAQ's
E-books
Video Tutorials
Conclusion
I hope that the aforementioned information helps you in choosing the right and reliable forex broker from the available alternatives. Always do proper research and take out the authentic information of forex brokers from Google.
Moreover, customer ratings and reviews also help traders in choosing the right forex broker as it gives them a hint about the chosen forex broker. If you want to trade in the forex market, you can consider PrimeFin, tradeeu which allows trading in the forex currencies as it is regulated by Labuan Financial Services Authority (LFSA).